The DM and the Medusa
---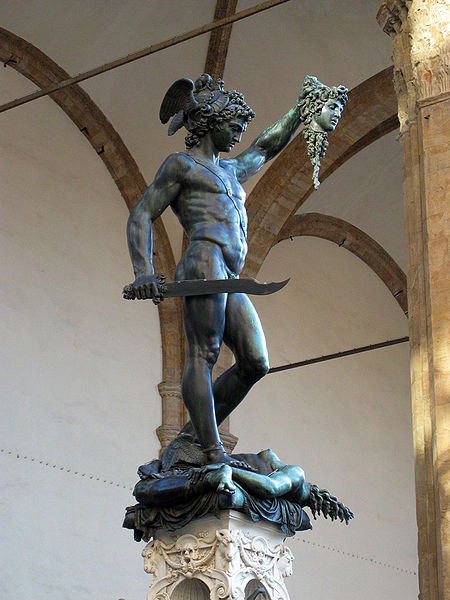 Statue of Perseus, Piazza della Signoria, Florence: From WikipediaEarlier this week, much discussion erupted over the D&D Playtest version of the Medusa. Much of it was either two "sides" arguing for or agains the inclusion of what is being called a "save or die" type effect. For some, a D&D game without some such mechanics just isn't D&D to them. For others, the inclusion of such a mechanic, particularly without any advice on how to handle it as a DM reminds them of previous bad experiences, often at the hands of either a "killer" or inexperienced DM. I've wanted to write this post for a few days now but wanted to distance myself from the original discussion a bit in hopes I could do it better justice that way.
So, how does the medusa work in D&D Next? Well, first, a medusa can turn the gaze attack on or off at will. So, unless one has it turned it, it is possible for a character to look at one and not turn to stone. So, one of the most common complaints, that a PC might be wandering around a dungeon, turn a corner, and wham, turn to stone, isn't technically true or at least depends on DM discretion. My reading of the Caves of Chaos adventure included with the play test documents, suggest that the medusa has the gaze attack turned off when the PCs first meet her.
Second, unless surprised, any character who tries to attack a medusa can decide to avert his or her eyes. If the PCs avert their eyes, they do not need to make a saving throw but they gain a disadvantage on their attacks and enemies gain advantage against them. If they decide to not avert, they have to make a saving throw against petrification. A failed saving throw means they become petrified and that character is effectively out of the game until the condition is reversed.
Let's compare that to a 3/3.5 era gaze attack as written here: http://www.dandwiki.com/wiki/SRD:Gaze. In this version, PCs have 2 options: avert their gaze and have to make a percentile check (50%) each round to see whether or not they have to make a saving throw against petrification or they can blindfold themselves, granting every creature total concealment and gaining huge penalties to trying to hit. I believe earlier editions had similar mechanics for gaze as well and the medusa had a snake poison attack that was a save versus poison or die.
In 4e, the petrifying gaze of the medusa is handled in two different ways.
Medusa Spirit Charmer, Medusa Venom Arrow
Stony Glare At-Will
Trigger: An enemy ends its turn within 2 squares of the medusa.
Attack (Immediate Reaction): Close burst 2 (the triggering enemy in the blast); +x vs. Fortitude
Hit: The target is petrified (save ends).
Third Failed Saving Throw: The target is petrified until one of the following conditions is satisfied.
: The use of an appropriate power, such as divine cleansing.
: The willing kiss of the medusa that petrified the creature (a medusa might do this to gain information or to luxuriate in the victim's fear before returning it to stone).
: The medusa responsible for the petrification is killed and its blood is applied to the stony lips of the victim before a full day passes.
Medusa Shroud of Zehir (Female), Medusa Archer (Female)
Petrifying Gaze (standard, at-will) Gaze, Petrification
Close blast 5; blind creatures are immune; +x vs Fortitude; the target is slowed (save ends). First Failed Save: The target is immobilized instead of slowed (save ends). Second Failed Save: The target is petrified (no save).
In Stony Glare, we have a case similar to a save or die mechanic, combined with 4e's death saves idea and ways to reverse the death. In Petrifying Gaze, we increase the time it takes to petrify, allowing multiple save attempts along the way. It also gives the PC the ability to make the tradeoff between being blinded or risking the effects of the hit.
The D&D Next version puts a lot more in the hands of the players and isn't even a true save or die effect. First, petrification isn't death, it can be reversed. Second, as written, the only time the PC definitely faces that situation is when the character decides to attack without averting eyes. That is within the player's control, not the DM's. It's true that the surprise round complicates things, as the DM could decide the medusa has the gaze on, but I know of groups that enjoy that bit of DM discretion, such as Lair Assault or some of the deadly delve challenges I've heard about in the past.
So what do I think the solution is? As always, player and DM education about how to bring about the play experience the table wants. It means communication. Do you want a game that challenges your player knowledge/skill as much as it challenges the characters? How often do you want surprise to come up in game? What should the thresholds be for it?
For DMs, I'd suggest minimizing the chances of a surprise gaze attack. Consider how common it really it is for a medusa to be walking down the halls of a dungeon with her gaze on and leaving now signs of her presence. Leave hints in many places that one might exist, everything from weird stone statues where the subjects are all caught in awkward positions and with horrified visages to tavern rumors about a medusa's existence. If you're well versed in Greco-Roman legends, remember that not everyone might be, especially newer players who might not be used to asking lots of questions or who might feel intimidated by the rest of the group. Finally, if you decide to use one and your players just weren't expecting or up to the task of dealing with a medusa, figure a story way out or even talk to your group afterward and chat with them about how they want to handle the situation. Also, anytime you use an effect that might remove a character from the game for a bit, think about options for the player who is now without anything to do. Could he or she control some of the monsters or maybe the hirelings or henchmen?
For players, think about why you play the game. If you are really invested in your character, make sure your DM understands that so he or she can keep that in mind when choosing or designing adventures and picking the monsters. If you are interested in reacting to an ongoing story full of twists and turns, try to let go of control a bit and think of something like petrification as a challenge to create an interesting new story instead of as an end of the current one (or as a personal failure). If you're upset, consider stepping away from the table for a moment.
The issue isn't save or die mechanics or ones that seem like them. It's about communication, understanding what each other is looking for, and setting reasonable and fair boundaries.