Designing a Street Fight
---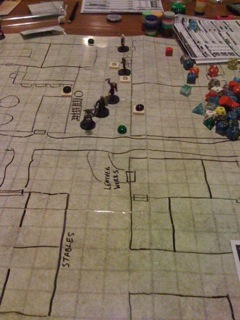 When I design encounters, both story and tactics come into play pretty heavily. Since I'm running a homebrew campaign right now, the base layer is always the story. Where do I think it's going? Who might have issues with the PCs actions? For instance, last night's encounter involved a street fight between the PCs and henchmen of a man in town by the name of Robert. Their recent activities have put Robert's plans in jeopardy and he told his men to be on the look out for the group. Since I knew that my group would be shopping, having the encounter occur near the shops made sense both in game management terms, only one map was needed, and in story terms, a back alley behind a bar and shops seems the perfect locale.
When picking the monsters, I try to visualize the scene. For last night's encounter, I also had 2 new players new to town. I figured a few medium level henchmen might approach them and attempt to recruit them to Robert's side. For this, I picked the King's Sword fighters. Figuring that was a good start, my next thought was that the would probably have some lower level guys there as additional muscle to help the process along. A few minions coming in from the outer fringes of the map sounded like a good idea so I chose some human thugs. Wanting someone who was a bit more of a leader, I then chose Rolf the Butcher as the boss. I figured that the swords and the thugs would be able to help give him and each other combat advantage during the fight. Worried that this group would be ineffective against our swordmage and to give our psion some of his favorite enemies, I added a human hexer into the mix. Finally, I added a few archer minions to the roof tops as further support. I won't lie, running this many different monsters is difficult. However, I knew that there were going to be some new people in our game and I wanted to provide a bunch of different monster types to make for a challenging, potentially scary, but winnable encounter.
With the monsters chosen, it was time to draw the map. From my story, I knew some things that would have to be there, a bar, some shops, an alley way and from my monsters, I knew that I needed a place for the archers and entry points for the monsters that would show up in later rounds. Once I added those elements to the map, I started thinking about things my players might want to do. For instance, I could totally see our halfling rogue wanting to go up to the archers and take them out. So I added some crates to make it possible for him to pull an acrobatics stunt to do that.
So there you have it, how I went about designing a street fight scene. I know there is a ton more that I could have done but I think it came out pretty well for the time I had to spend on it. How do you guys do it?