Death to the Dungeon
---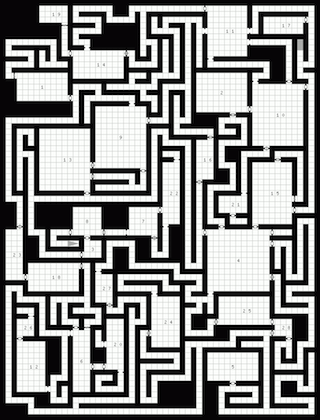 Dungeon from http://donjon.bin.sh/d20/dungeon/Dungeons & Dragons creates its own culture and language through the extensive use of fantasy tropes such as Vancian Magic. To at least some of the uninitiated, these bits of shorthand form a wall between them and the game. For instance, a spellcaster forgetting a spell after casting makes no sense to me and still breaks my suspension of disbelief.
However, in my mind, that break is nothing compared to dungeon design. I'll admit up front that I'm no fan of dungeons. I realize it's part of the game's name and that many D&D veterans love them, but big dungeons full of monsters around the party's level and of untouched treasure lead me to, well, call shenanigans.
I realize I'm not the first, and will by no means be the last, to say this. But I think as we try to bring new people into the hobby and try to encourage them to do some role-playing in addition to roll-playing, we need to consider that sometimes the disconnect might not have anything to do with whether or not fighter has a daily "power." For some new players, it's near impossible to connect with a place they've never visited[1]. For instance, I've never been to the desert so I have a hard time placing my character in a world where the sand stings her eyes as she feels the intense heat radiating off the ground. I know those things happen, but I have a harder time feeling them.
On the other hand, throw me into the middle of the woods and I know what to do. Tracking something? I'd like to look for footprints in the ground, animal droppings and broken twigs please. Want to trap a wild boar instead of chasing it around? Great, let's get some rope, a young tree and set up a snare, or dig a pit, weave together some thin branches and throw a bunch of leaves on top. I'll have it for you in a jiffy.
The difference is I've seen and interacted with the forest before so I have a much better idea of what is and isn't possible in that world and, thus, feel more confident that my ideas have a chance of working. As I gain that confidence, I'll be more willing to role-play in a foreign world, such as a dungeon. At this point, some may say, well you've read and seen the Lord of the Rings and other fantasy novels. While that's true, I think a big gap exists between consuming these stories and feeling engaged enough with the typical fantasy world to create your own.
So, while I agree with Rob Donoghue that dungeons might be a good tool for newer DMs, I would like to suggest to more experienced DMs that they look outside of the dungeon for adventures for newer players. The key is to still limit or make clear the options the new players have, lest they fall to analysis paralysis. Give them some clear call to action but let them explore areas that have echoes to their real world. Find out their backgrounds, are they city or country folks and what are their favorite books? What games did they play as a child and what stories did they like to act out? Create a world out of the elements they know the best, give them adventure hooks that easily feel real to them, sprinkle in elements they know how to play with such as fruit carts, and create a safe environment for role-playing.
1. This issue is brought up a fair bit in education policy. Many critics state that some reading comprehension tests are unfair to disadvantaged groups because they often cover topics foreign to those students. For instance, an essay on a person's first fishing trip may be unintentionally more difficult for many inner-city youth since not only do they have to complete the normal reading comprehension questions but they also need to figure out what fishing is if they've never done it.