Dahomey's Women Warriors
---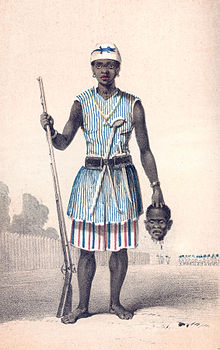 Seh-Dong-Hong-Beh, a leader of the Amazons: from WikipediaDahomey's women warriors, also known as the Mino, were a group of women who served as guards to the king of Dahomey as well participating in battles. Their exact origin is unknown with some claiming it was as early as the mid- to late-1600s and others pointing to as late as the mid- to late-1800s. However, what is known is that the group was defeated for the last time in a battle with the French Foreign Legion on November 4, 1892.
A fair amount of inspiration for RPGs can be found from their history. Two articles gave me the most information, one from the Smithsonian blog, Dahomey's Women Warriors and an article from the History in Africa journal, "On the Origins of the Amazons of Dahomey" which can be accessed for free with a JSTOR account. The same author, Stanley B. Alpern, wrote a book: Amazons of Black Sparta: The Women Warriors of Dahomey.
History
Origins
Over the years, people have presented a number of theories regarding the origins of the Mino. Not only do these explanations help us understand the people of Dahomey, but they can inspire us to add women hunters and military corps to our own games.
Palace Guards One origin theory suggests that the group started as palace guards during the 1720s. Under this theory, Dahomean men were prohibited from the palace precincts at night. Women would then have an advantage as guards. Additionally, women were often given as a gift to the king, becoming his wives. These wives were divided into groups, one of which consisted of the women the king would not have children with. Some believe the Mino were formed from this group of women.
Hunters According to some, the origins of the Mino can be traced back to women hunters, known as the gbeto, returning from a particularly harrowing elephant hunt. "A Dahomean tradition relates that when King Gezo (1818-58) praised their courage, the gbeto cockily replied that "a nice manhunt would suit them even better," so he drafted them drafted into his army" (Dash, Mike. "Dahomey's Women Warriors.")
Filling out the Military An unreferenced story in a Wikipedia article on Dahomey relates that they may have been recruited in 1729 to fill out the army, being equipped with just banners. Some articles suggest that the Dahomey people were much smaller than neighboring tribes, thus requiring the recruitment of women to fight.

"Becoming" Men
One of the topics brought up and then dismissed is that their existence was proof of greater gender equality among the Fon, the people of Dahomey. This doesn't appear to be true but rather the women who joined the Mino were, at least in some ways, considered to be men. This often happened through a rite of passage. According to the Smithsonian article, this rite commonly was when the women disemboweled their first enemy. The Dahomean women who went through this transformation often were provided with items that seem to traditionally be reserved for men including tobacco, alcohol, and slaves.

This reminds me of the game "How We Came to Live Here" by Brennan Taylor. One of the themes of that game is that one's sex and gender are important. However, the game also provides mechanics for a person to choose a gender that is not the same as their sex.

More Information:

I know I only scratched the surface, but I hope it's enough to entice you to learn more about this historical group of women warriors.

Difficulties in exploring African History
I want to give a note about the difficulties in exploring African history. One of the problems we face is not only a lack of written record in many places, but that the records that do exist are often written by outsiders. For instance, let's look at the way many Westerners position these warriors, calling them Amazons. It's understandable why they do this, by using the word Amazons, their audience will instantly understand a number of things about the Mino, namely that these are women warriors. However, it also limits us. A large number of the myths connected to the Amazons have nothing to do with this group and, since we may get the impression that they are just part of this Amazon category, we might not explore further.

Additionally, since most of the sources we have are from visitors instead of the people themselves, references are scattered across the globe in numerous libraries and in many different languages. Finding them all and creating a centralized record is a time and resource consuming task.

Interested in more black history? Quinn Murphy is posting and collecting great content on his website Thought Crime Games. Please consider taking part of his challenge.