Customizing a Monster with Monster Builder
---
I've been using Monster Builder a while to do basic customizations to monsters, adjusting level, removing powers, etc. However, I couldn't figure out how to easily add powers to a monster, especially ones that existed for other monsters. I discussed this with Jeff Greiner of the Tome Show the other day and he shared that bit of knowledge with me. Figuring that I can't possibly be the only person who didn't know how to do it, I decided to write a brief tutorial here. If you don't already have it, the Monster Builder is part of the Adventure Tools available on the Wizards of the Coast website.
Step 1: Edit an existing monster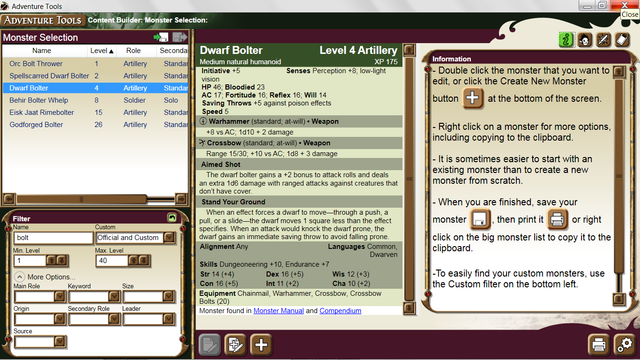 Pick a monster to edit. In this case, I want to make a dwarf fire archer, so I picked the closest one I could find, "Dwarf Bolter"
Step 2: Edit basic info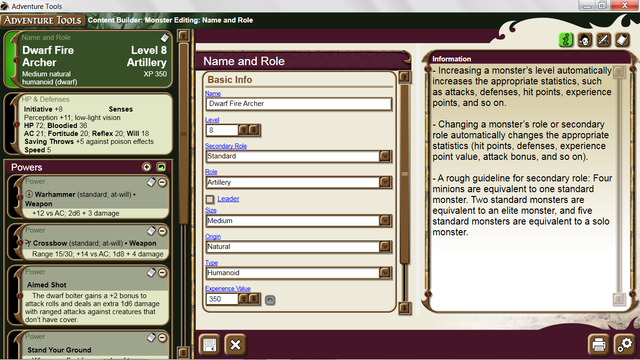 Edit the basic information, such as monster name and level.
Step 3: Edit powers
Since I wasn't going to use the crossbow and aimed shot powers, I deleted them. Then I found appropriate powers to add. First, let's add the longbow.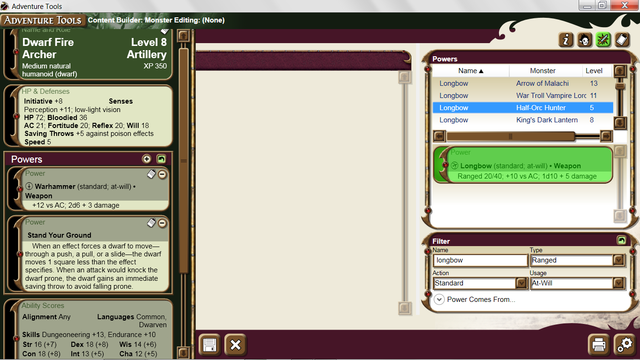 To do this, we'll need to open up the monster power list. On the right hand side, click on the sword image to get the power list. You can narrow down the options by using the filters:
Name:The name of the power.
Type:The type of attack such as ranged, melee, etc.
Action:The type of action, such as standard, minor, move, etc.
Usage:The recharge of the power, such as at-will, encounter, etc.
Additional search options are available by click on the down arrow next to "Power Comes From." These options help you limit powers to certain monsters.
Monster Name: The name of the monster
Monster Role: The monster's group role, such as artillery.
Monster Keyword: A keyword associated with the monster.
Monster Origin: The monster's origin, such as shadow.
Min. Level: The minimum level of the monster.
Max. Level: The maximum level of the monster.
Leader: Whether or not the monster is a leader.
Source: Where the monster was published, such as the Monster Manual.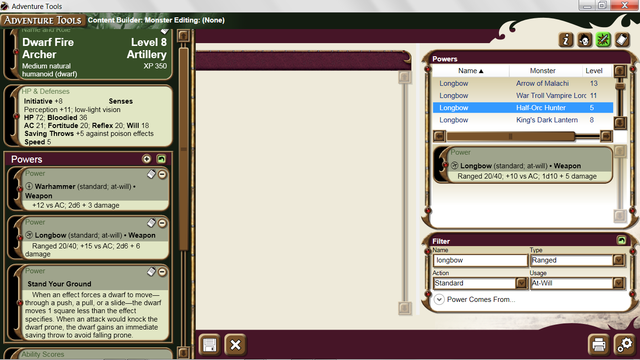 Once you find the power you want to add, drag it from the list on the right hand side to the monster power list on the left.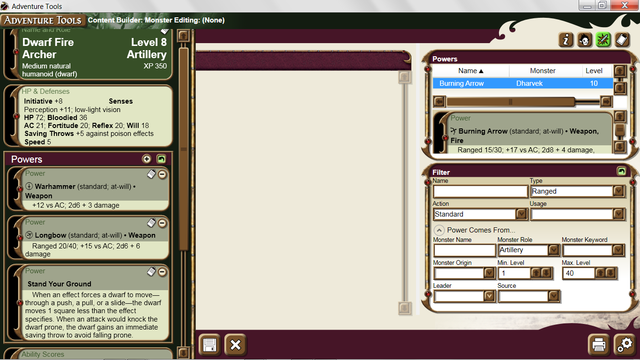 The longbow power was pretty easy to search for, but I want the monster to shoot flame arrows. I used the advanced search options to help find something with ongoing fire damage. Looking through the list, Burning Arrow looks like what I want, so I drag it over to the power list.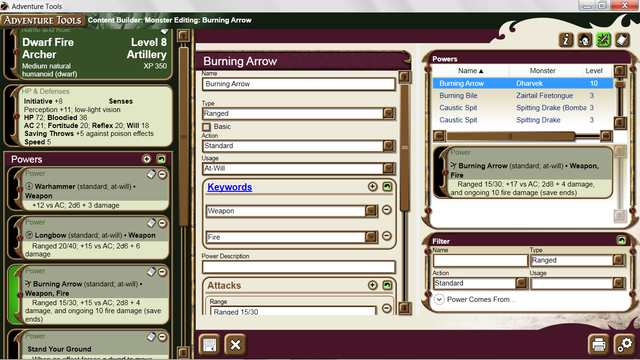 Now I can just make a few edits if I want, like giving it a new name. It even automatically adjusted some of the numbers for me. You'll always want to sanity check it to be sure, but it's a handy feature.