Crafting Wilderness Maps
---
As you might remember from my much earlier article about creating homemade dungeon tiles, I love to find ways to combine art playtime with gaming. Over the past couple of years, I've been spending a bunch of time watching papercraft and art journal YouTube videos and recently had the time and supplies to try out something new, papercraft wilderness maps.
D&D wilderness maps tend to be hex based instead of the squares typically used for dungeon/battle maps. Hex maps have a long history in war games as well as a number of board games and computer/video games.
I had been trying to figure out a way to create hex maps using some of the mixed media techniques I learned. Recently I've been able to dig out my Gelli Plate for the first time and I had a bit of a eureka moment. For those who are unfamiliar, Gelli Plates are a gel printing surface used to create monoprints, essentially one time prints. Every print from the plate will be unique. While a variety of media can be used on the plates, I've been using craft acrylic paint. You can also use a wide variety of print surfaces.
The key about Gelli plate based monoprinting is creating layers. In its simplest form, this is done by applying thin coats of paint to the surface of the plate and then putting down the surface to be printed. The paint will transfer from the plate to the paper. While this will provide some visual texture, there are other ways to add texture including using soft tools to make marks in the paint, or as you'll see in the examples, using stencils.
One of the reasons I decided to use this particular technique is that the variances in the print can provide visual interest while reducing the possibility of overthinking things or seeking perfection. Most of the time the plate is a rather blunt instrument.
For this example, I decided to use the pages from a law textbook a neighbor threw away. I decided to create green (for forest), blue (for water), and yellow (for developed land).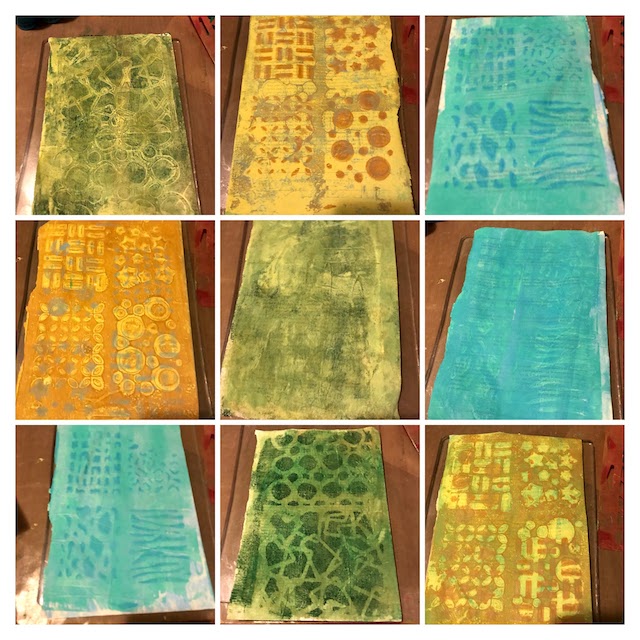 I used stencils to provide some patterns on the pages, doing two presses per stencil use. The first press got the paint not covered by the stencil. After removing the stencil, I took a second print which got everything left behind. Here's an example of both pulls on the same piece of tissue paper.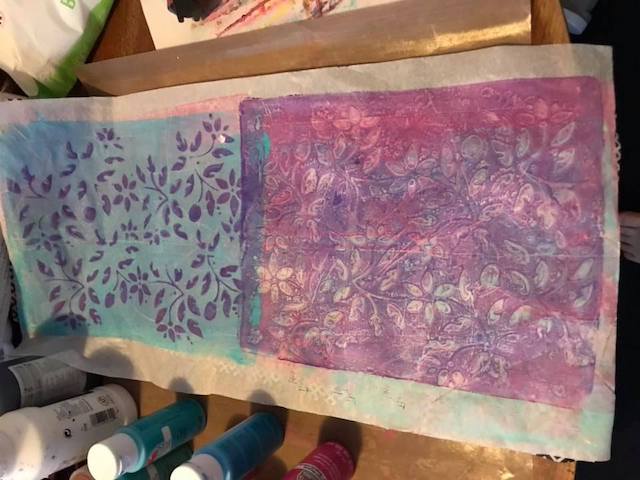 The printing process took about half an hour. I then let them dry. The next day I had some time to test out cutting the hexes. It's possible to cut them out using scissors after drawing a grid, but I recently got a craft die cutting machine and wanted to test it out. I bought a hex die (affiliate link) that fit the machine and cut the pages down to size. Here are some example hexes I cut out: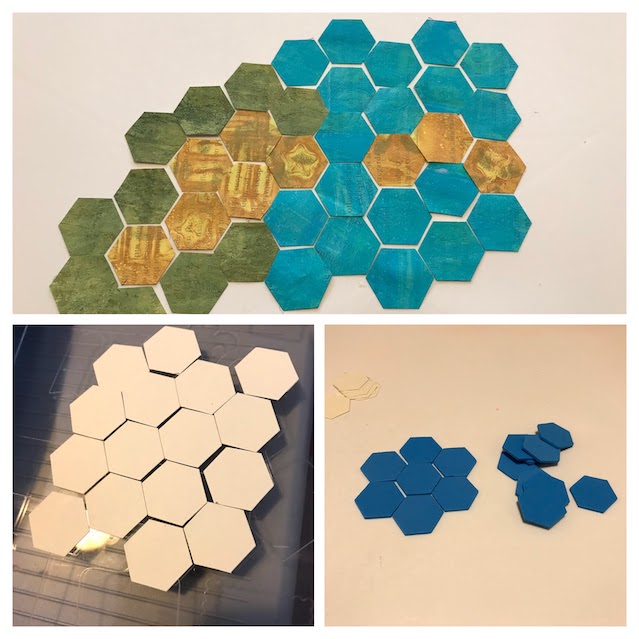 The top image in the collage are the hexes cut out of the monoprint examples. Notice how some of the text still shows through and the variations in the color, whether through variations in coverage or through the application of the stencil, produce some visual interest. However, given how lightweight the paper is, I might suggest adhering the paper to something thicker before cutting out or cutting out and then gluing down to a thicker medium. I also give some examples of using card stock (in this case, just manilla) and foam sheets (the material I used in the original homemade dungeon tiles post).
In this case, the die is a 1/2 inch one, the smallest I could find during my quick search. However, they do make larger ones. I saw 3/4 inch, 1 inch, and 2 1/4 inch. It looks like they are commonly used by quilters.
One thing to note is that I just did this particular round of examples as a test of how it might come out. This means I didn't concentrate too much on how to make a more "natural" map. So each hex is only one color. In the future I'd love to explore how to do hexes where the colors meet within the hex. I'm also interested in looking into how I can use some of my other dies to perhaps mimic that by cutting the hexes into smaller pieces but not in a straight line.
If you're interested in trying this out but don't have the supplies, talk to your friends to see who likes to scrapbook, quilt, art journal, create mixed media, or create cards. They may have a die cutting machine such as a Sizzix BigShot (what I used) and/or the Gelli Plate. Who knows, if they don't already play, you might be able to convince them to experience the map you create first hand, as a player.