Cool Tools: Burst and Blast Templates, Dwarven Forge, and Fighty
---
Dungeons and Dragons 4th Edition Burst and Blast Templates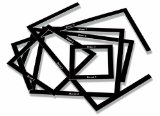 One of the guys in my gaming group, @TheMikeKatz, bought these burst and blast templates and they are pretty useful. They help us to easily know if a particular target is within reach and we can leave the burst squares on the table to signify areas affected by lingering spells. The same company also makes condition tile sets to help track conditions but we don't own these and I'm not sure how they work in actual game play. Having the color tie to the player rather than the condition helps with the issue of remembering who exactly caused the condition and makes it easier to say things like, "Hey, it's the end of your turn, do any of these conditions go away?"
Dwarven Forge
Yes, they are expensive. But even more importantly, they are freaking awesome. The envy of many a DM, Dwarven Forge sets help answer simple questions like, are there any candles in the room, where exactly are those pits of lava, and are there any girls there? These sets aren't for everyone as some people would rather be limited by their imagination instead of the amount of money they have and whether or not the piece they want is available. But for the rest of us, we either already own them or continue to drool. Mike Shea, @SlyFlourish, has some great tips for incorporating them into your games. And if you haven't seen Gabe's post on using mirrors and lasers, you need to check it out now. We'll still be here when you get back.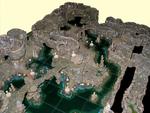 Cavernous Passasge Set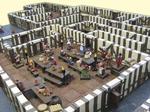 Medieval Building Set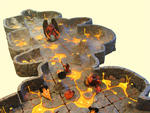 Den of Evil: Hellscape
Fighty
Ok, this last one isn't quite fair as it's only really available to Google Wave users, but it's still awesome and I just had to gush about it. Daniel Clery, @exedore6, created a Google Wave gadget that allows one to create a virtual battlemap. More details on Fighty are available via the Save vs. Geek blog but these sorts of hacks are exactly why I love my industry so much.