Con Harassment: Rape Culture and the "Silence is Sexy" Script
---
[TW: Sexual Assault]
In my previous post, I published the results from my harassment policy survey. Among the group that responded to the survey, they overwhelmingly felt these policies were important or very important (228 out of the 319 total responses). Twenty percent had witnessed or experienced something that made them wish there was an anti-harassment policy, and 15 percent had felt harassed or assaulted at a con. It's important to note here that nearly 72% of the respondents identified as primarily male/men and out of the 49 people who responded that they had felt harassed or assaulted at a con, 15 of them identified primarily as male/man.
As I pointed out in the last post, I can't extrapolate too much using these results. This wasn't a random survey. People shared them among their friend networks, starting with my own. People had their own reasons for deciding to click on the link and responding, sometimes because they were already in favor of the policies and sometimes because they were firmly against them. However, I have to say I'm not surprised by the responses. At the very least, I think it points to the fact that among some communities within the larger gaming umbrella community, this is a real issue and their lived experience.
Whenever we try to have a conversation about why these things occur, the topic of "rape culture" inevitably comes up along with it the numerous misunderstandings and misinterpretations, many of them based on little more than defensiveness. So, I'd like to talk about my experiences with rape culture a bit and my understanding of it.
Those who don't really understand the phrase often like to take the words as separate items, look them up in a dictionary or rely on their own knowledge of the meanings, and try to deduce the meaning of the term from there. This makes things really difficult. Rape culture encompasses far more than a culture that promotes rape. You can exist in a rape culture and never rape or be the victim of rape.
Like many academic terms, rape culture is rather abstract and can be difficult to identify in the real world. There aren't hard and fast boundaries. Here's a definition from Transforming a Rape Culture via Rape Culture 101 on Shakesville:
A rape culture is a complex of beliefs that encourages male sexual aggression and supports violence against women. It is a society where violence is seen as sexy and sexuality as violent. In a rape culture, women perceive a continuum of threatened violence that ranges from sexual remarks to sexual touching to rape itself. A rape culture condones physical and emotional terrorism against women as the norm.

In a rape culture both men and women assume that sexual violence is a fact of life, inevitable as death or taxes. This violence, however, is neither biologically nor divinely ordained. Much of what we accept as inevitable is in fact the expression of values and attitudes that can change.
That seems really abstract to some people and I get that. Here's an extract from a recent fantasy (as in the genre) novel (not a book meant just for adults) by a mainstream and well known publisher. The woman in this scene is the trainer of the "younger" man. I say younger because while his body is relatively young, he was reborn and had lived a rather full previous life and kept all the memories from that life. So, yeah. During a previous training session, the woman had kissed him, seemingly to distract him and win the fight. We also have hints that she is unsure about her feelings for him but seems to like him. R is the male character and D is the female one.
Why did you kiss me?"

She started to answer, but R's expression turned dark and he continued, "What did you hope to gain from it?"

D fell back another step, but then came forward aggressively, dropping her blade and putting her hands on her hips. She stood barely inches from R staring at him coldly.

"You cannot be mad at me!" R insisted.

"You have shown me-- you have taught me! You have taken me to those noblemen's grand parties and shown me how to use your charms to mainpula--"

D's hand came up faster than R could react and slapped him hard across the face.

She huffed and swung around to run away, but R caught her by the shoulder and tugged her back around, throwing himself at her. And when they crashed together, he hugged her tightly. He saw the moisture in her pretty brown eyes, and kissed her.

She twisted to get away. She pulled her mouth back. But R pressed in harder and rejoined the kiss and D's tension gradually melted away, and then she was kissing him as passionately or more.

"Do you doubt me?" she asked, and she twisted suddenly, dropping them both to the floor, her atop him.

"Have you never kissed any of them? Isn't that part of the game you play?" R asked.
This is an example of rape culture on at least two levels. Obviously, it sexualizes violence. The whole thing is violent from her slapping him to him being willing to gamble on committing sexual assault. If you want to quibble with that statement, reread the passage again. He doesn't know when he kisses her whether or not she's going to be ok with this. In fact, she has given plenty of signals that she says she is not ok with it at that moment.
Secondly, even after giving all of those signals. Even after all the "not being sure," she in the end gives in. Of course she does. Because that's a frequent rape myth, that, in the end women really want it.
Once I read this passage, I had to force myself to finish reading the book and I only did that because of other commitments. It sickened me and I couldn't believe that an author who often talks about the things he won't put into his books because he's mindful of his younger audience would put this in.
The hard part for me is I've lived this. I've been held hostage in a room because I wouldn't pay a kiss a toll to be able to leave the room. I've woken up with a male friend on top of me, kissing me, because he thought I really wanted it. At a dance, I had another man take my hand and put it on his erect penis not once, but twice, even after I said no. The second time, he forcefully held it there until I could pull myself away. I've had men, dozens of them, tell me that I don't have the right to tell people not to bother me because their right to try to bed me superseded my rights as a human being to live my life and network with my professional peers.
And this life imitating art imitating life reinforces that. This scene in the book, didn't need to be written this way. It didn't add anything to the story except that R is a complete idiot because after they have sex he has this realization:
He felt the fool for ever doubting this amazing halfling lass. She was playing no game for him; her feelings were honest.
*facepalm*
What scares me is as I looked through the reviews for this particular book, many of them glowing, not a single person pointed this out. And that's the problem with rape culture. There's an acceptance that this is the way romance is done. That acceptance, in turn, is what allows sexual violence to happen at the high rates we see. It's why some try to differentiate between "forceable rape" and lack of consent. They don't know how consent works.
And among a portion of the people who commit harassment and assault at cons, this same lack of awareness holds true. After a well-publicized assault at a tech conference and the harassment and blame the victim received when she came forward, O'Reilly decided to look into the problem at their conferences. They noticed that among the people they found had done these things, had even admitted to doing them, a large percentage of them had no idea what they were doing was wrong. No one had ever questioned this behavior around them. Nothing they read had ever caused them to question it either.
That's why we need more stories like Saga, Sex Criminals, and Rat Queens. Take these panels from Sex Criminals #1: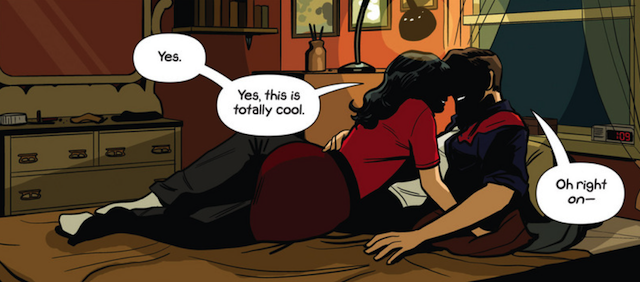 Enthusiastic Consent - Sex Criminals © Milkfed Criminal Masterminds, Inc. & Chip Zdarsky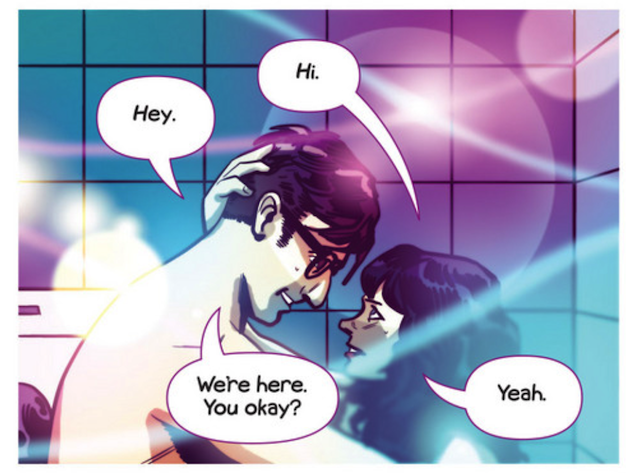 Checking In - Sex Criminals © Milkfed Criminal Masterminds, Inc. & Chip Zdarsky
In the first panel, the male character checks in to make sure everything is still good with the woman. She gives her enthusiastic consent. I find that pretty awesome. In the second, they are about to do something they haven't done before. He again checks in. Super sexy!
In this panel in Saga, two of the main characters are having a disagreement.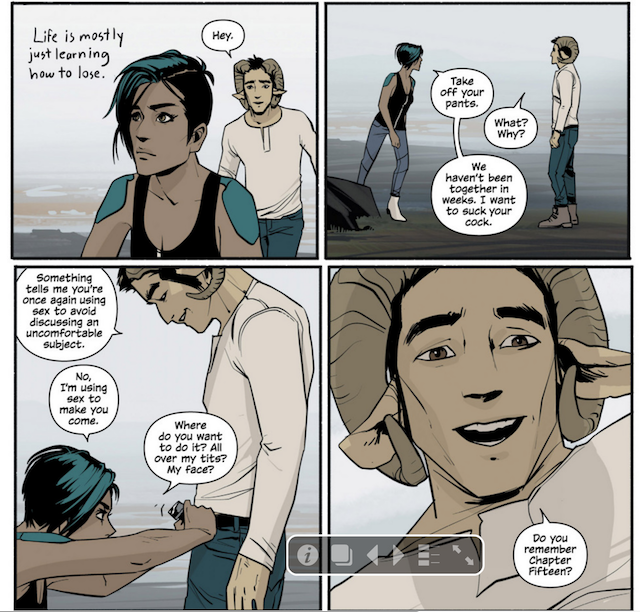 Going Off Script - © Brian K. Vaughan & Fiona Staples
As couples often do, Alana tries to us sex to distract. Marko breaks our typical narrative by pointing this out and turning it down and continuing to work through their issues.
Why do we need more of these? Because we use all of these ideas, regardless of their source, to figure out our own ways of interacting with the world, especially at a con. Think about how many times you've repeated a line from a movie or book that you thought was freaking awesome and smooth. Now think about the number of lines that follow the "silence is sexy" script rather than the enthusiastic consent one? That doesn't mean no character can ever be the former, but it would be nice if the work was self-aware about it.
I've only scratched the surface on this one, I know. But I'd like to ask you to consider how at a con centered around a genre, the way that genre presents and deals with romance and sex might have an impact on how the people act at that conference. Let's create some fantasy characters we can actually aspire towards when it comes to sex and sexuality.