Comics I Love: Stumptown
---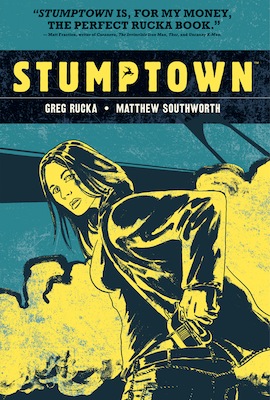 Last night we decided to visit a new-to-us comic shop, JP Comics & Games. What caught my eye as I entered was that the top shelf of the graphic novels section had a number of the hardcovers on display. One in particular called out to me from across the store, a blue and yellow cover that reminded me a lot of hardboiled detective novels I read for my film noir class. Not only did the style appeal to me, but the sole figure is of a woman tucking a gun into the back of her belted jeans. It had a simple name too, Stumptown.
Unfortunately, I didn't know anything about the author, Greg Rucka, the artist, Matthew Southworth, and the book was shrinkwrapped. While the co-owner was helping the other customer, I tried to look up information on the comic using my phone, but it was rather slow. I waited for him to finish, then I got up the courage to ask him about the book. (Yes, I'm sometimes nervous to ask about comics.) He understood right away my concern that the cover was a tease and the inside of the book might not do the same justice to the female characters and heck, there might not even be that many female characters in it. (A few of the issues I often run into when buying comics by the way).
Since he didn't know much about the book, he admitted that upfront and suggested we look it up on his computer. While the wikipedia article on it was short, it had enough info for me to figure out that the main character is a female detective, Dex Parios, that she has a gambling problem, and that the case involved finding the missing granddaughter of the a casino boss, Sue-Lynne. My reaction was piqued interest. It sounded like there would be a bunch of female characters and it was enough for me to shell out $30 for an experiment.
I read it last night, not wanting to put it down. The story starts in medias res with Dex getting shot. From there it goes back twenty-seven hours, detailing the events that led up to it. We meet a fairly large cast of characters, men and women. Most people have some shade of grey to them, although we meet a few truly bad people and some who are good. We see glimpses into Dex's life and how her chosen career affects those around her. We meet people of many different backgrounds and abilities and even get glimpses into how they see the world around them, and how that's different from how others see it.
Overall, it's a wonderful book and a nice little mystery. The artwork is stunning and evokes the genre well. In the foreword, Matt Fraction talks about the Rockford Files tv series, and I agree that Dex reminds me a lot of Rockford, even down to the trouble she finds and the parking tickets. Also, it makes a statement about equality by not making a statement at all. The characters are diverse along many lines including gender, race, sexual orientation, and ability. It doesn't shy away from violence. While Dex is shown with bruises, the attacks against her are not sexualized. There's some domestic violence in the comic but it's an important part of the story, in my opinion.
My only complaint about the book is that it's too short. I want more. If you're interested in Stumptown, Oni Press has a 19 page preview on their site.
This, along with Spera, helps me in a number of ways. I can find fans of these works to see what they like that's similar. It's easier to approach an employee now that I know there are some out there that I like. Also, I now have some examples to discuss about how to make game story lines that are more in line with what I'd love because both of those books have some great adventure seeds in them. Finally, I have some authors and artists whose work I enjoy and I can check out not only what they produce but what they recommend.