Comics I Love: Spera
---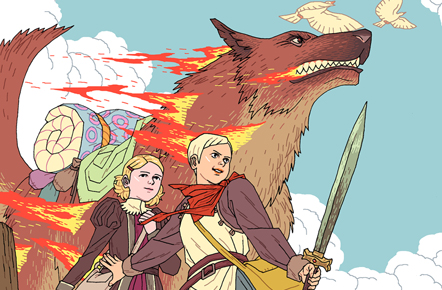 A few weeks ago, I came across the Spera graphic novel, written by Josh Tierney and illustrated by a number of artists including Kyla Vanderklugt, Hwei, Emily Carroll, Olivier Pichard and Afu Chan. Since I'm using the Comixology app on my iPad to read the comics, I've only read the first 3 issues of volume 1, but I'm already in love.
The tale follows the lives of two princesses, Lono and Pira. Lono is a more traditional princess, her days were filled with "sitting, reading, and dreaming." Then one day Pira arrives with news of a grave threat and convinces Lono to flee with her. Together with Pira's best friend and fire spirit, Yonder, they seek adventure and life. Along the way they fight a hill monster, climb a steep cliff, and negotiate for their meals and a place to sleep, all while pondering what it is they want from life and from each other.
As for why I love the series, well, first the artwork is amazing. Using multiple artists to tell the tale was a great choice, especially since the story seems to follow a traditional hero's journey story line. The multiple artists reinforces the feeling that we often crave similar things, to be understood, to be in control of our own destinies.
Besides loving the graphic novel itself, the story could be a great starting point for a game. It also made me ponder using D&D Next for it since Pira's reasons for leaving home, to find adventure and rescue the princess Lono, are such common motivations for fantasy, and by extension, D&D stories. As much as I love 4e, it's not quite the right feel for it since it's clear that Lono and Pira aren't quite heroes yet (although Yonder is fairly powerful). In addition, the flexibility I see so far in D&D Next, especially its lack of master skill list and the equal emphasis on interaction and exploration, fit well with the narrative of the story.
Thus, the comic reminds me what I hope for most with D&D Next. I would love things to stay simple and flexible enough where I can create my own themes, backgrounds, and the like so that if I want to build a campaign world similar to Spera's, I can do so easily. I could create a background and a theme for Pira that gives her access to simple fighting maneuvers as well as skills such as climbing, while creating another one for Lono to emphasize the skills she would have learned as a more passive princess. Yonder could be a character half controlled by the DM but also accessible to the players as a limited resource.
More information can be found on Spera-Comic.com. Also, I love the ComiXology app for the iPad. It has a special view option that shows you a panel or two at a time, creating movement, and providing composed scenes. It's also helped me learn how to read comics.