Comics I Love: Shutter
---
A comic I've been reading for the past few months that I love is, Shutter. I'm going to give some spoilers because I want to explain why I love it so much. First, the basics. The comic is described as urban fantasy with dash of Indian Jones. It is published by Image Comics and features writer Joe Keatinge and artist Leila del Duca.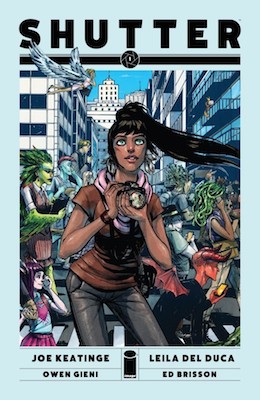 Shutter Cover
We are first introduced to the main character, Kate Kristopher, while she's on a father-daughter trip to the moon. In fact, she's telling her dad she wants to go now because the moon is boring.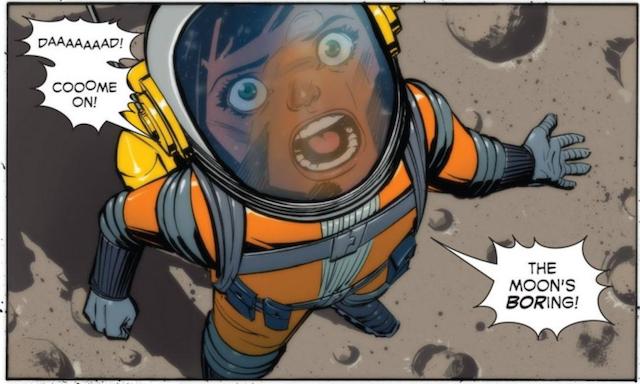 Shutter - Moon is Boring
Then we learn she comes from a long line of adventurers. It's a pretty common fantasy that a frequently traveling parent has a secret and interesting job such as a spy or part of a secret military force, but here, it's real for her.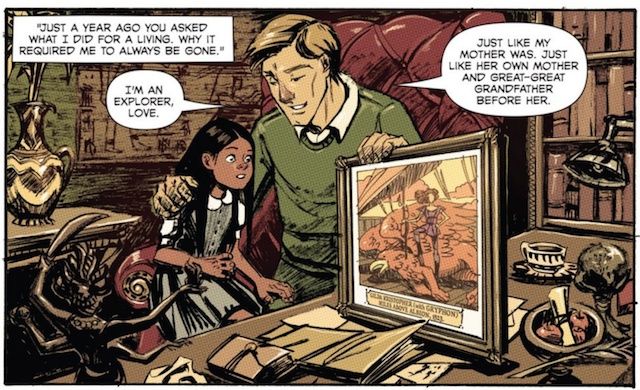 Shutter - Lineage
These two panels caught my attention. Not only is the main character a woman, a woman of color at that, but she comes from a line of adventurers that include women. Her father's mother and her mother were also adventurers. Kate is special because all adventurers are special in this world, not because she's the first female adventurer. YES!
And this is the world we're introduced to. The caption says New York City but it's futuristic and has non-humans.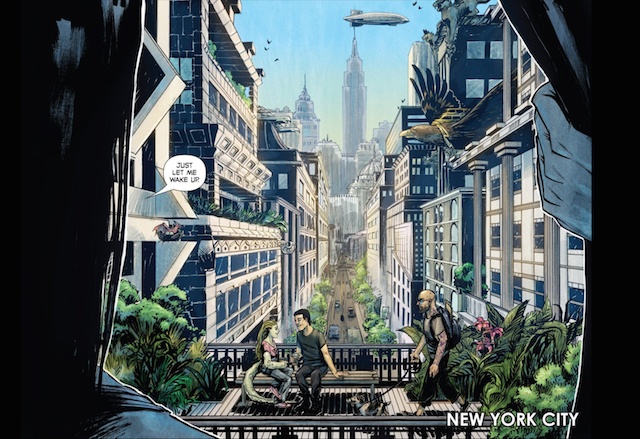 Shutter - New York City
We see more non-humans in the street scenes, like this one below, but also we see some diversity in the humans pictured as well. There's a person of color and a curvy woman. Plus, her roommate, Alain (more on her later), looks like she's a scientist and is in the middle of doing research.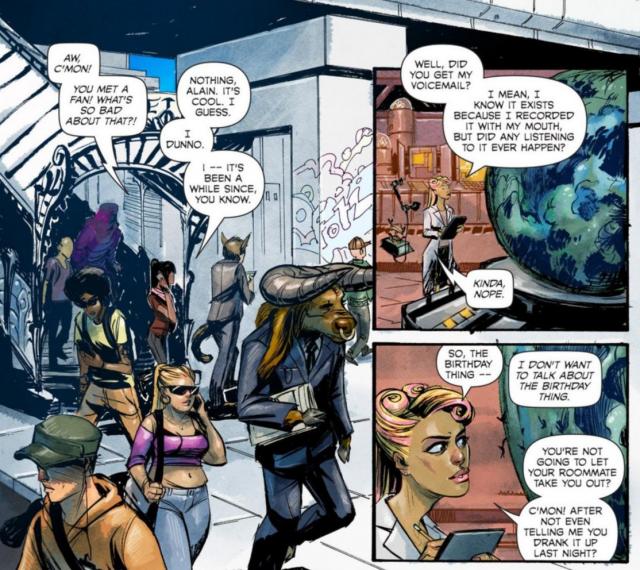 Shutter - Alain
We soon learn that her father has been dead for some time and, unbeknownst to her, she's being hunted. She gets hurt and is taken to the hospital. We see Alain again.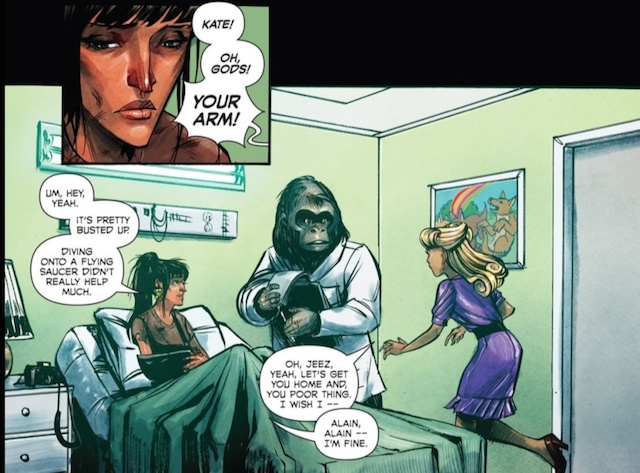 Shutter - Hospital
Alain is also critical to why I fell in love with the series. We've now met her a few times. There's an explosion in their apartment while they talk. And then, this, a picture of a young Kate and a young Alain, only Alain isn't dressed in the feminine clothes we're accustomed to seeing her in.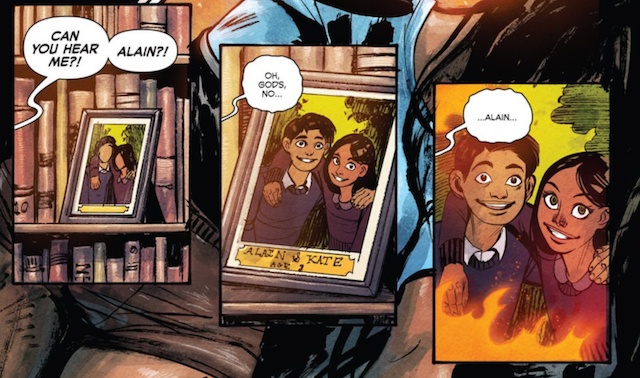 Shutter - Photograph
Flashback. Kate and Alain as children. Alain being picked on for playing with dolls. The bully hitting Alain with an action figure. Kate stepping in, defending Alain. Kate punching the bully, bloodying his nose. Alain and Kate bonding.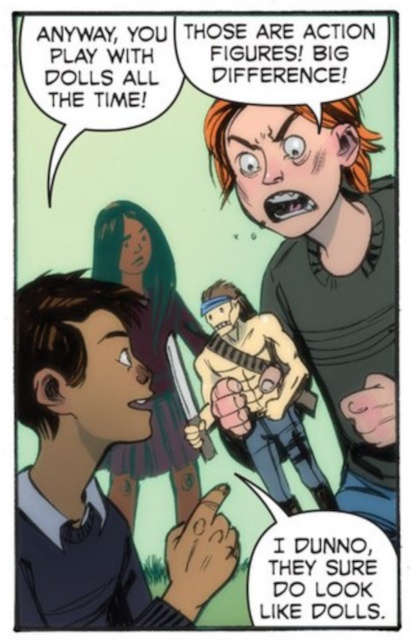 Shutter - Dolls
Back to the present. An injured Kate desperately searching for her friend, finding her in a room full of fire. Then Kate waiting in a room with other people. Then, well, I'll let you experience that for yourself.
I don't know if this is the perfect way to introduce that a character is transgender, but it is one of the better examples I've seen and had a deep impression on me. What I loved about it is that we had already been introduced to Alain as a woman. There's no concentration on body parts (or plumbing here). Providing the story of how they met also provides a bit of depth to their relationship. Not only are they roommates, they are childhood friends. The reveal about Alain doesn't just focus on her status as a trans woman. It's not about her body or her sexuality or any of those things. It's about people, with a connection to each other.
One reason I'm including so much art in this post is because I think it's absolutely perfect for the story. Also, it's a great example of how to create a full, rich world that acknowledges diversity. Not only are there different humanoids, humans themselves are depicted in a variety of body shapes and skin tones. The art is as much part of the story as the words and plot, drawing us in and pulling at our emotions.
For me, at least, I also think the work plays with so many tropes in urban fantasy and subverts them. The father introducing the child to their birthright is common, but less common is the child being a daughter instead of a son. It's common for a woman to be hurt in order to provide the protagonist's motivation to go forward, but rarely is that woman transgender and the protagonist also female. I admit, I could see some of these notes falling flat with some, but I'm enjoying a story line that breaks with tradition in these ways. Also, how can you not love this?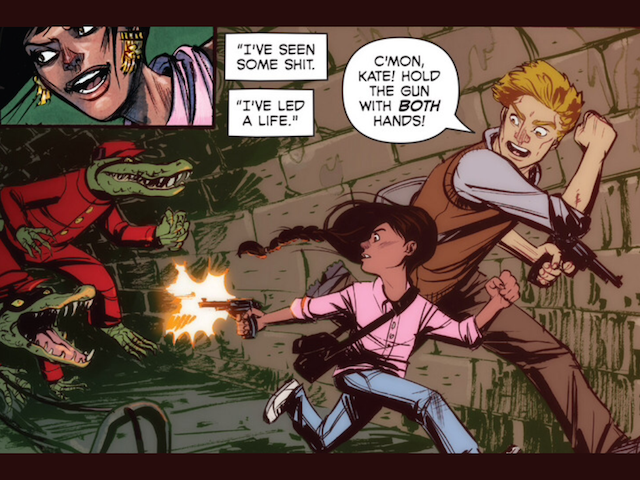 Shutter - Learn to Shoot
I haven't even gotten to the talking cat companion or the skeleton butler or, heck, the mysteries that revolve around Kate. If Indiana Jones-style urban fantasy is something that might strike your fancy, give the comic a try.
Images © 2014 by Joe Keatinge and Leila del Duca.