CarnageCon!
---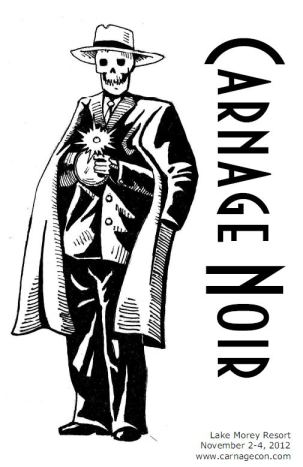 This past weekend I was a special guest at a great convention in VT called Carnage. The crew there, including Christine Crabb, were kind enough to invite me and I had a blast.
Things to do
There was so much to do, I feel like I missed some things. For games, people had their pick of tabletop rpgs, wargames, board games, and larps. Diplomacy seemed to have a huge crowd and the Pathfinder Society room seemed to always be busy. For those who needed time away from the table, there was lots of space for socializing, a theater room with movies running around the clock, and the convention itself was held at Lake Morey Resort, with lots of outdoor trails and places to see.
Highlights of the Trip
Running two games of "Dream a little dream of death" was a ton of fun. I created the scenario for DDXP two years ago and it never disappoints. There's nothing like obvious injustice and a mystery to figure out. I need to figure out how to write it up for other people to run it but none of the current adventure templates seem to work well for it.
Another big highlight was just sitting around and chatting with people. The convention is very family friendly and I believe about 20% or so of the attendees were women. The people I met were very interested in making sure everyone felt welcome. Whatever they are doing worked because I felt at home right away. Everyone was friendly and I had lots of great conversations about games.
The Future
If I recall correctly, the convention has been around for about 15 years. They celebrated their 10th year at Lake Morey and next year they will be at Killington, VT. If you live in the New England area, I recommend checking it out.