Blogs I Love: In the Eye of the Beholder
---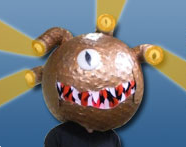 Recently I wrote about asking a player to tone down a feat that I felt was a bit broken. I'll admit, while I definitely recognized the problem on my own, I had asked a few people about it before talking to my player. One of those people is the author of the great blog, In the Eye of the Beholder, Greg Bilsland. For his day job, he is a game editor at Wizards of the Coast. He obviously knows his stuff. But, like many DMs I know, he cares more about the rule of fun than the particular rules of the game, and that really comes across in his blog.
In particular, I really like his idea of a defense audit. While I love to give my players a hard challenge from time to time, I'm still nervous about making monster choices that will just outright devastate them. On top of it, I hate picking magic items for treasure because since I never seem to pick what they can really use. A defense audit would not only help me (and them) figure out where their characters are a little weak but would also help me with picking treasure bundles. It might also help soothe one of our optimizers since he's always afraid his swordmage doesn't have a high enough AC and other things.
I hope you check Greg's blog out. Besides all the great information, he's a really nice guy. Oh and he's on twitter as well, @GregBilsland.
Recent Posts