Artists I Love: Emily Fiegenschuh
---
One of the parts of Gen Con I love is Artist Alley, the portion of the exhibitor floor reserved for those who bring our fictional worlds to (visual) life. Among those present this year is Emily Fiegenshuh (Wikipedia, Website). In terms of game art, she has done work for Paizo and Wizards of the Coast. In addition, she provided character designs and illustrations for multiple fantasy stories published by Cricket Magazine and illustrations for Inuit mythology magazines and books published by Inhabit Media. Finally, she created The Explorer's Guide to Drawing Fantasy Creatures, a how-to-draw book (more on that in a bit).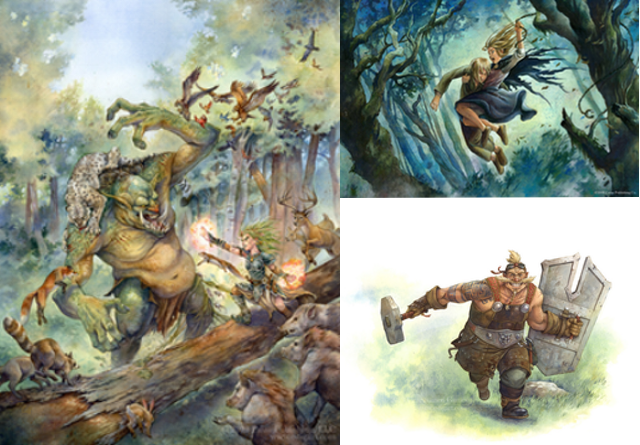 left: Call of the Forest Cover illustration for the Pathfinder Player Companion Animal Archive, published by Paizo, Inc. ©2013 Paizo, Inc.
top-right: Cymbril to the Resuce, Illustration for "The Star Shard" published by Cricket Magazine, October 2008. ©2008 Carus Publishing Company
bottom-right: Hogoren Character illustration for Unrestrained Games. ©2013 Unrestrained Games
Emily's art has a style that reminds me of the fairy tale books I grew up with. I love her balance between things that exist in the natural world and the fantastic. Additionally, I get from her artwork that she likes to do world building and is making conscious choices with both what she chooses to present and how she does so. This comes through in her book, The Explorer's Guide to Drawing Fantasy Creatures. Here are some example images of the book.
I can't wait to dig into this book more and give drawing a try.
From my brief conversation with her at Gen Con, it sounded like she would love to do more RPG work. I don't know her rates, but if you are interested, please contact her. Her contact info is emily at e-figart.com and her website is www.e-figart.com. Also, I love her card.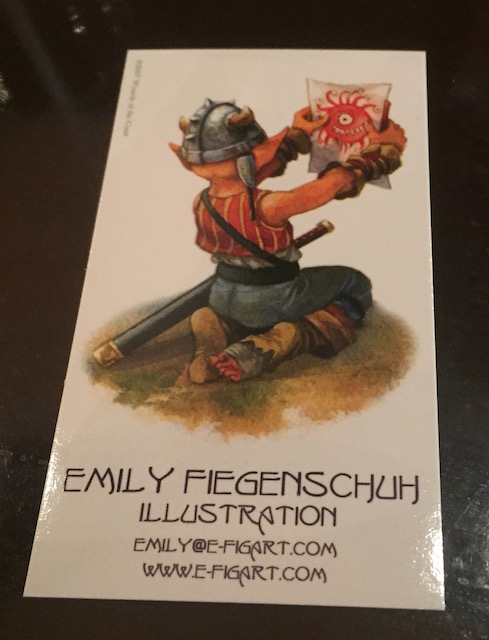 Also, here's what we picked up from her table at Gen Con.