Art Supply Roundup: Sargent Art Gel Pens
---
A few months ago I was fortunate enough to find Artist & Craftsman Supply in Central Square, Cambridge, MA. I had been looking for some colorless blending pencils from Prismacolor one day and we decided to give them a shot. I'm so glad we did. Not only do they carry art supplies for all sorts of "serious" arts and crafts endeavors (they carry professional materials for everything from oil painting to bookmaking/binding, but they make an effort to include neat student level products as well, include at least three different sets of gel pens from Sargent Art.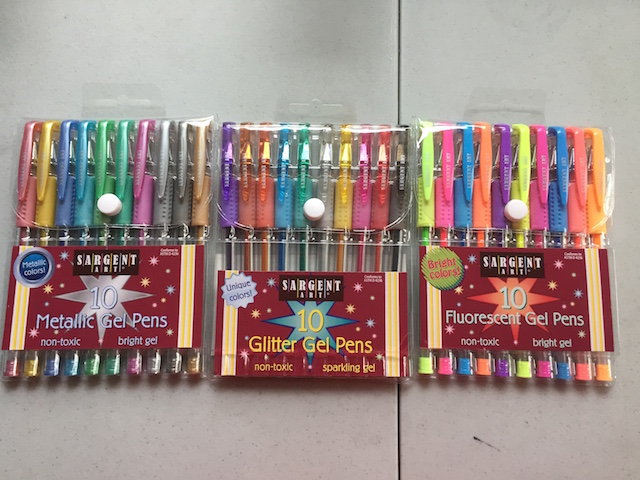 The three sets are fluorescent, glitter, and metallic. Each set comes with 10 different pens and is packaged in a reusable pouch with snap. Before I go to far into my experiences with coloring with them, I wanted to give you an example of the different colors available and how they did on various paper. First up is a smooth white cardstock.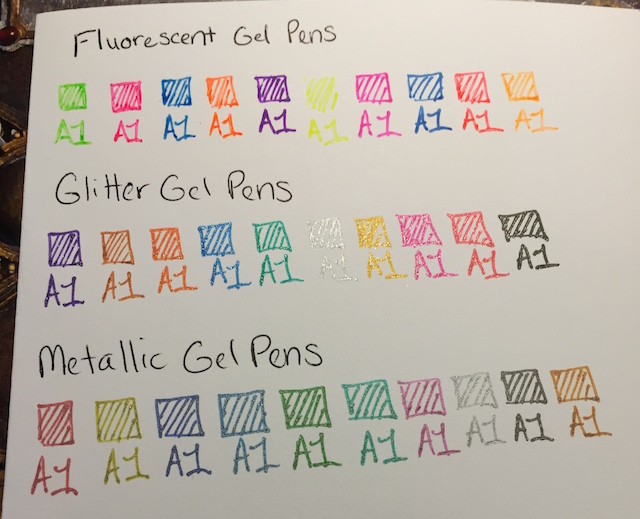 The colors here are all vibrant and the pens wrote fairly well. I did have some issues with the fluorescent gel pens which I think will be easier to see on the other papers, but I still liked them overall.
Here's the same pens, in the same order, on a piece of green cardstock.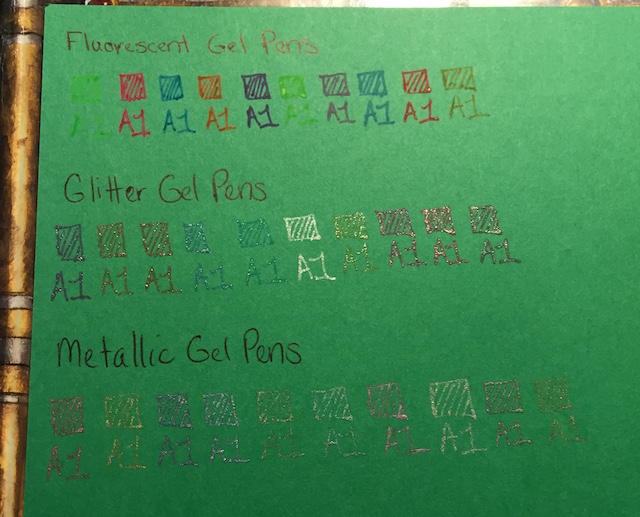 Again, I think the ink went on pretty well on the smooth paper. Obviously, the green shades are a bit harder to see. For the fluorescents, some of the colors aren't quite as vibrant and seem a bit duller. Also, I feel like the glitter pens fared much better than the metallics.
Finally, here's the same pens on a piece of black construction paper.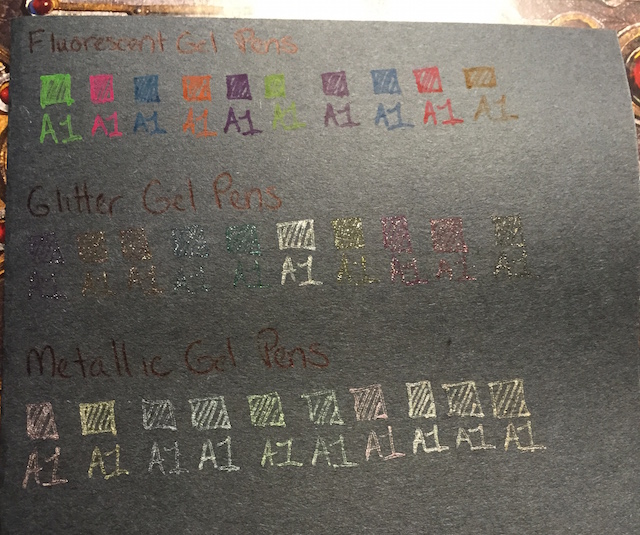 The construction paper definitely presented some challenges with getting the gel to come out smoothly. However, while some of the fluorescents had issues, especially the yellow and orange ones, overall I thought they held up pretty decently. Unlike the green cardstock, the glitter pens didn't do as well as the metallic gel pens. Mainly the glitter pens on this paper look like I put glitter on the page, with the exception of the more silver colored one.
A few other things to know about the pens. As you may be able to see in some of the images, the ink can pool sometimes, especially at the start and end of the lines. Also, the line isn't always consistent. Finally, these inks can take awhile to dry and are easy to smudge if you're not careful (left-handed people in particular might want to take note of this).
I forget exactly how much I paid for them, but I believe it was under $6 for each set. When I consider that I pay nearly a third to half that for one metallic silver Uniball pen, I think they are worth the price. I love using them as accents on my coloring.
Here's an example where I used my Crayola Super Tips markers to color a flower in yellow and then went over it with the orange and yellow glitter pens.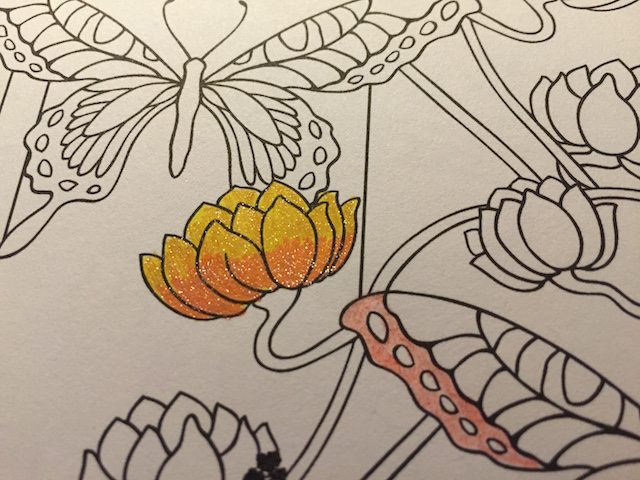 I used the metallic gel pens to color in the crowns on this page.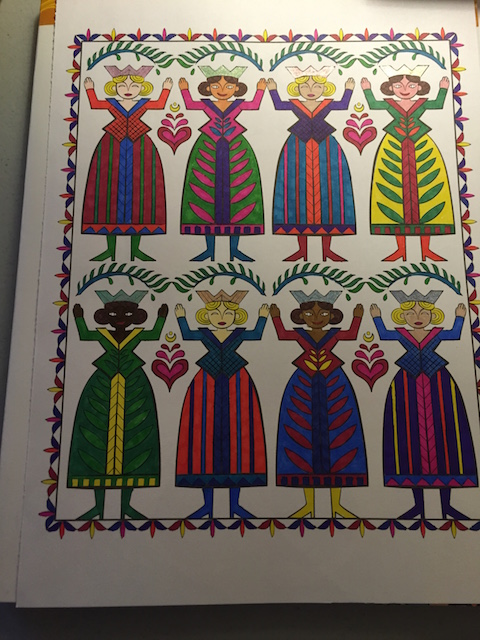 The important part here, in my opinion is to just have fun and don't feel that just because it's in the kids' area that you can't have fun with it and create cool stuff.