Are you up for the challenge?
---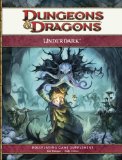 Going to PAX East? Looking to show off your adventure design prowess? If so, Wizards of the Coast is giving you a great opportunity to show the world just how much better than Christopher Perkins you really are. At 7 pm on the Saturday night of PAX, WoTC will be holding a DM tournament of sorts. Participating DMs are asked to create an adventure, using Underdark source material, for five 6th-level characters. The expectation is that the adventure will last for about 5 hours and encompass 3-5 combat encounters. However, DMs are encouraged to add other elements to their game to increase role play opportunities and to develop a mini story. In addition to bringing their adventure, DMs should bring everything they need to run the game, such as maps, tokens, minis, tiles, etc. Players and their characters will be provided. DMs will be rated by their players so keep that in mind when deciding whether or not to go for the TPK. People who would rather play than DM can show up 10 minutes before the scheduled time or sign up beforehand by emailing the organizer, Willi Burger at RPGAMarshal@aol.com.
I don't think I'm anywhere near the level I would need to be in order to enter this contest. I am tempted to write up an adventure anyway and pass it out to friends or submit it to NewbieDM's downloadable delves. However, I will definitely be there Saturday night, and would love to meet as many of you all as I can.