Aquarium Death Spiral
---
One of the more obvious crossovers between fishkeeping and tabletop role playing games has to do with the death spiral. While some games embrace the death spiral, I know lots of folks try to avoid it happening.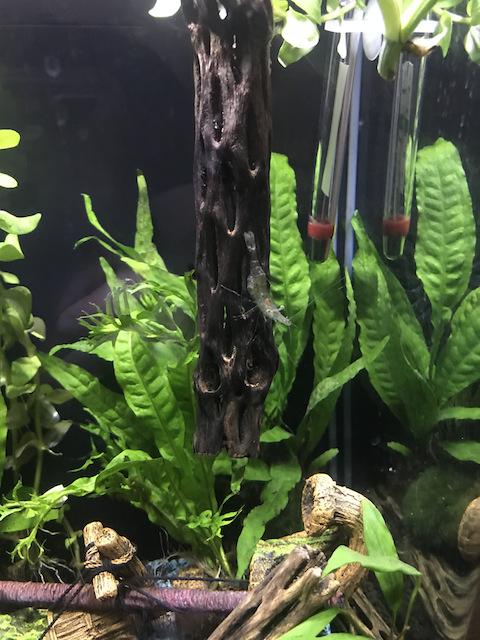 Aquarium - Shrimp
I couldn't find an exact definition anywhere but the way I'm accustomed to the term being used is that when seemingly small events lead one towards an almost inescapable catastrophic conclusion. Small failures can compound on each other and, if not handled well, lead to game play that is unsatisfying and counter to the desires of the folks playing.
With aquariums, the death spiral is quite literal and can be difficult to overcome, especially in smaller tanks. Often, but not always, the cause is an uncontrolled ammonia spike. This could be the result of old age, a sudden removal of a large portion of either of the two beneficial bacteria pools, etc. Suddenly the system has more ammonia or nitrites than it can handle, which then causes one or more livestock to die, which in turn adds to the ammonia, and pretty soon an entire tank can be wiped out.
In other words, tanks, especially small tanks, can be swingy. :)
What's even worse is that attempting to fix the tank can also accelerate the death spiral. While many different species have different levels of various tank parameters that typically are the best for them, they value consistency even more. So if you notice that nitrite levels are higher than desired and decide to do an aggressive water change, the resulting fluctuations can cause more damage than if you had kept them at the undesired levels and worked more slowly to change them.
In thinking through this, I noticed that the suggestions for how to fix the swinginess and the death spiral in aquariums is similar to how folks limited these things in D&D, and that is by attempting to limit as much as possible the impact of any particular change. For aquariums, the suggestion is to start with a larger tank. One dead fish in a 5 gallon tank will have a different impact than a dead fish in a 55 gallon tank. Making smaller incremental changes leads to a more reliable and predictable tank and game.
That said, unlike fish, our lives aren't on the line. There are times when we can embrace the death spiral and other times when it's probably not what we want.