Alternatives to Minis
---
I understand the allure of minis. If you have an extensive collection, it really helps the players to visualize the scene. But what can one do if they are just starting out and/or don't have a lot of money to invest in them?
Option 1: Create your own tokens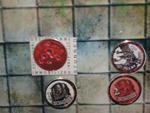 Example Tokens
NewbieDM has a great post on his website on how to create your own monster tokens. His article has information on where you can get all of these items.
The requirements for his process are:
A copy of image editing software such as PhotoShop or Gimp.
A copy of the TokenTool software, a free token making utility.
A printer, preferably color.
1-inch metal washers. 2-inch for larger creatures.
1-inch hole punch. 2-inch for larger creatures.
Extra Strength Glue Stick.

Option 2: Glass beads

Glass Beads as Monsters
I have a number of different colored glass beads to use as monster stand ins, particularly for minions. Mine happen to be from Chessex.

Option 3: Bananagrams

Bananagrams as Monsters
I saw the Bananagrams game at my local variety store and was instantly reminded of the letters used to indicate the positions of monsters on maps. They are somewhat easier than the glass beads since there are many more options (26 letters versus however many shades of beads you can find) and it's a little easier to remember what the letters mean.

What do you like to use?