Sarah Darkmagic's blog
---
I debated intensely whether or not to write this but I think it's important to point out the full ramifications of what happens when people, especially those from marginalized groups, speak up.
For those of you who don't know, I spent pretty much all of 2016 out of gaming due to my pregnancy and then being one of two primary caregivers of a little person. In 2015, I had a few things going on when combined with the stress of what happened in 2014 meant it made more sense for me to take a step back from writing about gaming and doing other fun things, like coloring or reading. Most if not all of it still had a tabletop RPG angle to it and I continued on with the Tome Show although at a reduced frequency in 2016 because, well, pregnancy and then caring for a little one.
However, now that the little one is nearing 6 months, I'd like to get back into writing about games and maybe even designing again. I decide to poke my head out a bit and what do I find but this.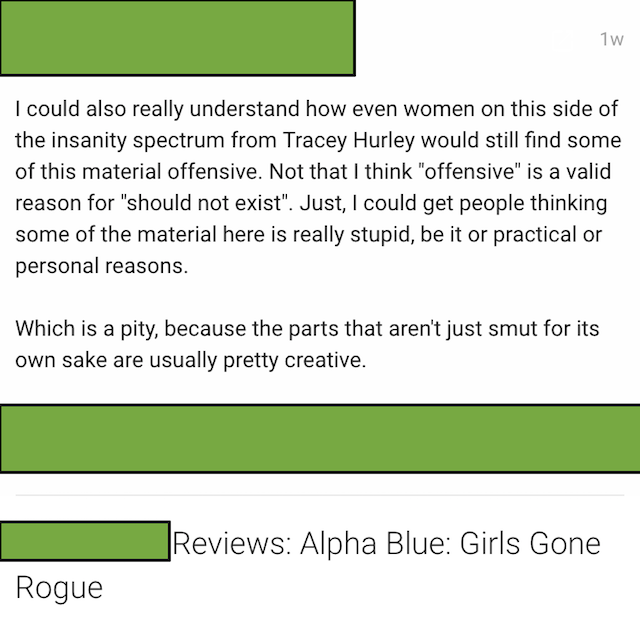 Content: I could also really understand how even women on this side of the insanity spectrum from Tracey Hurley would still find some of this material offensive. Not that I think "offensive" is a valid reason for "should not exist". Just, I could get people thinking some of the material here is really stupid, be it or practical or personal reasons.
Which is a pity, because the parts that aren't just smut for its own sake are usually pretty creative.
Not only is the quoted part in the review of a product I had nothing to do with and had not said anything about (I didn't even know of its existence), he used it to publicize his post in a number of gaming groups on social media, at least on G+. He falsely attributes opinions to me and then uses those false attributions to make the claim that I'm on the other "side of the insanity spectrum," whatever that's supposed to mean. At this point it's no longer about my opinions, but about me.
And all of this happened about a year and a half after my last "What happens when you engage post." And with the exception of my recent post highlighting someone I think draws pretty awesome maps, over a year since my last blog post. I also haven't been on G+ or Twitter much given everything going on.
I bring this up because many people said if I just ignored him, that it would stop. They said that it wasn't abuse because he was just responding to my current posts and it being the internet, what did I expect? But he has continued well past then. At what point will we see him for who he truly is? I get that he could just be baiting me into another fight that does nothing but feed his ego, but I think it's also important to point out that regardless of his motivations, this abuse is happening. And I'm far from the only one he targets.
This isn't someone trying to refute my ideas. This is someone who is convinced that I am "[a] person trying to put extreme ideological demands on this hobby." More specifically, he believes I serve some sort of threat to the existence of OSR. Even though I have highlighted and will continue to highlight OSR blogs and products that I personally find useful or interesting. Even though the community appears to be thriving. Even though I talk up some OSR community members in my gaming friend groups. All the things he falsely claims that I am doing, he actually does.
I'm heartened to see people stand up to him, especially people who are no fans of what I write. If you want to disagree with me, that's great. But this abuse needs to stop.


I've been admiring Dyson Logos' maps for quite some time now. When I eventually get back to creating and publishing my own adventures, my dream is to have some of his maps accompany my work. In case you haven't seen them yet, here are examples: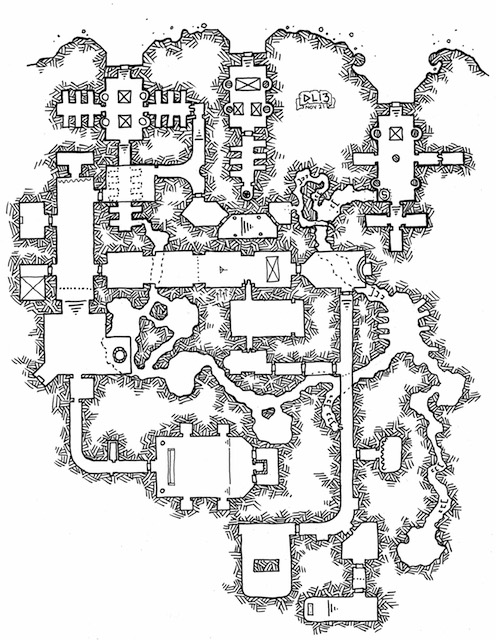 The Three Tombs of Acker cartography by Dyson Logos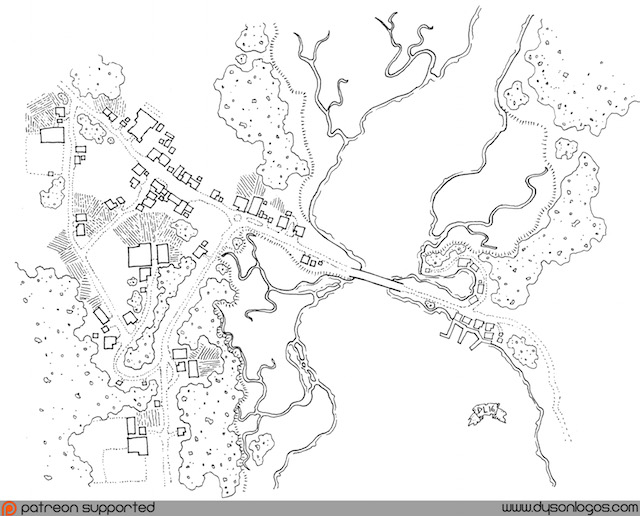 Clayfield Village Cartography by Dyson Logos
Ink sketches and drawings of all sorts are among my favorite types of art but are among the type that I personally am not particularly good at. And I love a good map.
Fortunately, Dyson's site is full of them, over 460 of them actually. He has them organized on his blog in a variety of categories including by location type, adventure type, and drawing style. While the vast majority of them are for personal use only, he has put approximately 96 of them under a no-cost, royalty-free Creative Commons Attributions license that includes commercial use.
He is also quite active on social media including Facebook, G+, and Twitter. I've been lurking around on his posts for a while because he's just so willing to provide important information and tips not only on drawing maps but also getting them printed. For instance, his hints about using engineering prints from places like Staples has been filed away for my own art projects as well.
If you want to support Dyson Logos creating even more maps, check out his Patreon. He also has published a few books. They are available as pdfs from RPG Now and hard copy via Lulu. Finally, if like me you dream of commissioning a map from him, his commission rates are available here. No guarantees that he'll have time to work on them.
P.S. If you haven't seen it yet, some of Dyson's work was used in the Dungeons & Dragons Monsters and Heroes of the Realms Coloring Book (Amazon Affiliate Link).

A few months ago I was fortunate enough to find Artist & Craftsman Supply in Central Square, Cambridge, MA. I had been looking for some colorless blending pencils from Prismacolor one day and we decided to give them a shot. I'm so glad we did. Not only do they carry art supplies for all sorts of "serious" arts and crafts endeavors (they carry professional materials for everything from oil painting to bookmaking/binding, but they make an effort to include neat student level products as well, include at least three different sets of gel pens from Sargent Art.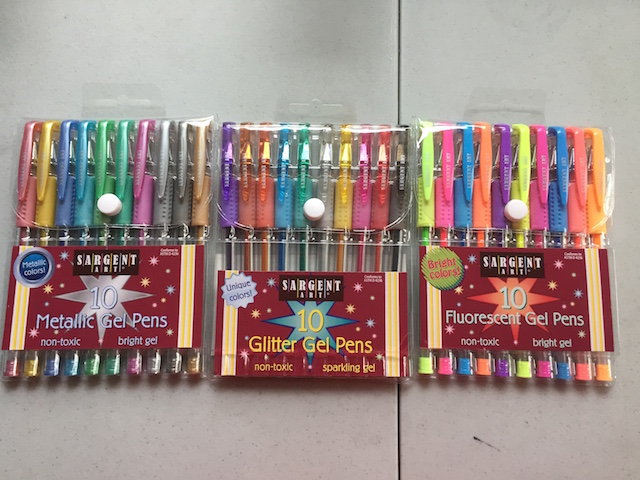 The three sets are fluorescent, glitter, and metallic. Each set comes with 10 different pens and is packaged in a reusable pouch with snap. Before I go to far into my experiences with coloring with them, I wanted to give you an example of the different colors available and how they did on various paper. First up is a smooth white cardstock.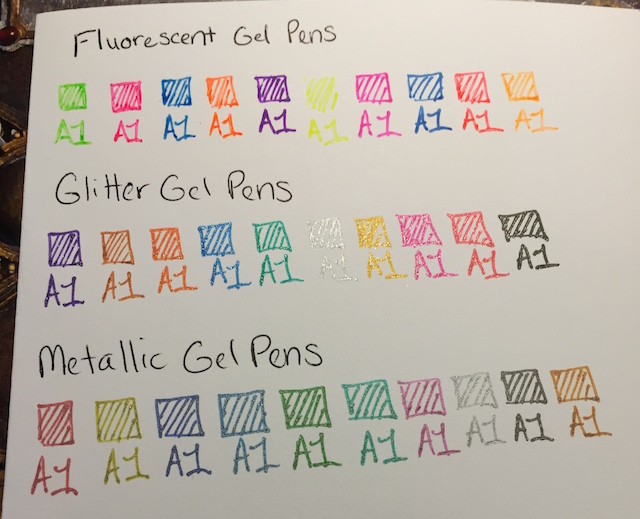 The colors here are all vibrant and the pens wrote fairly well. I did have some issues with the fluorescent gel pens which I think will be easier to see on the other papers, but I still liked them overall.
Here's the same pens, in the same order, on a piece of green cardstock.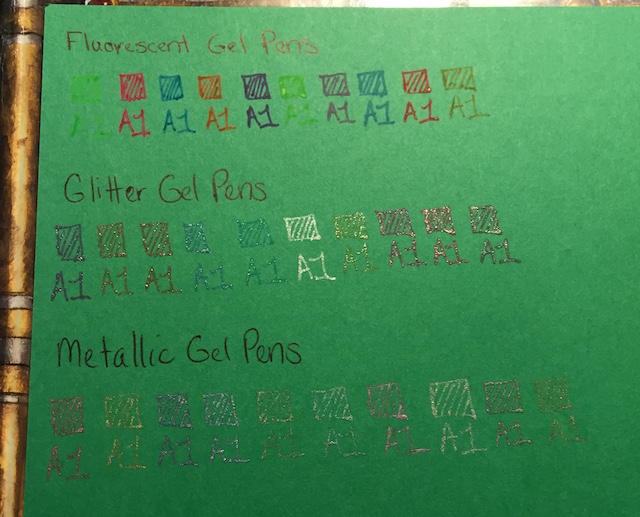 Again, I think the ink went on pretty well on the smooth paper. Obviously, the green shades are a bit harder to see. For the fluorescents, some of the colors aren't quite as vibrant and seem a bit duller. Also, I feel like the glitter pens fared much better than the metallics.
Finally, here's the same pens on a piece of black construction paper.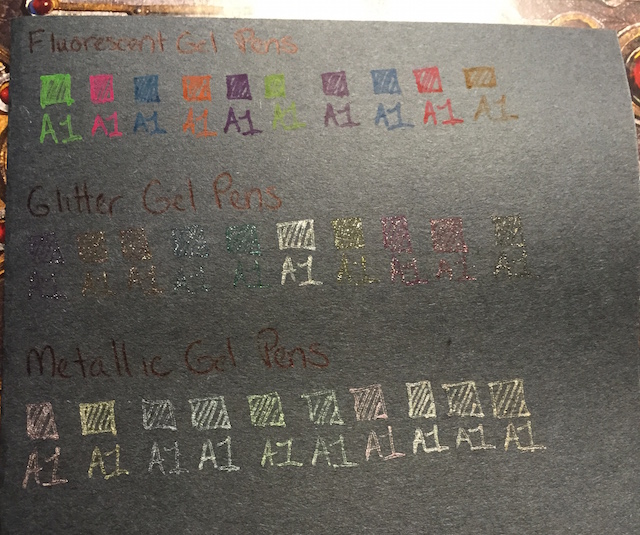 The construction paper definitely presented some challenges with getting the gel to come out smoothly. However, while some of the fluorescents had issues, especially the yellow and orange ones, overall I thought they held up pretty decently. Unlike the green cardstock, the glitter pens didn't do as well as the metallic gel pens. Mainly the glitter pens on this paper look like I put glitter on the page, with the exception of the more silver colored one.
A few other things to know about the pens. As you may be able to see in some of the images, the ink can pool sometimes, especially at the start and end of the lines. Also, the line isn't always consistent. Finally, these inks can take awhile to dry and are easy to smudge if you're not careful (left-handed people in particular might want to take note of this).
I forget exactly how much I paid for them, but I believe it was under $6 for each set. When I consider that I pay nearly a third to half that for one metallic silver Uniball pen, I think they are worth the price. I love using them as accents on my coloring.
Here's an example where I used my Crayola Super Tips markers to color a flower in yellow and then went over it with the orange and yellow glitter pens.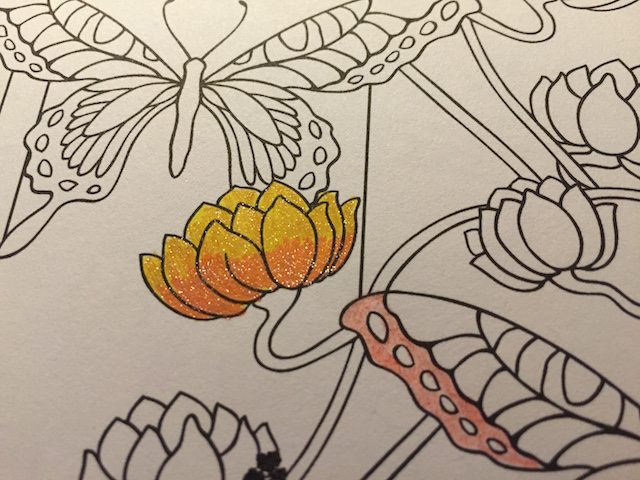 I used the metallic gel pens to color in the crowns on this page.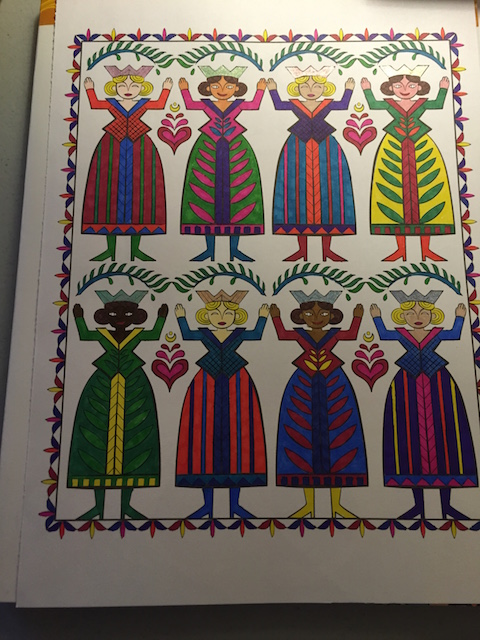 The important part here, in my opinion is to just have fun and don't feel that just because it's in the kids' area that you can't have fun with it and create cool stuff.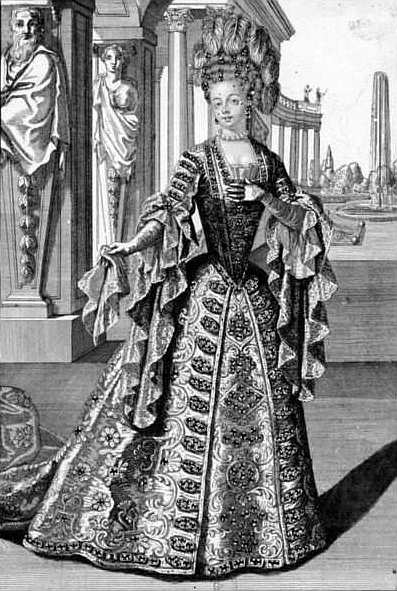 A few months ago at work, some people suggested a book to me called, "Death By Meeting:A Leadership Fable...About Solving the Most Painful Problem in Business." One of the biggest complaints people have with meeting is that often can seem like they are getting in the way of work. Thus, the common "solution" is just to not have meetings. Everyone wins, right?
The book posits a different theory. The problem with meetings often has less to do with the concept of meetings. We will spend hours doing other, meeting-like things, such as watching movies. Instead, the problem is often how we apply the tool. One of the differences pointed out is that unlike other meeting-like activities, what meetings often are missing is tension, and dare I say it, conflict.
Business culture, at least in the US, is often characterized by not rocking the boat. People often are worried that disagreeing, keeping people honest, and the like will hurt their careers rather than help them. And there is a fair bit of evidence, in my opinion, to support those fears. However, I think there are two important points to keep in mind here. 1) While widespread, at least in the US, is this actually common human behavior or common to the founding classes of the business world and 2) Does this culture promote what we want or does it hinder it?
On the first point, this culture of going along and not rocking the boat reminds me a lot of descriptions of stereotypical WASP family holidays. Everyone is mad at each other but no one actually talks about it because that's just unseemly. As a result, family feuds and dramas often go on for years, sometimes without the offending party ever knowing what they did or even that they did anything.
Not only does this lead to misunderstandings and what seem to be unexpected outbursts, but it hinders innovation. If we can never point out the negative, we can never improve, iterate, grow. Additionally, what I've found is that this outlook allows for pointing out positives that are actually negative statements about something else. "Oh, you dress so much nicer than your sister does!" "Oh, I love how you use color images rather than those other people who just include black & white sketches."
So, why am I bringing this up? Because it's the issue I continue to have with OneBookShelf/DriveThruRPG's handling of the recent controversy. A recent post by their RPG Publisher Relations Representative, Meredith Gerber, has the following:
The feedback we have received from both customers and publishers has been appreciated and has helped us shape our new policy. We want to thank you for the time and energy you have taken to reach out to us. Those that have spoken with us in the past know we are always happy to talk to customers, publishers, and partners to have a professional dialogue about concerns.

When having discussions about these types of situations, it's always important to remember that being professional and kind in feedback will create better dialogue. It's very difficult to continue a conversation and figure out the message when hateful words are said out of anger and spite. If you do not agree with someone, take a moment to step back and breathe before stating your opinion. There is also nothing wrong with walking away from a conversation if it's going around in circles with no conclusion in sight.
This is also echoed in various posts by other OBS staff about "call out culture" and "outrage," etc.
Here's my problem, I think they are honestly confusing tension and conflict with unprofessionalism. They are applying one type of culture and saying that this is some objective standard for how to act, ignoring that other people may have different standards. They are also misrepresenting some of the feedback they received, grouping questions about why it was even allowed on their stores what would be truly unprofessional, such as making fun of someone's looks.
I'd have no problem with them saying, "If you would like to discuss this with us, here are our boundaries." Instead, they are using claims of "unprofessionalism" as not only a silencing tactic but as a way to say that their critics are objectively bad. Additionally, I understand wanting to defend themselves in these situations, especially given how uncomfortable they can be. However, many of their barbed words towards the people who brought up the issue to begin with seem to violate their own arguments. And it's particularly frustrating because the initial comments made by people who work at OBS was that we should just ignore the content.
When a company is as big as OBS is within a small market such as ours, I think it's important to speak up and point out this still. I understand it's not always a comfortable process and I am against those who say truly horrible stuff, but I can't stand by and let them use their arbitrary standards of "professionalism" as a sword against others.
Now that I have card stock, I can try out a few things I've been wanting to do. The one I happened to pick up is called Accent Opaque Digital by International Paper. It's 8 1/2" by 11", smooth, 65 lb, and white. I paid $11.99 for 250 sheets. For the experiment, I printed out one of the images from the history of Paris book I detailed in this post.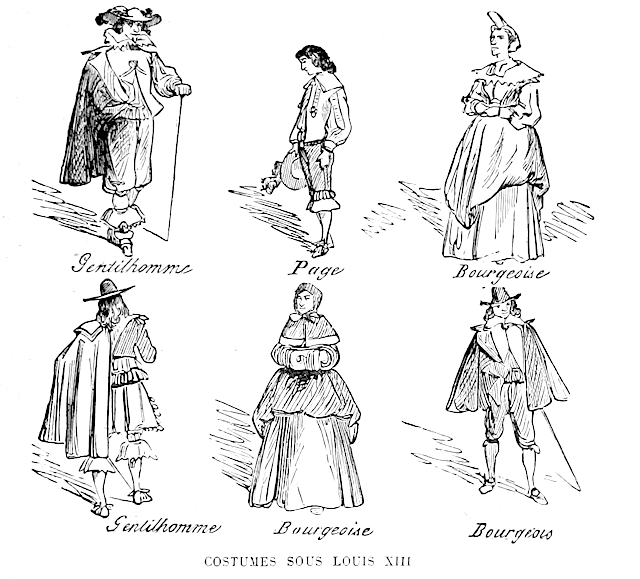 So first, the tools. In addition to my Crayola color pencils, I used baby oil, a palette (it has handy reservoirs for holding the oil), and tortillions.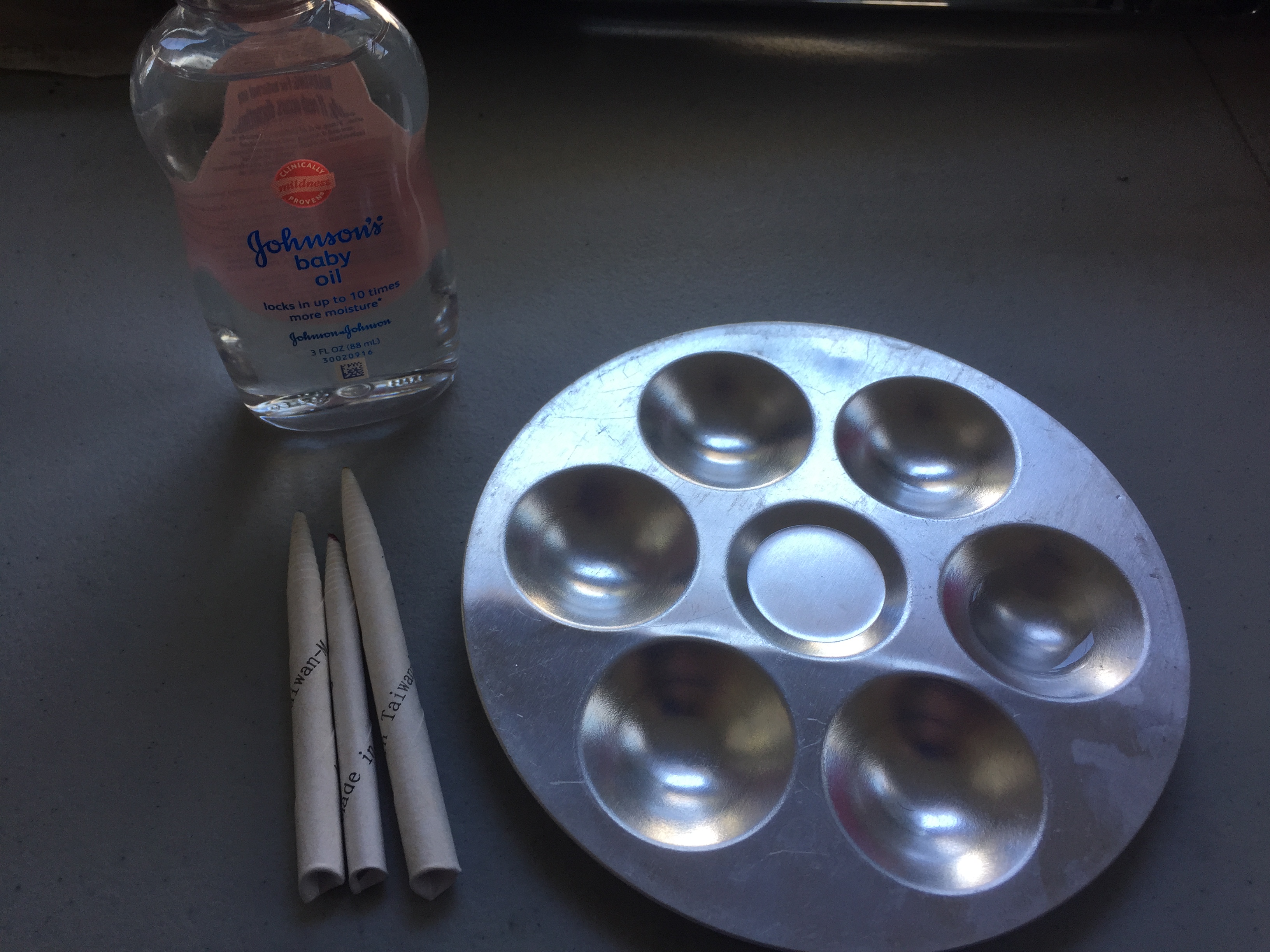 Tortillions are pointed stubs made out of rolled paper often used for blending with graphite pencils. The way this works is that you color an area you like with the color pencil. Once you have the color the way you like it, you dip the tip of the tortillion into the well of baby oil and then go over your color pencil with it. It should smooth out the color a bit and help blend colors that are adjacent. Here are some before and after examples.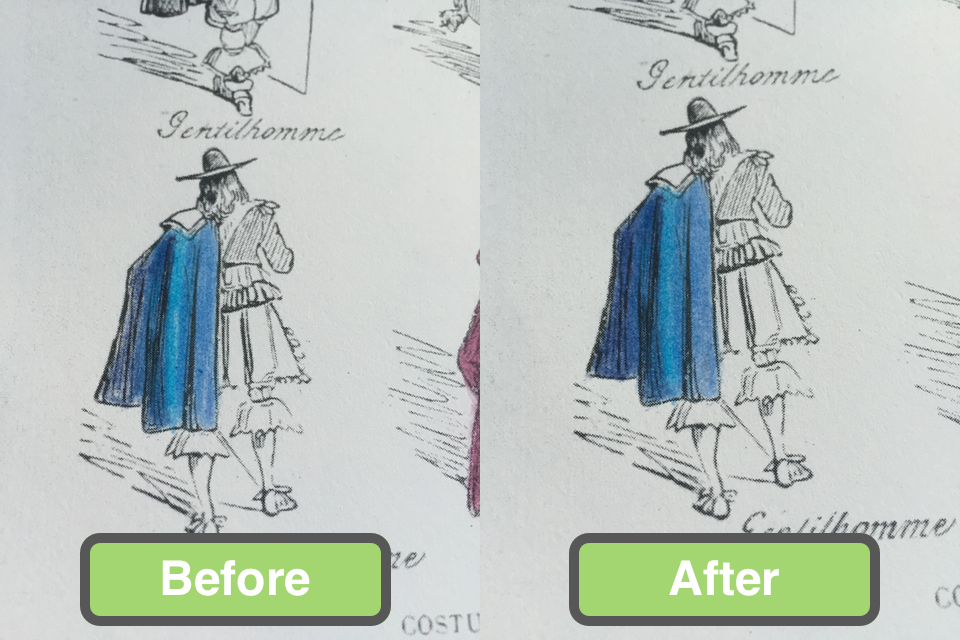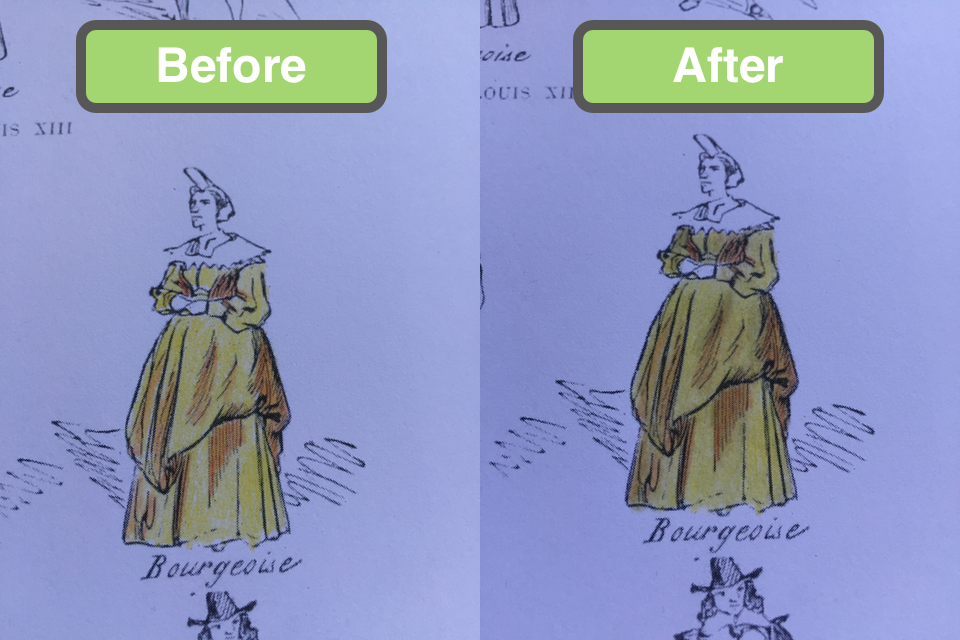 Things to know:
The oil didn't go through this cardstock but you should always check yours on a spare piece before using.
It's important that you have the color where you like it *before* using the baby oil. You won't be able to go back over it later to add more color.
Some people have used cotton swabs instead of tortillions and liked the results better. I didn't try them here, but they seem to be great for larger areas.
The tortillions can hold on to the color a bit. You can clean it off (and resharpen it) on a bit of sandpaper. You could also get several and reserve one for each color family.
If you are interested in learning more, here are a few videos I found useful.

Eventually I'd like to use Gamsol, which seems to work a bit better from the videos and allows you to go back over it with color (which baby oil does not). But it's also flammable and the fumes are toxic so I'm going to hold off for now until my technique overall is better. But, if you are interested, here's a great intro video on using it.