Sarah Darkmagic's blog
---
So I'm going to talk about some stuff and given the reaction to my attempts to convey my point of view in the past, I know this might ruffle some feathers. What I'd like to ask is that if you continue to read and find that your feathers are feeling a little ruffled, maybe take some time to think about why that is before putting me on Internet blast? And if you don't think that you are willing to do that, please feel free to enjoy some of the other absolutely wonderful content available to you on the Internet.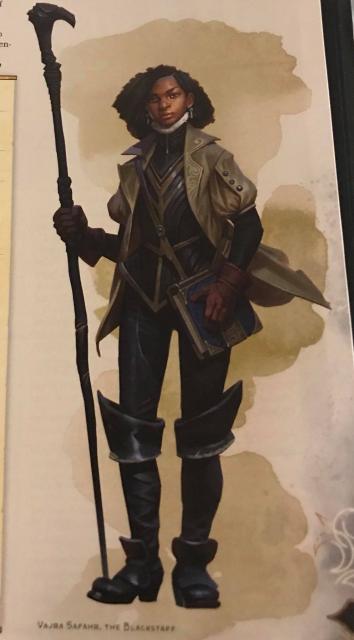 ©Wizards of the Coast
With that out of the way, I'd like to talk about a topic that is near and dear to me, and that is female representation in game art. I know I've had a lot of discussions about that in the past but there's something different about today versus then. That difference is some changes that were made by some companies (particularly Wizards of the Coast) in terms of how they approach art in official Dungeons & Dragons publications.
My position has always been that the art of female characters has been way too restricted and lacked diversity. There was an overabundance of female characters within a narrow body type and age window, often (but not always) sexualized, often with an appearance that the references used were from lingerie or porn. While some interpreted that as an argument against any representation that fit those categories, that has never been my intent or what I argued.
As I talked to folks about this, especially folks in the industry, a few reasons for this kept coming up again and again. I'd like to talk about those because I think they amplified together to create the situation we had.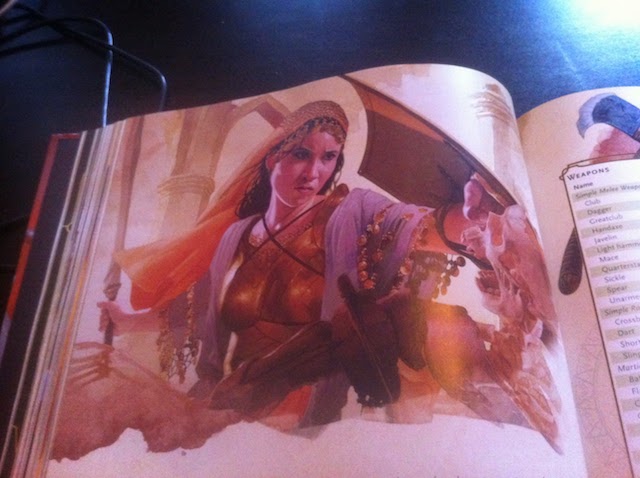 © Wizards of the Coast
One of the first was that the reason for the characters being drawn with those references is that artists prefer to work from the naked form. In some ways, this is absolutely true. We know that many of the masters have worked from nude models. Knowing the physical structure of the subject of a work helps ensure that their back doesn't look awkward or broken. I get that.
But many of the masters used both male and female models. And while they did many works that involved their particular muse and often spent time on projects that pleased them, they produced many other works with a variety of subjects. But in the art at the time, it was clear from many of the male characters that no one was looking at nude or semi-nude references for them. No ads or photo shots of men in their boxers. Not really even swimmers or male ballet dancers. There was a noticeable imbalance in how many of the artists were approaching gender.
One way to approach adjusting that would be to try to increase the diversity of the artists that were hired, finding artists who were passionate about drawing men for instance, that could not be the only solution. The other most common reason I was told for why the art was the way it was is because that's what the artists thought art directors wanted. So, basically, the art director would give out assignments. They might even be explicit about what they were and were not looking for. But artists, being concerned about having artwork rejected, would give them what they thought they wanted, what they thought "fantasy art" meant.
So, instead of taking risks, they looked at what had already been created and did more of that. This often translated to folks as cheesecake art. Do to how the art process works, it wouldn't become clear to the art director that this was going to be the case until the final work was submitted, at which point it was too late to reject the work.
Why? Because initial "drafts" of the work are like outlines. The artist provides a thumbnail of the piece, more demonstrating the overall composition, the lines of movement, etc. Clothing, especially boob windows, and the like, wouldn't necessarily show up at that level. So the thumbnail gets approved and suddenly what one person might interpret as an older woman or a full cloak turns out differently in the final piece. And by then, so much work has been put in that it's hard to change.
The sad part about this particular reason is that it was a bit of a death spiral. With more and more work being put out in this style, it worked to further establish it as the style. And without taking a step back, everyone's reactions are understandable. The problem can be understood but not addressed.
So, what changed? Well 5e came out. And with the new edition came a new approach.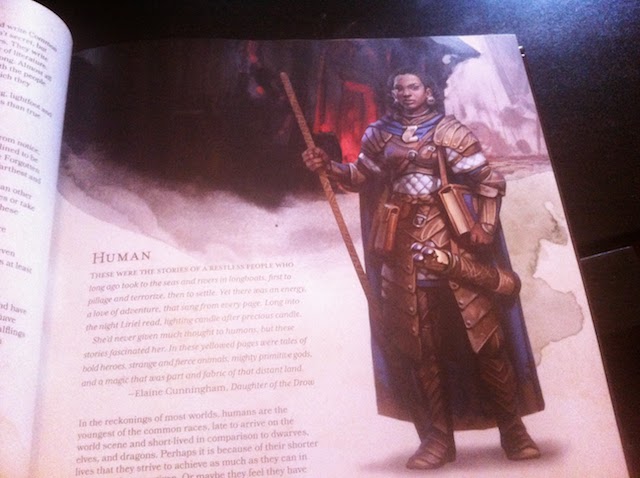 © Wizards of the Coast
While I've been talking about this in terms of female representation, it wasn't just gender that was unbalanced. Skin tones were another big area as well as getting just a consistent understanding of how characters looked in a fantasy world.
With 5e, Wizards of the Coast decided not to go with a generic fantasy world for the base world. They chose the Forgotten Realms which at least had something closer to gender equality and a variety of skin tones for human characters (among others). It also had a variety of cultures within the world, with different ways of dress and speech. They could now tell artists, draw a person from this defined culture, rather than asking for a character in the fantasy style.
And that's what they did. They created world bibles and worked directly with concept arts to develop and refine what various cultures should look like on the page. They did this not just for male and female representations, but what did a family look like? What about older people in the village or city? So on and so forth.
The result was a wide range of art to choose from and the ability to "show, not tell" artists what these various groups looked like. While they still run into some issues with artists who draw boob windows on female characters from a culture that wouldn't have them (some cultures would!), those issues are far less. I haven't asked, but my guess is that they still might accept those pieces and adjust how they work with that artist in the future, but that piece that say sexualizes the character would be balanced out by the rest of them.
From my point of view, this has been a great breath of fresh air into D&D. I love seeing the greater diversity in the art. Of course there are still things to discuss and, in my opinion, improvements that can be made, but I look forward to looking at the art now. And I've seen so many positive responses from other folks out there.
Waterdeep: Dragon Heist recently arrived in local gaming shops and I grabbed a copy of my own on Friday. I knew I needed it once I heard that Dyson Logo's maps would feature in the book and I wasn't disappointed. I've only had the time to do a superficial look at the book but if you're curious as to what you would find within the book, check out my flip through.
One of the big things I noticed during the flip through is the diversity of skin tone in the art. This makes a lot of sense in a city of Waterdeep's size, especially since it is a port city. One of my favorite images is that of Vajra Safahr, The Blackstaff.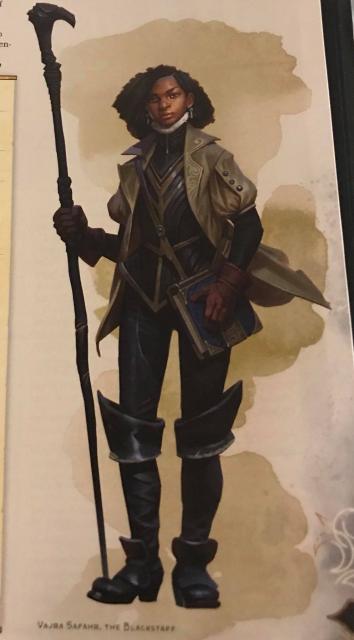 Waterdeep Dragon Heist - Vajra Safahr
As I was preparing for this post, I found folks discussing a sidebar I had missed during my flip through that explains the emphasis on diversity in the artwork (and my understanding, the text as well). The sidebar is in the Volo's Waterdeep Enchiridion section and I hope folks can forgive me for the extended quote because I believe all of it is important.
A Wondrous People

Whenever you find yourself in a bustling city, you're likely to spot a wonderful variety of folk. You hear words in languages utterly foreign to you, and you smell dishes both delectable and strange. Waterdeep is the ultimate city of such delights, and before long, the alien thing becomes familiar to you, and the stranger becomes your friend.

The people of Waterdeep are among the greatest of its splendors. Fashion, comportment, love&emdash;these things are practiced with an art and a zest in the city uncommon elsewhere. Visit a festhall or festival and see for yourself! And don't miss the cross-dressing performers who regale audiences with humor and song. Fabulous&emdash;that word doesn't begin to describe it, especially when they enhance the merriment with magic.

The city is also a haven for those who define for themselves what it means to be a man or a woman, those who transcend gender as the gods do, and those who redefine entirely who they are. What confidence! I never tire of witnessing it. I have seen folk in Waterdeep whose lives are more magical than the marvels possible with spells.
There's a lot going on here. I've seen quite a few people share their joy over feeling that their way of being is explicitly and enthusiastically included in the game world. These things matter to some folk.
I also saw some negative. I don't want to dwell on it here except to say that I've had long conversations with authors of the Realms as well as ardent fans. While it is true that folks of all kinds have existed in the Realms from the beginning, it's also true that they did not always get the sort of attention that they deserved nor was it always clear that not only existed but that they were fairly common. People often bring the baggage of the real world into the fantasy world, especially around issues of gender, sexual orientation, race, and the like. If we want the fantasy world to be different than the real, we have to make those differences clear. And the art work and the sidebar help greatly with that.
Recently I finally set up my child's play mat (it was a Christmas present, life comes at you fast when you have a toddler). I fell in love with the idea of carpet play mats and when I saw a town one at IKEA, I had to get it for him. He just recently started to really play with cars and trains and can play in his room while I do chores, so it was a perfect time to set it up.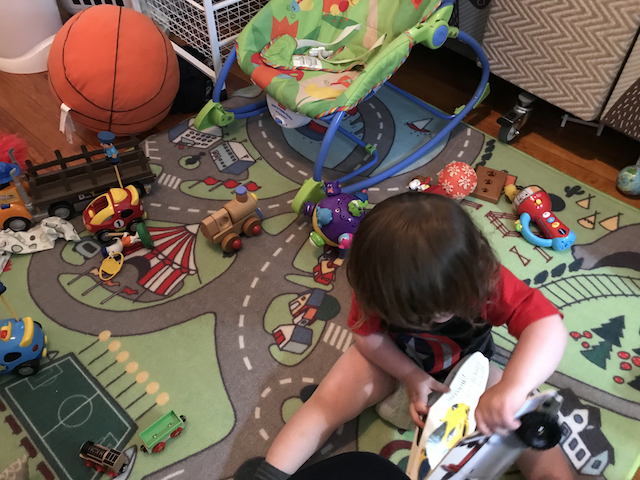 I'll admit when we picked it out, I didn't look too closely. Little dude still wasn't quite sleeping through the night. But, as he sat there playing, I started noticing some interesting details.
Like how most of the houses were all built around this single apple tree.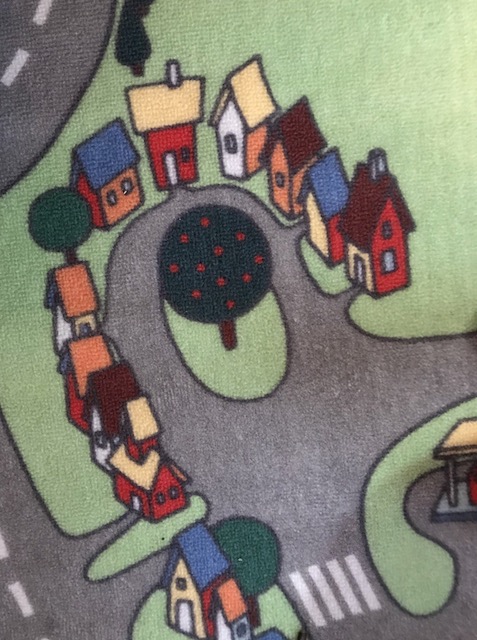 Or this forest with large mushrooms in with the trees.
I'm not sure I quite understand why this highway encircles the lighthouse.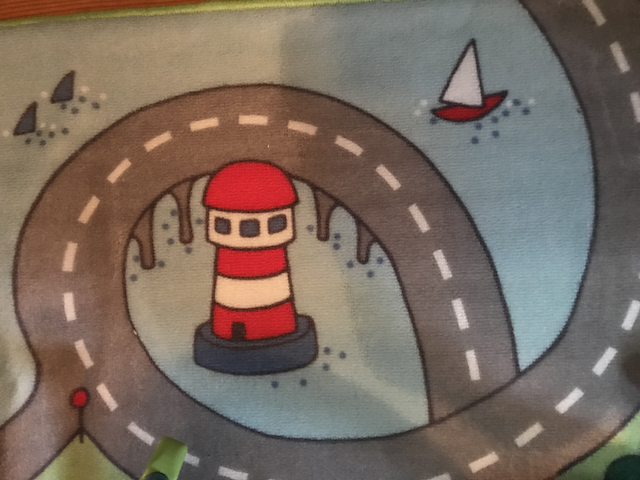 But the real interesting part of the play mat is in the upper right corner.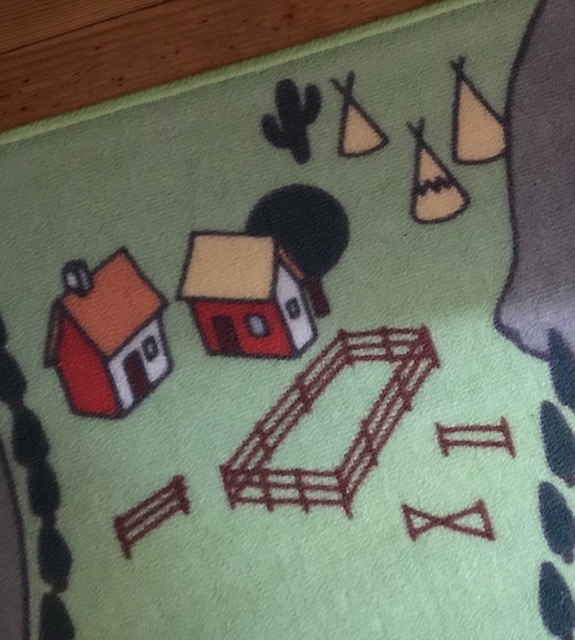 Sure, a farm doesn't seem that strange. Even one with a cactus and teepees. (Note: I didn't notice the teepees before I bought it or I might have skipped this mat. But I will have a conversation with Little Dude about them one day.) It's what the farm is next to that made me realize that in just a few more months (ok, maybe a couple years), this might be his first D&D map.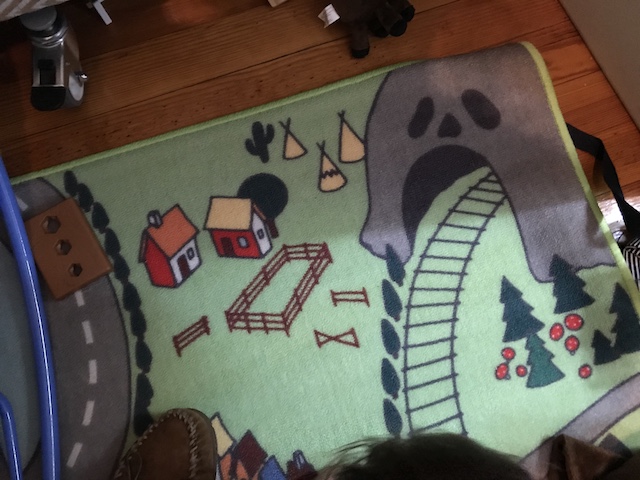 That's right, children. One day, Thomas the tank will be exploring the cave of lost souls or whatever we decide to call it. I already have a big fluffy d20 that Little Dude can roll and a wicked imagination.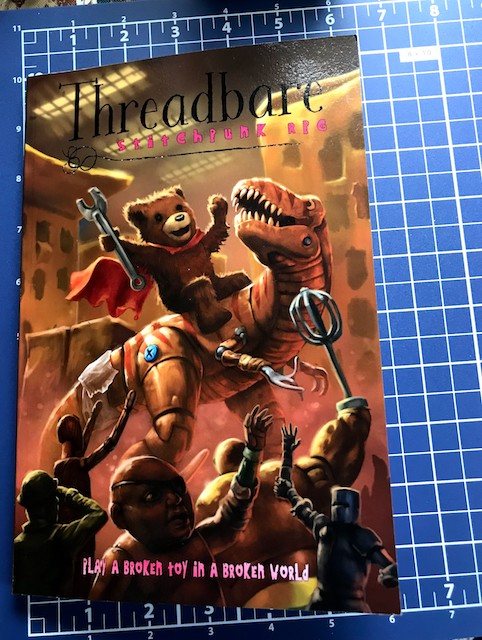 Last Gen Con I also picked up a copy of Threadbare: Stitchpunk RPG. In it, you play "in a broken world populated by broken toys."
Threadbare is Powered by the Apocalypse which means it's underlying system revolves around 2d6 +/- bonus or penalty. The result then fits into 1 of three categories:
10 or more

You not only succeed but you succeed in the way you wanted.

7-9

You succeed but a cost or complication gets added.

6 or less

You do not succeed. Parts are damaged. You gain a hold that can be spent later.
It's not always clear from the description but there is a tilt towards failure in this system. Here's an image with the possible results ranging from a -2 penalty to a +2 bonus.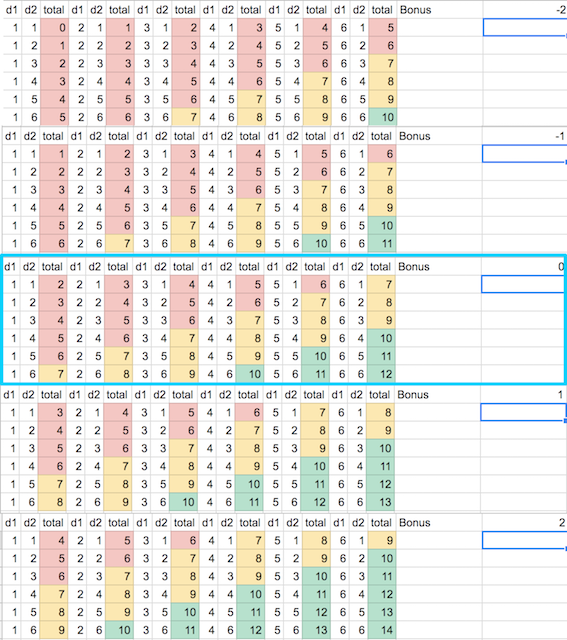 (If it's too hard to see or my color choices present a problem, you can view the spreadsheet here. I changed the spreadsheet to use different font choices in addition to color to help differentiate the groupings.)
With 2d6, there are 36 possible combinations of roles. Without any penalties or bonuses, you are expected to get 10 or more 6 out of 36 times. With a -2 penalty, you are expected to get a 10 or more just 1 out of 36 times and with a +2 bonus, you would still would likely only get it 15 out of 36 times. For the 6 or less category, those numbers are 15, 26, and 6, respectively.
I don't point this out to make a comment on whether it's good or bad, most of that depends on you, your group, and what type of play they want. But it does mean that how the game feels to an individual can depend on how risk averse they are and also how much control over their own story they want. While most games don't give complete control to a player, since there is failure, in powered by the Apocalypse games, success isn't binary and the mid-tier explicitly provides an opportunity for the game master to provide more input through the cost/complication element. Just know what you like and what you're getting into.
In addition to the game mechanics and game master tips, the book provides not only some adventure starters but also tutorials on how to build your own "broken toy." This part I particularly love, especially since some of the tutorials involves getting out your toolbox.
Overall, it looks like a fun game and I'm looking forward to exploring it more.
Today I flip through The Baby Bestiary from Metal Weave Games. I saw this while walking the floor at Gen Con last year and just had to have it.
For those who aren't interested in videos, the book is a system neutral supplement with information about baby fantasy creatures. It provides you with general details on the challenges of raising such creatures and then gets into detail for each race.
The races included are:
Basilisk Lizardling
Blink Puppy
Bulette Billy
Centaur Foal
Cerberus Puppy
Chimera Cub
Cockatrice Chick
Couatl Neonate
Dragon Wyrmling
Elementlets
Eyelings, Dodomeki
Gelatinous Cubelet
Gnoll Cub
Griffen Hatchling
Hippocampus Fry
Kirin Foal
Kitsune Pup
Kobold Kid
Leviathan, Little
Manticore Cub
Mimicling
Minotaur Calf
Nightmare Colt
Owlbear Cub
Phase Kitten
Phoenix Hatchling
Rakshasa Kitten
Rust Weevil
Sphinx Kitten
Titan Tyke
Treant Sapling
Wyvern Elver
Aboleth Spawn
Baku Calf
Balrog Emberling
Beithir Hatchling
Bugbear Kid
Djinayni
Dragon Turtlette
Elder Godspawn
Enfield Pup
Gargoyle Mouldling
Harpy Child
Hippogriff Foal
Hound Archon Pup
Hydra Snakelet
Kraken Paralarvae
Lightning Lizardling
Lizardfolk Whelp
Medusa Daughter
Myconid Sporeling
Naga Hatchling
Ogre Magi Apprentice
Orcling
Otyugh Scrap
Pegasus Foal
Pertyon Hinulus
Pseudodragon Wyrmling
Purple Worm Violet
Remorhaz Chrystid
Satyr Foal
Sea Lion Pup
Shambling Tuffet
Shrieker Button
Simurgh Pup
Tarasque Hatchling
Tatzelwurm Kit
Troglodyte Tadpole
Troll Buddie
Umberal Erebect Nymph
Unicorn Foal
Wolpertinger Kit
Xornling
Each race has a two page spread, with one consisting of full page artwork with an example of the creature and the other page including information about that particular race. There are two standardized bits of information about each race: rearing difficulty and intelligence.
If you enjoyed this look at the product and would like to obtain it, the PDFs can be purchased from RPGNow (Volume 1 and Volume 2 - Affiliate links). If you are interested in print copies, it appears that they are currently out of print. However, they ran another Kickstarter earlier this year to fund a reprint. You can preorder from Backerkit.