Sarah Darkmagic's blog
---
A common pattern among companies that traditionally sell more to men attempt to grow their female audience is that they introduce a woman's version that is pink. The ensuing conversations tend to go like this: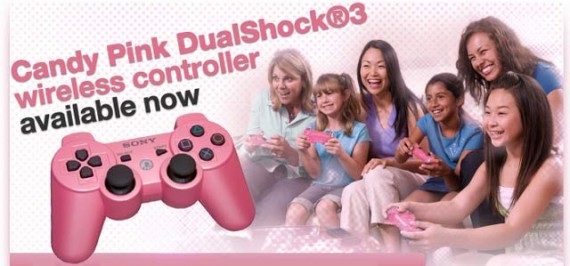 Pink PS3 Controller
(Source: The Problem with Pink: Girl Gamers and Marketing Missteps)
Person A: ::rolls eyes:: Pink?!?! Why does it have to be pink?

Person B: But my wife loves pink!

Person C: I love pink!

Person A: Pink is yucky!

Person D: Pink is a female color. All the females I know prefer it.

Person E: Hey, Person D, stop being sexist!

Person D: Don't attack me!

Person F: Yeah, that attack was uncalled for.

And so on and so forth.
So what's going on here and how can we break out of this argument cycle, especially since it never addresses what anyone participating in the conversation is saying.
Issue 1: Girls and Women Prefer Pink
The basis of this argument is that since pink is the color people in some parts of the world use to signify that an infant and/or child is a girl, that means that pink is the color they prefer. I would hope that the issues inherent in this argument are noticeable immediately.
First, baby girls don't get to choose what color represents them (heck, they don't get to choose their own gender anyway, it's assigned to them at birth). In places that participate in this gendering by color, they are swaddled in pink from the beginning.
Second, using color to signify an infant and young child's gender is a relatively recent phenomenom. According to this Smithsonian Magazine article, while pastels for babies were introduced in the mid-1800s, pink and blue weren't significantly used as gender signifiers until after World War I. To further complicate matters, not everyone agreed which color to use for a gender. Pink was considered by some to be a boys' color because of its relationship to red.
Third, we run into the issue that, well, it's unclear that pink is preferred by girls and women who are able to state their own preferences. For instance this survey of favorite color preferences of almost 2000 people showed that among those who identified as female, pink was actually the third favorite color (7% of respondents who identified as female), with blue (29%) and purple (27%) each getting around 4 times the respondents. Blue was favored by both the genders represented in the survey results.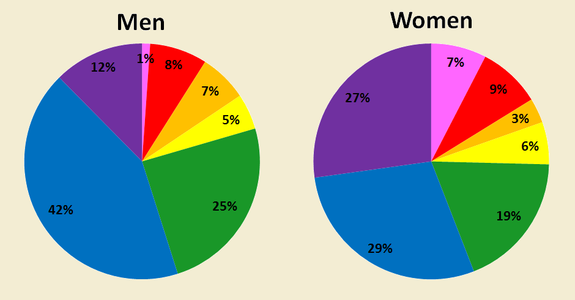 Favorite colors by gender
Nothing here shows that girls and women would choose the color to represent themselves and rather the importance of the color likely has more to do with views on gender roles and the need by some to gender things instead.
Issue 2: Being Anti-Pink
While there isn't much to support pink as being the color girls and women as a group would choose to represent themselves, there are obviously individuals who love the color. For instance, let's say that the statistic that pink is the favorite color of 7% of women holds true for the larger population, that would translate to about 1 in every 14 women. Given that, it is likely that many people over the course of their lifetimes know multiple women for whom pink is their favorite color. This can help reinforce the signifier due to confirmation bias.
Being against the color also can reinforce misogyny in our culture even if it's intended to do the opposite. Many people rightly point out that forcing the color on people due to their gender is not a good thing but they might go too far to then believe that eradication of the color is best, reinforcing the belief that "girly" things are bad.
Issue 3: The Death of Gender Neutral
Another issue is the death of gender neutrality. Lost in this debate over pink and blue is the fact that the same culture that currently embraces those colors to signify gender used to use gender neutral clothing (particularly white) to clothe their infants and young children. Not only that, but children of all genders wore gowns. Much of this was practical, white was easily bleached, gowns made changing infants easier, and the clothes could be reused for other children without worry.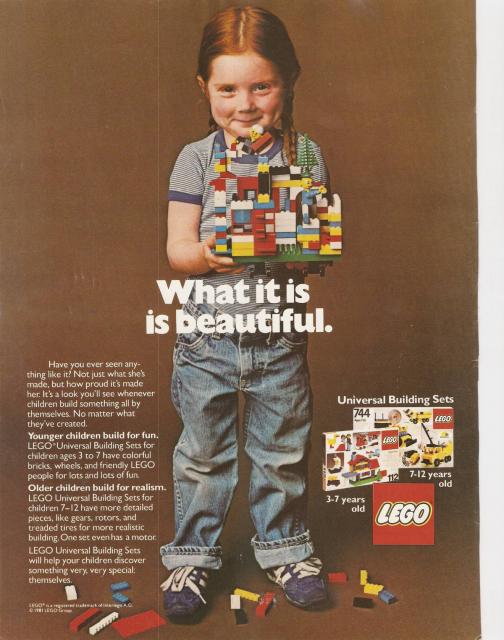 Lego Ad with Girl
Non-white clothing became more common with the advent of washing machines, specialized detergents, and stain-resistant clothing. Specifying one color for boys and another for girls also meant that many families could no longer reuse their clothing. The ability assign gender to an infant even before birth probably helped reinforce this gendering of babies.
Thoughts
Stepping back from these various issues, one thing to keep in mind that the larger issue is our desire to police gender through our consumption of things. The variety of tastes within a gender is always going to be wider than the differences we can point to between two genders. Thus, trying to say that a product is for girls and/or women through the use of a single color is always going to run into issues. Very few products in this world are for any one gender. Offering a variety of colors should be the norm. Saying that a particular color is being introduced to cater to a particular gender should stop. Allow a variety of expressions: masculine, feminine, and neither. Otherwise, I don't see an end to this particular fight.
I want to give a nod to Arin from Game Grumps for his unabashed love of pink.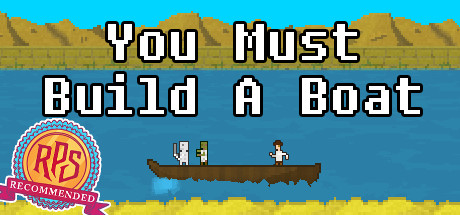 Much of my free time over the past week or so has been taken up by the game "You Must Build A Boat," an addictive mix of side scroller and puzzle game. Your goal is to build a boat and recruit crew which is done by running through a dungeon defeating monsters (and then recruiting them for your crew), completing quests, and uncovering treasure.
You start out with a small skiff and two monsters already recruited. They help you get into the dungeon where you have to defeat the monsters, disable traps, and open treasure chests and crates that stand in your way. The way to victory, however, lies not in your ability to time your swings, spells, and counters, but rather in your ability to match tiles in sets of three or more and complete quests. Sometimes quests are about how long you can last in the dungeon but other times they have to do with mixing spells in a particular order or matching a certain number of a particular tile. Quests (among other things) can change the difficulty of the dungeon.
The challenges you face in the dungeon keep pushing you to the left of the screen until you are finally pushed off completely. The screen after exclaims "You win!" in large letters even when you feel utterly defeated. Then you find out if you completed any of the quests and, if so, gain your rewards. Quest rewards include recruiting monsters for your boat. Not only do they provide the manpower for moving the boat (which is done by jumping) but they give you benefits such as increasing the power of sword matches.

In addition to monsters, you also have experts on your boat to help you. They sell you upgrades to your equipment and/or provide valuable information about monster resistances and vulnerabilities. Items cost some combination of gold, dust, power, and thought. The last two are types of tiles you match in the dungeon.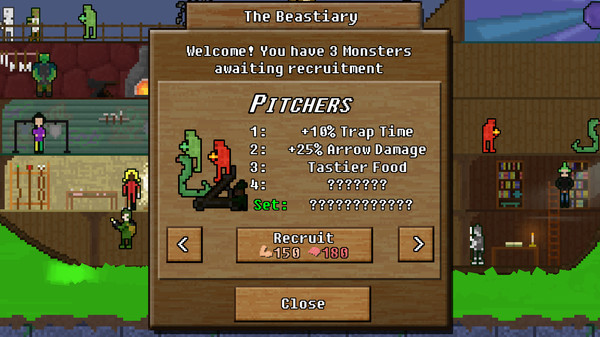 One of the things I found in playing the game is that it often makes sense to just keep matching things even if there isn't a challenge currently in front of you or if the tiles are wrong for the challenge. This is also true between sections of the dungeon when a small title area appears and changes often are made to the dungeon's attributes.
The game isn't exactly relaxing given the timed nature of the matching but I find it fun and keep going back for more. It's available through Steam, iOS, and Google Play.
Every so often I see someone issue a challenge that goes something like this: for the next x period of time, only ready books by or about y and/or z. For instance, a challenge might be, "For the next year, read only comics where at least one of the creators is a woman."
While some embrace those challenges, others often try to argue against them. They often give arguments that say while the thing the challenge is seeking to fight against is real and bad, the challenge is just as bad. I'd like to provide a counter to this line of reasoning.
When I studied Japanese in college, the most frequent request our professors made was that we go to Japan and study there at least once during our undergrad careers. Part of their reasoning was that it was impossible to recreate in the classroom all of the nuances of the culture that are necessary to enable us to really grok both the language and the culture (they are interlinked after all). They were absolutely correct and my friends who went to Japan came back much better speakers.
I think this seems pretty obvious for lots of genres of media. If you want to write a game about slasher films, you really need to watch a ton of them (or have already watched them) so you can reproduce the similarities and differences between the films. It's relatively safe to do this on subject matter, but when people recommend it in other ways, say, gender or race, there's often a backlash.
One of the problems I see right now is that we have a small number of dominant view points (if not one) that rule at least US media. Many of our stories have a rather masculine viewpoint, meaning they tend to glamorize and reinforce certain behaviors and outlooks that we attribute to masculinity, and particularly white and heterosexual masculinity. Within that viewpoint, there can be and sometimes is a variety of viewpoints, giving the illusion of diversity, but they often can be traced back to the same node and other nodes are left unexplored. Likewise, even from that dominant node, there are a bunch of branches that also are underexplored.
These challenges are requests to explore those other branches and nodes. For instance, if I challenged you to read only books from female authors for a year, there's a chance that at least one of those books will not be part of the primary node. You'll now have a jumping off point. From there, you'll be able to start to see the nuances in presentation and the vast variety of ways in which women write books. It becomes harder to say things like female authors write in particular ways or about particular stories. You'll start to have enough different experiences that you'll be able to see the nuances between them.
None of this is guaranteed of course. As with learning a language, circumstances vary and often what you put into it can determine what you'll get out. But I do think it's unfair to claim that balancing out the scales is discriminatory, especially when they often are so unbalanced anyway.
So for the past three years, I've made a lot more conscious choices about what media I consume. I look for diversity in the characters and the creators and love when I find the ones that have both. I try to keep a balance of viewpoints (with rare exceptions). My life has improved greatly because of it. I now am better able to give examples of characters I like or ones that illustrate the difference between sexy and sexualized or that show not all nudity is sexual in nature.
A big part of my immersive experience over the past couple of years has been in comic book form. Comics are interesting because the initial investment is often relatively low and there's a relatively large number of titles so you can experiment. Here are some of the series I've enjoyed over the past three years if you are looking for a starting point.
Have you done something similar? Which comics, novels, movies, etc caught your eye?
As I look forward to 2015, there's one thing left from 2014 that I feel the need to write about. Back when I was getting a bunch of hate directed at me over the summer, leading to the "What happens when you engage" series of posts, Stuart Robertson, who had a disagreement with me in the past, decided to not only drag up the old disagreement, but misrepresent my positions. This led not only to more attacks and harassment along the same type discussed in the engage series, but as recently as a month ago I had two different people reference the distorted and incorrect arguments as if they were true.
So what is this all about? Why Aleena the cleric?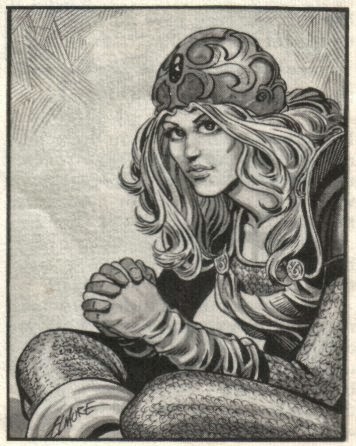 The original discussion started because I pointed out that the D&D art I saw growing up didn't make me feel welcomed, especially when combined with things like the gender-based attribute score stuff. Someone, I forget who, decided that since Aleena existed, my argument was incorrect, as if my lived-experience is something that can be disproved. This led to a long discussions, some of which I recorded here.
But let's say, for the sake of argument, that we could disprove lived-experiences. The argument still falls flat on a number of levels.
Even if Aleena was a character that would have made me feel welcomed, they admit that she is an outlier in regards to the art at the time.
Likewise, they ignore that Aleena came out when I was 2 or 3 and around the time that my brother was born. Since he was my conduit to the published D&D stuff, by the time he was ready to play, there's a good chance I don't see Aleena, especially with the lack of ebay and online pdfs.
They make the argument that since she is so much closer to what I suggest I would like in female representation for D&D, I must then be happy with her. This would be akin to saying that because most things are red and I love blue, I have to be content with green because it's closer on the color spectrum or else there is just no pleasing me. They go even further to allege that I wouldn't be happy until everything was blue.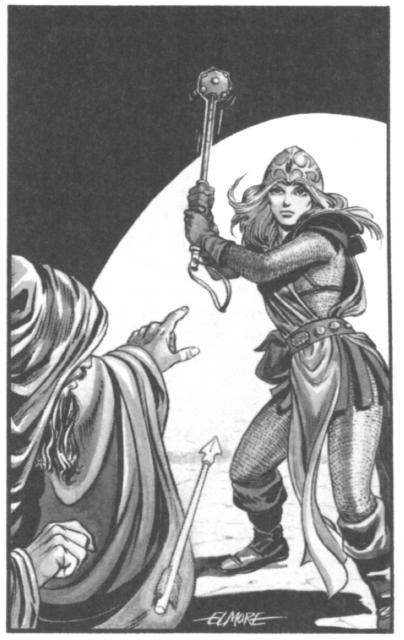 The above is the actual image they chose to make their argument. It has some things going for it. She in a more active pose. She's actually standing up to a bad guy. She is covered nearly head to toe.
But there are some things that are, in my opinion, rather silly too. Her chainmail is rather form fitting (which we'll see even more in the image they didn't share with me that day). To me, she's in a rather strange stance for someone facing a magic flying arrow. It reminds me of a batter's stance from baseball, but seems all wrong for the perspective. The long tabard seems impractical and she seems more like a model than someone actively going up against an enemy. While the phrase "women in refrigerators" hadn't been coined yet, Aleena exists solely to die and be a reason for the player character to continue on. Her main role is to teach and heal the player character.
And they don't argue with most of these criticisms, not really. They'll say things, like "What do you expect, the artist is Elmore, king of fantasy cheesecake?" Or they'll take issue with the desire for "realism" even though many of them prefer certain other games for their "grittiness" or verisimilitude. If you read a number of forum posts about her, you'll see that a number of men fell in love with her when they were boys and some fantasize about her in a sexual way. None of these things would have made me feel welcome as a kid and they still make me feel unwelcome now, especially the exasperated "well, obviously" tone that accompanies a number of the arguments.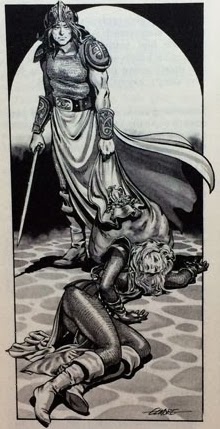 Of course, a number of them felt the need to take an argument calling for a diversity in art (yeah, she doesn't go far enough) into an argument against diversity (she shouldn't exist). That's why they try to force me into a yes or no answer on whether or not she's sexist and, when I refuse to play their game, claim my lack of yes or no answer is a statement that she is. Sorry, boys, it doesn't work that way. In addition to not engaging with what I'm actually saying, they are oversimplifying and presenting a false dichotomy. Let's explore this.
Whether or not Aleena is sexist has nothing to do with the question of whether or not I felt welcomed by the art. To turn it around, let's say we got rid of all female characters in art who were sexy. Even if that were the same as eradicating sexism, we would still have a problem of some women not feeling welcomed by the art. The sexism comes in the frequency of representation and lack of other types of female characters which leads to the feelings of not being welcomed by women who aren't interested in the limited representations offered. Making it about whether or not I think the individual character is sexist is an example of pitting women against each other.
Additionally, things don't have to be sexist or not sexist. Many of the those who try to enforce this binary are the same people who claim that saying something is sexist is the same as saying it shouldn't exist or that the creator intended it to be sexist. Most people I know who try to talk about issues of sexism and representation consider sexism to be more of a spectrum (ok, some of us get even more complicated than that, but that's beyond the scope of this post). So, while I think there are a number of elements of how Aleena is presented in the work that are problematic and the fact that she is the outlier is an example of the sexism common at the time, I don't see the need to reduce the discussion to a yes or no checkbox.
Finally, saying I have to accept her is an attempt at control and dominance. When I refused, they have spent multiple years attempting to marginalize me by misrepresenting and libeling me. Others accept their lies as truth because it fits with the societal narrative about feminists and spread them further, reinforcing them.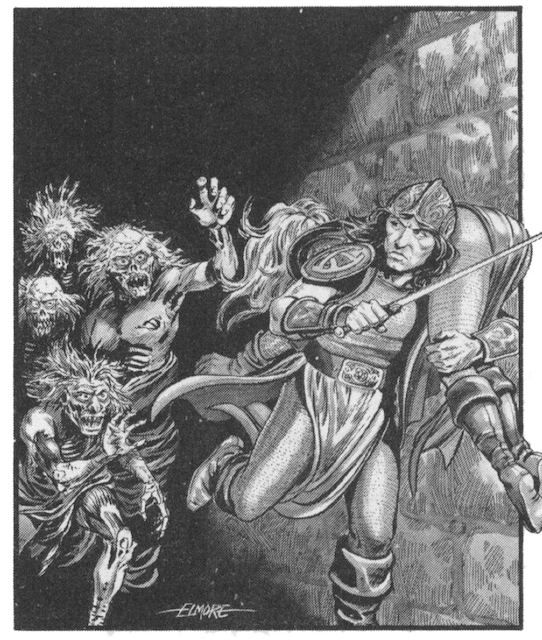 Whether or not I see her as sexist is one of the least interesting questions out there to ask. It's asked not because my answer has any chance of being interesting but rather because if I answer no, they get to dismiss the issues with her being the best case they can make about the art at the time and if I say yes, they get to spin this narrative about insatiable man-hating, sex-negative feminists who want nothing more than censor cheesecake. They get to look like they are having a rational discussion while really making it about me.
And we see this same sort of reductionist argument style again and again. The follow up to the lie that I said it was sexist was to say that I won't be happy until all female characters wear burkas. When it was pointed out that I've said positive things about both Saga and Gail Simone's Red Sonja, the argument was twisted that I wouldn't be happy until everyone dressed like me. This is more of what happens when you engage with them, which is why I've decided to block the bunch of them.
This isn't the first time they've done this and it won't be the last as long as people allow it to continue. Aleena is important to discuss both because of how far ahead she was for the time but also for how far she had to go.
P.S. Some interesting facts about Aleena.
The character art is based on one of Frank Mentzer's ex-girlfriends.
While we do hear her voice before we see her, the very first thing we learn about Aleena is that she is a "beautiful woman."


You carefully start down the corridor into the unknown, your lantern held high and sword ready.

The corridor leads to another small cave. As you approach, you hear a voice, and see a light.

You pull the shutters closed on your lantern, so you can hide better, and care- fully peek around the corner. To your right, sitting by the cave wall, is a beautiful woman, wearing armor like yours. She has no sword, but has a rod with a metal ball on one end; this is a weapon called a mace. A lit lantern is on the floor next to her. She seems to be meditating or praying.

I'm pretty sure chainmail wouldn't hug one's rear the way it does in the picture of her dead.
P.S.S. Here are some descriptions of her I found on the internet. Yeah, my reaction to her was sooooo off.
I met Aleena, the cleric, her long blond hair flowing from beneath her finely crafted helm, her luminous eyes. . . err, where was I? Sorry.
-- source: "Mentzer Reflections, Part 4: Bargle and Aleena"
For those of you who may have forgotten, we meet the blonde-haired cleric shortly after wounding a goblin in a cave. As we cautiously pursue the fleeing goblin, we come upon her silently meditating in a corner of a cavern chamber. She is drawn to our high charisma and invites us to join her for a rest. After instructing us on several aspects of an adventurer's life, the cleric not only joins our expedition but kindly offers to heal us as well (that 16 charisma really pays off). Aleena becomes a mentor of sorts as we explore the remainder of the caves together but she can do more than just offer instruction. She exhibits her skill and power as she uses her clerical abilities once again, this time turning the undead ghouls that block our route. We are beginning to fall in love with this woman!
But our love affair is not meant to be. Bargle, the roguish magic-user that has been terrorizing the countryside around Threshold slays the beautiful young cleric with a deadly spell. She falls in battle and no matter what we do, we cannot alter that fate. We either kill the evil Bargle after making our saving throw or unwittingly aid him while under a charm spell. Either way, Aleena the cleric is no more.
With either outcome, we do manage to recover Aleena's body and return her to the local church. Hearts are broken, both in the game and in real life over the death of the cleric. No matter how many times we play the scenario or what we do, we cannot save her. The cleric's fate is preordained. It is with great remorse for her loss that we begin our adventuring careers in the world of D&D. But with her loss comes wisdom and the understanding that death is real in the game and the hero does not always win. We are shown just how dangerous the adventuring life can be. This would have been a profound lesson to those new to the game and perhaps this is why the Metzer boxed set remains so ingrained in the collective memory of D&D players worldwide.
-- source: "Aleena the Cleric
I liked Elmore's art, always have. That alone seems invalidate my Old School street cred. I love his witches (no surprise) and love how he draws women. So when I finally got my hands on a Mentzer basic set, I loved the art and yes, I found Aleena. Though there was no emotional connection there with me. I felt that killing her was a cheap attempt to get the players involved. This is called a "Women in Refrigerators" effect and its a cliché.

That all aside, it also worked.
People to this very day still remember Aleena and hate Bargle.
-- source: "Aleena, doomed cleric for D&D 4 Essentials
Aleena and the Bargle incident are often remembered with tongue in cheek fondness by many gamers, and for good reason, she's a memorable NPC, it's a cool campaign starter adventure hook, and Larry Elmore's art for her is D&D cheesecake gold.
--source: "Aleena, and the fine art of annoying the party with their hirelings"
If the original red box basic set was your first experience with Dungeons and Dragons, then chances are you will remember this cleric. The introduction solo adventure was a great way to ease into what D&D was about if you did not have friends to play with just yet. And who could forget the beautiful illustration of the first non player character you run across. She saves you from a pack of undead and chances are she ends up dying in the final battle. She was probably a level 2 cleric then, but no stats were provided. Later on, she was described in the gazetteer for Karameikos and given a last name. Some time must have passed as she is a level 12 cleric and active in church politics of the town of Threshold.
--source: "Iconic Basic Dungeons and Dragons Characters Part 1
havard wrote:
Bargle and Aleena... Were they from Frank's campaign or just created for the purpose of the introductory adventure?

Just for this. There are analogues in my own campaign of course, especially of Bargle. But none of my clerics are as foxy as Aleena. ;>
--source: Mentzer, Bargle and Aleena
Frank Mentzer wrote:
Just for this. There are analogues in my own campaign of course, especially of Bargle. But none of my clerics are as foxy as Aleena. ;>

Too bad. I was hoping I could leech some information about Aleena from you. Ofcourse, foxier Clerics than her would be hard to come by wouldn't they? :)

It is weird. When I pick up an RPG these days, I rarely even read through the introductory adventures. But this was the game that introduced me to RPGs. I guess that is why I will never forget those characters. Elmore's illustrations probably helped too!
--source Mentzer, Bargle and Aleena
Quote:
Does anyone else have as strong memories of Aleena and Bargle?

Hmmm.... Bargle? Aleena? Never heard of em'.

Okay, Okay, I might have seen them before.

I was introduced to RPGs through the Epic Hotness of Aleena, and the Evil Bargle. Elmore's illustrations aside, I will always remember that intro adventure.
--source: Mentzer, Bargle and Aleena
So just imagine you are the clerics at the church where the fighter returns Aleena's body...

Are YOU going to let someone that hot stay dead?
--source: Mentzer, Bargle and Aleena
Found this recently through a reblog on the deviantfemme tumblr (NSFW).
sexual liberation comes not just from having sex
but from the decision to have your sexual experiences on your own terms
which can mean deciding to have sex with whomever and however many times you want
or deciding to have no sex
the empowerment comes from the decision and having that decision respected
Source: Young Black and Vegan
I've been letting it roll around in my head ever since.
When I talk about things like how women are portrayed in games, a common response is to attack me as a person. The claim is that I don't get it because I'm supposedly sexually repressed and a prude, a pearl clutcher, a Tipper Gore. Clearly, living in the US, I must have a fainting couch and smelling salts.
What I love about the quoted text is that it acknowledges that sexual liberation is way more complicated than how comfortable you are with taking your clothes off or with seeing sexual imagery. It's about being able to choose and part of choice is the ability to say no. When that decision isn't respected, as in the case of the "You're just a prude" response, we are not talking about a sexually liberated world. We're still talking about one that is built for others' pleasure.
And it's messed up because the world isn't liberated for anyone. As much as it sucks for me to deal with an environment that sends the message "Tits or GTFO," I statistically have less to worry about than those who make the choice for yes. Yesterday was the tenth annual "International Day to End Violence Against Sex Workers." An important image went around with stats about the violence sex workers face.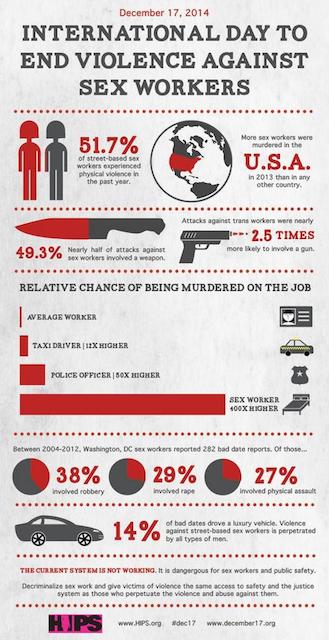 From HIPS.org
Sex work is just that, work. The risks sex workers face don't have to be inherent to their job. They are risks we create through our treatment of them. The collective and common disdain shown towards sex workers allows the people who attack them to do so. It allows bad cops to abuse them, especially with the artificial power differential we create through criminalization and non-legalization. That attitude gets reflected in our stories and games. Women who engage in sex work often are seen as one of the few classes of women where it's ok to either watch or participate in violence against them (via movies, books, video games, and the like) and that view is rarely if ever questioned. We live in a world where once you've done sex work or anything people might consider sex work, you're considered tainted for the rest of your life and can lose your job if anyone ever finds out, no matter how many decades have passed.
It needs to stop. We need to question narratives that normalize violence against sex workers (which is what that petition in Australia regarding GTA V was about). We need to question narratives that say their lives don't matter or that focus on their lives through an outsider lens. We need to stop telling women that they are only good for sex and we need to support women's choices about how to express their own sexuality, whatever that choice is. Policing women's choices, whether by calling them a prude or a whore, needs to stop and we need to stop pitting women against each other for these choices. We need to stop acting like women's sexuality is binary, you're either sexual or your not. We need to stop telling women that they either need to be comfortable with little to no clothes or that they have to be happy with being modest. We have to allow for complex emotions regarding pornography, monogamy, sexual desire, and more. We need to change media rating systems that rate expressions of sexuality commonly equated with women's pleasure as more mature than those commonly equated with men's pleasure.
If you are looking for different narratives, here are some suggestions:
There are so many more, but this is a good start. Challenge the narrative. Don't be compliant. Become empowered.