Sarah Darkmagic's blog
---
As mentioned in a previous post, the British Library released over a million images from its collection for public use. I happen to love illustrations so every so often I love to revisit the collection to see what I can find. In this case, I found images from a book called Goblin Market, a narrative poem written by Christina Rossetti about two close sisters. This edition of the book is illustrated by Laurence Housman.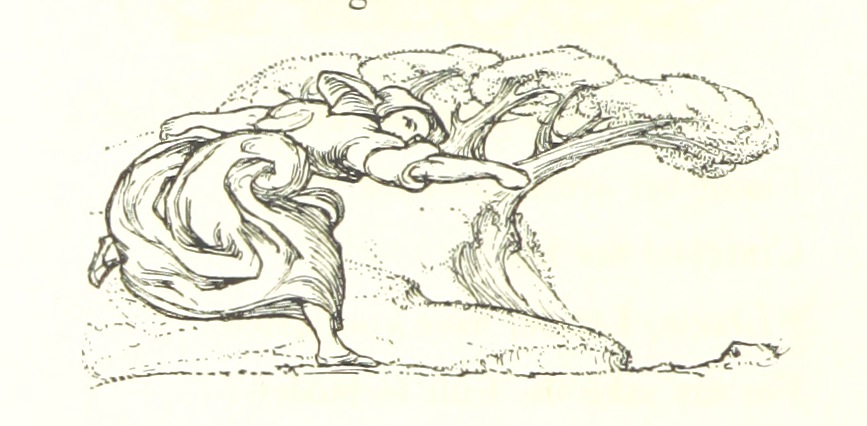 Things to Steal:
Random encounter: The story describes how a young woman decides to partake in the feast offered by the goblins, even though she doesn't have any money. This feast turns into a curse, however, as she finds that not only is she pining for the delicious fruit the goblins offered but also that she can no longer hear them and the seeds she saved from the feast will not grow. This curse could be used in many game systems.
A story of a resourceful and brave woman. Lizzie, seeing her sister near death, goes out to find the goblins and attempts to buy some fruit to bring home to her. This angers the goblins and they assault her, including trying to force feed her the fruits. Eventually they relent and Lizzie returns home covered in pulp and juices. Having nothing else, she gets her sister to eat these which at first causes Laura to be repulsed and to act wildly. But when she awakes the next morning, she is cured.
The art! Seriously, this art is fantastical and well done. Here's a gallery with some of it.

There's a lot more to the work to discuss, such as what appear to be strongly feminist themes and Housman's own work for the womens' suffrage movement. However, I leave it to you to find out more about that stuff if you wish.
One thing I will point out is that the art might be fun to color in and if you find enough other art of a similar style, you could use color palettes to tie the various works together. As an example, I quickly printed out one of the scenes this morning and began coloring in the woman's dress. To deal with the yellowing of the paper, I used an image editor called Pixelmator and did a combination of desaturation and setting contrast to 50%. I created a zip file with the images I processed in this manner that you can get here.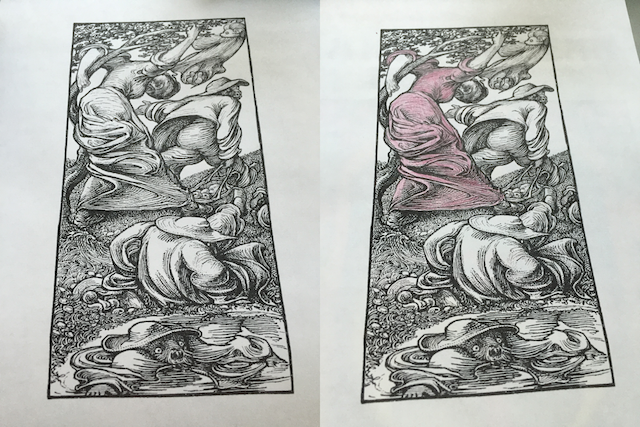 One of the first things I noticed flipping through the new Southlands Bestiary (Pathfinder) by Kobold Press is the number of monsters that do Constitution ability damage. Over the years I've heard so many complaints from players regarding ability damage and drain, this surprised me a bit. However, I think a well-informed GM can use these monsters to good effect at the table.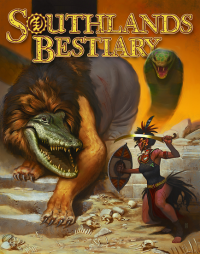 First, let's explore what ability damage and drain mean. Ability damage is damage done to one's ability score. Rather than subtracting from the score, you keep track of the damage separately. Get enough damage and you accrue penalties to your checks. Specifically, for every two points of damage done to an ability, you apply a -1 penalty to skills and statistics listed with the relevant penalty. However, your actual ability score remains the same, meaning you don't lose access to spells, feats, and the like.
Ability drain, on the other hand, reduces the relevant ability score. Instead of applying a penalty, you go through your entire character sheet and readjust all skills and statistics related to this ability. Additionally, points lost through ability drain tend to be harder to regain than healing from ability damage. Unless otherwise noted, a character can regain 1 point of ability damage per day. No such natural healing happens with ability drain.
Given how central ability scores are to the game, these general rules help explain why ability damage and drain in general can make players a bit upset but it's important to note that Constitution drain can be particularly thorny. For example, both ability damage and drain can have the effect of lowering one's Fortitude save modifier, often the save type needed to end ongoing Constitution damage or drain or to protect oneself from future reductions. Additionally, Constitution damage or drain reduces both current and total hit points, which means even if the character can deal with the reductions to Constitution abilities, their survivability is lessened. These hit points do not refresh until the ability score damage is healed or the drain reversed. Oh, and unlike the five other ability scores, being reduced to 0 Constitution through ability damage or drain results in character death.
Finally, Constitution is rarely the first or even second most important ability score for most classes. While it's generally advisable to not make it your dump stat (hit points are useful for everyone after all), it's going to be rare for it to be the highest ability score. (For more information on classes that use the various ability scores, see this great Google doc https://docs.google.com/document/d/1o91Z-s0R7Vf2Ujj1lFqGC5W--9JOyU0I6uC9...) While it's true that getting enough ability damage or drain in the five other score types will still take you out for a while, with Constitution it will kill you dead.
What this all means is that Constitution ability damage and drain easily can lead to an unintended death spiral. To understand, let's look at one of the monsters in Southlands Bestiary, the venomous mummy, a CR 5 monster. It has two abilities that do Constitution damage. One, toxic smoke, happens when the mummy is suffers a particular type of damage. It essentially creates an aura around the creature and any character within it must make a Fortitude check with a DC of 17. If a character fails, it takes 1 Constitution drain or 1d3 Con damage and faces making Fortitude saves for the next 5 rounds. To cure, it must make 2 consecutive saves.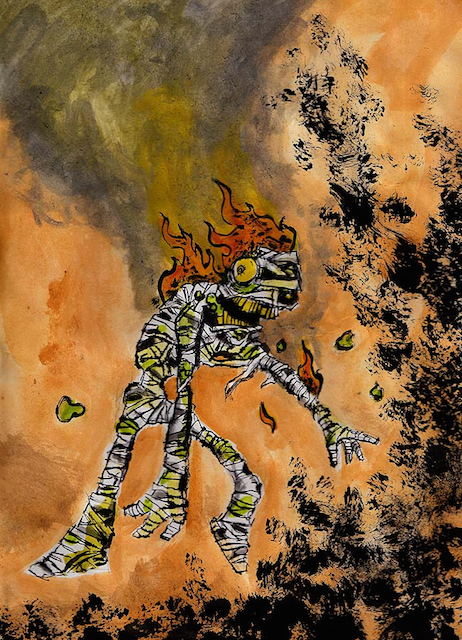 If the effect is drain instead of damage, with every failure the player may need to rework their character sheet. If their ability score was even, this would kick them down one modifier tier. In addition, if there are any feats, spells, or other abilities they have that have a Constitution ability score prerequisite AND your ability score falls below that, you lose access to those items. Thus, the next round when you make a check, you are likely to be in a worse position than you started and yet have to make the same DC.
If the effect is damage instead and the 1d3 gets maxed, you are facing a situation where after two rounds you are taking a -3 penalty to your Fortitude saves plus dealing with a 3 times your hit dice reduction in hit points, and since it's from your current, it's as if the enemy had hit you for damage. And remember, the 2 saves must be consecutive.
Also, it's essentially a 10' aura which means multiple party members could be affected by this. This doesn't even take into account that the mummy has a second ability that also does Con damage, Selket's Venom. This affliction is spread by touch, including through the mummy's slam attack. The effect is 1d6 Con and 1d6 Dex. With an onset of 1 minute, it's unlikely to affect the current encounter but unlike toxic smoke, it continues until cured and no number of consecutive saves will cure it, only the removal of the curse will. The frequency is 1/minute and it requires that both the curse and the poison be removed, and I believe the curse has to be lifted first. While it doesn't say so explicitly, similar scenarios in the Core Rulebook say both spells must be done within 1 minute.
So imagine this scenario, the characters are in a tight crypt when they awaken the venomous mummy. Figuring that "burn it with fire" is always a good response to such foul creatures (hey, it's vulnerable to fire, right?), they light the mummy on fire. This releases the toxic smoke. Half the party is exposed, in particular the melee fighters. Two of them fail their saving throw, starting the up to six rounds of Con drain or damage. At least one of them also gets venom on them, meaning after the combat, that character is facing making a saving throw every minute. Their Fortitude save may already be penalized or reduced due to the toxic smoke and now they are facing the likelihood of an additional -1 penalty each minute, and possibly -2 or -3. Plus, they only have so many Constitution ability points to begin with and when they hit zero they are dead.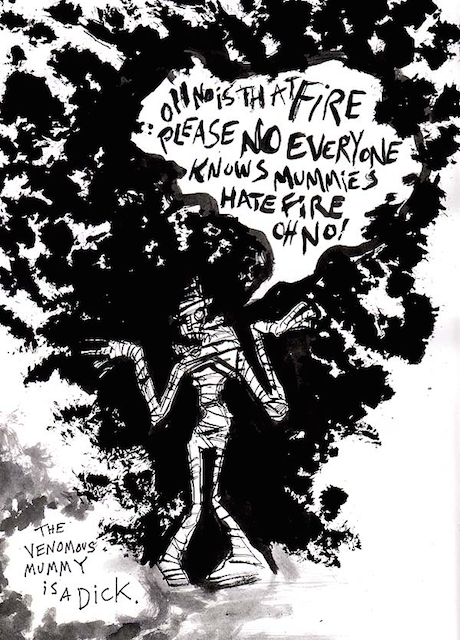 The main spells required in this case are remove curse and neutralize poison. Remove curse is a third level spell for bards, clerics, and paladins, and a fourth level spell for sorcerers and wizards. Neutralize poison is a third level spell for druids and rangers and a fourth level spell for alchemists, bards, clerics, oracles, inquisitors, paladins, shamans, and witches. Thus, unless you have a bard, cleric, or paladin in the party, it is unlikely that one character can both end the curse and neutralize the poison. Additionally, clerics don't get fourth level spells until 7th level and they'll only have two 3rd level spells at that level (perhaps more with a high Wisdom score). Paladins don't get 4th level spells until they are level 14 and bards don't get them until 10th level. That's not to say that there aren't other ways potentially to overcome this, but remember this is listed as a CR 5 monster.
If you want to revert the damage or drain, you have a few options available to you. Lesser restoration will cure 1d4 points of ability damage to one ability score. It's a first level spell for paladins and a second level spell for alchemists, clerics, oracles, druids, inquisitors, and shamans. However, it does nothing for ability drain. Restoration will cure all ability damage and restores all points permanently drained from a single ability score. It's a fourth level spell for alchemists, clerics, oracles, inquisitors, paladins, and shamans and requires diamond dust worth 100 gp. Greater restoration will cure all temporary ability damage and restores all points permanently drained from all ability scores. It's a level 7 spell for clerics, oracles, and shamans and requires diamond dust worth 5000 gp.
| Spell | Class | Spell Level | Class Level |
| --- | --- | --- | --- |
| Remove Curse | Bard | 3 | 7 |
| | Cleric | 3 | 5 |
| | Paladin | 3 | 11 |
| | Sorcerer | 4 | 8 |
| | Wizard | 4 | 7 |
| Neutralize Poison | Druid | 3 | 5 |
| | Ranger | 3 | 11 |
| | Alchemist | 4 | 10 |
| | Bard | 4 | 10 |
| | Cleric/Oracle | 4 | 7 |
| | Inquisitor | 4 | 10 |
| | Paladin | 4 | 14 |
| | Shaman | 4 | 7 |
| | Witch | 4 | 7 |
| Lesser Restoration | Paladin | 1 | 5 |
| | Alchemist | 2 | 4 |
| | Cleric/Oracle | 2 | 3 |
| | Druid | 2 | 3 |
| | Inquisitor | 2 | 4 |
| | Shaman | 2 | 3 |
| Restoration | Alchemist | 4 | 10 |
| | Cleric/Oracle | 4 | 7 |
| | Druid | 4 | 7 |
| | Inquisitor | 4 | 10 |
| | Paladin | 4 | 14 |
| | Shaman | 4 | 7 |
| Greater Restoration | Cleric/Oracle | 7 | 13 |
| | Shaman | 7 | 13 |
Another option is for a character to spend 8 or more hours providing long-term care. It requires a heal check. If it is successful, 8 hours will help up to 6 characters recover 2 ability points and 24 hours will allow them to recover up to 4. However, you cannot give long term care to yourself.
Additionally this isn't the only creature that does Constitution ability damage or drain. Out of the 99 monsters listed in the table of contents, I counted 23 that have some ability to affect a character's Constitution. One example, the Dau (CR 5) require a Fortitude save after a touch attack. Failure results in 1d6 points of Constitution drain. The amphiptere (CR 3) attempts to poison creatures it bites or stings. Poisoned creatures that fail their Fortitude save take 1d2 Con damage until they save. Any creature that takes 4 or more points of Con damage are also fatigued until at least one of those damage points are healed.
| Creature Name | CR |
| --- | --- |
| Lemurfolk | 1/2 |
| Beetle, Bellyborer | 1 |
| Snake, Swamp Adder | 2 |
| Amphiptere | 3 |
| Clockwork, Imy-ut Ushabti | 3 |
| Scorpion, Stygian Fat-Tailed | 3 |
| Cactid | 4 |
| Dipsa | 4 |
| Snake, Zanskaran Viper | 4 |
| Asanbosams | 5 |
| Dau | 5 |
| Edimmu | 5 |
| Mirager | 5 |
| Mummy, Venomous | 5 |
| Rotting Wind | 5 |
| Sarcophagus Slime | 6 |
| Spider, Sand | 7 |
| White Ape | 7 |
| Clockwork, Shabti | 8 |
| Dingonek | 10 |
| Ia'Affrat | 15 |
| Arbeyach | 21 |
| Demon Lord, Camazotz | 24 |
One thing to keep in mind is that the three people who heard me describe these monsters wanted to go up against them. So don't take this post as being negative on the product, it's definitely useful and will scratch the itch of some players. In fact, here are some game types where this sort of bestiary might be well-received:
Some types of tournament play
Games with experienced players who crave a challenge and/or something new
Adventures that use the Mythic Adventures rules since it often gives player characters resources they wouldn't otherwise get. For example, cure light wounds heals some ability score damage in addition to increasing the healing.
Campaigns that are more liberal about giving out items, especially as a reward for exploration. For instance, maybe parts of the area where a venomous mummy can be found have staves or potions to give the party more resources. However, I'd still suggest talking about this upfront rather than surprising players with it after they've dealt with something they feel is unfair.
So don't be afraid to use monsters like these, just try to go in with eyes wide open. Have fun! And if you have a story about ability damage/drain monsters you'd like to share, feel free to do so in the comments.
Notes: A huge thanks to Michael Phillips (Twitter|Website) for being willing to review my rough draft and do a quick soundness check. Venomous mummy artwork by the always awesome Jared von Hindman.
One of the parts of Gen Con I love is Artist Alley, the portion of the exhibitor floor reserved for those who bring our fictional worlds to (visual) life. Among those present this year is Emily Fiegenshuh (Wikipedia, Website). In terms of game art, she has done work for Paizo and Wizards of the Coast. In addition, she provided character designs and illustrations for multiple fantasy stories published by Cricket Magazine and illustrations for Inuit mythology magazines and books published by Inhabit Media. Finally, she created The Explorer's Guide to Drawing Fantasy Creatures, a how-to-draw book (more on that in a bit).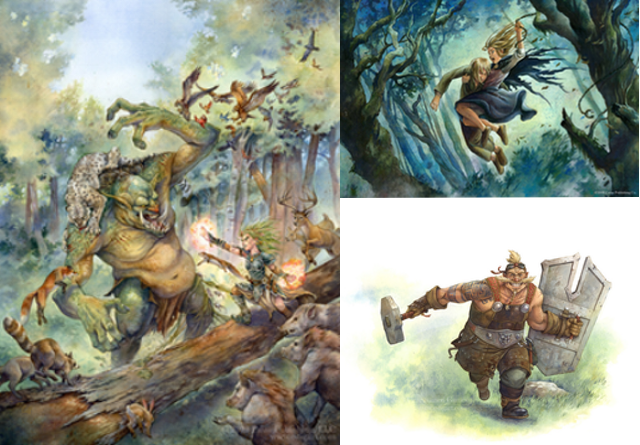 left: Call of the Forest Cover illustration for the Pathfinder Player Companion Animal Archive, published by Paizo, Inc. ©2013 Paizo, Inc.
top-right: Cymbril to the Resuce, Illustration for "The Star Shard" published by Cricket Magazine, October 2008. ©2008 Carus Publishing Company
bottom-right: Hogoren Character illustration for Unrestrained Games. ©2013 Unrestrained Games
Emily's art has a style that reminds me of the fairy tale books I grew up with. I love her balance between things that exist in the natural world and the fantastic. Additionally, I get from her artwork that she likes to do world building and is making conscious choices with both what she chooses to present and how she does so. This comes through in her book, The Explorer's Guide to Drawing Fantasy Creatures. Here are some example images of the book.
I can't wait to dig into this book more and give drawing a try.
From my brief conversation with her at Gen Con, it sounded like she would love to do more RPG work. I don't know her rates, but if you are interested, please contact her. Her contact info is emily at e-figart.com and her website is www.e-figart.com. Also, I love her card.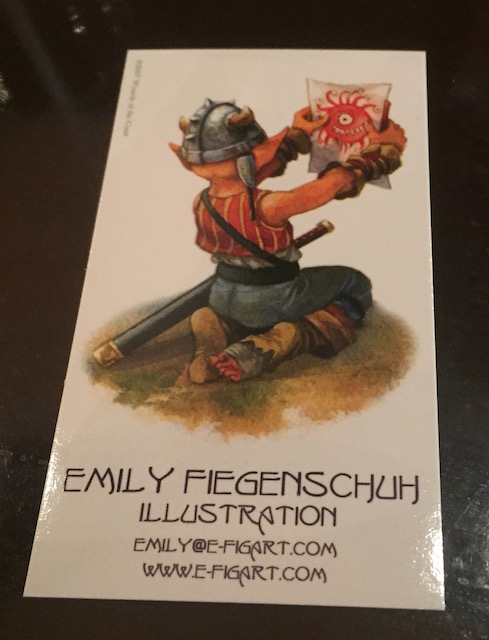 Also, here's what we picked up from her table at Gen Con.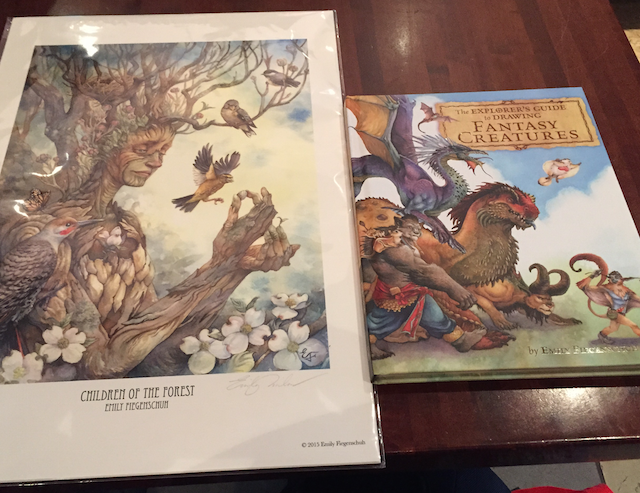 Recently there was a really good article titled "Just Don't Do It." It's a rebuttal to an earlier article published in Business Insider where Ellen Petry Leanse, a former Google executive, claimed women just use the word "just" too much. If only they changed their speech patterns, they could get equality with men.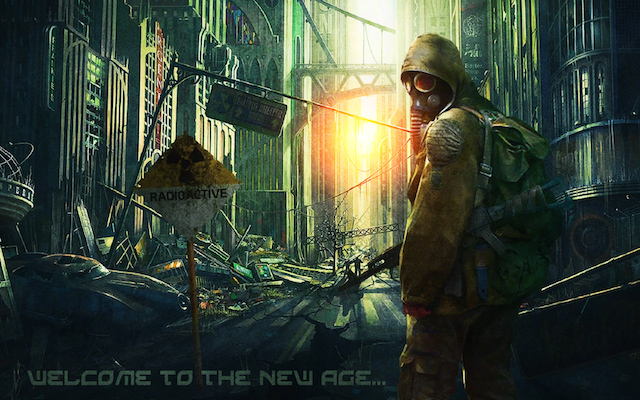 Image by AZRainman.com
The rebuttal concentrates on something that the original article does not. The advice is essentially that women should learn to speak more like men. This advice isn't based on studies. There's no actual empirical evidence cited that women use "just" mainly in the ways that the Leanse cites or even that women are actually more permissive in their tone then men. Instead, it feels like it's based more on a stereotype and confirmation bias.
Furthermore, there's no proof that the suggested way to speak is actually better at accomplishing its goals or otherwise good on its own merit. It assumes that since men speak that way (assuming the underlying unsupported argument is true) and we, as a group, tend to value their contributions more, it is therefore the way everyone should be. There's a fundamental misogyny to the argument that gets missed.
Now at some point, I'm sure someone reading this is going to roll their eyes, throw their hands up in the air, and start yelling about how I then must be saying that things men do must therefore be inherently wrong and bad and I'm just one of those man haters, blah, blah, blah. If that's what you want to believe, fine, but don't let that get in the way of my point which is this: We have a lot of unexamined behaviors out there that we assume are the way things should be done mainly because it's the only way we've ever done them. That's a fallacy that's known as "appeal to tradition."
And when we use those appeals to tradition as the basis of our arguments, and I argue that's what Leanse did, we can be blind to the social forces that shaped the tradition to begin with. In this case, a culture that tends to undervalue consensus building and empathy, typically considered feminine traits, and overvalue strength and other typically masculine traits. Furthermore, the constant policing of women's language compared to the language of men reinforces a belief that it is women who are inferior and need to catch up rather than perhaps that men might need to adjust their approach in some situations if they want to get better results.
As others have pointed out, what's really happening in this discussions is that current social hierarchies are being reinforced. It's not just this case either. For instance, recently a young girl had some things to say about an author, John Green. She found his online presence creepy and wrote about it on Tumblr. While she mentioned his name, she didn't tag him into the post. Other people used that post and publicized it in an attempt to get John Green to respond, including at least one person who tagged him into the reblogs.
John Green, being human, decided to respond, in my opinion, quite poorly. Now a bunch of people are talking about how the teenage girl should have known better and the negative attention and bullying is exactly what you deserve if you post something like that about someone.
Let that sink in for a moment.
No really.
We know today that there is an epidemic of underreporting. Look at the Bill Cosby case where women waited decades before saying anything about their experiences. DECADES. What response did a lot of them get when they did come forward? Many were the same as this girl got for her post. How dare you attempt to ruin the career of someone famous? Don't make allegations you can't prove.
Now I want to be clear here, I'm not saying John Green is the sort of person she is concerned he might be. I am saying that I believe she feels this way and that, furthermore, I can understand, given the messages she likely grew up with, why she feels that way. Both The Mary Sue and Huffington Post have good posts about the young girl's point of view in this story, as well as the messaging it sends to others. There's a lot of good stuff there, but most important for this is yet again in one of these discussions, we have decided the most important thing to discuss here is how to police a teenage girl's speech. What made me especially angry were the allegations that she is why abuse victims aren't taken seriously while their own speech (both his and that of his defenders) goes unexamined. Personally, I find their speech much more damaging than hers, especially since she only talks about how she feels about his online presence and her detractors are essentially telling her not to trust her instincts which goes counter to the advice out there from people who try to combat sexual abuse of children.
This policing of language as a means of reinforcing the current social hierarchy isn't just limited to women. We see it with the attempts to silence trans people after the marriage equality ruling in the United States. We see it in the silencing people of color. It's common and it's frustrating because people are often so blind to it. When the people with less privilege attempt to speak their minds about how they see the world, their words are called toxic. But even if we, for the sake of argument, agree with that point, often the things said in response are way more toxic and, more importantly, are allowed to exist with little to no examination or reflection.
Maybe, just maybe, a lot of things called toxic aren't actually toxic; they are just uncomfortable. Maybe, just maybe, it's that reaction, driven by that uncomfortableness, that is the real toxicity. Maybe, just maybe, the people who react that way are the ones who need their behavior policed, who need to change.
UPDATE 7/8/2015:
Since I posted this yesterday, new information came to light. Multiple articles and threads I read all assumed that virjn is the person who posted the original text regarding John Green. However, further research seems to point out that a person writing as peach-pocket wrote it instead. It's hard to verify for certain because all posts from virjn are gone as is the one listed as the source of a number of people's reblogs.
Some people browsed through peach-pocket's account and highlighted posts that showed they are an adult. That's understandable but there are two issues I see. 1) They are also ignoring posts where they talk about suffering from mental illness and also feeling like they have a hard time communicating what they feel with other people and 2) the majority of comments and arguments I saw were made with the assumption that the poster was a teenage girl. That is important context to the comments made.
In "An Immersive Experience" I discussed my push to consume more media where women are prominently featured as characters and/or constitute a significant portion of the creative team. Thus, it should be no surprise that while looking through the newest releases on Comixology, Mad Max: Fury Road: Furiosa #1 caught my eye. However, between its $4.99 price and having been stung by such purchases in the past, I thought it would make sense to read some reviews before investing in a new series.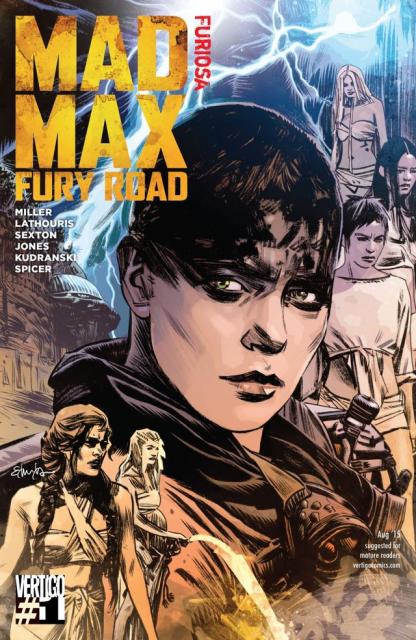 A quick Google search brought me to the Mary Sue and a review by Ana Mardoll, "Review: We Need to Talk About the Furiosa Comic." The review quickly made it clear, with citations and panels from the book, that this was not something I needed to buy right now. I was disappointed and everything, but this sort of thing happens so often it didn't seem to make sense to say much about it.
But then I saw a retweet by Mardoll of a share of the review by one of the creators of the comic book.
Quite extraordinary review of Mad Max: Furiosa here - http://t.co/6dSzo6qbGS Incredibly subjective, very angry. But fascinating.

— Mark Sexton (@Mark_H_Sexton) June 20, 2015
I don't really get this. All reviews are subjective. Also, the fact he thinks the reviewer was very angry hints at a lot about him. I looked through some of his other tweets and found this conversation.
@KameronJdevine Interesting. Could answer this any number of ways...

— Mark Sexton (@Mark_H_Sexton) June 17, 2015
@KameronJdevine Best answer is that the use of institutionalised rape by Immortan Joe is not only central to the story -

— Mark Sexton (@Mark_H_Sexton) June 17, 2015
@KameronJdevine - but without it, the story could be viewed merely as a bunch of young spoilt girls whining about being kept in relative -

— Mark Sexton (@Mark_H_Sexton) June 17, 2015
@KameronJdevine - luxury by an older man who's concerned with their safety. Not really much room for dramatic tension there..!

— Mark Sexton (@Mark_H_Sexton) June 17, 2015
Let that sink in for a moment.
The reason why rape is used so heavily in the first issue is because the concern by at least one of the creators is that without it too many people wouldn't understand why a bunch of women would want to leave Immortan Joe. In fact, those people would only be able to view the wives as a bunch of spoiled young women who can't understand that Immortan Joe is just caring for them.
My first question is what the fuck?
My second question is who seriously thinks this way outside of a small number of misogynists?
My third question is why would that be the audience you cater to? Why is it their ability to feel dramatic tension that you seek?
Not only do they decide to center on that view point and craft their work so people with it are able to feel dramatic tension, but as a number of reviews point out, the book reinforces that point of view. For example, the wives are told multiple times that they need to show more gratitude for what they've been given.
Imagine making that argument to a male character, like Max. Generally speaking, when it comes to male characters the reader is supposed to understand that any sort of enslavement is untenable. A male character, particularly white male characters, are supposed to want to escape their bonds as soon as possible. Nothing else is needed to create that dramatic tension. But apparently women's natural state is to want to want to be submissive and controlled by others and if they get that and gifts, apparently readers can't understand their need to be their own people.
[NOTE: There are serious issues here when it comes to slavery especially because there are people out there who make these sorts of arguments about African-American slaves of all genders. I've read articles and seen documentaries where people try to make the case that people "need to understand" that African-American slaves were well taken care of by some slave holders. It's a harmful and hurtful argument in that context and the same here. Thanks to @AskelandLori for the reminder and check out Ask A Slave and @afamhistfail for more examples.]
In looking into this, I also began to worry about something in regards to the movie which has been praised for leaving out exactly this sort of approach. If you look at the Comixology page, it appears that the comic was meant to come out *before* the movie.
From the mind of George Miller, the creator of the Mad Max trilogy, the prelude miniseries to the upcoming film Mad Max: Fury Road continues!
This leaves me with the impression that maybe they didn't cover it in the movies not because they saw how awesome it would be to leave it out, but rather because they thought it was already covered by the books and so, why cover it again in the movies, especially when they could drive book sales. What makes me even more uneasy about this is that there's a pretty big overlap in creative teams on both projects. See, the Mark Sexton quoted above didn't just work on the comic, he worked on the storyboards for the movie. He was part of that creative team too.
And that's what bothers me about this. He repeatedly states on Twitter that they treated the women so horrifically in the comic book because otherwise people wouldn't understand why the wives had to leave the Dome or why Furiosa was able to empathize with them. Which baffles me because people sat down and sang the praises of the movie without having that sort of horrific detail on display. The wives said they lived through bad times and the audience accepted it. THIS ISN'T HARD. Yet here we are, after the movie is out, and he's still singing the old song about how we need this sort of thing in order for people to get it. After people have already said that they get it without depicting that violence.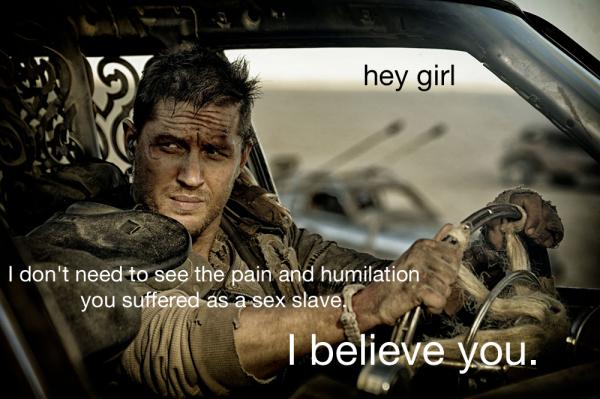 Understanding this is critically important. These justifications for the horrific treatment of female characters in our media need to stop. They serve primarily to reinforce the misogyny in society instead of working against it. Women don't need to have these things happen to them for us to understand that they need to have their own agency and not be property.
(In addition to the Mary Sue review, i09 presented some of the issues in the comic as well.)