Sarah Darkmagic's blog
---
A few months ago I was fortunate enough to find Artist & Craftsman Supply in Central Square, Cambridge, MA. I had been looking for some colorless blending pencils from Prismacolor one day and we decided to give them a shot. I'm so glad we did. Not only do they carry art supplies for all sorts of "serious" arts and crafts endeavors (they carry professional materials for everything from oil painting to bookmaking/binding, but they make an effort to include neat student level products as well, include at least three different sets of gel pens from Sargent Art.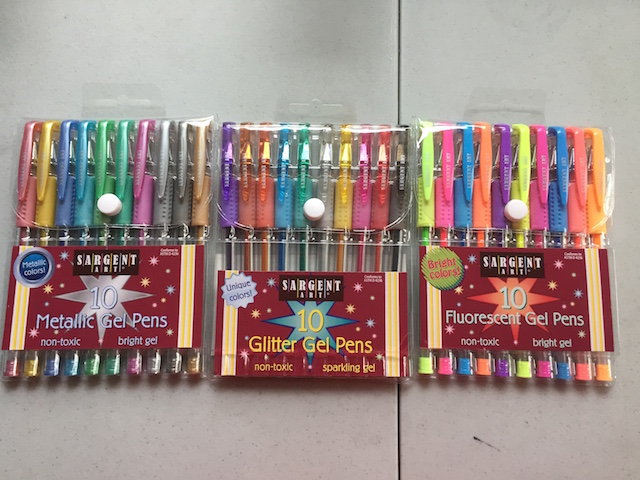 The three sets are fluorescent, glitter, and metallic. Each set comes with 10 different pens and is packaged in a reusable pouch with snap. Before I go to far into my experiences with coloring with them, I wanted to give you an example of the different colors available and how they did on various paper. First up is a smooth white cardstock.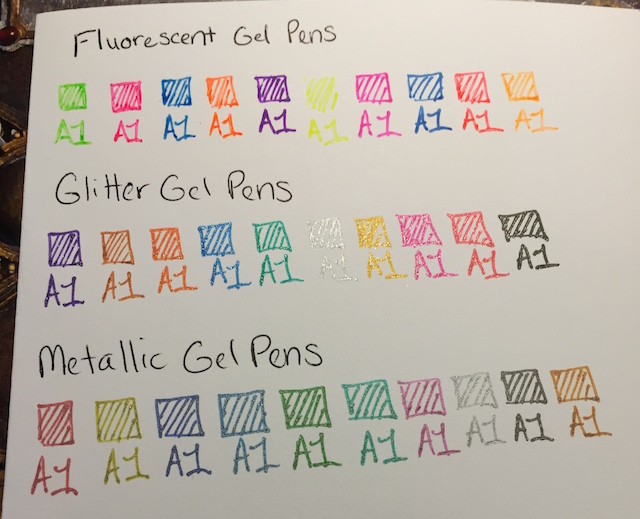 The colors here are all vibrant and the pens wrote fairly well. I did have some issues with the fluorescent gel pens which I think will be easier to see on the other papers, but I still liked them overall.
Here's the same pens, in the same order, on a piece of green cardstock.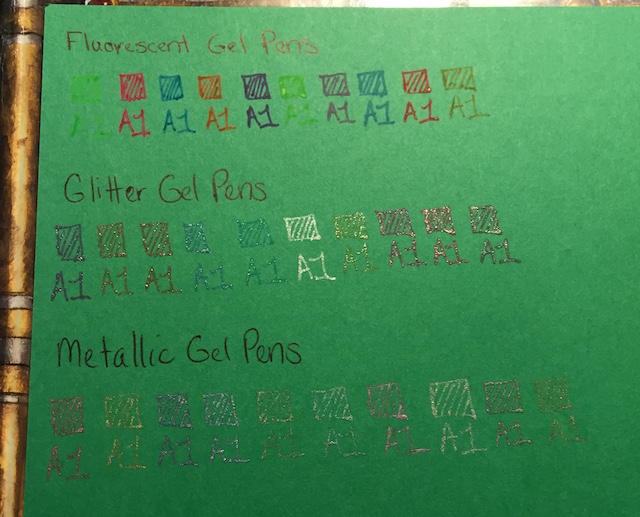 Again, I think the ink went on pretty well on the smooth paper. Obviously, the green shades are a bit harder to see. For the fluorescents, some of the colors aren't quite as vibrant and seem a bit duller. Also, I feel like the glitter pens fared much better than the metallics.
Finally, here's the same pens on a piece of black construction paper.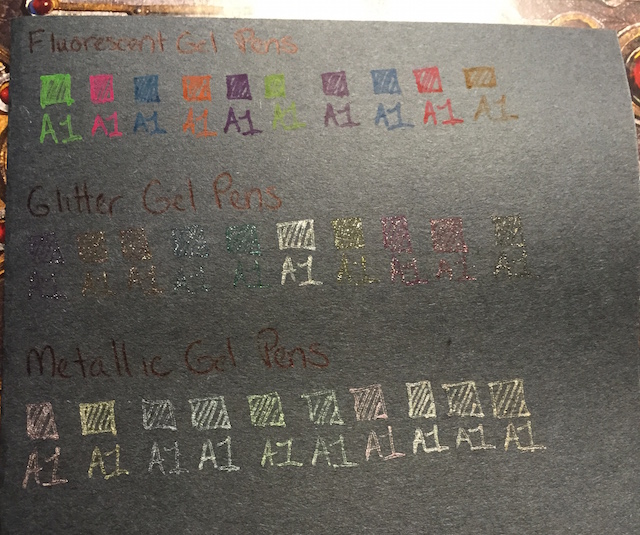 The construction paper definitely presented some challenges with getting the gel to come out smoothly. However, while some of the fluorescents had issues, especially the yellow and orange ones, overall I thought they held up pretty decently. Unlike the green cardstock, the glitter pens didn't do as well as the metallic gel pens. Mainly the glitter pens on this paper look like I put glitter on the page, with the exception of the more silver colored one.
A few other things to know about the pens. As you may be able to see in some of the images, the ink can pool sometimes, especially at the start and end of the lines. Also, the line isn't always consistent. Finally, these inks can take awhile to dry and are easy to smudge if you're not careful (left-handed people in particular might want to take note of this).
I forget exactly how much I paid for them, but I believe it was under $6 for each set. When I consider that I pay nearly a third to half that for one metallic silver Uniball pen, I think they are worth the price. I love using them as accents on my coloring.
Here's an example where I used my Crayola Super Tips markers to color a flower in yellow and then went over it with the orange and yellow glitter pens.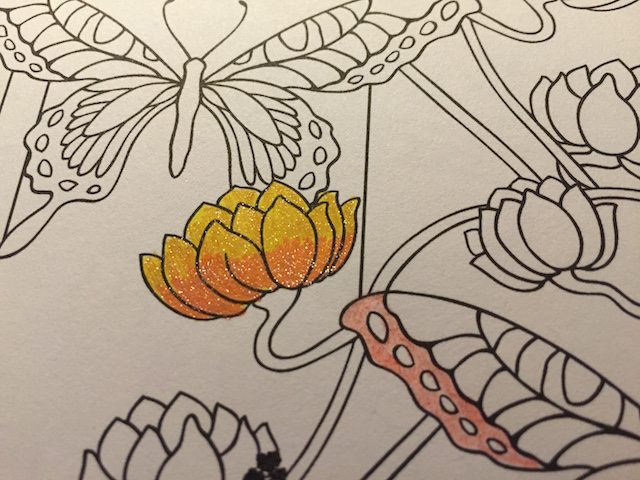 I used the metallic gel pens to color in the crowns on this page.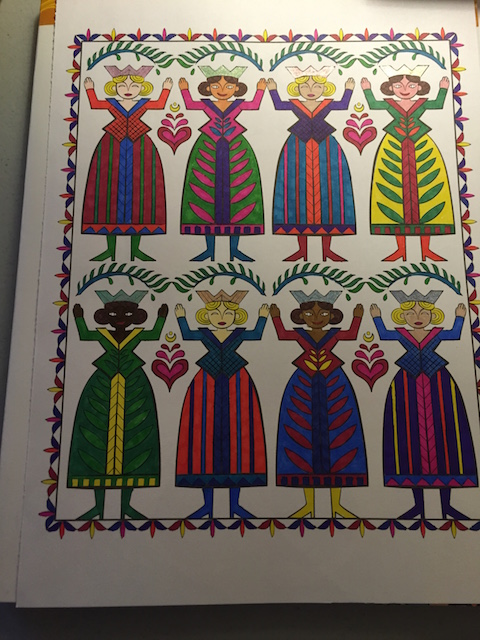 The important part here, in my opinion is to just have fun and don't feel that just because it's in the kids' area that you can't have fun with it and create cool stuff.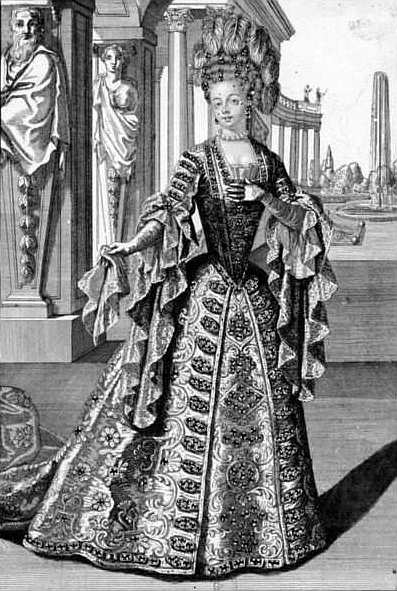 A few months ago at work, some people suggested a book to me called, "Death By Meeting:A Leadership Fable...About Solving the Most Painful Problem in Business." One of the biggest complaints people have with meeting is that often can seem like they are getting in the way of work. Thus, the common "solution" is just to not have meetings. Everyone wins, right?
The book posits a different theory. The problem with meetings often has less to do with the concept of meetings. We will spend hours doing other, meeting-like things, such as watching movies. Instead, the problem is often how we apply the tool. One of the differences pointed out is that unlike other meeting-like activities, what meetings often are missing is tension, and dare I say it, conflict.
Business culture, at least in the US, is often characterized by not rocking the boat. People often are worried that disagreeing, keeping people honest, and the like will hurt their careers rather than help them. And there is a fair bit of evidence, in my opinion, to support those fears. However, I think there are two important points to keep in mind here. 1) While widespread, at least in the US, is this actually common human behavior or common to the founding classes of the business world and 2) Does this culture promote what we want or does it hinder it?
On the first point, this culture of going along and not rocking the boat reminds me a lot of descriptions of stereotypical WASP family holidays. Everyone is mad at each other but no one actually talks about it because that's just unseemly. As a result, family feuds and dramas often go on for years, sometimes without the offending party ever knowing what they did or even that they did anything.
Not only does this lead to misunderstandings and what seem to be unexpected outbursts, but it hinders innovation. If we can never point out the negative, we can never improve, iterate, grow. Additionally, what I've found is that this outlook allows for pointing out positives that are actually negative statements about something else. "Oh, you dress so much nicer than your sister does!" "Oh, I love how you use color images rather than those other people who just include black & white sketches."
So, why am I bringing this up? Because it's the issue I continue to have with OneBookShelf/DriveThruRPG's handling of the recent controversy. A recent post by their RPG Publisher Relations Representative, Meredith Gerber, has the following:
The feedback we have received from both customers and publishers has been appreciated and has helped us shape our new policy. We want to thank you for the time and energy you have taken to reach out to us. Those that have spoken with us in the past know we are always happy to talk to customers, publishers, and partners to have a professional dialogue about concerns.

When having discussions about these types of situations, it's always important to remember that being professional and kind in feedback will create better dialogue. It's very difficult to continue a conversation and figure out the message when hateful words are said out of anger and spite. If you do not agree with someone, take a moment to step back and breathe before stating your opinion. There is also nothing wrong with walking away from a conversation if it's going around in circles with no conclusion in sight.
This is also echoed in various posts by other OBS staff about "call out culture" and "outrage," etc.
Here's my problem, I think they are honestly confusing tension and conflict with unprofessionalism. They are applying one type of culture and saying that this is some objective standard for how to act, ignoring that other people may have different standards. They are also misrepresenting some of the feedback they received, grouping questions about why it was even allowed on their stores what would be truly unprofessional, such as making fun of someone's looks.
I'd have no problem with them saying, "If you would like to discuss this with us, here are our boundaries." Instead, they are using claims of "unprofessionalism" as not only a silencing tactic but as a way to say that their critics are objectively bad. Additionally, I understand wanting to defend themselves in these situations, especially given how uncomfortable they can be. However, many of their barbed words towards the people who brought up the issue to begin with seem to violate their own arguments. And it's particularly frustrating because the initial comments made by people who work at OBS was that we should just ignore the content.
When a company is as big as OBS is within a small market such as ours, I think it's important to speak up and point out this still. I understand it's not always a comfortable process and I am against those who say truly horrible stuff, but I can't stand by and let them use their arbitrary standards of "professionalism" as a sword against others.
Now that I have card stock, I can try out a few things I've been wanting to do. The one I happened to pick up is called Accent Opaque Digital by International Paper. It's 8 1/2" by 11", smooth, 65 lb, and white. I paid $11.99 for 250 sheets. For the experiment, I printed out one of the images from the history of Paris book I detailed in this post.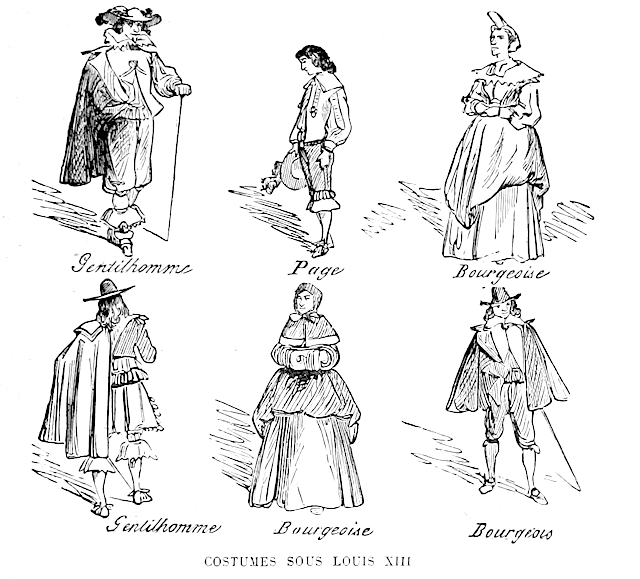 So first, the tools. In addition to my Crayola color pencils, I used baby oil, a palette (it has handy reservoirs for holding the oil), and tortillions.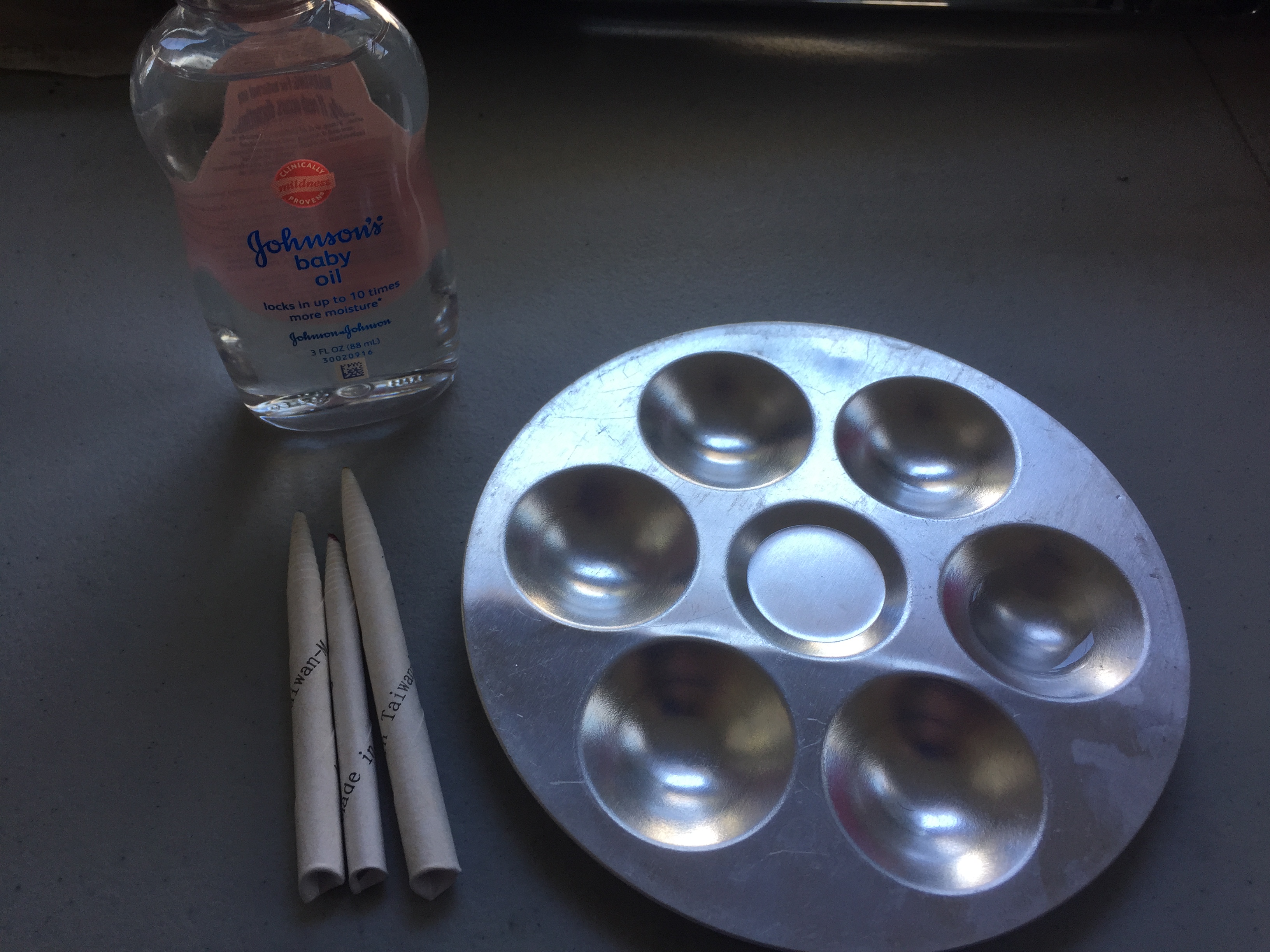 Tortillions are pointed stubs made out of rolled paper often used for blending with graphite pencils. The way this works is that you color an area you like with the color pencil. Once you have the color the way you like it, you dip the tip of the tortillion into the well of baby oil and then go over your color pencil with it. It should smooth out the color a bit and help blend colors that are adjacent. Here are some before and after examples.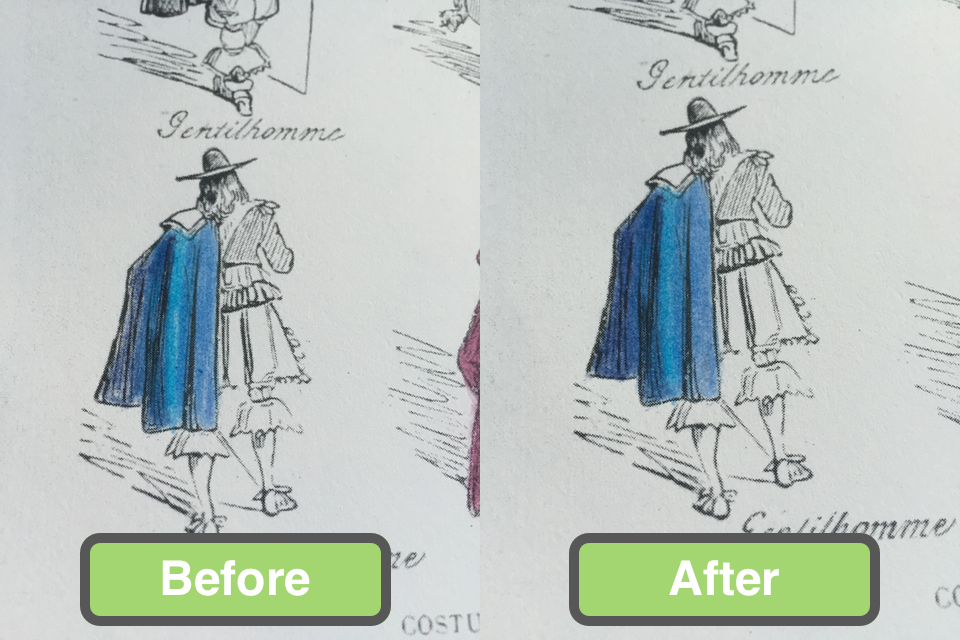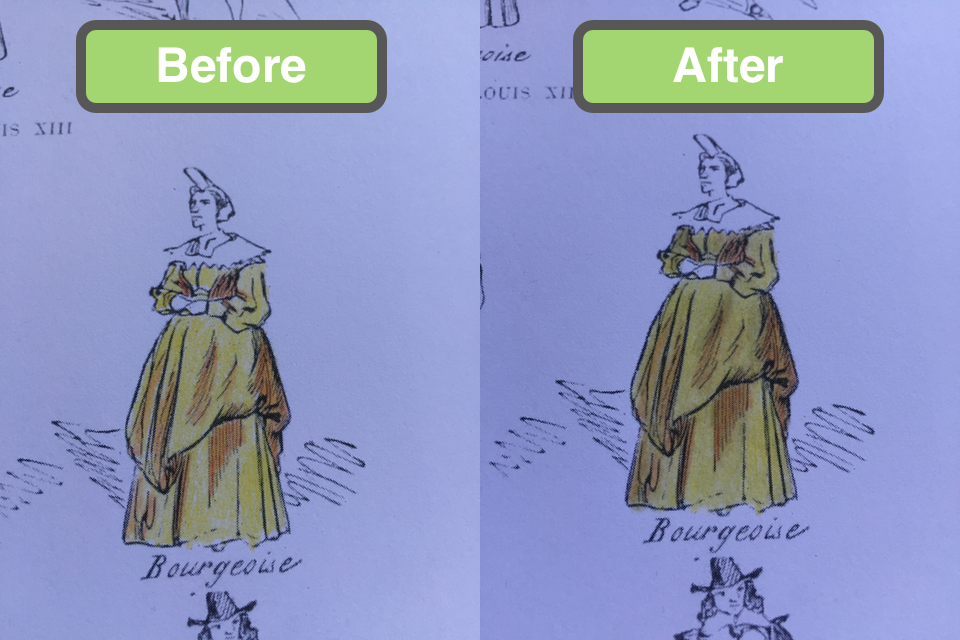 Things to know:
The oil didn't go through this cardstock but you should always check yours on a spare piece before using.
It's important that you have the color where you like it *before* using the baby oil. You won't be able to go back over it later to add more color.
Some people have used cotton swabs instead of tortillions and liked the results better. I didn't try them here, but they seem to be great for larger areas.
The tortillions can hold on to the color a bit. You can clean it off (and resharpen it) on a bit of sandpaper. You could also get several and reserve one for each color family.
If you are interested in learning more, here are a few videos I found useful.

Eventually I'd like to use Gamsol, which seems to work a bit better from the videos and allows you to go back over it with color (which baby oil does not). But it's also flammable and the fumes are toxic so I'm going to hold off for now until my technique overall is better. But, if you are interested, here's a great intro video on using it.
Recently I bought the 80 marker set of Crayola Super Tips Markers. I had the 20 marker set already but I was feeling limited by the choices and thought I'd get the 80 marker set. There are a few things I wish I had known before I had done so. First, as with the 20 piece set, the markers are labeled with colors. Also, the 80 marker set comes in a big box, so even if I could start to memorize what the colors were like on actual paper, there's no way I could keep track of which marker was which.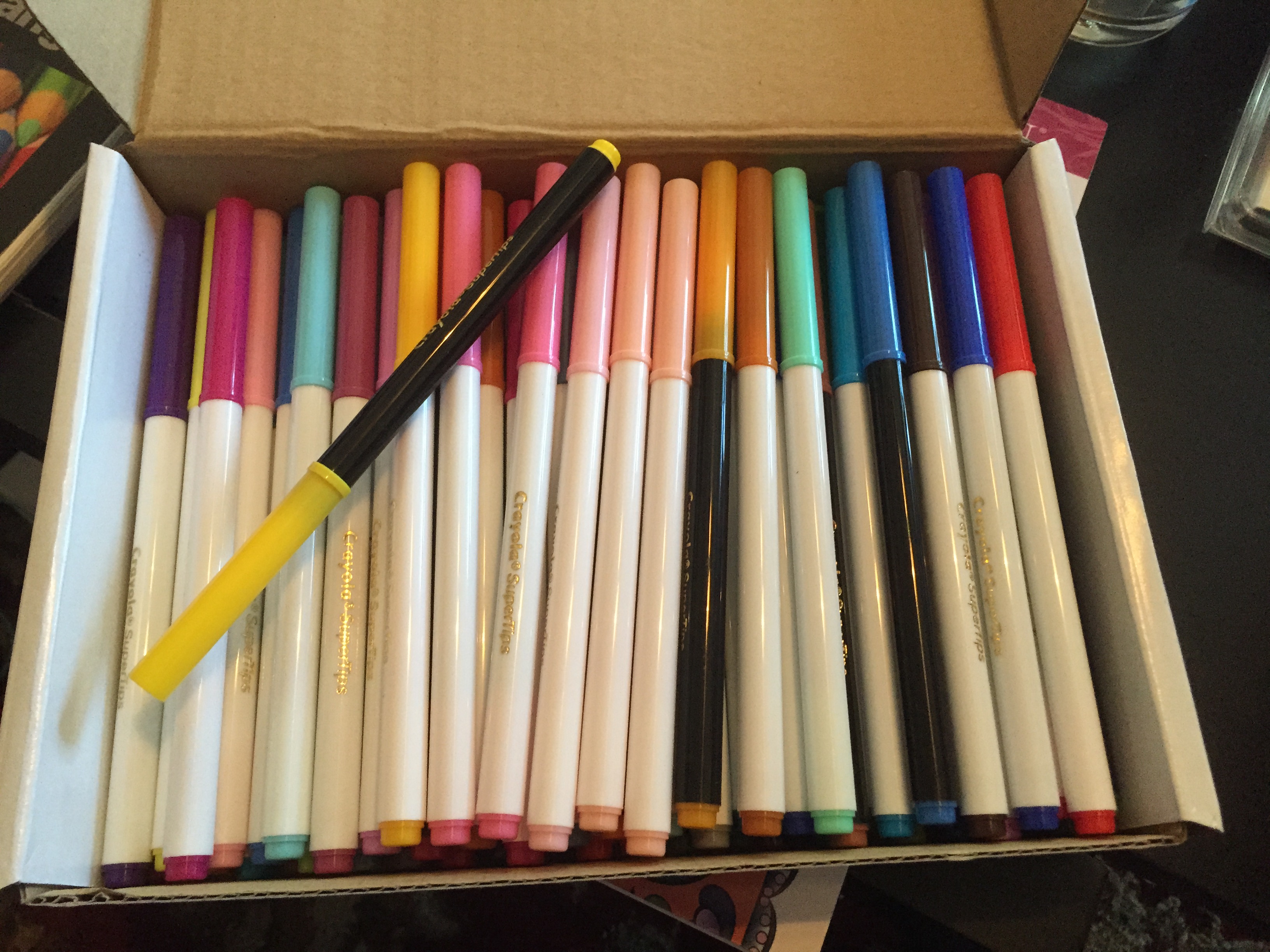 To help with this problem, I went to an office supply store today and got some half-inch diameter circular labels. Half-inch happened to be what the store had in white, but feel free to change the diameter to fit your tastes.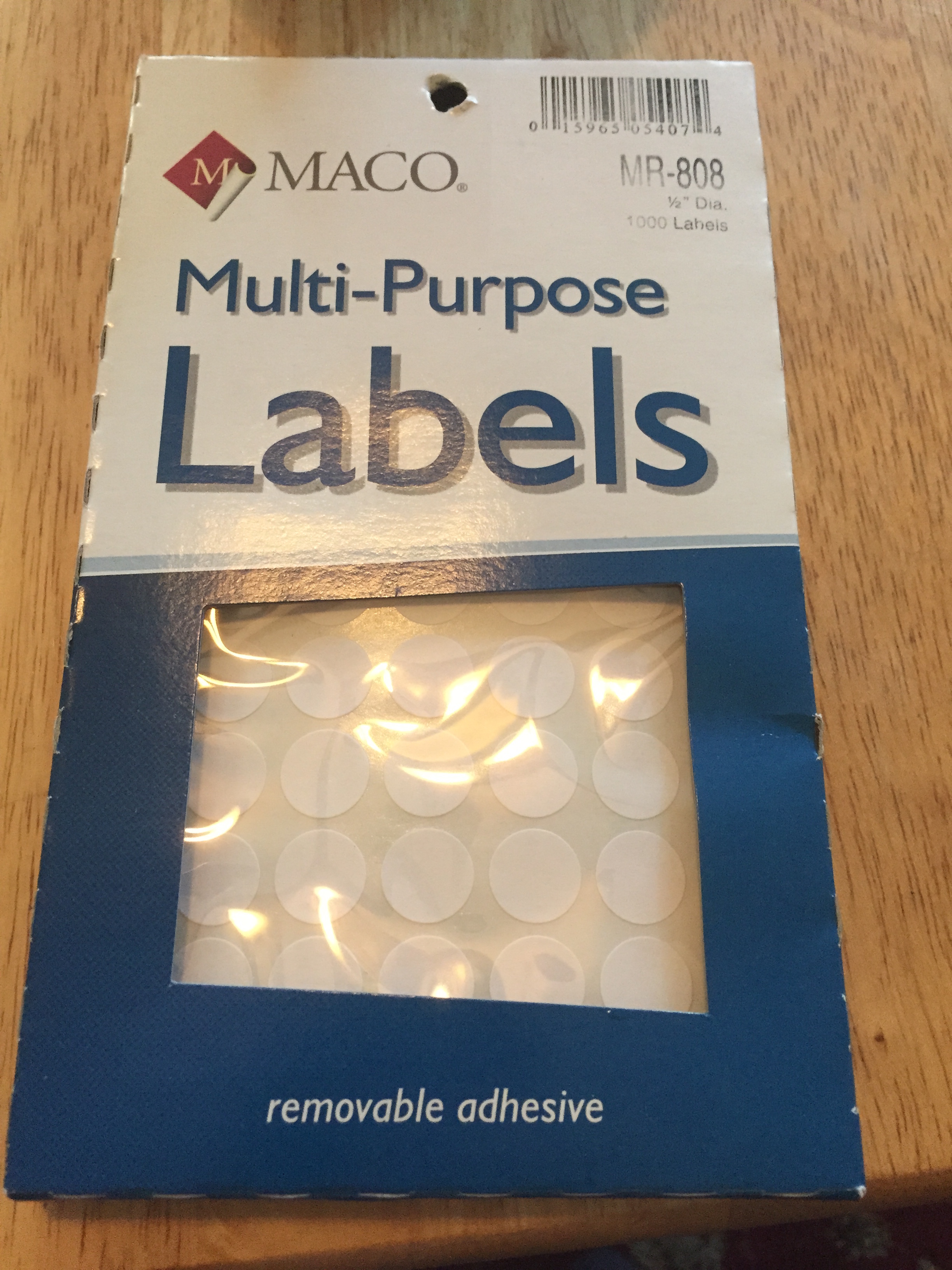 I went through and colored each circle with the current marker and then put the circle on the barrel of the marker. I put it near the end, below the area where the cap would cover and above where my hand was likely to rest.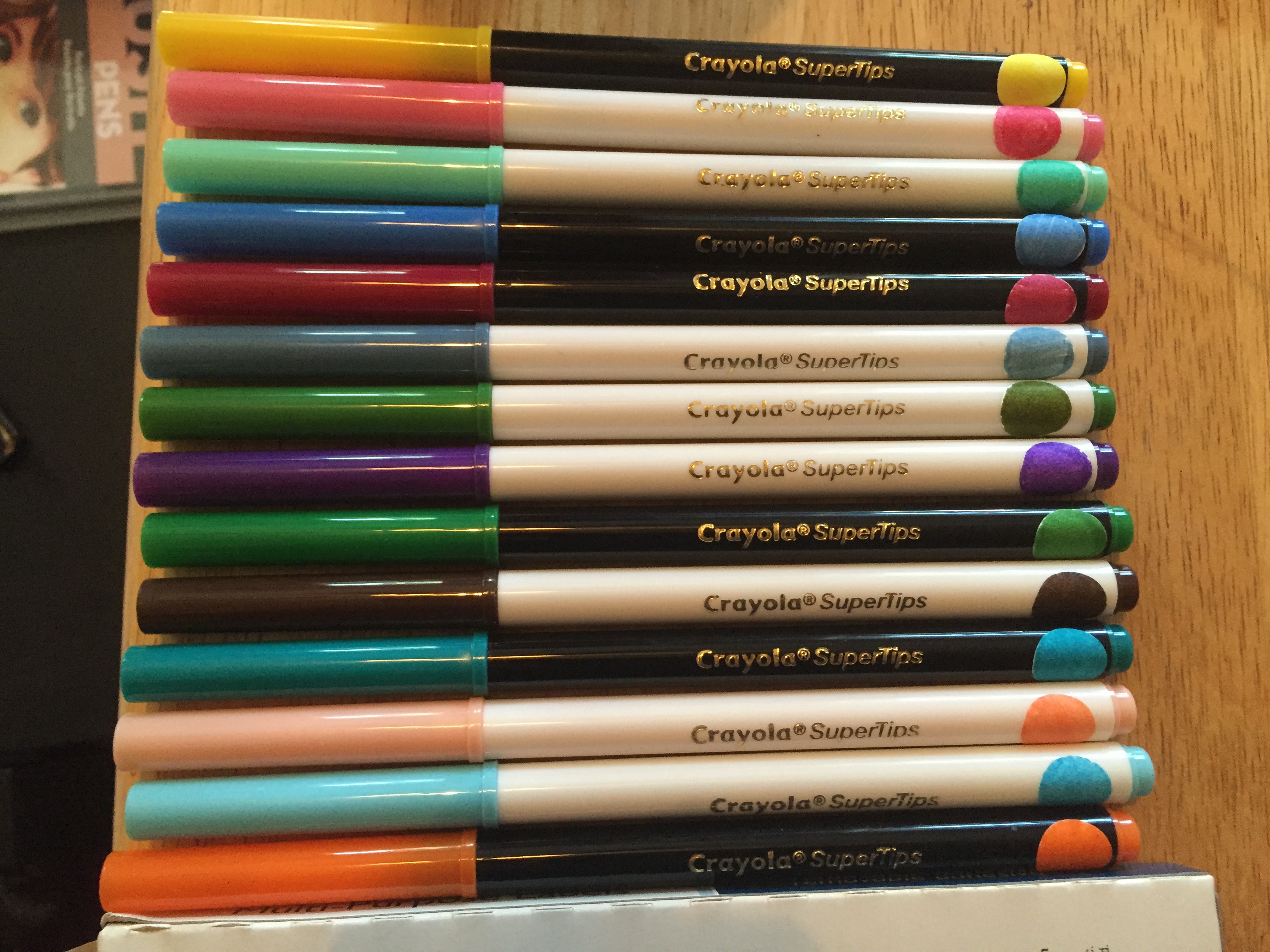 I did them in batches and I think the whole endeavor took me less than 30 minutes.
Now they aren't going to be perfect, in part because markers can act differently depending on the paper and also because part of how various colors appear to us depends on what is next to them. But it should help depart a quick understanding of intensity, tone, etc.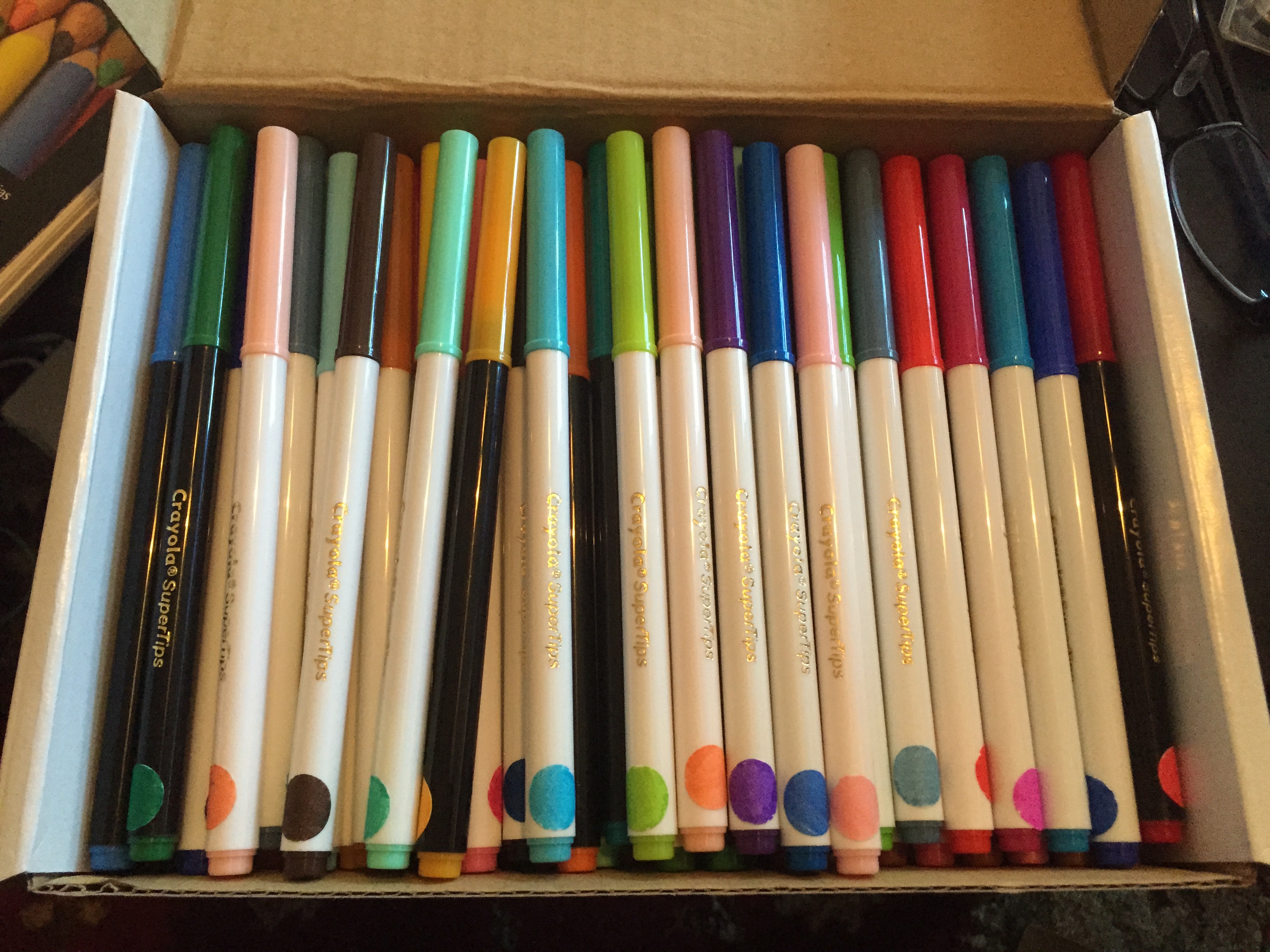 Suggestion for further improvement: Number the labels before you stick them on. You can then create your own color wheels and charts and know you are referencing the correct marker in your set.
Content Note: Rape, Sexual Assault
Yesterday OneBookShelf released its updated policy. While I think it's a good thing that there is now a policy, I have several issues with it. Many of my issues, especially the lack of an actual apology for the way Steve Wieck acted are covered by this article.
Here, however, I want to concentrate on a particular portion of the post describing the new policy and the reasoning behind it.
2. When we were first alerted to the offensive nature of the book, I used administrator privileges to download and skim through a copy of the book. At its core, the book was an adventure supplement where the goal of characters was to stop demonic entities who were perpetrating sexual violence and murder. The rapists were clearly the villains to be stopped, something that I believe many critics of the book could not have known from the book's title and vague description.
Sounds possible right? Those people who reacted to the limited information they had just over reacted because they had no idea what was actually in the book. As others have put it, the book really is about good guys fighting clear (if perhaps ill-advised design wise) bad guys. Silly SJWs!
Except it's not an accurate portrayal of the book. Yes, the characters in the book are categorized as bad guys (there's a caveat here that I'll go into later). Yes, the players are intended to fight them (again another caveat). However, it is not true that the goal of the players is to stop these NPCs because they are the bad guys or villains. That is one of several options offered AND in multiple suggestions the player characters could have completely different reasons for wanting to participate in the Tournament including that the player characters themselves are bad guys.
I had included the screenshot of this section yesterday, but I think it's worth writing out the content so it is accessible to everyone.
Involving the Players

It's possible that the player characters might get involved in the Rape Pure for reasons of their own. While it's likely the heroes might encounter one or more Rape Pure Fighter's on their own terms, attacking the fighters in ambush, on the street. However, the campaign might take a dark turn that drives the heroes into the Rape Pure itself.

It's possible to compete in the Rape Pure and keep your honor. Sexual violence is a threat, but (usually) not a requirement. It's not necessarily to violate a fallen adversary, only kill them, and most adventurers hold moral codes that demonize rape, but not cold blooded murder. Of course, it's possible that your player characters are pure bastards, and are every bit as horrible as the Rape Pure's worst fighters.

Among the reasons that players might be forced into the Rape Pure:

Kidnapping is the most obvious route, as someone precious to the characters is stolen and claimed as a tournament's prize.
The player characters are hunting a particular horror, possibly Taru Tsuyoi himself, and the Rape Pure is the only place they know he'll be, making the bout their only viable avenue of attack.
Martial artist PCs might enter the bout to test their skills and build a reputation among the deadliest fighters in any of the three realities.
The heroes might belong to one of Black Japan's military or police organizations, sent undercover to put a stop to these atrocities once and for all, their consciences be damned.
A Rape Pure bout might be cover for an unrelated matter, such as a meet with a contact, or an assassination that takes place in the chaotic press of the crowd.
The heroes might be tasked with finding and rehabilitating a Rape Pure fighter, likely a Fallen Eyrines, rebuilding the warrior's soul and reawakening his or her honor.
Also, while the involvement section says it's likely the player characters would meet one or more of the fighters on their own terms (meaning outside of the tournament), the supplement doesn't provide any suggestions for setting that up. Instead we get the rules of the tournament, a d20 random table of places where a tournament might take place, and a d20 random table of who is in the crowd watching the tournament.
Additionally, remember that caveat that the NPCs and creatures presented in the book are all the "bad guys?" Well one of the ways to involve the player characters is as an attempt to find and rehabilitate one of the fighters, in particular one of the Fallen Eyrines. I think it's important we look at that description.
Short Description:
Fallen Eyrines – CR 6 – Medium LE Human Monk (hungry ghost) 7 – A former vigilante who discovered she had more in common with the Rape Pure monsters she was killing than she realized
Long Description:
She fought her first Rape Pure bout for the best of intentions.

Undercover to save a woman's life and sanity, or to kill some sadistic motherfucker who used his dick like a weapon. She took the kill-shot and realized she liked it. She fought another bout, killed another monster, but she took her time with this one. Made the kill hurt. She could've pushed the bastard's nasal cartilage up through his frontal lobe, ended it instantly, but she didn't. She broke fingers, snapped rips, dislocated knees, severed testes. Enjoyed the work, the kill. She enjoyed the next kill, breaking some Rape Pure bastard with her strong bare hands even more, not even noticing that her anti-rapist supernatural talents were starting to sting every time she activated them.

A few more kills under her belt, and when she tried to call upon her Eyrines power, her hands burned. She realized what she'd become - a monster getting a thrill off domination and violence. She was only one thin moral notch above the men she was killing. She left the Okinawa safehouse, knowing she wasn't worthy of sanctuary there anymore, and worried her former sisters might execute her. Or worse yet,rehabilitate her.

Now, she keeps to the shitty neighborhoods. To the shadows and the capsule hotels, always sits with her back to a wall. The other Rape Pure fighters want her cunt, carved out and put on a plate. The oni she used to want the same damn thing. Her sisters? Do they still have her back? She doesn't know. Probably not. The only thing that makes her feel even remotely human is the call to a new Rape Pure, Hell's very own ringbell. She either kills another human cockroach, or she gets killed herself and the nightmare is over. A win either way.
We can understand wanting to explore that line between hero and monster, right? But if we are to believe the narrative, that the players only play good guys who are out to hunt down these rapists, does this not undercut that? A fallen Eyrine is not a clear cut "bad guy" but rather a warning of what happens when one attempts to view the world in such stark terms. Likewise, the intent from the section on including players is that this character is meant to be someone the player characters can try to redeem. The intent is not that they should fight her, although as with everything in this book, they can if they want to.
Now, I don't want to be misunderstood. I am in favor, in general, of having shades of grey in my game. I actually fear oversimplification and the reduction of most everything into terms of good and evil, lawful and chaotic, more than anything in this book.
But what I am tired of are people who present a false narrative of what is in the book, particularly trying to explain this book as a book full of bad people that the players, as good guys, are intended to fight. While it likely makes the people saying that feel better, it's just not true. You don't have to condemn it for what it is (although you can if you want to), but don't misrepresent it either.
Furthermore, even if that narrative was true, that doesn't protect the book from criticism. As Steve does point out, at least some of the content was not written in a way sensitive to the subject. I'd argue it is way more than just some but that's another matter. We need to be able to discuss this content and not be told by the distributor that we're wrong for doing so. We need to be able to discuss this treatment and not have that criticism be dismissed because they are bad guys.
And this is why the discussions that surround these products are often so toxic. People dismiss saying, "oh it's not that bad" or "well, that's not what was intended," when, in reality, it actually is that bad and intent doesn't matter when discussing the harm done. When other people call them on it, they say it's the people raising the concerns who are toxic. BULLSHIT.
And this is not about removing all books that deal with difficult or dark topics. Are there some people who are calling for that? Sure. But the vast majority are saying that they want to have a discussion about how these topics are presented. If people are allowed to say that they think this title should be present on OBS, you have to allow for people to say the opposite, especially if you say you value free speech. Saying that something shouldn't be there doesn't magically make it not there. In this case, a thorough review was done before it was fully removed from OBS and the current policy proposal reinforces that with the exception that it might not be available during the review IF it looks questionable.
However, until Steve can demonstrate that he understands what people were actually saying (he doesn't have to agree, just demonstrates that he understands), I'm sorry, I can't use the site anymore. I'm looking into removing the urls that I have on this site that point to OBS and I'm telling Jeff that I, personally, will no longer direct people to D&D Classics on the Tome Show podcast. Before backing any future Kickstarters, I will ask if they have alternatives to OBS for distribution and if not, sorry, I will not back. I will work with all creators to find alternatives to buying their products but I cannot and will not support OBS because I can't trust Steve's judgement at the moment.