Blogs
---
Recently the DMs Guild offered a number of bundles to raise money for RAINN. I bought all of the bundles and started going through the content offered. One of the first items to stand out to me is an introductory adventure called The Ring of the Battle Maiden by Ashley Warren. It's a 5e adventure for 2-6 first level characters set in the Moonshae Isles.
This isn't a review exactly but my response to reading through the adventure. It will contain spoilers about the adventure.
At a high level, it's a rather straightforward adventure. Ashley provides a number of adventure hooks to give ideas on how to get the player characters interested the ring of the battle maiden, a reference to the famed battle maiden Dagmar the Unyielding, and currently protected by the Daughters of the Gray. As the adventure points out pretty quickly, the ring isn't an ornament to be worn on a finger but rather an arena for combat and proving one's worth. The ring is located on the northern coast of Norland and so options for travel to the location are also provided.
So, at its core it's a tournament adventure complete with bracket and some additional opponents. That's not typically my style but there are a lot of items within the adventure that I really love.
Most obviously, it's full of female characters. I only noticed one character that is described with male pronouns, and that was in one of the adventure hooks. Ashley writes at the end of the module that she wanted a female-dominated adventure because why not? Which I happen to think is pretty awesome.
To get a full understanding of what I mean when I say it's full of female characters, here is a list of said characters:
Non-player characters:
Dagmar the Unyielding
Baron Hossenfeffer
Helmi
Korina Kodex
Tora Hrafnkelsdottir
Sarya Skaya
Gunnar
Korja Kodex
Noel
Freya
Honey
Petra
Ayla
Marya
Gritte
Kas the Cutthroat
Ariadne the Demondancer
Eliana the Keen-Eyed
Baywar the Stormbringer
Fela the Fiery
Mazoga the Doomslayer
That's 21 named NPCs, at least 19 of which are women.
For the monsters, we have:
Harpies are female by definition in D&D. The gender of the troll is unknown.
And for the gods, we have:
What's interesting to me about this module is that nothing about it is stereotypically gendered. There's a diverse number of women and even their depictions in the art are fairly diverse. The adventure itself could easily also be full of men, but it just happens to be full of women this time. Given the sheer number of women, the sheer number of roles that women fulfill in the story, etc, we're not risking reinforcing most stereotypes about women.
In fact, the strongest argument along those veins that I could see, is the common complaint that women have to be "like men" in order to be seen as strong. But even there, I'm not sure the module falls completely in that trap. For instance, Freya and Honey are also there in town and are not directly part of the tournaments. It's unclear that Freya is a Daughter. And to be a Daughter, one just needs to prove bravery, not necessarily martial strength.
Another thing I enjoy about the way it is written is that while the ring is intended to test folks so that they can see what they are made of, it's also a nurturing and supportive community where folks give to each other what they can and try to make it as safe as possible for that exploration of self.
I also super enjoyed the song list and other advice given to run the adventure. And, the art. Let's talk about the art.
There are 14 different depictions of women in the 24 pages of the pdf. Let that sink in for a moment. We get a fairly awesome cover.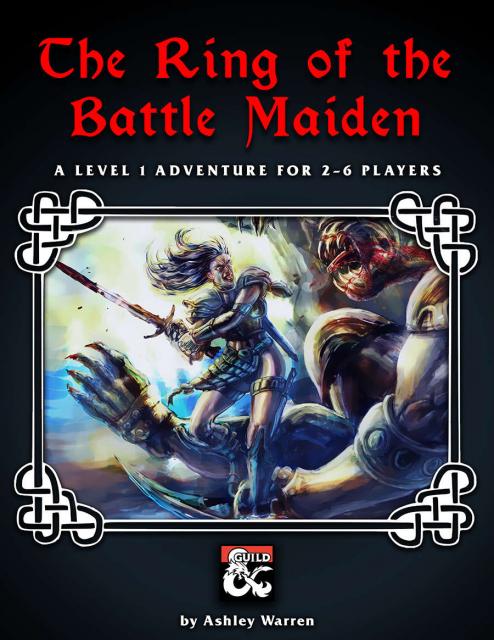 The Ring of the Battle Maiden Cover
Ok, so this might take a moment to explain and why this is not a review, but my reaction to the adventure. Yes, I noticed what could be called the "panty shot," the uncovered hip and thighs, and what reminds me of garter belts. Yes, the cover made me nervous about the rest of the content since it's the first adventure I read from this author.
I sat with those reactions for a moment and then also noticed the abstraction to the art, the amount of muscle, and the fact that her face is determined and fierce. I also went through the rest of the art. While Ashley calls the adventure campy, it doesn't feel exploitative to me and just seems comfortable and fun.
The cover wasn't the only piece I enjoyed. In particular, I'd like to call attention to the Kas the Cutthroat.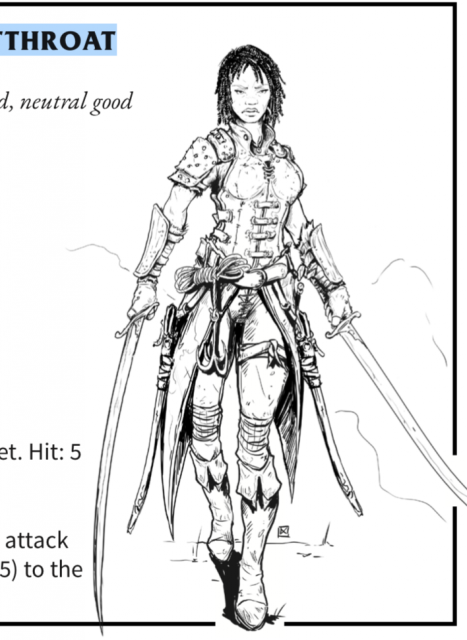 Kas the Cutthroat
Finally, sitting back and taking a look at the adventure as a whole (which I get is short and intended to be simple), I love the fact that Daughters can be of any gender but the terminology centers on women and that by using it as an introductory adventure, the players will start out with a strong group of women that they can potentially ally with throughout the Realms.
The only thing I might say that is more critical is that some of the read aloud text is fairly long so DMs might want to consider how they want to handle those. I only bring it up because I get super self-conscious when I speak for too long, especially when it's due to read aloud text. But that is the smallest of issues and is a matter of opinion and style.
I highly suggest checking out the adventure and keeping it ready to run whenever you want something simple and straightforward for folks to check out. You can find it here (affiliate link).
One of the more obvious crossovers between fishkeeping and tabletop role playing games has to do with the death spiral. While some games embrace the death spiral, I know lots of folks try to avoid it happening.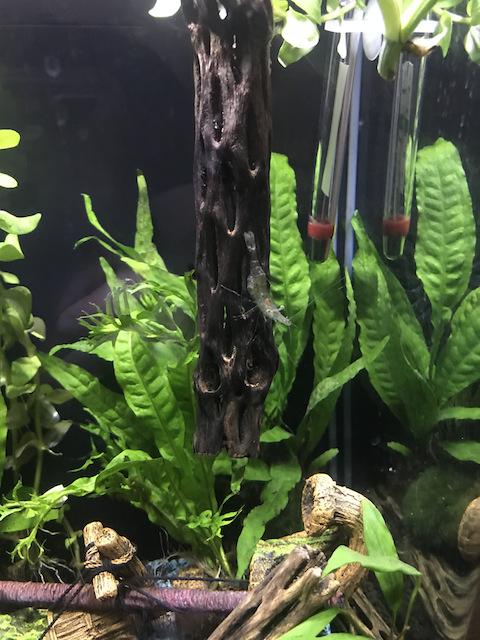 Aquarium - Shrimp
I couldn't find an exact definition anywhere but the way I'm accustomed to the term being used is that when seemingly small events lead one towards an almost inescapable catastrophic conclusion. Small failures can compound on each other and, if not handled well, lead to game play that is unsatisfying and counter to the desires of the folks playing.
With aquariums, the death spiral is quite literal and can be difficult to overcome, especially in smaller tanks. Often, but not always, the cause is an uncontrolled ammonia spike. This could be the result of old age, a sudden removal of a large portion of either of the two beneficial bacteria pools, etc. Suddenly the system has more ammonia or nitrites than it can handle, which then causes one or more livestock to die, which in turn adds to the ammonia, and pretty soon an entire tank can be wiped out.
In other words, tanks, especially small tanks, can be swingy. :)
What's even worse is that attempting to fix the tank can also accelerate the death spiral. While many different species have different levels of various tank parameters that typically are the best for them, they value consistency even more. So if you notice that nitrite levels are higher than desired and decide to do an aggressive water change, the resulting fluctuations can cause more damage than if you had kept them at the undesired levels and worked more slowly to change them.
In thinking through this, I noticed that the suggestions for how to fix the swinginess and the death spiral in aquariums is similar to how folks limited these things in D&D, and that is by attempting to limit as much as possible the impact of any particular change. For aquariums, the suggestion is to start with a larger tank. One dead fish in a 5 gallon tank will have a different impact than a dead fish in a 55 gallon tank. Making smaller incremental changes leads to a more reliable and predictable tank and game.
That said, unlike fish, our lives aren't on the line. There are times when we can embrace the death spiral and other times when it's probably not what we want.
So over the past few months I got sucked into the rabbithole that is known as planted tanks (or planted aquariums) via YouTube and I took the plunge recently to start two small tanks of my own. As I've been working on them, a few things have struck me as being potentially relevant to gaming so I wanted to share some of what I learned here.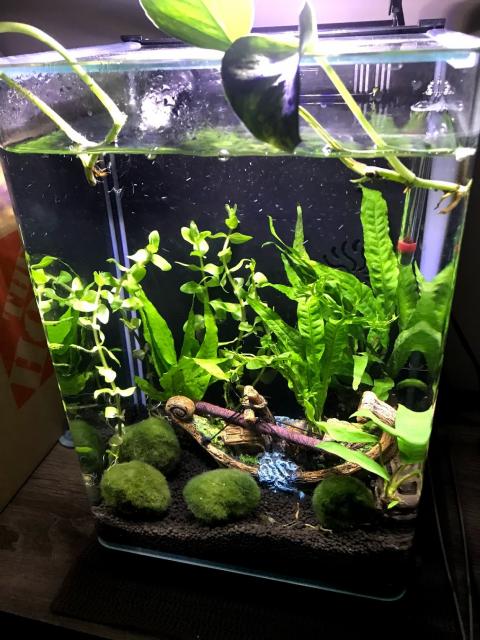 Introduction to Fishkeeping Concepts
One of the neat things about folks who are specifically into planted tanks is that they often are attempting to be world builders. That's because many of them are doing planted tanks as a way to reproduce a bunch of a natural cycle (sometimes in an effort to reduce the upkeep of an aquarium but often because they are super interested in the art and science of it).
To help understand, keeping an aquarium functioning is all about the nitrogen cycle. Animals get fed, they produce waste (ammonia), and ammonia is pretty toxic to the animals. Aquariums typically rely on two different types of bacteria to convert the ammonia to nitrites (which are also toxic) and then nitrites to nitrates (which are less toxic). Water changes often are a way of removing the nitrates from the system, but plants can also remove some of these from the water in addition to providing much needed oxygen for the fish.
In addition to this chemical balance, many attempt to create eye catching displays and sometimes even tell a story through their aquascapes. This in particular made me think of roleplaying games. First is the creation of zones in terms of the water column, usually dividing the vertical area of the tank into thirds. Some fish and other creatures are considered denizens of the bottom, some prefer the middle layer, and others like life at the top.
For plants, we often think in terms of carpeting (plants that cover the substrate like a carpet), foreground (typically shorter or slower growing plants that would be at the front of the tank), mid-ground (plants for the middle of the tank), background (taller and/or fast growing plants), and floating plants (plants that float in the water, especially at the top of the tank). Each of these have their uses and help tell the "story" of the tank.
Another interesting concept is that of the community tank. These are tanks where the species chosen are meant to work well together. So you might have some inhabitants who are meant to be cleaners (shrimp, snails, some types of catfish, etc) and where they might help keep the populations in check since some tank inhabitants can become prolific breeders in the right conditions. This reminds me of quite a few D&D modules including the Caves of Chaos.
Using in an Adventure
There can be a number of reasons why someone or something might be keeping an aquarium in D&D. A wizard or apothecary might find them to be incredibly useful for keeping creatures that produce vital components to spells or potions. A druid might work on creating one to save local creatures during a time of intense climate change. A noble might wish to display their wealth and worldliness by displaying creatures from far away lands.
People have kept fish for thousands of years in outdoor pools or indoors in ceramic vessels not to mention in ponds and the like. For something truly fantastical, imagine the existence of a force field that creates a large area of glass for displaying aquatic life. Perhaps a wizard created one in an underground cavern and stocked it with phosphorescent plants and creatures from the ocean deep.
Or perhaps long ago, a vibrant and verdant land began to turn to desert and thus an effort was made to save the local creatures, moving them into a cavern filled with sunstones that mimicked the passage of the sun. The keepers have all died but their world continues to live on.
What creatures would you stock these aquariums with? How would you tend to the needs of all of the livestock? How would you keep balance? How would the introduction of player characters affect this balance?
So I'm going to talk about some stuff and given the reaction to my attempts to convey my point of view in the past, I know this might ruffle some feathers. What I'd like to ask is that if you continue to read and find that your feathers are feeling a little ruffled, maybe take some time to think about why that is before putting me on Internet blast? And if you don't think that you are willing to do that, please feel free to enjoy some of the other absolutely wonderful content available to you on the Internet.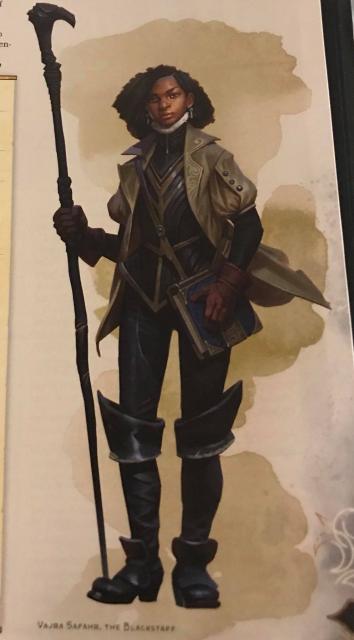 ©Wizards of the Coast
With that out of the way, I'd like to talk about a topic that is near and dear to me, and that is female representation in game art. I know I've had a lot of discussions about that in the past but there's something different about today versus then. That difference is some changes that were made by some companies (particularly Wizards of the Coast) in terms of how they approach art in official Dungeons & Dragons publications.
My position has always been that the art of female characters has been way too restricted and lacked diversity. There was an overabundance of female characters within a narrow body type and age window, often (but not always) sexualized, often with an appearance that the references used were from lingerie or porn. While some interpreted that as an argument against any representation that fit those categories, that has never been my intent or what I argued.
As I talked to folks about this, especially folks in the industry, a few reasons for this kept coming up again and again. I'd like to talk about those because I think they amplified together to create the situation we had.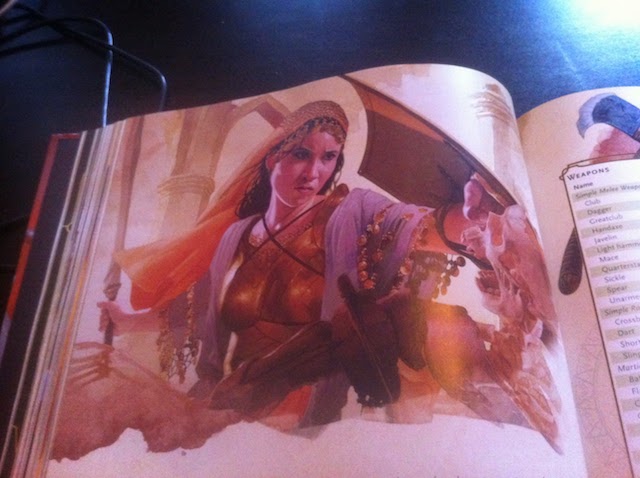 © Wizards of the Coast
One of the first was that the reason for the characters being drawn with those references is that artists prefer to work from the naked form. In some ways, this is absolutely true. We know that many of the masters have worked from nude models. Knowing the physical structure of the subject of a work helps ensure that their back doesn't look awkward or broken. I get that.
But many of the masters used both male and female models. And while they did many works that involved their particular muse and often spent time on projects that pleased them, they produced many other works with a variety of subjects. But in the art at the time, it was clear from many of the male characters that no one was looking at nude or semi-nude references for them. No ads or photo shots of men in their boxers. Not really even swimmers or male ballet dancers. There was a noticeable imbalance in how many of the artists were approaching gender.
One way to approach adjusting that would be to try to increase the diversity of the artists that were hired, finding artists who were passionate about drawing men for instance, that could not be the only solution. The other most common reason I was told for why the art was the way it was is because that's what the artists thought art directors wanted. So, basically, the art director would give out assignments. They might even be explicit about what they were and were not looking for. But artists, being concerned about having artwork rejected, would give them what they thought they wanted, what they thought "fantasy art" meant.
So, instead of taking risks, they looked at what had already been created and did more of that. This often translated to folks as cheesecake art. Do to how the art process works, it wouldn't become clear to the art director that this was going to be the case until the final work was submitted, at which point it was too late to reject the work.
Why? Because initial "drafts" of the work are like outlines. The artist provides a thumbnail of the piece, more demonstrating the overall composition, the lines of movement, etc. Clothing, especially boob windows, and the like, wouldn't necessarily show up at that level. So the thumbnail gets approved and suddenly what one person might interpret as an older woman or a full cloak turns out differently in the final piece. And by then, so much work has been put in that it's hard to change.
The sad part about this particular reason is that it was a bit of a death spiral. With more and more work being put out in this style, it worked to further establish it as the style. And without taking a step back, everyone's reactions are understandable. The problem can be understood but not addressed.
So, what changed? Well 5e came out. And with the new edition came a new approach.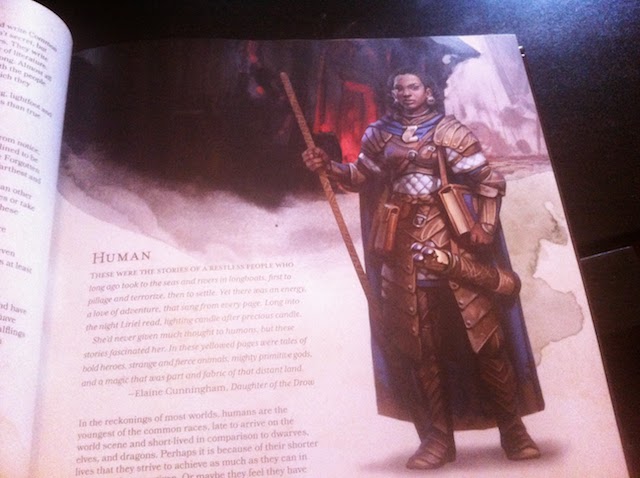 © Wizards of the Coast
While I've been talking about this in terms of female representation, it wasn't just gender that was unbalanced. Skin tones were another big area as well as getting just a consistent understanding of how characters looked in a fantasy world.
With 5e, Wizards of the Coast decided not to go with a generic fantasy world for the base world. They chose the Forgotten Realms which at least had something closer to gender equality and a variety of skin tones for human characters (among others). It also had a variety of cultures within the world, with different ways of dress and speech. They could now tell artists, draw a person from this defined culture, rather than asking for a character in the fantasy style.
And that's what they did. They created world bibles and worked directly with concept arts to develop and refine what various cultures should look like on the page. They did this not just for male and female representations, but what did a family look like? What about older people in the village or city? So on and so forth.
The result was a wide range of art to choose from and the ability to "show, not tell" artists what these various groups looked like. While they still run into some issues with artists who draw boob windows on female characters from a culture that wouldn't have them (some cultures would!), those issues are far less. I haven't asked, but my guess is that they still might accept those pieces and adjust how they work with that artist in the future, but that piece that say sexualizes the character would be balanced out by the rest of them.
From my point of view, this has been a great breath of fresh air into D&D. I love seeing the greater diversity in the art. Of course there are still things to discuss and, in my opinion, improvements that can be made, but I look forward to looking at the art now. And I've seen so many positive responses from other folks out there.
Waterdeep: Dragon Heist recently arrived in local gaming shops and I grabbed a copy of my own on Friday. I knew I needed it once I heard that Dyson Logo's maps would feature in the book and I wasn't disappointed. I've only had the time to do a superficial look at the book but if you're curious as to what you would find within the book, check out my flip through.
One of the big things I noticed during the flip through is the diversity of skin tone in the art. This makes a lot of sense in a city of Waterdeep's size, especially since it is a port city. One of my favorite images is that of Vajra Safahr, The Blackstaff.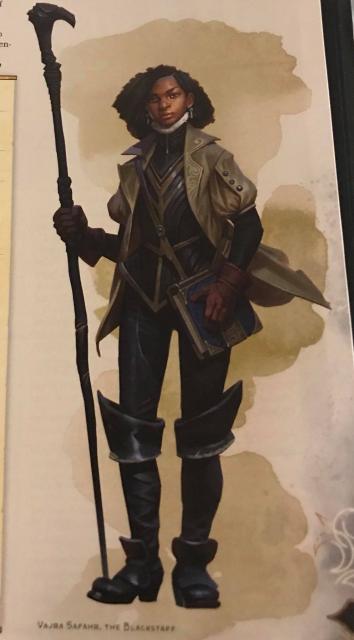 Waterdeep Dragon Heist - Vajra Safahr
As I was preparing for this post, I found folks discussing a sidebar I had missed during my flip through that explains the emphasis on diversity in the artwork (and my understanding, the text as well). The sidebar is in the Volo's Waterdeep Enchiridion section and I hope folks can forgive me for the extended quote because I believe all of it is important.
A Wondrous People

Whenever you find yourself in a bustling city, you're likely to spot a wonderful variety of folk. You hear words in languages utterly foreign to you, and you smell dishes both delectable and strange. Waterdeep is the ultimate city of such delights, and before long, the alien thing becomes familiar to you, and the stranger becomes your friend.

The people of Waterdeep are among the greatest of its splendors. Fashion, comportment, love&emdash;these things are practiced with an art and a zest in the city uncommon elsewhere. Visit a festhall or festival and see for yourself! And don't miss the cross-dressing performers who regale audiences with humor and song. Fabulous&emdash;that word doesn't begin to describe it, especially when they enhance the merriment with magic.

The city is also a haven for those who define for themselves what it means to be a man or a woman, those who transcend gender as the gods do, and those who redefine entirely who they are. What confidence! I never tire of witnessing it. I have seen folk in Waterdeep whose lives are more magical than the marvels possible with spells.
There's a lot going on here. I've seen quite a few people share their joy over feeling that their way of being is explicitly and enthusiastically included in the game world. These things matter to some folk.
I also saw some negative. I don't want to dwell on it here except to say that I've had long conversations with authors of the Realms as well as ardent fans. While it is true that folks of all kinds have existed in the Realms from the beginning, it's also true that they did not always get the sort of attention that they deserved nor was it always clear that not only existed but that they were fairly common. People often bring the baggage of the real world into the fantasy world, especially around issues of gender, sexual orientation, race, and the like. If we want the fantasy world to be different than the real, we have to make those differences clear. And the art work and the sidebar help greatly with that.