Putting the Wonder Back in Wondrous
---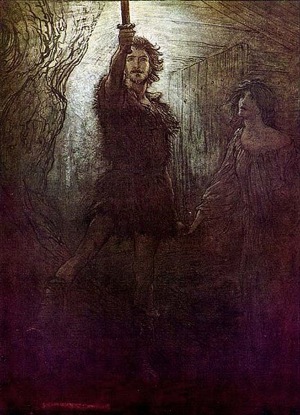 Unfortunately, many of my discussions on twitter of late have focused on one little gripe I have with the Essentials line. What I would like to do for a moment is to shift focus away from that and talk about what I do love about the new books, starting with magic item rarity.
As a new DM, magic items gave me a lot of grief. I feared my players would not be as content with a standard +1 sword when they could, at least in their mind, have a flaming +1 sword of doom complete with a magic item daily power. Also I really hadn't had the time to learn how the various items affect their character builds, at least not enough to dole out magic items on a consistent basis. So I asked for wish lists, which often were filled with the most magical of magic items and the magic items themselves lost a bit of their wonder.
To address this problem, and to bring back a bit of the magic of older editions, WotC introduced magic item rarity. Now I know some of my friends roll their eyes at this, but I happen to really like it. Many items are still common, you can buy your amulet of protection and boots of stealth anywhere fine magic items are sold, although finding those shops or craftsmen might take a little time. The more uncommon items, however, are now something to be found.
So what does this do? First, it guides DMs to making magic items part of the story instead of cheap fashion accessories (a low shot, I know). Really want that feyleather armor? You may want to check out the elven enclaves in the city. Who knows what else you might find there.
Second, it makes the choice of magic items more important and which ones you choose help define your character. According to the new Rules Compendium, players should gain one rare item per tier of play. Since these rare items will often have multiple powers and be a bit more complex, they will be the defining items your character carries. For me, I'm going to work very closely with players when picking these out or creating our own. Uncommon items will comprise about half the magic items characters find in treasure. These items tend to have one power associated with them, again giving flavor to the character who possesses them.
Lastly, this rarity system allows us to bring back truly wondrous magic items. Sure, we had the artifacts system before this and my guess is that the rare items will look pretty similar to them. But since the PCs can't pick them up at their corner store, these items won't overpower the game.
So, I'm really looking forward to this part of the game. My stories will make more sense, the treasure won't feel quite as bolted on and overall I think it will lead to a better experience at the table. How about you? Are you going to use the rarity system?