Heads Down
---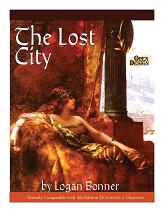 Some of you may have noticed my writing output shrunk a bit over the past month. While part of that is me struggling to come up with topics especially since my normal group is on hiatus, mostly it's due to a project I'm working on. After Gen Con, I signed on as a senior patron of Lost City, an Open Design project done by the fine folks at Kobold Quarterly. My hope was to learn about how the design process works so I could start on my plans for world domination improve myself.
So, when it came time to submit pitches for an adventure section, I did so. My main hope was that I would get some feedback and see where I could improve, but then my pitch came in second in the poll and was accepted. Of course that was a nice ego boost but panic set in immediately. What the heck do I do now? :)
I've spent the last month and a half learning just that. I'm responsible for 3 tactical encounters, the history of a section of the city and creating lots of monsters who would love nothing more than a nice PC as a snack. And since we're nearing the deadline for the play test version, I'm even more heads down than normal. My experience has been great so far and I'm learning lots of new skills and growing a slightly thicker skin. After the 22nd I'll write more about my experience and the things I've learned.