The Dragon Die
---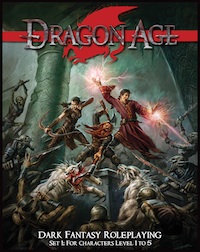 One piece of advice I've received from multiple people I trust is that I should learn about games beyond D&D. Not only will they help me learn how to become a better GM but this knowledge is essential if I ever want to become a game designer/developer. That advice along with my general love of learning pushes me to expand my RPG knowledge. With that in mind the other night, I picked up the Game Master Guide that came in my Dragon Age RPG boxed set. This book is full of great GM advice, useful in other games as well. I'll discuss many of them in a later blog post but for now I want to discuss the Dragon Die mechanic in the game.
Unlike D&D, where skill checks are made using a d20, Dragon Age uses 3d6 for the roll. This change has some mathematical arguments in favor of it, many of which Chris Sims discussed in his article, Dice Heresy, on Loremaster.org [1]. This change to multiple dice does more than change the mathematics of the roll. For example it opens the possibility of adding a rich dice mechanic [2]. Dragon Age RPG does this through the introduction of the dragon die. I may be oversimplifying this, but skill checks are called tests in Dragon Age. Some tests are binary in nature, all that matters is whether the character succeeds or fails. For a success, the overall roll has to cross a particular threshold. Other times, however, we care about a degree of success. For instance, when convincing a merchant to lower his price, we care not only about whether or not he lowers the price, but the degree to which he does so.
In the Dragon Age RPG, one of the 3 dice will be a different color and is called the dragon die. This die determines the degree of success for non-binary tests. So, in the bargaining example, the character attempts to negotiate the price, either against a fixed threshold or against an opposed roll. If he succeeds in his test, the GM would determine the degree of success by looking at the result on the dragon die. Perhaps the discount is a multiple of the value on the die or the merchant's feelings about the character change. The GM only has to worry about 6 possible values and can group these values as she sees fit.
Now some examples of degrees of success exist in D&D 4e but they are often tied to the overall result. Monster knowledge checks result in different amounts of information depending on the result of the die roll. The horizontal distance jumped is calculated by dividing the die roll by 10 (5 with a running start). Many areas where we have degrees are used to tell us how badly we fail rather than how well we succeed. For instance, failing a swim check means you stop movement. If you fail by 4 or less means you are able to tread water whereas a failure by 5 or more means you sink a square.
Introducing degrees of success to D&D 4e also brings with it a number of complexities. For some checks, we might not have the granularity we want for a particular die roll. For more difficult challenges, we have fewer likely outcomes above the threshold, at least for some players. Yet these tests are the ones where we are most likely to want to provide different degrees of success.
We also have the difficulty of determining what intervals to tie these results to. The range of outcomes for a particular skill varies greatly between players. If we tie a particular degree of success to a higher threshold, it's possible for that success to just not be possible for some of the players at the table. Now, for some narrative elements this makes sense. Perhaps a player shouldn't be able to jump across a chasm without falling prone unless they can beat a hard DC + 5.
Finally, a nice part of the dragon die is that they allow us to randomize what a success means, allowing us to add interesting complications. Instead of dealing solely with degrees of success, we can use the result of the dragon die to pick randomly between 6 outcomes of equal value. Each of them could add a different complication to the result with none of them being harder or easier than the others. In the heat of the game, I'm often terrible at this, not wanting to screw my players even though I know at the end of the day the game will be better if they have interesting choices to make.
Of course, this points to a potential downside of this mechanic. If I roll 6s on my other two dice and have decent bonuses to the roll, I may be a bit perturbed when I find out I still only barely clear the chasm and am left hanging off the edge because my dragon die has a 1. Especially when the same result with a 6 on the dragon die instead would have left me sitting pretty. Howeer, I think this "unfairness" would have bothered me more as a newer player and as someone who has never GMed than it does now.
Besides helping in a basic test such as the one we've been discussing, the dragon die helps in Dragon Age's version of skill challenges. Called "advanced tests," these are a succession of basic tests. The dragon dice are tallied for each basic test and the test is completed when the sum surpasses the threshold for the test. Contrast this with the often arbitrary nature of 4e skill challenges which tend to fit the formula of x success before y failures.
During skill challenges, players often get upset when multiple exceptionally high rolls don't get them any closer to overall success than the rolls that barely succeed. They may have rolled high enough 3 times in a roll to convince the king to give over his first born son, but they still have some number of successes to rack up before he'll give them the support they need. Now the conventional wisdom is that the DM should consider ending the skill challenge early since it doesn't make sense in the narrative to continue the negotiation. However, this decision is rather arbitrary and/or subjective and may make some players uneasy. By using the dragon die result instead, players are better rewarded for high die rolls in a way they understand and predict.
So what are your thoughts of the dragon die mechanic, degrees of success or anything else I discussed here?
1. While the original article currently is unavailable due to some changes on the site, you can find a cached version through Google.
2. Now I am by no means the first person to talk about this, it's just that I'm only now at the point of learning about these other mechanics. For instance, Rob Donoghue has at least two great articles about this, Rich Dice: Force, Finesse and Fortune and Rich Dice Extravaganza.