Crafting Items
---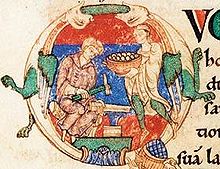 In my last post, "Waste Not, Want Not," I gave some guidelines for harvesting parts from fallen beasts. In that article, I didn't include information for adjudicating a PC creating their own equipment from those parts. Instead, it suggests they find an NPC crafter to do it instead, giving them a discount on the new magic item. One reason for this is that I was, and still am, in love with Mike Mearl's article, "Who You Know, What You Know." By asking PCs to rely on others in the world, it gives me more opportunities to add richness and diversity. If they can go out and do everything themselves, I'm forced to do more work.
However, maybe you have a player in your group who loves to do this stuff. They are a weapon and armor history buff and want to provide some historical detail to the game or they enjoy finding new ways to use items. So what should you do in these situations?
The exact answer will depend a lot on what type of game you all want. Does your group like to get detailed with their actions or would they rather handwave certain details? Also, do they find trying and failing fun? Some groups like getting into the nitty-gritty of their characters lives and prefer a higher rate of failure than other groups.
Steps to Crafting an Item
Gather the components
Create a mundane version of the item, e.g. a set of bracers, hide armor
Enchant the item
Is crafting the item interesting?
Each group is likely to have their own answer to this. Personally, I'm not a fan of restriction-heavy games so I tend to be much more lenient with what I let my players do and like to do the same as a player. This doesn't mean I think my half-elf rogue with a +0 strength modifier is going to be forging swords any time soon. For my group, I'd probably just ask the player if he or she thought this was something her character would be able to do. If the response is yes, then I'd ask him or her to note it on the character sheet and viola a mundane sword is created.
If you want to make them roll, try to make it interesting. Failing to make a mundane item after gathering the resources for it should be pretty infrequent. One way to handle it would be to have them roll a check and how well they do determines the quality of the item they can make. So if they are making a weapon, perhaps beating a hard DC means they can make up to a superior weapon, medium means up to military, easy means simple only. Anything below that is akin to an improvised weapon. I would set the DC equal to the level of the creature killed although I can see an argument that it should just be the level 1 DCs regardless of the PCs' level. Another way to handle it would be to set the DC for the exact item they want to create. You can use DCs similar to the above method but feel free to add to them if they want to do something really fancy. If they fail at the check, still let them create the item. If they are going to turn it into a magic item later, perhaps they can enchant it only to 2 levels below them.
As for what skill to use, well that would depend on the item being crafted. For a carved, wooden holy symbol, I could see thievery, nature or religion working well. Athletics and dungeoneering seem to be decent fits for anything forged from metal. In my games, I would concentrate on making a check for whatever addition to the item makes it interesting. For instance, if a player wanted his PC to make a chest with a false bottom, I wouldn't ask for a check to create the chest. Instead, the only check would be on how well hidden the secret area was. For this, I'd probably use Stealth although I'd be open to thievery and bluff as well, at a much higher DC. I would also note the result in my notes and ask the player to add it to his character sheet.
Making it Magical
At the end of this process, the group should have a mundane item of some sort. Now comes the less-interesting part, making it magical. Why did I call it less interesting? Well a rule already exists for this in a way. The 4th level enchant magic item is the standard way of giving ordinary items something cool. Truth is, I don't like it. It sidesteps the DM's desire to control access to certain items and doesn't add anything to the story. It doesn't even require a check and its use of arcana seems strange to me if what I'm doing is making a holy symbol. I mean, it's not necessarily a bad way to handle it, especially given the limits of the 4e system, but it's not a great way either. It feels like one of those things added for legacy reasons.
In my game, I would limit enchant magic item to common items, not uncommon or rare. This fits with the information given about the item tiers as well. Anything else would be truly bespoke. As a DM, I would work closely with the player and the group to figure out what they wanted from the item and a fair way for them to get it. Perhaps they have to travel to a crafting expert and work under that person's supervision for a week or a month. Another option would be to require a special component or for it to be forged in a special place, perhaps even giving them a discount on the overall cost.
Item Breakage
While my world tends to have a fair degree of magic, something tells me that these items should have a degree of uncertainty to them. I might suggest to my players a variation of the Dark Sun breakage rules. Here's a rough draft of what I'd tweak.
On a critical miss, they can decide to press forward with their attack (giving them a reroll), but a mundane crafted weapon automatically breaks and a crafted magic one breaks on a natural roll of 1-5.
When you are the recipient of a critical hit, you can reduce the damage of the hit by 1/2 if you sacrifice a crafted item, to 0 if the item is irrecoverably destroyed. Repairs can be handled similar to the original creation for sacrificed items.

Those are some of my thoughts on item crafting. What are yours?