The Ant and the Grasshopper
---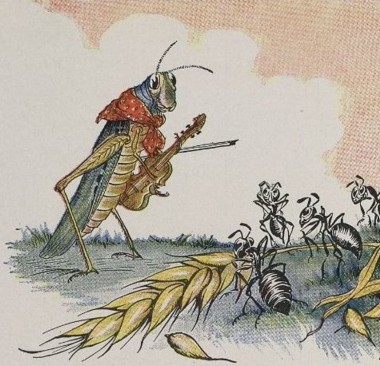 1919 illustration of Aesop's Fables by Milo WinterA topic that's occupied my thoughts of late is resource management in D&D and all of the good and bad that comes when the group emphasizes that style of play. In my mind, the issue with overly emphasizing resource management is that it often encourages a mindset that is more like the ant, constantly seeking out and hoarding resources. It emphasizes that the answers can be found in the resources you've found and collected. This is great except when you want the players to be more like grasshoppers, ignoring responsible action and doing something a bit, well, bold. As with most things, the balance between these things is what's important. But to find that balance, we have to understand how these things affect play.
So how is resource management good? One example is the tension and ingenuity that comes to the surface when people are given a limited number of items to solve a serious problem. Take, for instance, Apollo 13 and the need to create a CO2 filter and configure a sequence for restarting systems. That's some awesome and powerful stuff. Even though I've watched the movie a number of times now, I still get caught up in the moment when I watch.
Resource management also helps keep things in check and is an effective means too keep a DM from giving too much. I fight against this all the time. My players are my friends and even though I know the game is more fun if I modulate the tension and present real challenges, when they get into that serious problem solving mode, my willpower often fails me. Suddenly they find a little community of gnomes with tons of food that they are more than willing to share. Or a giant eagle flies out of the air to snatch them from certain death. An occasional bout with this is fine, but game after game?
Finally, limited resources helps with the analysis paralysis issue. If I don't have everything in the world available to me at the snap of my fingers, that means I have fewer things to choose between. To that end, I can be a bit more like MacGuyver who always seemed to make something cool out of a shoelace, a stick of gum and a retractable pen.
However, while limited resources can encourage creativity, they also make it much more likely that we'll cling to our character sheet in hopes our salvation can be found there. We page through books looking for the right ritual or spending hours deciding on which power to pick when we level up. The resources become so important we forget that this is a game of making stuff up. When someone doesn't go through this same resource collection, we scoff at them, much in the way the ant does the grasshopper. We forget about the lovely notes that improvisation can bring, thinking only of the harsh winter.
And so it begins that players disbelieve that what they want or need can be found in a town, often not bothering to ask the question at all. Wonderful ideas are nixed before they are even given a chance because surely the DM didn't think of putting something that cool there. So what do we do? One answer is to treat our character sheets like the U.S. Bill of Rights. These form the base floor of our character and are things the DM cannot take away, at least not without a good reason. But from this base we should build awesome.
As DMs we should encourage our players to think outside of the box. Most of the time it doesn't matter if I don't have an elven armor shop in my notes. Looking for something to fashion into rope? Perhaps that ivy will do. Wear them down, let them feel a little tension but at the same time encourage them to sing.