Sarah Darkmagic's blog
---
During a recent discussion about Brad Murray's No Contact, the issue of dealing with female characters in a game set during the Vietnam War came up. To satiate my own curiosity, I started researching women's roles during the war. The beauty of Google is that sometimes you find things you didn't expect to find. In this case, I found stories about women from the Vietnamese side, namely the long-haired warriors and other volunteers who did everything from road building to fire the anti-aircraft guns. During this research I came across the book, Even the Women Must Fight: Memories of War from North Vietnam.
Not only do I recommend this book for people who love history and women's stories, but I also think it makes a great book for game designers and writers, especially ones who would like to include more female characters into their games. The book does, in my opinion, an excellent job of portraying the internal struggles of women as they deal with a society that views them one way but requires them to act another, especially in times of war. In addition, it explores the frequent revisionism that happens after wars, where men's valor and bravery are often embraced and celebrated while women's contributions are often reframed if not discarded.
Trung Sisters: The Trưng sisters ride elephants into battle, painted by Bắc Ninh.By the time of the American War (what we call the Vietnam War), the country had a complex and sometimes contradictory view of women. The book's title is named after a Vietnamese proverb, "when war strikes close to home, even the women must fight." There's a long history of women warriors in Vietnam including the Trung sisters, two women from a rural military family who lead a rebellion against the Chinese and Trieu Thi Trinh, (Lady Trieu), rumored to be 9-feet tall with yard-long breasts she threw over her shoulders while she fought against the Chinese. More recently, some believe hundreds of thousands of women were instrumental in the victory over the French at Dien Bien Phu.
This reality of warrior women contrasts with other beliefs about the proper place of women in Vietnamese society. As the book explains, confucian beliefs often asked for obedience from women, first to their fathers, then their husbands, and finally to their eldest son. Daughters-in-law were often expected to make their mothers-in-law happy. An importance was placed on male children, not only as a way of continuing the family line but also as a way of ensuring that women would be taken care of in their old age, especially as they were expected to not remarry if widowed.
Layered on top of this were the beliefs brought to Vietnam by the French, both in terms of how they viewed women and how they viewed the native Vietnamese people as a whole. A number of the women relate how it seemed that the French were willing to allow a number of discriminatory practices against women to continue under their rule, even as women in France enjoyed rights they did not have.
Finally, we have Ho Chi Min and his beliefs that women should be involved in the political sphere. For a number of women in Vietnam, this gave them hope that they would be able to live a different life than the one offered to them under the traditional beliefs. However, as with Confucianism and French doctrines, this was a foreign idea as well, brought in as part of a push towards Communism.
These varying and sometimes contradictory views of women mean that understanding women's service and reactions to their service can be complex and difficult to understand. Women served for a number of reasons, from a desire to follow in the footsteps of the traditional tales of women warriors to a belief that women's emancipation would follow victory to a pure sense of adventure.
Immediately after the war, while there were many stories about the men's acts of bravery and valor during the war, the women's stories often went untold. The book presents a few reasons for this, including male control over many of the media outlets, that male bravery is seen as something to embrace while female bravery makes them less feminine, a desire by some women to forget their service and move towards a more normal life, and guilt by some of the men over the sacrifices made by women during the war.
Those stories that did present the female story often reframed the women as being more sexualized or traditionally feminine than they were. In my studies, I've seen similar revisions of history after other events. The key here is that the war is recent enough that it's possible to talk to the people who served but enough time has passed that many documents about the war are available.
Not only is the book an interesting study in understanding a foreign culture in terms of its own culture and how these complex feelings on the role of women in society might lead to their invisibility in the stories produced after the war, but it provides a lot of great information for creating strong female characters. The book repeatedly talks about how the experiences of the women survivors are different from those of the men. Many of them spent years fighting in remote jungles, often catching malaria, disfigured by injuries, and suffering from PTSD. While many of them fought in hopes they would be able to have a traditional life of wife and mother, the long years of war left them undesirable to many of the men.
Some decided that their inability to find a husband wouldn't stop them from attempting to have a child. Artificial insemination was too expensive for most, so they had to find men who were willing to have sex with them in a society that frowned upon such relations. The number of children born this way lead to changes in laws and practices that led to these children being accepted as part of the village in ways they were not before.
Those who found husbands often faced another difficult decision. Exposure to chemicals during the war, particularly Agent Orange, increased the odds for many that they would give birth to a child with birth defects. Some decided the risk was too great and went childless in a society that judged women on their ability to have children.
Overall, this book is a great window into what is often the secret world of women. Many of the issues faced by the women, both during and after the war, are discussed in a mostly frank manner, although it is important to note that the interviews were conducted in the presence of a Vietnamese official. There's a diversity in experiences in the book to show that the women had differing views about the war and their role in it as well as the ongoing role of women in society. It provides a number of tales of heroism, bravery, and leadership from women. Many of the war stories compare and contrast service experiences of men and women. Finally, it shows how and why women's contributions to war efforts are often made invisible after the conflict ends.
Finally, if this is a topic you are interested in learning more about, the book has an excellent bibliography and also discusses some fictional accounts, including some movies.
For the recent Tome Show episode 200, we decided to play a game. I decided to create a mixture of D&D versions for the game to make it run faster. Since a few people wanted to see how the characters looked, I'm adding them here.
These are really quick characters I created from scratch for the game. I departed from tradition for the AC calculations. I gave each of them a special benefit or a few based on their occupation. We played a bit loose with the rules and had a ton of fun with the game.
Social skills: CHA
Knowledge skills: INT
Athletic Skills: STR/DEX
Butcher Baker (Fred)
HP: 15 + Con (Healing Surges: Con + 1)
AC: 10 + Con, FORT: 10 + CON/STR, REF: 10 + INT or DEX, Will: 10 + WIS/CHA
Weapon: Cleaver (Attack: +STR, Damage: 1d6 + STR)
Weapon: Stink bags (Attack: +DEX, Damage: 1d4 + DEX, on hit, target smells)
Sure strike (encounter): +STR + 2 bonus to hit
Quid pro quo: Gain a +Cha + 2 bonus to a negotiation check by offering quality meats.
Rod Huggins, Candlestick Maker (Randall)
HP: 15 + 2 (Healing Surges: 3)
AC: 12, FORT: 10, REF: 14, Will: 11
Weapon: Candlestick (Attack: -1, Damage: 1d6 + 1)
Weapon: Sling (Attack: + 4, Damage: 1d4 + 4)
Equip: Phallic shaped candles, 19 hard wax balls (slingstones) Backpack, Waterskin, Loaf of Bread, Jug of Wine, Torch, Tinderbox
Lighting the way: Gain a +WIS + 2 bonus to search checks (if aiding, the aid bonus goes from +2 to +4)
Unless turned off, always increases light of room one level (dim to standard, standard to bright)
Sager the Magician (Andy)
str 9/-1 dex 14/+2 con 11 Int 17/+3 cha 15/+2 wis 14/+2
HP: 15 (Healing Surges: Con + 1)
AC: 10, FORT: 10, REF: 13, Will: 12
Weapon: Dagger (Attack: -1, Damage: 1d4 -1 )
Weapon: Sling (Attack: +2, Damage: 1d4 - 1)
Magic Missile: (Autohit, 1d4 damage)
Web: (Attack + 3 vs Reflex, Restrained)
Cantrip: Ghost sound, mage hand
What does it say? +5 to checks for understanding text or languages
Tailor Alfonse Threadbare (Brian)
HP: 17 (Healing Surges: 3)
AC: 12, FORT: 12, REF: 13, Will: 11
Weapon: Dagger (Attack: +1, Damage: 1d4 + 1)
Weapon: Crossbow (Attack: +3, Damage: 1d6 + 3)
Pinpoint accuracy: (2 x encounter) +1d6 with combat advantage
STR 13 (+1), DEX 16 (+3), CON 14 (+2), INT 9 (-1), WIS 12 (+1), CHA 11 +0
Stuff: Sewing kit, feather boa, hand mirror, Jermone my floor length mirror bearer.
Apothecary Apothacus Maximus (Jeff)
HP: 16/4 (Healing Surges: 2)
AC: 11, FORT: 11, REF: 12, Will: 12
Weapon: Dagger (Attack: +1, Damage: 1d4 + 1)
Weapon: 7 potions from the following list:
1) Alchemist's Fire x1 (Attack: +2 vs Ref, 1d6 + 2)
2) Grease x2 (Makes square slick, -2 penalty to Athletics checks)
3) Laughing gas x1 (Distraction, grants combat advantage until save)
4) Healing potion x1 (Restores full health)
What's that? Automatically identify most common household items and a +2 to any other appraise or identification checks.
STR/DEX/CON 13 (+1), INT 15 (+2), WIS 12 (+1), CHA (+2)
Things: Random apothecary-ish stuff.
*Trigger Warning: Rape, sexual assault*
*Spoilers for Outlander by Diana Gabaldon*
During the recent Lara Croft discussions, some (including myself) pointed out how tired they were of the lazy use of rape in a number of stories, particularly fantasy and science fiction. This led to the question of which rape stories were "good" and, to be honest, I had a hard time coming up with any beyond perhaps Tess of the d'Urbervilles. For most of them, I felt that the rape, attempted rape, and sexual assault used could have been replaced with a number of other horrendous violent crimes and the overall story would not have changed, except maybe to be less sexualized overall.
Then I read Outlander by Diana Gabaldon. The bulk of the novel is set in 18th century Scotland and primarily involves multiple levels of Scottish society and British soldiers. As in the Game of Thrones, rape was a constant threat for women, particularly those who did not have political power through their relationships to men (although sometimes those relationships were also seen as reasons to "ruin" the woman as a political maneuver).
Lots of novels make use of rape as a background device, as an easy way to show how evil the time period was and as a contrast to today. However, Outlander goes further, making the act of rape and society's views of it, part of the story.
The main character, Claire, learns how to protect herself and is given self-defense lessons. She learns how to use the society's low expectations of women to her advantage, giving her the upper hand in a number of occasions. She is forced into the position of welcoming a rapist's advances to make it easier for her to kill her attacker.
The worldview of her love interest, Jamie, is tainted by rape and attempted rape. He becomes estranged from his sister in part because his captor, Captain Randall, tells him not only did he rape her, but she carried his bastard child. This leads him to place the blame on himself and blinds him to the entire story of what happened between Jenny and Randall.
Later in the book, we suffer with Jamie as Randall captures him again and he surrenders his body to Randall in exchange for Claire's freedom. The way in which Randall rapes Jamie leads him to question himself, feeling that his body betrayed his emotions and his love for Claire. Through this, we explore the guilt often suffered by survivors, especially when Jamie says he couldn't stop his body from reacting anymore than he could stop a cut from bleeding. We watch as he works through this grief and guilt.
A number of other similar situations appear in the book. A few of them, particularly in the beginning, might fit more into the flavor category, showing us how the world of 1740s Scotland worked. Overall, however, rape isn't used just to establish how terrible the society or the people within it was. We get to examine not only the effects it has on the individuals, but on society itself, especially as we see Claire, a woman from the 1940s, deal with her desire to be a free and independent woman and the realities of a world where women who expressed their independence often suffered consequences for it.
Outlander deals with some dark aspects of the human condition but often does so with gravity and respect and in a way that leads the reader to think critically about not only the world of the novel, but our own as well. Given the number of survivors out there, of all genders, I think we have an obligation as creators to use rape in moderation, especially in more mainstream works, and when we do use it, to make it more than a symbol for how bad a person or society is.
Given the sensitive nature of the subject, comments will be moderated.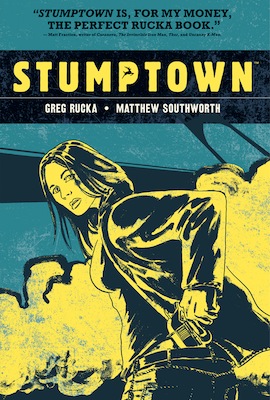 Last night we decided to visit a new-to-us comic shop, JP Comics & Games. What caught my eye as I entered was that the top shelf of the graphic novels section had a number of the hardcovers on display. One in particular called out to me from across the store, a blue and yellow cover that reminded me a lot of hardboiled detective novels I read for my film noir class. Not only did the style appeal to me, but the sole figure is of a woman tucking a gun into the back of her belted jeans. It had a simple name too, Stumptown.
Unfortunately, I didn't know anything about the author, Greg Rucka, the artist, Matthew Southworth, and the book was shrinkwrapped. While the co-owner was helping the other customer, I tried to look up information on the comic using my phone, but it was rather slow. I waited for him to finish, then I got up the courage to ask him about the book. (Yes, I'm sometimes nervous to ask about comics.) He understood right away my concern that the cover was a tease and the inside of the book might not do the same justice to the female characters and heck, there might not even be that many female characters in it. (A few of the issues I often run into when buying comics by the way).
Since he didn't know much about the book, he admitted that upfront and suggested we look it up on his computer. While the wikipedia article on it was short, it had enough info for me to figure out that the main character is a female detective, Dex Parios, that she has a gambling problem, and that the case involved finding the missing granddaughter of the a casino boss, Sue-Lynne. My reaction was piqued interest. It sounded like there would be a bunch of female characters and it was enough for me to shell out $30 for an experiment.
I read it last night, not wanting to put it down. The story starts in medias res with Dex getting shot. From there it goes back twenty-seven hours, detailing the events that led up to it. We meet a fairly large cast of characters, men and women. Most people have some shade of grey to them, although we meet a few truly bad people and some who are good. We see glimpses into Dex's life and how her chosen career affects those around her. We meet people of many different backgrounds and abilities and even get glimpses into how they see the world around them, and how that's different from how others see it.
Overall, it's a wonderful book and a nice little mystery. The artwork is stunning and evokes the genre well. In the foreword, Matt Fraction talks about the Rockford Files tv series, and I agree that Dex reminds me a lot of Rockford, even down to the trouble she finds and the parking tickets. Also, it makes a statement about equality by not making a statement at all. The characters are diverse along many lines including gender, race, sexual orientation, and ability. It doesn't shy away from violence. While Dex is shown with bruises, the attacks against her are not sexualized. There's some domestic violence in the comic but it's an important part of the story, in my opinion.
My only complaint about the book is that it's too short. I want more. If you're interested in Stumptown, Oni Press has a 19 page preview on their site.
This, along with Spera, helps me in a number of ways. I can find fans of these works to see what they like that's similar. It's easier to approach an employee now that I know there are some out there that I like. Also, I now have some examples to discuss about how to make game story lines that are more in line with what I'd love because both of those books have some great adventure seeds in them. Finally, I have some authors and artists whose work I enjoy and I can check out not only what they produce but what they recommend.
This weekend I watched Detective Dee and the Mystery of the Phantom Flame. I loved it and want to borrow a number of items, both large and small from it. The backdrop of the movie is the upcoming coronation of the first and only female emperor in Chinese history, Wu Zetian. A number of officials die in a horrifying manner, seemingly by spontaneous combustion. Wanting to save her coronation and under the advice of the Chaplain, the soon-to-be Empress summons a former rebel, Detective Dee, and orders him to solve the mystery. What follows is a story full of action, romance, magic, and epic fantasy.
Note: Some spoilers for both this movie and Game of Thrones.
The movie provides lots of inspiration for any fantasy RPG. However, what particularly struck me about it was the use of female guards. One of the Empress' attendants, Jing'er, accompanies Dee on his investigations, often fighting alongside him as they are beset by a number of challenges. Jing'er is not the only female attendant. In many scenes, especially in the palace, most of the people in the background were women.
In fantasy, we see a similar role for women in Game of Thrones, with Brienne of Tarth. She aligns herself with Catelyn Stark. In The West Wing, a female Secret Service Agent is often around Zoey Bartlett, in part so she can go into places that men cannot go, such as restrooms. A quick Google search shows a number of real life corollaries, including a Ukrainian group protecting dignitaries during Euro 2012, Chinese women who serve as bodyguards for wealthy people, and similar group in Britain.
In cultures that separate women, having female bodyguards are useful for the same reasons that female assassins are. For one, they can go to areas that are often off-limits to men and travel in a closer proximately to the women they protect without risking as much in terms of rumor and suspicion. Also, while a large, muscular person, regardless of gender, tends to be rather easy to notice. Bodyguards who are valued for their wisdom or reflexes might be overlooked.
Finally, by using women for these roles, groups who want to can push the boundaries of gender roles, even in a fantasy society that traditionally frowns on such things. In a world where shapeshifters exist, having a few women capable of protecting the Queen sounds like a good move to me.