Sarah Darkmagic's blog
---
This weekend at Carnage, I wanted a way to store the monster stat blocks without printing them out. I decided to save them as images to my computer using the print preview and grab utility on my mac and then save the files in a special folder on my Dropbox account. Then I went into Dropbox on my iPad and made sure each image downloaded. During the game, I had a set up like this: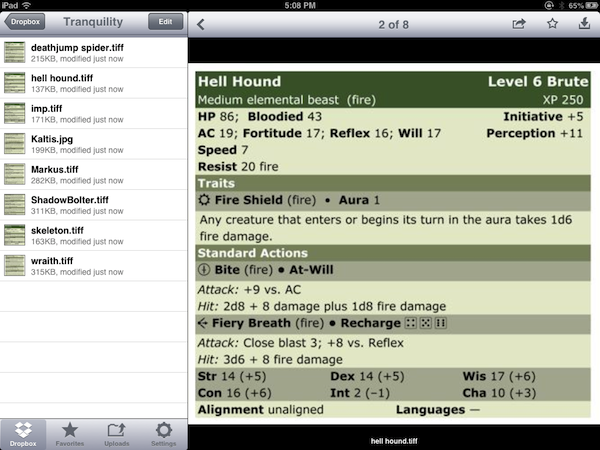 As long as you name the files something easily recognizable, it's easy to jump between the monsters during combat. While this doesn't help with things such as hit points or conditions, I found it quite easy to just write that information down on an index card during the encounter. (While I didn't do it this weekend, I often finding adding damage together easier than subtracting it from the HP pool, your mileage may vary)
It's also possible to do this with the Photos app but the issue there is the names aren't given and it's harder to jump between monsters.
I'm tempted to create a folder with other commonly used information, such as the DCs and damage by level. I'd love to see more products that supported tablets such as the iPad because I personally much prefer this to carrying around lots of pieces of paper, which I inevitably get scattered during the game.
I'd also suggest creating a folder full of level appropriate basic monsters to use when your players decide to do something you didn't expect. For instance, both groups this weekend decided they wanted to talk to someone at the clock factory instead of just barging in. Since I didn't want them to get to the person they were after right away, I added a butler named Igor on the fly. I just reused the stat block for the skeleton, making a few appropriate modifications.
You can also include other goodies in the folder, such as images to set the mood and pictures of the NPCs and monsters. The dropbox app easily hides and shows the folder contents list so you don't have to risk showing your players what they are about to face. Or you can just put them in a separate folder.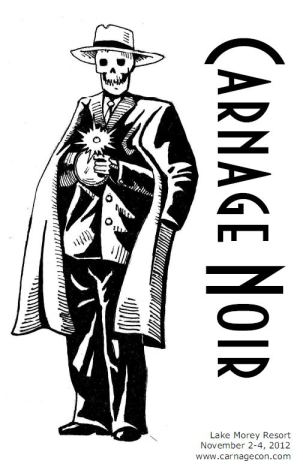 This past weekend I was a special guest at a great convention in VT called Carnage. The crew there, including Christine Crabb, were kind enough to invite me and I had a blast.
Things to do
There was so much to do, I feel like I missed some things. For games, people had their pick of tabletop rpgs, wargames, board games, and larps. Diplomacy seemed to have a huge crowd and the Pathfinder Society room seemed to always be busy. For those who needed time away from the table, there was lots of space for socializing, a theater room with movies running around the clock, and the convention itself was held at Lake Morey Resort, with lots of outdoor trails and places to see.
Highlights of the Trip
Running two games of "Dream a little dream of death" was a ton of fun. I created the scenario for DDXP two years ago and it never disappoints. There's nothing like obvious injustice and a mystery to figure out. I need to figure out how to write it up for other people to run it but none of the current adventure templates seem to work well for it.
Another big highlight was just sitting around and chatting with people. The convention is very family friendly and I believe about 20% or so of the attendees were women. The people I met were very interested in making sure everyone felt welcome. Whatever they are doing worked because I felt at home right away. Everyone was friendly and I had lots of great conversations about games.
The Future
If I recall correctly, the convention has been around for about 15 years. They celebrated their 10th year at Lake Morey and next year they will be at Killington, VT. If you live in the New England area, I recommend checking it out.
It's been a while since I've written about the Prismatic Art Collection here and I wanted to share some of the cool stuff that's been happening.
Backer and Donated Art
We offered character portraits as a reward to some backers and other people have been nice enough to donate some artwork they own. We expect more backer art over the next month or two, but here is some of what we have so far.
Concepts, Sketches, and more
Once I had the backer art requests to the artists, I was in a place to start commissioning our own art. We're not far along yet, but I'd like to share what we have so far.
Farewell to Fear
Finally, we were able to work a deal with Machine Age Productions to release all of the art developed for Farewell to Fear to the collection (and into the Creative Commons). As a warning, some of the images in Farewell to Fear have naked breasts, much in the way you might see them in National Geographic.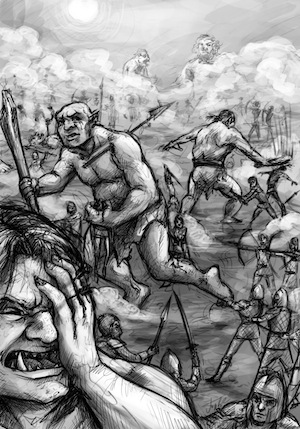 Giant Fight © 2012 Jenna Fowler under CC BY-SA 3.0My friends and I have been working on getting a new gaming group together. Our old group split up a bit, two of them moved away around the same time the third welcomed a baby girl to our awesome world. Those of us left kept talking about getting a game together but no one felt the fire to get it started. Recently that changed for me and I'm now planning a new campaign.
I realized a few things about myself from the last one. I much prefer to play an episodic campaign, with more in common with say Doctor Who than Lord of the Rings. The stress of making sure I can hold up my end of an epic tale that rivals the struggle in Mount Doom gives me too much anxiety. Plus, I really enjoy both not railroading players and interacting with their characters' stories more than my own.
One thing I've struggled with in the past is making their choices matter as much as I think they should. I've done my best, doing things like showing them the spriggan whose life they spared went on to follow his life's ambition and start a bar in the middle of the woods with an eclectic, but friendly, clientele.
I recently played a simulation game called Dungeon Village. I frakking love that game. Essentially, you are the planning manager for a small village near a number of ruins and monsters. Your job is to make the town as appealing as possible to adventurers, getting them to not only spend money in your town but also hopefully get them to settle down and make it their home. You do this by building various shops and attractions and throwing events.
While I loved the concept of town building as part of the game, I wasn't sure how to make it matter in terms of an RPG. Then I read the Flatpack RPG by Machine Age Productions. Now that game has a few other elements that I'd love to borrow (such as using other puzzles and games to simulate in-game challenges, more in the future), but for this, it's the Flatpacks themselves that have me interested. In this game world, you play young or young-at-heart WRENCHes in a post-apocalyptic world. Before the big apocalyptic event, people had invented various types of buildings that folded flat for easy storage and movement. WRENCHes find these buildings, bring them back to their hometown, and set them up. As they do this, they gain resources they can use for future challenges, including access to specialists.
What I'd love to do in my new campaign is something similar. I want to set this game during a war, giving the PCs the job of protecting an important part of the supply route, most likely a ferry. They might play soldiers, medics, or even regular townspeople being asked to pitch into the war effort. They may have volunteered or be forced to serve. But all of them will hopefully be invested in improving the town. I'm using a lot of the research I've done on what happens when war is local. Think M*A*S*H but in a fantasy setting.
We're likely to use D&D Next for the main portion of the campaign. The backgrounds, and especially their traits, should work pretty well for this. A number of the traits require access to something like a library or a temple for there to be a benefit. I'm also thinking of linking specialties to improvements that can be made to the town. Want to add a new skill, such as Planar Lore? Perhaps it's time to requisition new books or find a way to entice a specialist to move into the town.
Also, since it's war time, resources overall will be fairly constrained and they may be expected to get what they need or want on their own. Perhaps they decide that there's too much traffic through the town for the ferry to keep up. They could build a new ship or perhaps design and build a bridge. Both need wood and some study. Want to make the work go faster? Find a way to provide enough nighttime illumination to have additional shifts (fire beetles might help with that).
By linking this to a town setting during a war, we should have a variety of stories to tell and a variety of characters we can use. This means some sessions can be closer to a more traditional playtest experience while other sessions can play with the rules a bit. It also means we can use other games some nights. For instance, characters that can be NPCs during the D&D Next sessions could be PCs for another system such as Dungeon World or 13th Age. We also could create Fiasco playsets to use on the nights when we can't quite get a full group and play out some crazy shenanigans (I sense a play or talent show to raise morale in our near future).
I realize it's still a rather loose idea and needs to be worked out quite a bit more, but that's where I am at these days.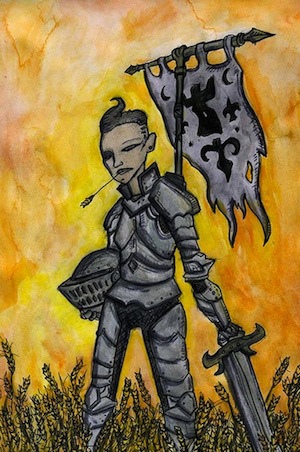 Rook by Jared von HindmanA lot of great discussion has happened since yesterday's article
Minotaurs, Udders, and Worries of Gender Stereotyping. It seems that two of my points about bias might have been lost a bit beneath all the other words so I'd like to talk about them here. Both of these biases individually and together reinforce the idea that the female is "The Other." This feeling of otherness can drive away some players, particularly women who are unsure if the game is right for them. So I think it merits examining these issues a bit more.
Female as Marked
What is "marked?" Here's a basic definition from "Marked Women, Unmarked Men" by Deborah Tannen.
The term "marked" is a staple of linguistic theory. It refers to the way language alters the base meaning of a word by adding a linguistic particle that has no meaning on its own. The unmarked form of a word carries the meaning that goes without saying -- what you think of when you're not thinking anything special.
Notice in Jon Schindehette's article, there was no discussion of what defines a male minotaur. In fact, we rarely discuss what defines males of any race (although we might talk about average height, weight, etc) This is because we consider the male to be the default and the female to be the exception or "marked" condition.
Now at least one commenter argued that this is because there is an overlap in male characteristics, in that both minotaur and human have a penis, but there is a difference in location of the female mammary glands, and, thus, we need to discuss this. However, the issue here is that both breasts and udder on a fantasy creature could be just as easily hidden as a penis often is. There's no reason to believe that a muscular minotaur wouldn't be flat chested and have her breasts covered by a hairy chest. Likewise, lower body coverings could easily cover an udder and, if the minotaur tends to be naked instead, then whatever covers the penis could cover the udder as well. As a construct of the human imagination, we can create this creature however we wish. That we believe the male intimate areas would not be noticeable but the female ones would is part of this bias towards marking women.
Omniscient Breasts
Another part of our bias is focusing on the mammary glands as a way to mark femaleness. While there is a fair bit of variation due to time period and location, heterosexual males often (but not always) have a bit of a fascination with breasts. That's one of the reasons why the "male gaze" often focuses on them as an important body part. However, this way of looking at the female body is far from universal. Kate Elliott explores this in her post, The Omniscient Breasts. Focusing on breasts as the way to distinguish a female character can easily run into this problem. In my opinion, it fetishizes them and takes them out of the context of the character as a whole.
In addition, I'd suggest that this may be one of the main reasons we end up with characters that look like they've had a boob job and are dressed in clothing that shows off their breasts, such as boob plate, corsets, and boob windows. I can see the thought process now: "Well, they told me they want a female character and that female characters of this race are distinguished by their breasts....If I draw the breasts too small, they might not be noticeable, so, to make sure I don't have to redo any of my work, I better create the fantasy art outfit equivalent of big neon signs that say 'HERE THERE BE BREASTS!'" If your intention is to cut down on artists depicting women in this fashion (and I've heard multiple times from multiple people that it is), perhaps telling them that breasts are the way to define a character is counter-productive.
Being Aware
The main reason I wrote yesterday's article and this one is that I think we should be aware of the biases not only that we hold but that exist in what we consume. Being aware of a bias doesn't mean that we must stamp out all occurrences of it. As Elliott discusses in her article, there are times to write a character using a "heterosexual male gaze" point of view, just as there are times we should use the "heterosexual female" or others. Rather, it's a check to make sure that we are using the one that aligns best with the story we are trying to tell. In the case of D&D Next, I'd hope that game material that discusses races and classes clings more to a gender neutral perspective than some previous editions have.