Sarah Darkmagic's blog
---
A comic I've been reading for the past few months that I love is, Shutter. I'm going to give some spoilers because I want to explain why I love it so much. First, the basics. The comic is described as urban fantasy with dash of Indian Jones. It is published by Image Comics and features writer Joe Keatinge and artist Leila del Duca.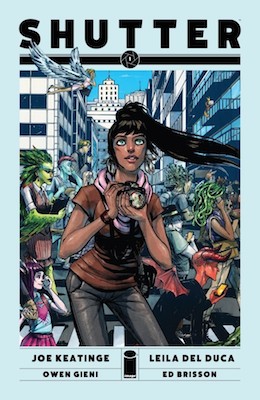 Shutter Cover
We are first introduced to the main character, Kate Kristopher, while she's on a father-daughter trip to the moon. In fact, she's telling her dad she wants to go now because the moon is boring.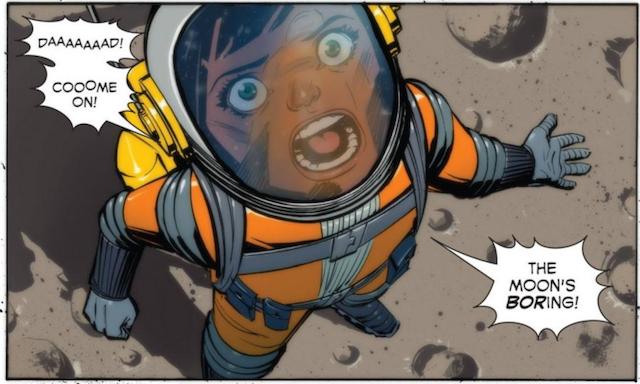 Shutter - Moon is Boring
Then we learn she comes from a long line of adventurers. It's a pretty common fantasy that a frequently traveling parent has a secret and interesting job such as a spy or part of a secret military force, but here, it's real for her.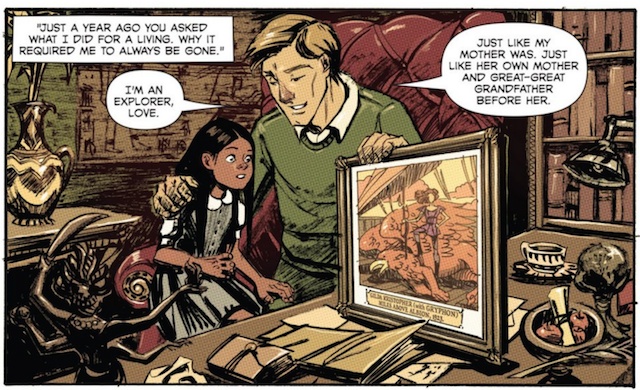 Shutter - Lineage
These two panels caught my attention. Not only is the main character a woman, a woman of color at that, but she comes from a line of adventurers that include women. Her father's mother and her mother were also adventurers. Kate is special because all adventurers are special in this world, not because she's the first female adventurer. YES!
And this is the world we're introduced to. The caption says New York City but it's futuristic and has non-humans.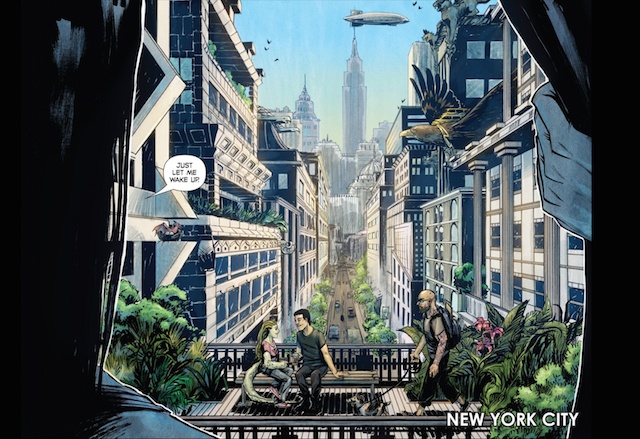 Shutter - New York City
We see more non-humans in the street scenes, like this one below, but also we see some diversity in the humans pictured as well. There's a person of color and a curvy woman. Plus, her roommate, Alain (more on her later), looks like she's a scientist and is in the middle of doing research.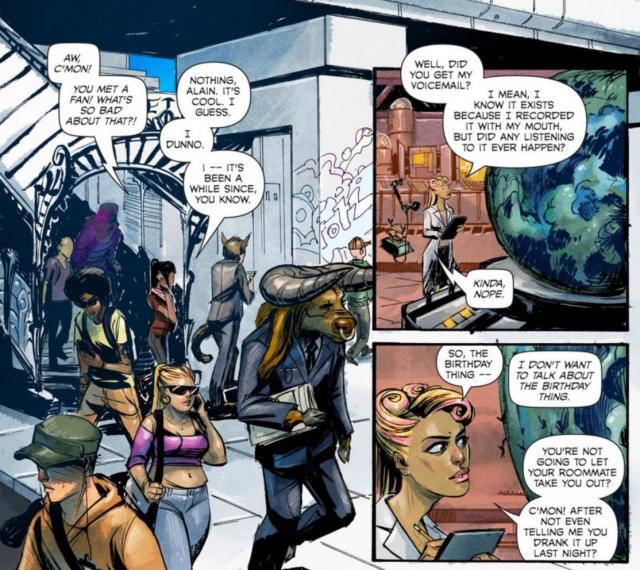 Shutter - Alain
We soon learn that her father has been dead for some time and, unbeknownst to her, she's being hunted. She gets hurt and is taken to the hospital. We see Alain again.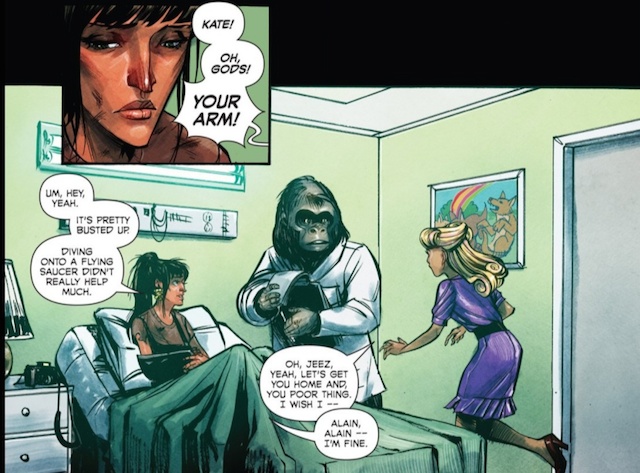 Shutter - Hospital
Alain is also critical to why I fell in love with the series. We've now met her a few times. There's an explosion in their apartment while they talk. And then, this, a picture of a young Kate and a young Alain, only Alain isn't dressed in the feminine clothes we're accustomed to seeing her in.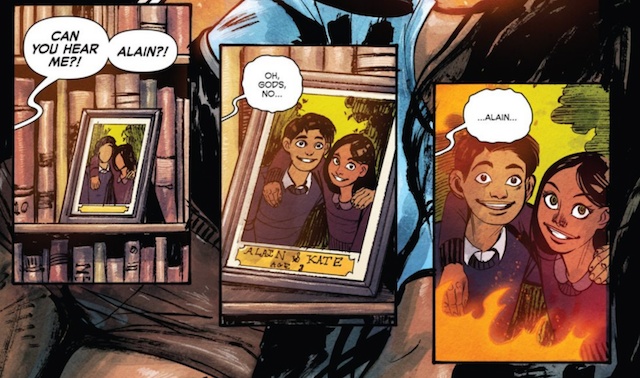 Shutter - Photograph
Flashback. Kate and Alain as children. Alain being picked on for playing with dolls. The bully hitting Alain with an action figure. Kate stepping in, defending Alain. Kate punching the bully, bloodying his nose. Alain and Kate bonding.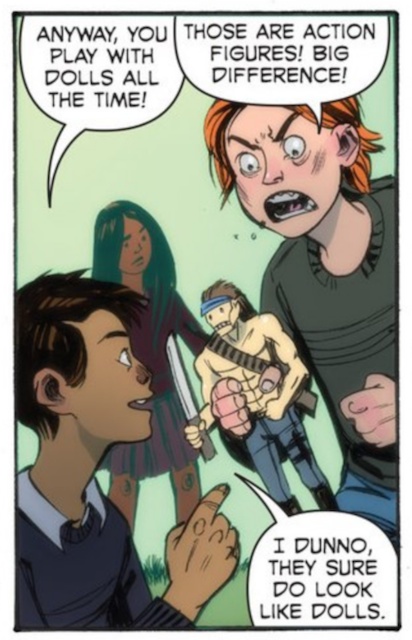 Shutter - Dolls
Back to the present. An injured Kate desperately searching for her friend, finding her in a room full of fire. Then Kate waiting in a room with other people. Then, well, I'll let you experience that for yourself.
I don't know if this is the perfect way to introduce that a character is transgender, but it is one of the better examples I've seen and had a deep impression on me. What I loved about it is that we had already been introduced to Alain as a woman. There's no concentration on body parts (or plumbing here). Providing the story of how they met also provides a bit of depth to their relationship. Not only are they roommates, they are childhood friends. The reveal about Alain doesn't just focus on her status as a trans woman. It's not about her body or her sexuality or any of those things. It's about people, with a connection to each other.
One reason I'm including so much art in this post is because I think it's absolutely perfect for the story. Also, it's a great example of how to create a full, rich world that acknowledges diversity. Not only are there different humanoids, humans themselves are depicted in a variety of body shapes and skin tones. The art is as much part of the story as the words and plot, drawing us in and pulling at our emotions.
For me, at least, I also think the work plays with so many tropes in urban fantasy and subverts them. The father introducing the child to their birthright is common, but less common is the child being a daughter instead of a son. It's common for a woman to be hurt in order to provide the protagonist's motivation to go forward, but rarely is that woman transgender and the protagonist also female. I admit, I could see some of these notes falling flat with some, but I'm enjoying a story line that breaks with tradition in these ways. Also, how can you not love this?
Shutter - Learn to Shoot
I haven't even gotten to the talking cat companion or the skeleton butler or, heck, the mysteries that revolve around Kate. If Indiana Jones-style urban fantasy is something that might strike your fancy, give the comic a try.
Images © 2014 by Joe Keatinge and Leila del Duca.
In addition to the seriously awesome, Hacking as Women event, another thing happened at GenCon that reinforced my faith in D&D. Mike Mearls invited myself and Anna Kreider to have lunch with him. There was no real agenda other than to talk about our experiences and perhaps to help identify things we thought of as problems and maybe offer potential solutions.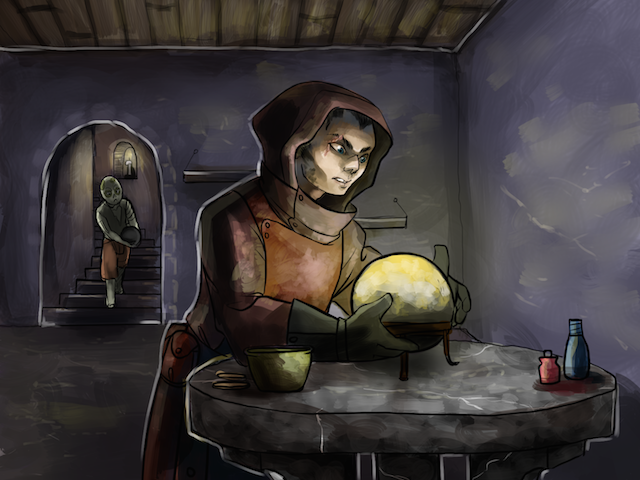 This was a big deal to me. I respect Mike a lot. Heck, most of the people I know who work on games, many of whom I count as friends, whether it's Wizards of the Coast, Paizo, or Evil Hat, want to see more diversity in the portrayal of characters. I've known for a long time that the creators themselves wanted these changes, but that it could be unclear if they could or how to do it. A number of people have told me in various conversations that being on panels like "Queer as a Three-Sided Die" helped them see a perspective of themselves and their companies that did not match what they knew or wanted and that became an impetus for change. For instance, in a recent interview, Mike discusses being struck by surprise in the community that a WotC employee could attend a panel on LGBTQ issues.
In 2013, Jeremy and I talked about the Gen Con panel over lunch the following week, and I was struck at how the community was surprised that someone from Wizards of the Coast was able to attend. I had always felt that we were a fairly progressive company, but it drove home that people can't read our minds. Our intentions don't mean anything unless we reflect them in our work and our actions. Source: Mary Sue
And we know that they aren't just saying their intentions. They worked to make the art in the Player's Handbook diverse, something that Mike made sure to discuss when we interviewed him on the Tome Show. (Sorry we didn't ask more questions about it Mike, I wasn't sure then if we could.) They included the sex and gender inclusivity text not just in the Player's Handbook but as part of the basic rules. They've done a great job, in my opinion, of talking about D&D in places they might not have before, such as that Mary Sue interview.
And, finally, something that truly humbled me, Mike spent about 2 hours of his very busy Gen Con to talk to Anna Kreider and myself about our experiences in gaming. We talked and talked. Everything from how happy we were to see how they were changing their approach to our fears about being cut off every time we offer a critique of the product. This came at a very stressful time as we were both being harassed for those critiques for over a month before Gen Con. Mike talked about his hopes for the game and the community, the difficulties they've had in the past and during the reorientation, and we talked about some ways that we might be able to get there. He talked about his experiences with the various communities and how that feeds in to what they are trying to do. It was a great conversation, one that fills me with hope.
Look, I know that there is, for some, a lot of pain here when it comes to D&D. I'm definitely not saying that D&D is now perfect or even that we should stop critiquing. However, this sort of thing is why I haven't given up on the game and why I think it could go in even more awesome directions. If you want to be a part of that, let your voice be heard. Write about your experiences! Write about what you love but feel free to temper that with the stuff that gets you down. Play, experiment in your play, and write about that. Let's fill this community with diverse voices. They are listening. These changes were less likely to happen without Anna or myself writing what we write. Or if the community didn't express shock over the participation in panels like Queer as a Three-Sided Die. Or if Mike's coworkers didn't speak up to say that they thought they couldn't do progressive things. It's easy to never name our assumptions, but let's stop doing that.
Read about Anna's version of the lunch here.
Artwork: "Lead to Gold" © 2013 Kaitlynn Peavler and Cheeky Mountain Parrot Games, created for Conquering Corsairs, used under a Creative Commons Attribution-ShareAlike license: http://creativecommons.org/licenses/by-sa/3.0/
P.S. I am opening comments up on this. However, I will be moderating them.
One of the awesome things I did during GenCon was help with the Hacking as Women workshop on Saturday night. As some of you may know, I've been looking into a number of the women-focused initiatives in technology (my professional field) and seeing what we could translate over to the gaming space. For example, I've been a vocal advocate of anti-harassment policies and the Ada Initiative's work in that space.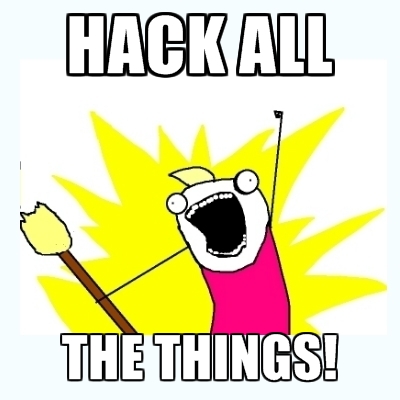 Another initiative I've taken great interest in is the Boston Python User Group's attempts to get more women involved, including their workshop series for women and their friends. Given that I hear many of the same concerns for getting into tabletop game design as I do for getting into tech, I thought it would be awesome to do something similar for RPGs. However, I am not an organizer and I had no idea how to translate this idea into reality.
Then last winter, Mark Diaz Truman moved away from Boston and offered to have coffee with anyone in Boston who wanted to see him before he was gone. I took him up on the generous offer and we talked about a bunch of stuff. During that talk, I pitched him on the idea of the workshop. With his ties to the Indie Game Developers Network (IGDN) and his experience as an actual real-life organizer, he knew how to make this a reality. We talked a bunch, both over coffee and later over the internet, about how this should happen. We worried about wording. We worried about the influx of trolls (one of the reasons I didn't talk about it more was a fear that I would draw trolls to the project, which is another reason why I was more comfortable not having my involvement overly spotlighted).
We talked it over with the supportive Derek Guder. We decided that having an honor system while making it clear who we wanted to participate (women and non-binary people). We knew we weren't going to get it right. Mark got together an excellent team of coach/mentors. Besides himself, our coaches included Marissa Kelly, Cam Banks, Stras Acimovic, and Brian Engard. (By the way, the honor system worked.)
Since this was the first workshop like this any of us ran, we only had a very loose script. Mark started off by thanking everyone for being there. Then we went through why a number of us felt this was so important. Then we went through a quick introduction of the coaches and which systems they were best at (for this, we focused on FATE, Apocalypse World, and Cortex+ as systems to hack). We also took some time to make the implicit explicit, and worked as a group to set some ground rules for the session, giving everyone the ability to provide input.
We tried to organize groups by who was most excited by which systems but realized that one of the system advocates did a great job explaining one of the systems and many people wanted to do that system, which wouldn't work for the way our knowledge was spread. Instead, we started having people pair up and pitch concepts to each other. Once most of the groups had agreed to a concept, we went through again and the coaches tried to match up systems with the concepts. We had two groups where both members didn't agree on a concept, but they were happy to switch group members so most groups were in favor of the pitched concept and the system.
With four of the five groups having a concept, system, and mentor, they started designing and spent the next hour doing just that. For the fifth group, Mark suggested more concrete steps (sorry, it was even cooler than that but I don't know how to describe it). For instance, Mark suggested that they should figure out a type of story they both like and then left for a bit. When he came back, they had a concept and then he talked about what sort of system would be best for it. Their game felt like FATE would be a great fit, so he gave them a character sheet and talked about the parts of a FATE character. He asked them to consider if the attributes listed on the character sheet encapsulated what the characters were likely to do or need to do and, if not, to suggest alternatives.
After about an hour, it was time to start winding down. He described the pitch process and gave each group a few minutes to pitch their idea to the rest of the group. It was a cool experience. Not only were most of the groups super excited about their idea, but there were some awesome ideas out there that I would never have heard about otherwise. We also talked about how to go forward, suggesting that people create a design document that they could easily share and to not get discouraged if the idea doesn't last. Most if not all of the mentors have game ideas that they start but just never finish for one reason or another.
It was my favorite part of GenCon this year and honestly, I'm having a hard time thinking of a convention related experience that beats it. It was great seeing 10 women excited about game design, to watch them go from being nervous about hacking on games (a lot of the intros focused on being nervous or inexperienced) to hacking on games to create they want to see in the world. Afterwards, we collected all of their contact information and shared it to the whole group.
So, if you are at all interested, steal this idea! Seriously. Hack it even! Make it your own. But let's get more women designing and let's build more opportunities for learning, networking, and mentoring. We definitely want to do it again next GenCon and I'd love to see this at other conventions.
Also, don't just take my word for it, here's a description from one of the participants, Sarah Richardson: Con Diary: Gen Con wrap up
Sometimes I feel like I'm in an episode of Medium. For those who have never heard of it, Medium was a tv show that centered around Allison DuBois and all the wonderful things she could do, primarily solve crimes through a supernatural connection to the dead. This happened to hit two of my favorite genres, the supernatural and mysteries, so I often watched and enjoyed it.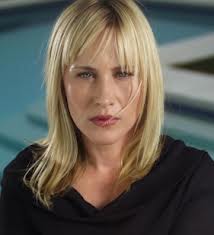 However, after the first season, something really started to annoy me. Even though she had solved dozens of cases by this point, the other people in her life, especially her boss, kept starting out from a position of not believing her. They would say things along the lines of, "Look, Allison, sometimes a dream is just a dream" leaving unsaid that the last 10 times they said it, said dream was anything but "just a dream."
Sometimes I feel the same way when it comes to talking about gender, sexism, and misogyny. I point out something that I see as sexist and/or misogynistic. People, often while claiming to be on my "side" or knowing that I've had some valid points in the past, will say, "I remain unconvinced." The counter arguments often raised will be steeped in the same sexism and/or misogyny. I'll point it out, sometimes in an aggressive way but often similar to the rest of the conversation, generally in a neutral but not "nice" way. They'll get defensive and/or angry, often out of fear that what I'm saying could be true or could be accepted by others to be true and they might be called "sexist." Eventually someone with more personal capital with the individual talks to them or they have time to think and they can see my perspective (even if they don't agree with it) and we continue on.
While there is some progress in these interactions, there are two issues I'd like to discuss. First, the amount of progress is small compared to the harm caused by these conversations. I'm not talking about the harm caused to the people who are feel uncomfortable because they are being asked to reexamine their world view, what they consider to be valid critiques and the like. I don't think there's a way out of that discomfort since we're talking about a reevaluation of one's identity much of the time. Rather, the lashing out that happens as a result of that discomfort is downright damaging and abusive and it silences the voices we need in order to enact the change.
Allies can cause way more damage than the strangers. The default questioning has serious issues and it's a hard topic to discuss because the knee-jerk response is, "Well, then you just don't want anyone to question you," which is nonsense. The hardline questioning of feminists or anyone working in a social justice topic is, itself, an issue. We know that many of our current points of view are tainted by a world that held up gender inequality and gender essentialism as good things. We should not accept those things at face value until proven otherwise. Not only does this way of processing arguments have an issue that only one world view would then be considered "true" and all others "false," it gives too much weight to those arguments we know might be problematic and should be re-examined. Plato's Theory of Forms isn't going to help us understand each other here.
Another thing that bothers me sometimes is I've seen way too many people who admit they don't know much about feminism or the like or what it must be like to live as a woman in this society tell women how to get things done. Usually the ways they tell people how to do it are generic cliches of social mores, the same things, that if they did work, should have gotten us out of this mess by now. When I was discussing this with a friend recently, she had some insight that feels like a good analogy for how I feel with this happens. She was discussing someone in her game who told her how to play her character.
I actually had an incident last night. Was playing new D&D (yay) and other player had a new character. I'm playing a Sneaky Rogue with a Criminal "Hired Killer" background that is true neutral. We'd just met on the street during a skirmish and I offered to sell some of the equipment we'd taken from the bodies. I sold the stuff and went to the inn where his character was staying. He said, "Hello friend!" when I walked in, and I dropped off his share of the profits and left. He said, "You're making your character act like a dick. You've got a Charisma of 15, you should have played it more friendly." I said, "Listen, It's my character, I'm playing her as I see fit." He responded with, "I wouldn't play a Charisma 15 like that." So, I had to do that 'girlsplaining', like I haven't been RPing for over 20 years. "She's just met your character, she doesn't know him from Adam. Friendship is very important to her, and you just out of the blue called her friend after barely passing a few words of conversation previously. Besides, when she walked in, a couple of people recognized her and ran out of the room. She has no reason to have conversation with you, she's gone out of her way to deliver you the profits when she could have just kept them, and she's getting the hell out of dodge before those other people jump her." - TheStormCellar
From my point of view, this encapsulated exactly how I feel so much of the time. Clearly one of the issues here is a differing interpretation of what Charisma 15 means in terms of a character. Does it mean the character always needs to "be nice?" Or does it instead point to some leadership or social aspect, like the ability to keep tenuous alliances or read a room? TheStormCellar provides a valid read of the situation and her play of her character makes sense. The guy, on the other hand, made some common assumptions that he shouldn't have. They make sense, but, in the end, he should learn to ask questions rather than tell others how to play their character.
Look, I've been a girl and woman all of my life. I've loved traditionally masculine-coded hobbies for all of that time too, sports, gaming, math, etc. Most of my life has been spent in coed groups and many times, those groups have been overwhelmingly boys and/or men. I may have perspectives and experiences about how to convince those groups about my inherent worth as a human being that people who've never had those experiences don't know about. I may have perspective that shows me that "being nice" and "not rocking the boat" is not a path that leads to me being recognized as an equal. Like the male player in this story, your expectations for how a person with a particular attribute should act may be biased and based on tropes, not anything to do with that character. Please stop trying to play someone else's character.
Instead, if I or any other woman, feminist, etc, do something that makes you feel uncomfortable, step back and think about why it is exactly that you are uncomfortable. Talk to someone you trust. Consider if you would have the same reaction if the person wasn't a woman or didn't identify as feminist. Read the actual words said and try to divorce them from your reaction to them. Are you projecting on them? For instance, a recent study showed a bias in the types of words used in performance reviews of women in tech. Women were more likely to be called abrasive and to be criticized in general (regardless of the gender of the manager). If you're already accusing them of being more loyal to feminism than your friendship or anything like that, you cannot have that conversation with them.
Also consider if you are trying to use your friendship with them in an attempt to soothe your discomfort at the expense of their own. Don't talk about being on the same side or make assumptions about their goals. This is a common behavior that leverages the messages women receive throughout their life that they should "be nice." Sometimes people who might have the same overall objectives may disagree about how to accomplish them. If we are in a gender equal society, their method of obtaining them may be just as valid as your own. The appeal to common purpose with the assumption that your way is the right way can be problematic.
If, after some time, you still feel like you want to discuss this, focus on how the actions made you feel rather than telling the other person how they should act. Think about this in game. When someone tells me to move to x area or to do y thing without any more information, I bristle and feel like I'm being bossed around and/or used. When someone says, "Hey, I have an idea. If you do x, we can create y situation," I feel like an equal and a participant in what gets created.
Addressing gender issues in society and gaming is a long, complicated process. It's going to cause discomfort because the root cause of many of the issues is the latent sexism and misogyny that exists in society. It requires everyone, regardless of their gender, to keep reevaluating how, why, and what they do. We've made a lot of progress thus far, but one of the hurdles I see now is that we need to stop acting like Allison's boss and quit with the kneejerk questioning of feminism in a way that is disproportionate to the way we question other things. We also need to look at our critiques of cultural critics like Anita Sarkeesian and see if perhaps we're really just reiterating anti-feminist rhetoric instead of engaging with her ideas.
By the way, I love this recent article by Doctor Nerdlove, "Yo, Is This Sexist?" – A Conversation About Feminism and Sexism. He does an excellent line-by-line breakdown of common arguments presented by people about sexism, misogyny, and feminism and shows the issues inherent in the arguments.
First a recap. For weeks I talked to RPGPundit on G+. I debated with him. Disagreed with him. During one of those disagreements I posted something that he is convinced was a dig at him but, in reality, is nothing of the sort, but that was enough to send him on a tirade. I wrote about it, someone else called his behavior out publicly, and then there was an entire thread on his forums that were basically attacks on me. Now enter act 3, the infiltrator.
Since some of the people in the forum thread seemed to think that the two people in the comic page that I shared were male and trying to argue that I was making an insinuation about Pundit's sexual orientation by sharing it, I decided to clear that up by posting on G+.
A person came by who kept making pro-Zak and pro-Pundit posts but in a really vague way. His bias was clearly evident, but in case he was actually being earnest, we chatted for a while. When I woke up the next morning, a friend pointed me to this post by RPGPundit.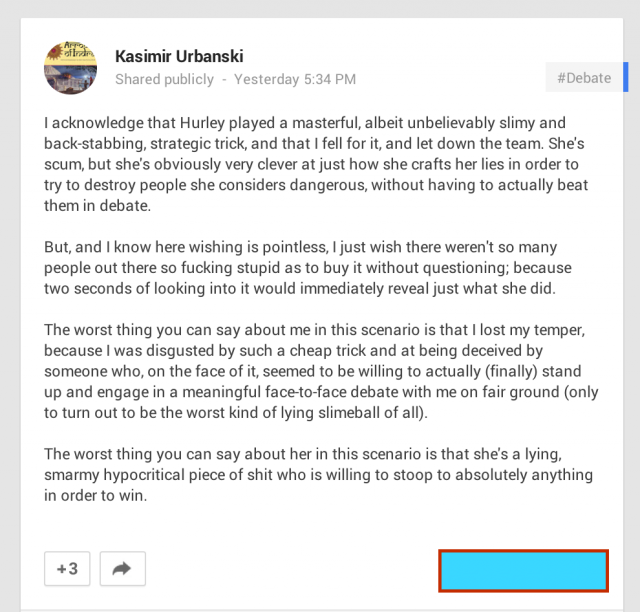 I acknowledge that Hurley played a masterful, albeit unbelievably slimy and back-stabbing, strategic trick, and that I fell for it, and let down the team. She's scum, but she's obviously very clever at just how she crafts her lies in order to try to destroy people she considers dangerous, without having to actually beat them in debate.

But, and I know here wishing is pointless, I just wish there weren't so many people out there so fucking stupid as to buy it without questioning; because two seconds of looking into it would immediately reveal just what she did.

The worst thing you can say about me in this scenario is that I lost my temper, because I was disgusted by such a cheap trick and at being deceived by someone who, on the face of it, seemed to be willing to actually (finally) stand up and engage in a meaningful face-to-face debate with me on fair ground (only to turn out to be the worst kind of lying slimeball of all).

The worst thing you can say about her in this scenario is that she's a lying, smarmy hypocritical piece of shit who is willing to stoop to absolutely anything in order to win.
So, here's one problem with dealing with RPGPundit, he thinks everything is about winning and destroying people. But this is the least interesting part of that post.
Person A: I warned you...

Person B: It absolutely was a cheap trick that reminded me of those petty little kids in school who push your button until you react and then try to play the victim.

RPGPundit: +Person A yes, you did. And I fell for her "I'm willing to talk on a fair and level ground"-bit like a complete chump. 

RPGPundit: I am willing to stand and argue with anyone, and it was really very clever of her because it's so so rare that anyone from the Outrage Brigade would ever dare to come and argue on fair and even ground with anyone (what with knowing they've Got Nothing in terms of their fake claims). In retrospect, it's an ideal trap for someone like me.

Person C: Ah. I have heard of this person. She struck me as dangerous imho in that kind of way Glen Close does so well.

Zak Smith: she's fucking with you since fucking with me's got her nowhere.
You gotta relax, man

RPGPundit: It just stuns me that some people can't see through this.

Zak Smith: They're friends.
Think of how boring and dumb you'd have to be to be friends with Tracy Hurley in the first place
Ok? That's the level of dumb you're dealing with.
At this point, all the information is out there. Interested parties are going to just be looking at what you do all day and decide who they trust more.
So be better and more interesting than her. And less obsessive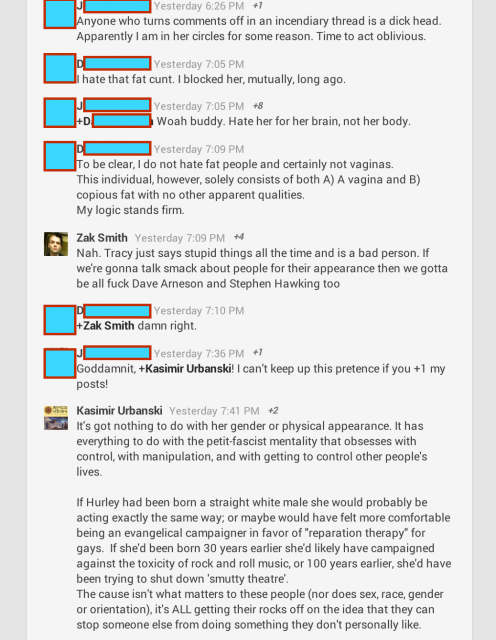 Infiltrator: Anyone who turns comments off in an incendiary thread is a dick head.
Apparently I am in her circles for some reason. Time to act oblivious

Person D: I hate that fat cunt. I blocked her, mutually, long ago.

Infiltrator: +Person D Woah buddy. Hate her for her brain, not her body

Person D: To be clear, I do not hate fat people and certainly not vaginas.
This individual, however, solely consists of both A) A vagina and B) copious fat with no other apparent qualities.
My logic stands firm.

Zak Smith: Nah. Tracy just says stupid things all the time and is a bad person. If we're gonna talk smack about people for their appearance then we gotta be all fuck Dave Arneson and Stephen Hawking too

Person D: +Zak Smith damn right

Infiltrator: Goddamnit, +RPG Pundit! I can't keep up this pretence if you +1 my posts!

RPGPundit: It's got nothing to do with her gender or physical appearance. It has everything to do with the petit-fascist mentality that obsesses with control, with manipulation, and with getting to control other people's lives.

If Hurley had been born a straight white male she would probably be acting exactly the same way; or maybe would have felt more comfortable being an evangelical campaigner in favor of "reparation therapy" for gays. If she'd been born 30 years earlier she'd likely have campaigned against the toxicity of rock and roll music, or 100 years earlier, she'd have been trying to shut down 'smutty theatre'.
The cause isn't what matters to these people (nor does sex, race, gender or orientation), it's ALL getting their rocks off on the idea that they can stop someone else from doing something they don't personally like.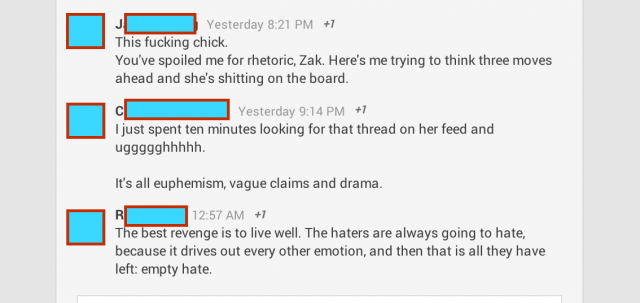 Infiltrator - Part 4
Infiltrator:
This fucking chick.
You've spoiled me for rhetoric, Zak. Here's me trying to think three moves ahead and she's shitting on the board.

Person E: I just spent ten minutes looking for that thread on her feed and uggggghhhhh.

It's all euphemism, vague claims and drama.

Person F: The best revenge is to live well. The haters are always going to hate, because it drives out every other emotion, and then that is all they have left: empty hate
Also, in the theRPGSite thread I linked to yesterday, the disagreement with me went from disagreement to a more organized campaign.
First, a hint that there is a no-hire petition out that is attempting to black-list me.
The context here is that there was some question about why I'm doing this.

Attention is my guess.

VALIDATION.

She's desperate for it.

She is, ironically, insuring that she'll never get anywhere in this industry, however, given the no-hire petition that I've seen going around with her name on it.

Self-blacklisting is just the ironic cherry on this particular shit-cake.
Second, Zak Smith deciding that employers must know about what I say and do, as he links to a post from December 2011.

Quote:
Originally Posted by ****
I'm fine with people (SarahDarkmagic, Pundit, etc.) getting to work on and publish any RPG they want. Other people will then buy it or not. More games, being published, even games I don't like or think are extremely lame, stupid, offesive, or juvenile*, doesn't harm me or anyone else in any way.


True, but if Tracy Hurley makes money in any way for any reason, that's unjust and a bad outcome since she's a bad person and there are a lot of women in RPGs who can do any of the things she does (including analyzing stuff from a feminist perspective) without lying or attacking people unfairly--hire them instead.

Any potential employer of Tracy Hurley/ Sarah Darkmagic should know about her comments here:
https://plus.google.com/u/0/10961606...ts/FAEZkJmVFTc

…and that she has never publicly apologized for them and that Tracy Hurley / Sarah Darkmagic also passed on the known-to-be-fake article ripped apart here:

http://dndwithpornstars.blogspot.com...tally-not.html

…and never apologized for it to any of the women whose lives she's affected (including the one in the hospital right now), to this day.

Her name needs to be publicly linked to her actions.
Of course, Zak leaves out that I also shared the article written by Mandy Morbid (who by the way is the woman in the hospital now, I hope she gets well soon), but that's neither here nor there. I have no idea if Smith is Zak's real last name or not but a bunch of what he does is not linked to his name. The same thing goes with RPGPundit, who gets mad whenever someone uses his real name. I have been writing for years now under my real name.
Then Pundit decides it's time that people tell Mearls what the "regular gamers" think.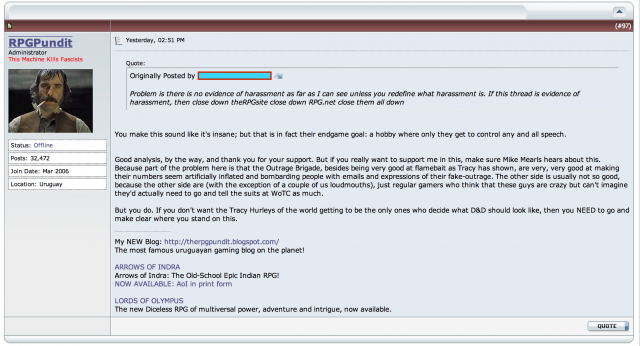 Quote:
Originally Posted by ****************

Problem is there is no evidence of harassment as far as I can see unless you redefine what harassment is. If this thread is evidence of harassment, then close down theRPGsite close down RPG.net close them all down


You make this sound like it's insane; but that is in fact their endgame goal: a hobby where only they get to control any and all speech.

Good analysis, by the way, and thank you for your support. But if you really want to support me in this, make sure Mike Mearls hears about this. Because part of the problem here is that the Outrage Brigade, besides being very good at flamebait as Tracy has shown, are very, very good at making their numbers seem artificially inflated and bombarding people with emails and expressions of their fake-outrage. The other side is usually not so good, because the other side are (with the exception of a couple of us loudmouths), just regular gamers who think that these guys are crazy but can't imagine they'd actually need to go and tell the suits at WoTC as much.

But you do. If you don't want the Tracy Hurleys of the world getting to be the only ones who decide what D&D should look like, then you NEED to go and make clear where you stand on this.
Notice how he accuses me of trying to control everyone else's speech while at the same time trying to marginalize me from the gaming community. The framing that I'm not a regular gamer, I'm part of the Outrage Brigade. There are also accusations in here that are unsubstantiated. I've apparently artificially inflated my numbers and bombarded people with email! I'm apparently not even really outraged, it's all fake and an attempt to exert control. Do you know why that's an accusation? Because that's how he thinks. Everything is about some epic war and contest of wills.
Let that sink in for a moment.
Again, this is why people don't want to come forward.