Sarah Darkmagic's blog
---
It's a bit strange to be writing again. My online presence had dwindled for about 2 years, I know, but the past 4 months in particular have been a bit of time for and about me and have been a good capstone for my multi-year transformation.
For those who don't know, I suffer from both anxiety (pretty much all the time) and depression (more cyclical). It's pretty much always been that way. I was always shy as a kid and afraid that people wouldn't like me and I remember periods of my childhood when I didn't want to eat food because its taste didn't seem worth the effort of chewing. When I started playing D&D a few years ago, it helped me get out of a depression I was in then. But, unfortunately, it also triggered the sort of attention that often causes me to sink back in, namely sexism and negativity for negativity's sake (versus constructive criticism which some people seem to conflate).
In addition to dealing with that stuff in the gaming sphere, there were a number of real life things that made me require a space where sexism couldn't flourish. One of my friends who had been a big support of my work (in part because she too didn't like the sexism in our culture, especially the latent, unquestioned type) was suicidal and eventually killed herself. Fred was rather close to her and was someone who was trying to get her to get help. Someone else who was very close to me was also suicidal and went to the hospital. Then Jared got cancer. Playing support for so many people led to an ever deepening depression of my own that I tried to put on hold as I helped others. There should be a mechanic for that with paladins, I swear. To top everything off, I found out last October that my job was going away at the end of the year and also that for much of my career I was paid significantly less than market.
So, starting January 1st, I put my mind towards becoming a phoenix and reemerging from the ashes. While I still felt fragile, my depression had stabilized and my mood improved thanks to therapy and medication. I decided that it was a good time to check out the rest of me and it's good I did, my insulin resistance had gotten worse and my blood sugar was no longer steady. This of course can impact one's mood and mental health, so we found at least two things that were probably negatively reinforcing each other. In the past I've suffered from anemia and the doctors always told me to eat more iron to help. Well, it turns out that I actually had non-iron-deficiency anemia, a condition that's common among some mediterranean people that is caused by genetics, similar in concept to sickle cell. Mine isn't that bad, so I probably carry the recessive gene, but it could explain some of my fatigue. In brighter news, my stress test and cardiologist visit went pretty well considering that I was born with a heart defect, so small victories. Oh, and I've lost about 20 pounds.
In addition to dealing with the mind and body, I worked on our house! We put up bookshelves in the dining room, turning it into a book and game library. We finally put up curtains and our landlord bought us a new fridge when the old one died. My parents got to visit me for an extended weekend and we worked on some of the house projects together.


Dining Room
Then I got a new job which is absolutely awesome. I love the people I work with and I have a bunch of support now that I didn't quite have before (larger companies are good for some things). To celebrate, we got a new couch and chair for our living room and made our guest room into a lounge which is much more useful for us. I'm also going to be able to go to more tech conferences with a goal of speaking at some in the next few years. I've already presented here at work during our big group lunch.
I presented at PAX East! On a panel about anxiety and depression in gamers. It was one of the hardest panels I ever did because, like this post, it was the real me and sometimes a bit close and personal. It was also hard because of some of the questions. For instance, one person asked what video game characters did we escape into as kids when we had issues. The hard part for me was that video games at that time didn't have that sort of escape for me. Instead I found hope in books like Little Women. I felt bad because the question brought up that divide that exists for some in gaming. I wanted to be able to name a character because it would make him feel better but at the same time, I could tell my honesty resonated with a number of the women in the audience because they were nodding their heads.
I also took up gardening. We have a bunch of herbs and some small number of fruits and vegetables. We don't have a yard to grow them in so I found some great containers for our deck area. I also got a bunch of indoor citrus trees for the living room and a big split leaf philodendron.


Garden
Last week we took a vacation to Seattle, in part for the wedding of two of our college friends. I got to meet up with a bunch of my gaming friends that I hadn't seen in a while (in part because I had to miss GenCon last year) and we also had a mini college/fraternity reunion. It was during that week that I felt my old self resurface a bit. As an added bonus, I came back to find that Jared had spent a fair bit of time fixing up our "house" in Starbound.
So why am I writing this? Well, partly because I want to thank of you who have stood by me in the past and been the rays of sunshine that I needed. I also hope it explains a bit why issues of representation in games are important to me. Also, my experience at PAX East reaffirmed my belief that there can be healing in sharing our stories.
When I talk about my experiences and the experiences of others who have shared their thoughts with me, I am often presented with a paradox by some commenters. They present two ideas, often within the same comment.
1. When will you acknowledge that there are just differences between men and women?
2. I though this was a gaming blog. When will you get back to writing about gaming and not women and politics?
Sometimes I think people have become so desensitized to those arguments that they can't see how confining and paradoxical they are. For instance, if it's true that there are differences between male and female genders (we can leave aside which are due to nature versus nurture for now), then why wouldn't what I write be influenced by my gender? Why call it political rather than just another perspective on gaming? Why aren't the posts that focus on things traditionally coded as masculine called political as well? Why don't we ask men why they can't seem to write about more than men?
The people who say these things often have the best of intentions. What they often see is me banging my head against the wall and complaining about the headache. Much like the joke, "Patient: Doctor it hurts when I do this, what should I do? ::pause:: Doctor: Don't move it!" it's easy to treat the symptom and not explore its cause.
That's why I can't help but to write about gender and biological sex and gaming. My culture raised me differently than it raised its sons. Having a uterus means my body does things that others don't. All of those things affect me and my approach to games and stories in the same way that others are affected by their own backgrounds. Not talking about those things would be like I was role playing in real life, taking on a personality and character that is not my own.
At the same time, there is so much we all hold in common regardless of our background. Intra-group differences tend to be much more pronounced than inter-group ones. When you have the time, take a look at your favorite "gender" study and notice the spread within a gender versus the difference in average between the genders. It might surprise you. For instance, while men outnumber women when it comes to being an NFL fan, the spread is actually along the lines of 56-44 with 55% of women watching the sport.
For some, it's hard to deal with the reality that we are all different, that gaming isn't about a monolithic world view with "us" versus "them." That saddens me. These are often the same people who constantly confront me with this gender paradox. At the end of the day, they want me to either conform to their standards or shut up. They misrepresent my arguments, trying to say that I won't be satisfied until everything is done 100% my way, but those libels and slanders are false. The real issue is that they cannot and will not see a pluralistic world. They only see things in terms of hierarchy. There can be only one....
If you wonder where my anger comes from sometimes, that is where. The harm being done is often hidden away under academic pretext or polite phrasing. It comes in the form of seemingly reasonable and rational arguments that never get more than superficial scrutiny. "Men notice breasts. Breasts are a secondary sex characteristic. Therefore all women who show their cleavage do it to attract mates." Sigh.
And it's difficult because others in the discussion, often because they are in over their heads themselves, think all sides are equal, that all theories are valid, even though we know academically it's not the case. In addition, we are so terrible as a species at actually being objective, even when we think we are. But often we don't actually judge people on an objective measurement of concepts like niceness, but on what we expect from the individual. So, when we live in a society that tells us that women should be quiet, demure, nice, and then men should be aggressive, loud, steadfast, we will call women vitriolic for saying the same thing that we considered to be a symbol of restraint from a man.
It's strange to me sometimes that gamers don't notice this. Games, in many ways, are meant to deal with those exact issues. That's why people can be so picky about dungeon masters who fudge dice rolls. They don't want their success (or failure) to come down to how the DM was feeling at that moment in time. That's why many games that allow for narrative control often have a system for bargaining and a lot of advice about talking about things up front.
So, what I ask in the end is that people start questioning some of these assumptions they've made about all manners of things: gender, biological sex, race, ethnicity, sexuality, sexual orientation, the color of the sky, etc. Try to find ways to talk about these things that don't create a paradox. And let's see where it can take us.
War Witch (also called Rebelle) follows the life of 12 year old Komona (Rachel Mwanza), a child soldier from a rural village in Africa. The movie starts with her being kidnapped from her village and forced into service. The invaders give her a horrible choice, kill her parents with a gun or watch them butchered with machetes. The movie doesn't pull many punches. There is kidnapping, war, rape and attempted rape, and murder. However, under all of that is also a tale of love and survival. It keeps the protagonists human despite the inhumane acts around them.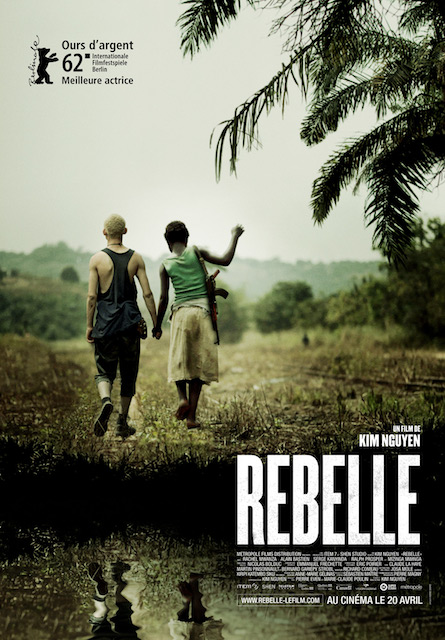 The rebels drink "magic milk," a hallucinogen created from tree sap that is believed to give magic powers. When Komona is the sole survivor of an ambush due to warnings from ghosts, her group believes she is a witch and it falls onto her to be able to determine when and where government soldiers might attack next. She befriends a fellow soldier, an albino boy named Magicien who is protective of her and practices a form of magic of his own.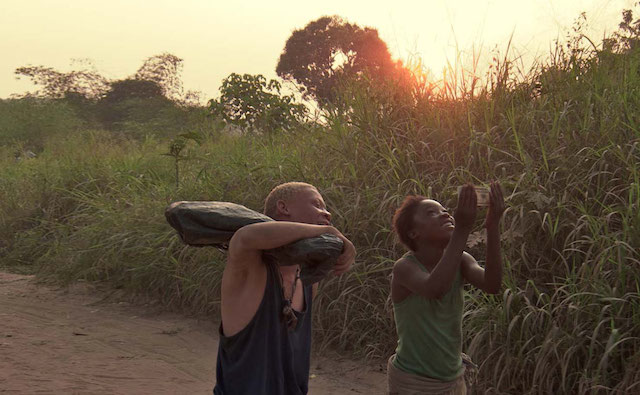 The movie was written and directed by Kim Nguyen, a Canadian of Vietnamese and French ancestry. He was inspired by a Burmese story of child soldiers. It was filmed primarily in the Democratic Republic of Congo, using local actors. While it is written and directed by a foreigner, this story stays local. Unlike many movies set in Africa, it is not told through the eyes of a white person and no one is saved (or directly harmed) by whites.
I love this movie. Komona and Magicien aren't portrayed as helpless victims. The complicated feelings that can result from these experiences comes through. The struggle Komona has between the traditions of her family and the world she finds herself in grounds her character and help the audience to connect with the story. Nguyen did a wonderful job of changing the story beats to help the audience along. There are moments of levity and hope mixed in at just the right time amid the despair and loss.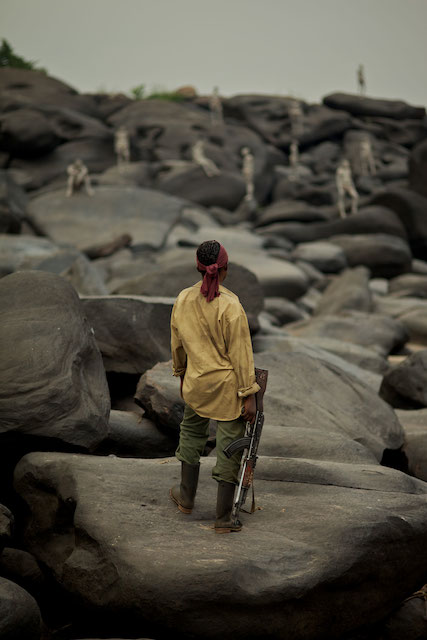 War Witch - Ghosts
I also think the movie did a good job at showing how gender would influence a child soldier's experience. At the age most of these children were taken, there isn't a ton of difference between the sexes, especially when you factor in that most of the "work" is being done by guns. While not directly addressed in the movie, it's important to note that about 40% of the world's child soldiers are girls and that their role is much more complex than the typical "sex slave" narrative often propagated.
As for using the movies as inspiration for tabletop roleplaying games, the use of children in war is nothing new. Many fantasy and science fiction stories explore similar themes. For some groups who want to roleplay a similar scenario, this movie would provide an insight that perhaps isn't always seen or discussed. Given the use of magic in the story, I could see a number of the scenes translated into many fantasy world setting. I could see it working best in a system with narrative currency, since part of the movie is about people who lack power trying to carve out a life for themselves. It also provides some examples of how someone can try to come to terms with the horrors of what they've had to do during war. How do you work past being forced to kill your own parents?
I found the movie through Netflix and it was available in the US for instant streaming. It appears to also be available through Google Play and Amazon Instant Video. It is primarily in French with English subtitles. The movie won a number of awards and was a nominee in the Best Foreign Language Film at the 85th Academy Awards.
Jared and I watch a lot of video game play throughs together. There are more video games out there than we have the time (or money) to play but knowing about them is a great idea given what we love to do. Additionally, some of the commentators are just awesome. Recently we watched one that just blew us both away, Jesse Cox playing the first act of Broken Age by Double Fine Productions.
Two years ago, Tim Schafer and his company Double Fine Productions asked fans to fund his idea for an point-and-click adventure game through Kickstarter. Originally asking $400,000 to create both the game and a movie about creating the game, they raised $3.3 million. Promising to put the extra money into the game, the result is just beautiful. Not only does the game use great voice actors such as Masasa Moyo, Wil Wheaton, Jennifer Hale, Jack Black, Ginny Westcott, and Nicki Rapp, the art is amazing under the lead of Nathan Stapley and the music ties the whole game together.
Vella - © Double Fine Productions
Over the course of the game, you play two different characters, both question authority and tradition in their attempt to be heroes. Vella, a maiden from the village of Sugar Bunting is expected to dress up in a fancy costume and sacrifice herself for the greater good. In this case, it's to appease Mog Chothra, an ancient creature from far away who visits the villages every 14 years. Out of fear of having their villages destroyed, they hold maidens feasts where the girls are on the menu. Vella, encouraged by her grandfather, thinks there has to be a better way and sets off to find a way to kill Mog Chothra.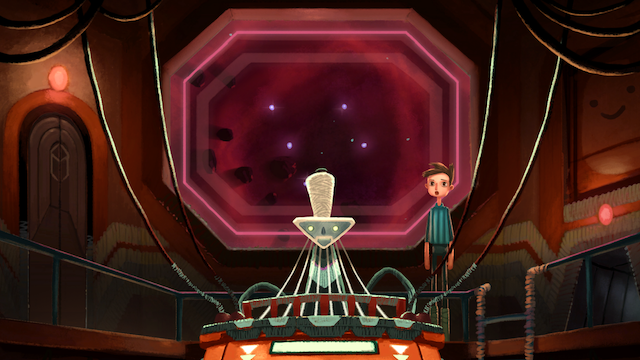 Shay - © Double Fine Productions
The second character is Shay, a boy in spaaaccceee...er, sorry about that...a boy in space. He is watched over by the ship, largely through a computer interface that represents his mother. After a hearty breakfast of cereal (I particularly liked the one named Soylent Dreams), he's given a choice of missions to undertake such as saving people from an ice cream avalanche. We quickly learn that he is in a protective bubble in the form of a ship. He feels like there has to be something more out there.
I can't quite give a proper review of the game as I had watched the entire play through by Jesse Cox before playing it myself. I grew up playing point-and-click adventure games like Kings Quest and I love the genre even if I didn't always love the finickiness of some of the older games. For instance, Jared and I have been watching "I have no mouth, and I must scream" and I don't think I'd ever play that one. The people playing it are often frustrated with the difficulty in clicking just the right pixel and figuring which of the commands are the right one to use.
Broken Age is different. Gone are the multiple commands and limited vocabulary. With very few exceptions, the pixel areas are rather forgiving. You interact with the environment by clicking and/or dragging items from your inventory to the environment element you want to interact with. While watching the play through, I never felt stuck although there were times when the commentator wasn't quite sure what to do although I imagine it's hard to give commentary while playing. The simplicity of the game play isn't for everyone, but I thoroughly enjoyed the game.
The humor throughout was refreshing and often made me laugh. While I think gender definitely influences the adventure each is on and what is expected of them, no element of the game feels gendered. I also love that Vella is definitely a self-rescuing heroine while Shay is someone who likes to rescue others and that the creatures he rescues don't have a gender. Overall, I found the game delightfully subversive.
The main difficulty I see with the game is the price. On Steam it is currently $24.99 for the base game and $29.99 for the game with soundtrack. I played it in about 3 hours but I had already seen a play through. In one of the reviews I read, the writer said he played it in about 5 hours of casual play. I was worth it for me and I'm glad to support the game but I could see it an issue for wider adoption. The other difficulty I see is that the second act isn't out yet and there doesn't seem to be a firm release date for act 2. Act 1 leaves on a cliff hanger, so I could see some fans wanting to wait so that they can play the whole thing through at once.
All that said, please check this game out. Not only does it have a female protagonist, but she is a person of color. Both main characters question the world around them in important ways. The story, art, and music are all superb. It's a great example of innovation in gaming. Now I must find some way to be patient until Act 2 comes out.
This afternoon we found ourselves in a local game store, The Games People Play. Fred took the opportunity to buy one of the games he's loved for years, Diplomacy, and I splurged on a few items: Once Upon A Time (a card story telling game by Atlas Games), Story Cubes - Voyages, and two knowledge card sets, Forgotten English III: Long Lost Insults and African American Art.
Forgotten English III: Long Lost Insults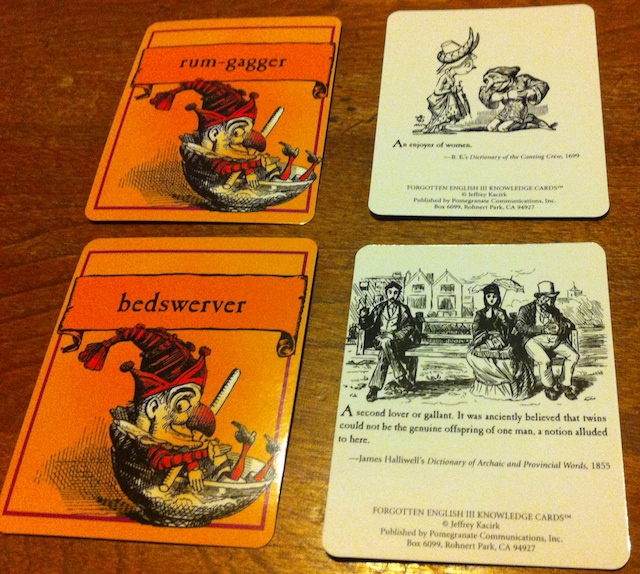 The set of insults should be good fun for gaming, allowing me to throw out random insults at player characters. Each card has the word on one side. The other side often has the word's definition, source for the definition, and an illustration that shows or evokes the behavior referenced by the insult.
Examples of Use:
My rather straight-laced character always worries that the new people she meets are sinful. I select a card at random and say that she hopes that the new person she just met isn't one of those people. "Did you see how he just interrupted their conversation like that, asking such foolish questions and not letting them get on with it? I hope he's not a nargyle!"
During character generation, whether for an NPC or PC, I want to add a unique character aspect. I select a card from random and apply that insult to the character. For instance, if I pick rum-gagger, I should make a bard who loves to tell her stories of woe wherever she goes, trying gain the pity of the poor folks who hear her tale.
The PCs decide to go in a direction you hadn't anticipated and you need to create a scene for them and quickly. Let's say that they go to see the local magistrate. You could pull a card and have two or more parties there trying to figure out what to do about the insult. If pre-planned, it could give background information on the NPCs.
Some of the images could easily inspire NPCs, scenes, adventures, and more. For instance, the back the Hogs-Norton card contains two well-dressed humanoid pigs.
Party game: Everyone gets an package with the list of insults, definitions, and one of the cards. They then have to act like a person referenced by the insult. Other guests have to figure out which you are. Using rules similar to Dixit, you get points based on how many people guess which insult you personify so long as at least one person got it but not everyone.
---
African American Art


The second set of cards will find a variety of uses in my life and games. I've wanted to become more knowledgeable of art and artists for a while and African American artists and their art are one of the areas where I'm least knowledgeable. By becoming more familiar with African American art, I'll be more likely to include and suggest pieces that would work in my games. Additionally, for games that are meant to fit into our history, I will enrich the characters I add to the game world. For instance, a number of these artists would work well in a game set anytime from the mid-1800s to the mid-1900s. Finally, picking a piece of art can bring all sorts of inspiration to my games since the art runs the gamut from landscapes to cityscapes to portraits to abstract works.
Each card has a piece of art on one side and information about the piece and the artist on the other. These cards appear to be made in collaboration with The Smithsonian National Museum of Modern Art, so it also includes details about the art such as call numbers, media used, and size. Just as a note, one of the limitations of this set is that it leaves out many contemporary artists.
Examples of Use:
A scene takes place in an art gallery or museum. The cards could be laid at random to provide ambience or chosen beforehand to support the story being told.
A game scenario, such as a Spirit of the Century game, takes place during a time period with multiple artists. The artists could be used to inspire characters in the scenario.
Playing in a game set now or in the future? Pick a piece from the deck that would interest your character. Research more of the artist's work and use that art at the table as a way for her to speak.
Tell a story using the cards. Each person takes a turn as storyteller, taking one card from their hand and using an element of the piece of art to add to the story.
Additional Sets
The company that makes these sets, Pomegranate Communications, Inc, has a number of other sets that might also provide inspiration such as these.