Sarah Darkmagic's blog
---
De Facto Discrimination - Captain Marvel: Copyright 2012 Marvel Characters, Inc.
As I mentioned yesterday, the #1reasonwhy hashtag has been on my mind a lot. For those who don't know, on Monday, Luke Crane, a game designer and an employee at Kickstarter, asked why there weren't more women designers.
Why are there so few lady game creators?

— Luke Crane (@Burning_Luke) November 26, 2012
A number of us replied, with Filamena Young, a game designer and co-owner of Machine Age Productions, adding the now-famous hashtag to her response.
While a conversation about 'why so few women designers' was going on, I was taking my son to and back from the docs. #1reasonwhy

— filamena (@filamena) November 26, 2012
Most of us started using the hashtag and our circle of respondents grew. I haven't had time to sift through all the tweets, but I've heard others say that the number of participants numbered in the hundreds if not the thousands. That's some pretty important stuff.
What bothers me a bit is that the press stories often start with pointing out that Luke Crane asked the question. I'm not upset he asked it but it's not exactly news that he did. He and I have talked about this issue before and I know he's been in on other conversations about the same issue. All of the women who directly answered his question have talked, in public, about these issues before. We have multiple posts on Gaming as Women talking about these issues.
No, the real story here isn't that Luke asked the question. It's that Filamena's awesome hashtag gave us an easy way to unify our voices in a way that could not be diminished or ignored. It's that, even though Filamena Young, Meg Baker, Jessica Hammer, Elizabeth Sampat, Nora Last, myself, and others have answered this question and others like it many times, we answered it again. We answered even though answering takes time away from doing things like, say, designing games.
And, in answering, we were able to release a bit of the tension that eats away at us each time we have to suffer one of these injustices. The memories of some of being physically assaulted at a con. The fear that accompanies hearing a number of grown men who disagree with you about something talk about their heights and weights and saying it's too bad they won't be at the con they know you are attending. The knowledge that some people will refuse to give you an opportunity because they don't think it's fair that they might have to hire a woman, she might get pregnant after all.
For some, witnessing that tension release is uncomfortable. First, we often have a taboo against it. That's why we diminish it by calling it "bitching" or "whining." Also, seeing the pain and anguish caused by expressions of our privilege tends to make us uncomfortable. We want to defend ourselves, our actions. We are afraid of being considered less than human even as, through our actions, we had done just that to someone else.
However, sometimes this tension release is a necessary first step in the process of building a new community, a new us. We need to be able to acknowledge the problems without feeling like we are being blamed and without assigning blame to others. That's one of the great things about the #1reasonwhy hashtag. It doesn't attempt to assign blame. It just says, this, this is a reason why I don't do all the awesome stuff I know I'm capable of doing.
Now, it's time to do a post-mortem. It's time to look at the reasons people gave and find ways to address them. We've already started doing that. Pretty soon after the hashtag was created, the offers of mentorship came in. Mentors are a great first step and we can do so many more. Maybe it's time to rethink what qualifications are needed to create world-class games. Perhaps it's time to rethink how we use archetypes and stereotypes in our games. Additionally, maybe the game press should start following some of the female designers who are out there so that the next time something like this happens, they can see the whole story, not just that some guy asked a question that's been asked a thousand times*, even if that guy happens to be Luke Crane (who, by the way, has been supportive of me).
Due to the popularity of #1reasonwhy, I've seen a number of calls for "what can we do?" Part of the issue I see is that there isn't an easy list other than treating each woman (and each person in general) as an individual and react to their individual needs and wants. Beyond that, I'd like to share a little bit about how my friend Jared made me feel comfortable and confident playing League of Legends. (By the way, if you want to play with me on there, I'm SarahDarkmagic there too.)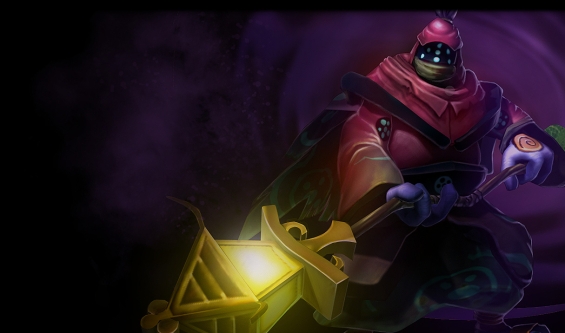 There is a chat window in the game but I find it really hard to both type and do what I need to do. Typing requires pressing enter, entering the text you want to say, and pressing enter again. This requires removing my hands from the main keys used while playing and my mouse, which can really mess me up.
People usually refer to each other by the names of the champions they chose, which means I have to try to remember them or get to the point where I recognize each champion from the picture.
Jared and I often play while on Skype. We try to lane together (the maps are often divided into lanes with champions picking a lane and pushing forward in that lane), that way I can easily communicate with him by using my voice and we can coordinate our actions. Another nice thing about playing together, especially in the same lane is that we often take turns saving each other.
Sometimes we play with other friends on Skype too. This is awesome for many of the same reasons as playing with Jared, but for an additional one as well. Over the course of the game, you buy items and level up powers. Experienced players know that what you buy and how you level is influenced partly by which champions you are up against. If the champions do a lot of magic damage, you may want some magic resist items. If they do physical damage, you might want armor that transfers some of that back to them, by using something like thornmail.
When we play with other experienced players, they talk about what they are buying and often why. By listening to them, I get to learn those tricks without it seeming like we have to talk to the "noob" or the "girl" about what she should buy. In other words, it doesn't put me on the spot. Jared is also really good about recognizing when I am getting frustrated and being sure to frame it as "Oh, when I first encountered that, I was frustrated too. What I found works well for me is to do this." I can't even begin to tell you how much better that works for me than comments such as "Why the **** didn't you buy boots?" or "Have you ever even played this game before?"
Sometimes he asks me why I buy certain things or tells me his experiences where he bought an item for a specific purpose. The key here is that he doesn't present himself as an "expert" and doesn't say these things to make him look better than me. We are just two friends who are having a chat. And when I make what he thinks is a great purchase, he tells me that. For instance, we played a game against each other on the proving grounds map. He kept killing me and I noticed that the damage was mostly magic based. Instead of doing my normal build where I increase my champion's damage, I bought the banshee's veil, which protected me against some of his abilities in certain circumstances. He was playfully "annoyed" by the purchase and pointed out that it was a good buy.
Finally, when people are a jerk to me, and it happens, Jared reminds me about how awesome I am and that I don't have to listen to them. He also will speak up if they keep going about it or if they assume that everyone playing is male. Finally, at the end of a game, he's say something like, "Let's never play with that person again." One nice thing about League of Legends is that you can add random players to your group to fill it out (most games are 3x3 or 5x5) and you can add people to your ignore list to lessen the chances that you'll ever have to play with them again.
I have so much more I want to write about League of Legends, but I wanted to start here. Here are some things my friend does that makes it easier and more comfortable for me to play and I'm digging the hell out of it. I think these things help all players, not just women, so keep that in mind too. Just because a super macho style of play was the assumed default for a long time doesn't mean it has to stay that way.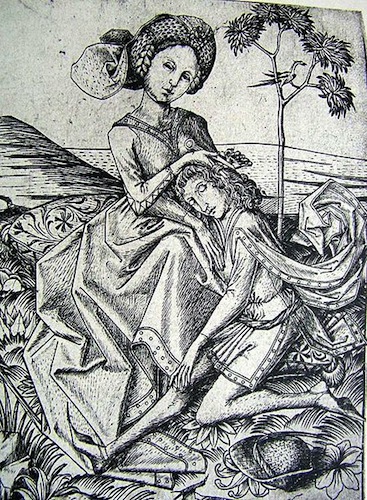 For at least the second time in about two weeks, the whole "fake girl geek" meme has reared its ugly head. There's a belief among a segment of the geek-identified population that there are all these girls and women out there just pretending to be interested in geeky things in order to score themselves a geek.
The Presumption that Geek == Male
There's a trend in these discussions to only refer to fake girl gamers (and almost always phrased as girls, not women) and their attempts to trick geeks (almost always referred to as geeks, not boy geeks/male geeks/geek men). The underlying presumption here is that geek == male. For instance, take this passage from Tony Harris' rant:
You are what I refer to as "CON-HOT". Well not by my estimation, but according to a LOT of average Comic Book Fans who either RARELY speak to, or NEVER speak to girls. Some Virgins, ALL unconfident when it comes to girls, and the ONE thing they all have in common? The are being preyed on by YOU.
He is saying a lot of things about average comic book fans. He is claiming that they are socially inept, rarely or never speaking to girls, that they are male, and are so desperate for attention that they will be easily preyed upon by these women. First, this doesn't match my experiences with the male geek audience. I know plenty who are married or otherwise involved in a relationship with someone. Sure, many of them may appreciate the female form, but I'm a little unclear about how they are being preyed upon in vast numbers.
Additionally, it's hard to get a good read on what percentage of fans are male versus female. One study of self-identified comic fans on Facebook showed some interesting results. For instance, gender bias varies widely by age, with more female than male fans among those under the age of 17. The lowest percentage is about 31% for those 62-64. While people were quick to point out the 7% number for the DC in-store purchases by women, the online survey had the number at 23%, for an overall audience of about 20% women. Similarly, women constituted about 40% of the opening weekend audience of The Avengers, 36% of Dark Knight Rises, and 42% ofThe Amazing Spider-Man . At San Diego Comic Con, about 40% of the attendees were women, and a similar number (40-50%) of NYCC attendees were women as well.
Women's Behavior is all about Men
Another trend in these stories is an attempt to always frame women's behavior in relation to men. The only possible explanation for women dressing this way would be to get male attention. It couldn't be because female characters that show off skin get more "air time" in comic books and in movies and tv shows, leading to greater awareness and recognition of the characters both among those who might cosplay and among the general audience. It couldn't possibly be because recreating some of the gravity and decency defying outfits takes a lot of skill to pull off. It couldn't be because the number of barely clothed female characters far outnumbers those who would meet a more conventional definition of "sensibly" dressed.
A number of studies have found that men are more likely than women to interpret sexual communication from the clothing choices of women and they are likely to misinterpret what is being communicated. The assumption tends to be that a woman wearing certain types of clothes, especially body revealing clothing, is looking for male sexual attention.
You have this really awful need for attention, for people to tell you your pretty, or Hot, and the thought of guys pleasuring themselves to the memory of you hanging on them with your glossy open lips, promising them the Moon and the Stars of pleasure, just makes your head vibrate.
The other ideas, the other reasons why women might wear these clothes, never enters his description. It's obvious to him, and apparently to others, that the only reason these women ever do anything is to get male attention.
So why is that? Well, for one, traditionally many of our stories have revolved around the main character entering into a heterosexual relationship, either "getting the girl" or "getting the attention of the boy." Since our culture tends to celebrate and normalize male aggressiveness and female passivity, the common narrative is one of women competing for male attention through their looks. Other forms of attention compete too directly with men and may lead to a feeling of emasculation. Couple this with the lack of female protagonists and lack of stories that present the female point of view, and we end up with a bias towards interpreting women's activities as centering around men and men's experiences.
Defining Fandom to Exclude Women
Another issue that's part of Harris' rant is the definition of geekdom to center of traditionally/stereotypically male expressions of fandom. Throughout his piece, he shows that he values encyclopedic and "hardcore" knowledge of the characters and their stories, particularly through the comic books themselves, over knowledge of items such as costumes or other ways of consuming those stories. His definition of fan precludes a large segment of the female audience and devalues traditionally feminine hobbies such as sewing.
What we include or exclude can have large effects the overall demographics of the hobby. For instance, in that Facebook survey I mentioned earlier, if Manga is removed from the list of terms, we now have more male than female fans in the age group 17 and under. Likewise, if we exclude certain types of artistic expression, say sewing and costuming, we can dramatically change the demographics.
In his post, Harris does just that:
Your just the thing that all the Comic Book, AND mainstream press flock to at Cons. And the real reason for the Con, and the damned costumes yer parading around in? That would be Comic Book Artists, and Comic Book Writers who make all that shit up.
Besides just sounding bitter, it's clear that he thinks the artists and writers are higher than people who create costumes. It creates a hierarchy that values the contributions that are typically tied to the male creators over female contributions. We see this bias elsewhere too in entertainment. Writing and art staffs in comics, TV, and movies tend to have a male bias whereas things like costuming has a female bias. While both are necessary to entertain the fans, one is valued as being more of a "profession" than the other.
Women as Manipulators
Another common tendency in these discussions is to frame women as manipulators.
And also, if ANY of these guys that you hang on tried to talk to you out of that Con? You wouldnt give them the fucking time of day. Shut up you damned liar, no you would not. Lying, Liar Face. Yer not Comics.
Eve convincing Adam to eat the apple. Delilah convincing Samson into revealing his weakness. The women who are gold diggers and those who supposedly get pregnant to force men to marry them. All these narratives revolve around women as manipulators. Harris' rant is just part of a long line of these stories about women and reveal a fundamental misunderstanding on his part. First of all, why is it that women can only participate in geek culture if they are available (with an emphasis on sexually available) to the people he claims are the typical attendee, the socially inept man? What if I'm married or not interested in men sexually? Suddenly, I'm a liar and not part of comics?
All of these issues quietly lie under the surface of many discussions about women and particularly about women in geek culture. Hopefully one day we can get past them and learn to celebrate the wide diversity within our hobbies. In the meantime, let's work on identifying and pointing out these tropes and their sexist origins where we can. And before he accuses me of being a poser, I haven't cosplayed yet, largely because of people like him who will group me in as people who aren't really interested in the hobby. I get enough of that as it is, thank you very much.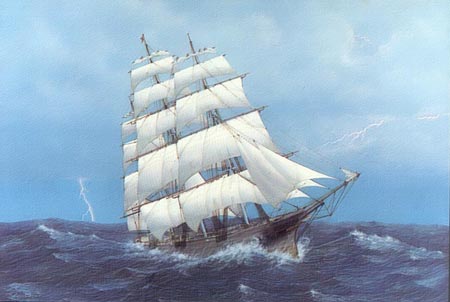 Clipper Ship Lightning by Bruce Von StetinaMy group is using D&D Next as our main system for our new campaign. We did a bunch of cooperative world building and in discussing things, it turns out that they wanted more of a commerce and intrigue based campaign. We threw out a number of ideas but most people really wanted airships.
With their input, I decided to make the start of the game about the development of a new type of ship, basically an air-based clipper ship. For those who don't know, the development of shipping in general and the clipper in particular changed the course of history. In Europe, we had the rise of merchant cities such as Venice and much of early US history and fortune is tied to trade. Shipping also caused a fair amount of disruptions to the status quo and played some role in the development of the middle class.
Clipper ships led to the development of markets for goods that are light and more perishable, such as tea and opium, as well as for passenger travel, given their faster speeds. As such, I think they'll lend themselves nicely to many types of adventures, everything from a time-based run (like Smokey and the Bandit) to transporting contraband (Dukes of Hazard) to important matters of state, both known and unknown. Can the PCs deliver the peace treaty before the general's planned strike? Can the spy get back in time to stop the assassination of the queen?
Once I felt confident that I could do something fun and interesting with the story line, I had to figure out how the PCs would build such a ship. Would I have them design it themselves? How would they fund the building? What I decided was that one of the characters, someone who had taken the charlatan background, won the last notebook of a noted shipbuilder during a card game. He looked it over, saw the applications of such a ship, and found some friends and acquaintances who might be interested in such an endeavor. This gave the PCs a reason to be together (and to look out for one another's interests) and made sure no one character had more power than any other one.
Then came the decision for how to pay for the building. For that, I figured out how much they needed (20,000 gold pieces). Instead of making the rolls binary, there was a scale of money they could get with different DCs. Since there was some randomness to the amounts each round raised, the feeling is a bit more organic than saying, "I need 5 groups you borrowed money from and reasons why they lent you the money."
I then had each of them decide who they would approach and what skills they would use to convince that group to give them money. So one PC comes for an old money family in the town who is currently involved in building ships. She had the nobility background for her character, making it reasonable that she could borrow a bunch of money. Another was from one of the rising middle class families and when the player rolled a 1, she determined that her character's family wouldn't have given him any money, probably saying something like "We had to pull ourselves up by our bootstraps, you will too." Another character owns a tavern in town (he's a brewer) and has connections to the underworld. He used both legitimate and shady connections to raise the funds.
What I love about this is that one day, these groups are going to want to ask favors back. Since the players decided which groups they wanted to involve and they knew in advance that favors would be asked for at a later date, they've been given some control over the types of stories they want to tell. They decided that the legitimate business interests were going to be tea growers and they even want to visit some of the tea plantations to see what the deal is there. When it comes time to figure out who in the underworld provided the funds, I'll be asking the players for their input there as well.
Also, this meant a lot less work for me. I didn't have to come up with all of the ideas of where the story should go but I still have the opportunity to throw in a few surprises. While I realize that this won't work for everyone, it works for me and seems to work for this group. One thing to keep in mind is that some people play D&D in a more competitive way. There's nothing wrong with that, but since the story evolves as we tell it and the players build the world instead of competing against it, it may be less satisfying for those players.
This weekend at Carnage, I wanted a way to store the monster stat blocks without printing them out. I decided to save them as images to my computer using the print preview and grab utility on my mac and then save the files in a special folder on my Dropbox account. Then I went into Dropbox on my iPad and made sure each image downloaded. During the game, I had a set up like this: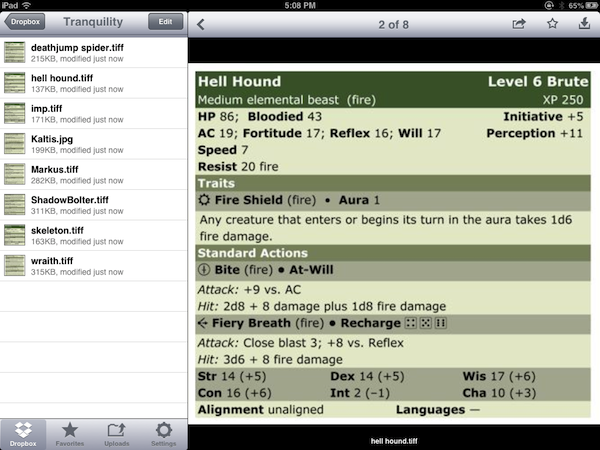 As long as you name the files something easily recognizable, it's easy to jump between the monsters during combat. While this doesn't help with things such as hit points or conditions, I found it quite easy to just write that information down on an index card during the encounter. (While I didn't do it this weekend, I often finding adding damage together easier than subtracting it from the HP pool, your mileage may vary)
It's also possible to do this with the Photos app but the issue there is the names aren't given and it's harder to jump between monsters.
I'm tempted to create a folder with other commonly used information, such as the DCs and damage by level. I'd love to see more products that supported tablets such as the iPad because I personally much prefer this to carrying around lots of pieces of paper, which I inevitably get scattered during the game.
I'd also suggest creating a folder full of level appropriate basic monsters to use when your players decide to do something you didn't expect. For instance, both groups this weekend decided they wanted to talk to someone at the clock factory instead of just barging in. Since I didn't want them to get to the person they were after right away, I added a butler named Igor on the fly. I just reused the stat block for the skeleton, making a few appropriate modifications.
You can also include other goodies in the folder, such as images to set the mood and pictures of the NPCs and monsters. The dropbox app easily hides and shows the folder contents list so you don't have to risk showing your players what they are about to face. Or you can just put them in a separate folder.