Sarah Darkmagic's blog
---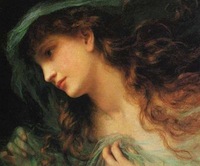 The Head of a Nymph by Sophie Anderson (from Wikipedia)Like many things, my feelings about water-nymphs are a bit complicated. Part of me absolutely adores them. I can't tell you the number of times as a child that I wished I could be a water spirit, free to play in the water all day and night, splashing and roughhousing and exploring the depths of a world that most would never see. As I grew older, their lack of modesty appealed to me. They didn't have to segregate their lives into the sexual and the non-sexual, their sexuality was part of who they were.
Nymphs inspired creativity. They gave life to the wild and the civil alike. They healed. They pulled pranks. They warned heroes of danger. Sometimes, they found their own danger. They danced and sang. They attended the assembly of the gods on Mount Olympus. They were creatures of their own will, outside the the bounds of civilization and etiquette. In these ways, they were women as women were meant to be.
The problem, to me, came in with others, the people who would define them by their sexuality, forgetting about the rest of their nature. The life-giving, nurturing spirits became examples of everything the proper woman shouldn't be. We emphasized their ability to dazzle those attracted to them to the almost complete exclusion of everything else. They became mere playthings instead of givers of life. Their sexuality inspired fear, lest it trap the unsuspecting and soil the otherwise spotless hero. In short, they became yet another expression of womanhood, of femininity, that had to be categorized and avoided at all costs.
Here's how I would love to use water-nymphs in my game, working within the existing legends about them while, I hope, providing them greater depth and utility in games.
Water-Nymphs Lore
Water-nymphs reside in ponds, streams, wells and other collections of fresh water. Each nymph has a home body of water and her connection to that water is so strong that some say if the water dries up, she will die. They are known to be whimsical, beholden to no law or man. They love to play, often basking in the sun or daring each other to aquatic tricks. The water spirits are experts at not being seen although the splashes that result from their quick dives beneath the surface are frequently heard.
The various races differ in their views towards water-nymphs. In some areas, the local populations worship them as water spirits that they believe are the result of dalliances between the fey river spirits and humanoid women. Often, these groups view nymphs as great healers and providers of information. Other areas, especially the more civilized areas, fear them, afraid that their wild ways will entice away their young. In these areas, the people tend to believe that nymphs are not the daughters of the river gods but are instead either young women who ran away from home or the result of unions between seduced young men and the nubile nymphs.
Legends tell of the healing power of water-nymphs, claiming they can infuse small amounts of water with healing energy. However, they must feel moved to do so and cannot be compelled. Water-nymphs often lose this ability in the presence of an evil act (attempting to compel is an evil act) or an evil creature. Some believe the water spirits can sense a person's suffering either by being near him or a personal item, although it is harder for them to sense through the item. When a person seeks healing, family and friends may transport the afflicted to the water's edge and if that's not possible, brings a personal item instead. If a nymph feels moved to help ease the suffering, she will appear and bless water with the ability to heal the afflicted. Rarely, a person is so full of good that a group of nymphs will appear and their cumulative blessing is enough to bring a person back from death if he hasn't been dead more than a day.
(from Wikipedia)Beyond their healing abilities, nymphs are rumored to be great sources of information. Every child knows that voices carry much further and louder across water. As a result, anything murmured near a water's edge is likely to find the ear of a water-nymph. In addition, the various streams, rivers, brooks, ponds, lakes, and other bodies of water create a giant network across the land and nymphs frequently travel to visit one another, trading information as they go. They also can speak with animals, frequently gathering information from the creatures who quench their thirst at a watering hole.
In general, nymphs are most likely to appear before good creatures, although they often are unsure of those who are lawful good. For unaligned creatures, they might appear if the creature tickles their fancy or if sense the creature is a prankster like them. Whenever possible, they hide from evil creatures as the presence of evil takes away their healing abilities.
The daughters of water are able to leave it for short amounts of time, an hour or two during a sunny day to an entire night. If out in the sun, they must take care not to let their skin dry out. They also are able to sense good creatures within a mile of their water's shore. A number of legends speak of a well-timed warning delivered by a nymph who sought out the hero.
Anatomy and Appearance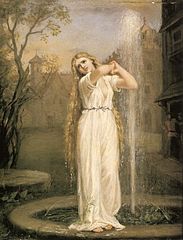 Undine by John William Waterhouse (from Wikipedia)Water-nymphs often are beautiful. While they are not immortal, they have long lives similar to elves, a trait many believe they get from their fey river spirit fathers. Their mothers can be from a number of races, and they often retain a trait or two from them. They have webbed hands and feet and tend to have strong, lean muscles. However, they can appear as a woman of their mother's race, hiding these features at will. When they wear it, they tend towards clothing that is soft and flowing. Their hair is almost always long and loose.
Tactics and Combat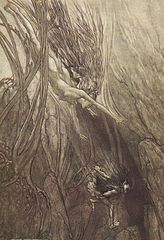 Alberich steals the gold by Arthur Rackham. (from Wikipedia)Rarely will they enter into combat, although they will defend themselves and their watery homes if attacked. Their primary means of defense is enchantment, often through song or the shimmer of their wavy hair. Often one will appear and entice the enemy to follow her into an ambush. Creatures entranced by their beauty will follow the nymph into the water's depths, often forgetting that while she can breathe underwater, they can not, leading them to drown. For those who don't fall to the nymphs' charms, they are adept at spears and nets.
Treasure
Water-nymphs often have eclectic treasures, collected from freshwater shipwrecks or overturned boats, goods washed away in floods, and from the fallen who died in battles in the water. They keep their treasures hidden in deeper water, often obscured by weeds. Underwater, they are fierce opponents, quite adept at quick movements and handy with the spear.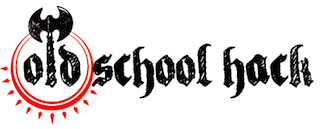 Recently, Rob Schwalb wrote a post on the D&D Next community site asking the community if they thought weapons should have damage types.
[T]he game has handled weapon damage in different ways over its long life. In the early editions, tables reflected how weapons fared against armor types and if a monster had a special resistance to the damage, the information lived in the monster's description. Later, to unify the tech, weapons dealt damage of a particular type (bludgeoning, piercing, or slashing), and the most recent incarnation treated all weapon damage as being effectively the same.
Schwalb, Robert J. Weapon Damage Types
While I realize that D&D Next probably isn't about creating new solutions to old problems, the discussions around this post reminded me of a mechanic I really liked in Old School Hack. In that game, instead of tying weapons to particular kinds of monsters, the most weapon types are tied to the different arenas. The two exceptions are very heavy weapons which are a special benefit in themselves and the neutral arena.
Weapon Type
Bonus
Arena
Light Weapon - Examples shortswords, rapiers, one-handed
maces, daggers, truncheons, nunchucks, clawed
gloves
+2 bonus when used in
Tight Arena - Narrow places that often limit
your mobility somehow.
Reach Weapon - Examples quarterstaff, poleaxe, spear, flail,
net-and-trident, sword-and-chain
+2 bonus when used in
Hazardous Arena - Places where footing is
difficult or visibility is limited
and requires care.
Ranged Weapon
+2 bonus when target is in
Open Arena - Stark, wide-open areas where
there is little to no cover.
Heavy Weapon
+2 bonus when used in
Dense Arena - A crowded environment that has lots of fiddly but smashable bits that might get in the way
Robinson, Kirin. Old School Hack Beta v1.0, p.12.
In my experience, the ties between weapon type and arena made combat more dynamic and made it easier for me to determine my first move in an encounter. If I had a weapon with a connection to a particular arena, I chose opponents in that arena first.
The other nice thing it did was spread out the group and provide natural spotlights. Instead of four or five PCs bunched in one area, we spread out a fair bit more. So even if a bunch of us were just making melee attacks, we were often doing it to different targets in different areas.
Unlike having monster traits that resist or are vulnerable to certain types of damage, this is likely to matter in each encounter. It gives players choices whereas players often don't have a choice in what monsters they face. While I'd have to test it out to be sure, my gut tells me that it's less likely that players will load up on a golf bag full of weapons in this system, since they won't be penalized for not having the right kind of weapon and they are likely to see some benefit in most encounters unless the DM isn't doing a good job of setting up arenas.
As someone who might run the game, I like how it naturally lends me to think about setting up diverse arenas within one encounter. It forces me to think about terrain and to include different terrain types, especially if I want to reward my players' decisions. However, it doesn't give them or me so many choices that I feel overwhelmed as a relatively new DM.
It also encourages thinking about what demarcates the various arenas, leading to richer descriptions in my experience. One example would be a theater. Much of the building is taken up with seats which can be thought of as either dense or hazardous. The stage would probably be either open or neutral. Backstage, with its wandering passages, could be tight.
Finally, the arenas lend themselves to an easy way to physically represent the encounter without drawing out a grid-based map. This is important to me because I often have a hard time remembering things for the short term, especially things that were spoken to me and I didn't write down. I could easily use differently colored pieces of paper or index cards to represent each arena and use everything from minis to glass beads to represent the various characters.
I think, with a little work, this could be layered on top of D&D. What do you think?
With the announcement of D&D Next, I hope to talk about issues of inclusivity and how a game can foster a more friendly environment for non-traditional fans. Over the past two weeks or so, I've been using Pinterest to collect images that are closer to the style and content that I really enjoy. I've also been trying to be more conscious of the media I consume, looking for things that really appeal to them and thinking about why. I hope to do more of these posts in the future but for now, here are a few that stood out to me.
Knight Exemplar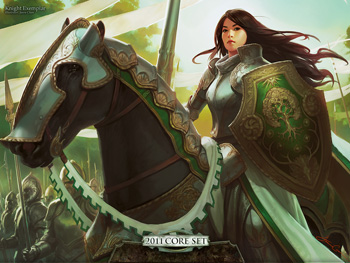 Knight Exemplar from Magic: The Gathering
What I love:
She's part of the army. The card just reads Knight Exemplar. I have no reason to believe that there aren't more female knight exemplars.
While her breastplate is given extra room for her anatomy, it doesn't emphasize her breasts. They are just a part of her, not objects to look at.
She's looking at the camera. While she has an aura of confidence otherwise, she's riding with her back straight and shoulders back and is properly equipped, looking into the camera contributes to this feeling of self-assuredness.
Arctic Druid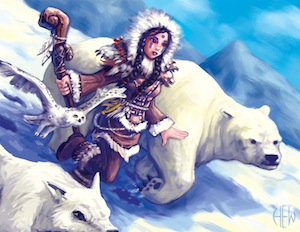 Arctic Druid by Gary Gill (via Deviant Art)
What I love:
Somehow she has been able to get a polar bear, a wolf, and a snow owl all to follow her and not go after each other.
She's wearing something other than Western European clothing. It makes me wonder more about what her culture and her life are like.
It's a scene out of her life. She and her animal friends are going ice fishing so they can fill their stomachs.
Elven Archer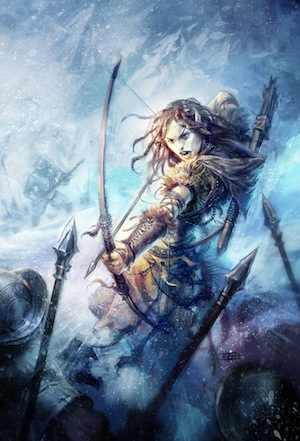 Elf Archer by Michael Ivan.
An action shot where a woman character is going up against multiple foes. What isn't there to love?
It's hard to tell for sure, but it looks like she is protecting a fallen ally. I love when women are shown as martial protectors, not just the people who need to be rescued.
She's determined. I don't think she'll give up without a fight.
The Conscripted Girl Soldier
I love the TV show, Once Upon A Time, for a number of reasons. One of the big ones is that it often passes the Bechdel Test by having two or more women on screen without talking about men or a man. What I love even more is that it doesn't do so at the exclusion of the romantic element.
One scene that got me really excited happened in the episode "Desperate Souls." The episode centers on Rumplestilskin's origin story, the lengths he went to to save his son for being conscripted into the army at the tender age of 14 and how they changed him. It opens with the duke's people conscripting another child into service. However, instead of a boy, they take a girl. Not only that, there's no discussion about whether or not a girl would make a good soldier. The default is gender equality and the focus is on their young age.
Some of you may have seen my tweets regarding the importance of race-based mechanics in D&D, and, if we had to have them what form they should take. My thoughts came as a result of a D&D Next blog post that Monte Cook posted last week. To me, the important part was the following.
Do dwarves have to have special familiarity or even a bonus to use axes for the statement "dwarves favor axes" to be true? Without some kind of mechanical benefit to using axes, many players will ignore the flavor. Others will use axes based only on the story aspect. And if most dwarves end up with longswords because there is no mechanical incentive to choose axes, is that so terrible?
Background
In my experience, this paragraph highlights fault lines in the D&D community that goes deeper than any edition division ever does.
Resource Management and Storytelling
Part of the desire for race-based mechanics comes from the games long-standing war gaming roots. War games tend to model combat, real or imagined, and these models require doing away with the individual differences between units to create a mechanic to represent people or unit of any particular type. You then combine these units to overcome a challenge, usually another opponent but sometimes a specific scenario such as the Battle of the Bulge. Each choice, then, needs to have meaning and have defined pros and cons. We can see these sorts of war game mechanics in many games including Civilization, Age of Empires, and SimCity.
However, much of what made D&D different from war gaming was the shift of emphasis on the group to the individual. As a player, you no longer controlled legions; you played just one character. As players explore this new game, people became attached to these individuals in ways that they hadn't with war games. They wanted their character to be able to go from scenario to scenario while still retaining what he had learned. They wanted a character growth track. They wanted to know, in more detail, what the life of their character would have been like.
Optimizers and Game Balance
Some people are really good at taking a bunch of rules and finding the combination of rules that let them do incredible things. Often, but not always, it's a product of having a fantastic memory, solid knowledge of the rules, and some time to read everything. One of the reasons we often don't let players pick from everything is the fear that people who are good at this will create characters that seem like gods when compared to the rest of the party.
Stereotypes and Outliers
Race-based mechanics have been part of D&D for a long time. Originally, they were just classes, along with fighting-man, we had elf and dwarf. Eventually, the designers decided that elves and dwarves could have classes too, and full equality was achieved. Well, almost. For many, the unique flavor of each non-human race is something that they love and feel needs to be preserved. A dwarf with a sword is, well, no dwarf at all.
Yet the game has changed over the years, as has our society. Fantasy monocultures were brought to us by the same game that had gender and age-basd rules. For some, it feels wrong to summarize an entire race with a few attributes here, maybe a power or racial feats there. Any group of people might lean a certain way, but even within that group there are likely to be outliers. The protagonists in many fantasy stories are often the outliers, they just haven't always figured it out yet.
Support for outliers also has been around for a long time. Dark Sun turns around many of the tropes of D&D. Instead of being lucky and happy, Halflings are feral, cannibalistic creatures intent on making a meal out of your character. Even within core D&D, someone inevitably provides a way to get around the race limitations, often by creating a new sub-culture where things are just a little bit off. Steve Winter describes this on his blog post about illusory math:
Dwarves get +1 to hit with axes.
Some people who like dwarves want to play against type and use spears, but they feel they're being punished for not using axes (as, in fact, they are). So ...
The rules inject a slight tweak that lets dwarves get +1 with spears if they never braid their beards.
Checking the Community's Pulse
The D&D Next post also had a poll asking readers to choose between these options:
Flavor stands independent of mechanics.
Flavor should be backed up by game rules.
Each time I've checked the results, the second option had the most votes, with about 60-62% of the total responses. It's easy to say, well the second item "won" the vote, so that's what we are going to get. However, I feel that's too simplistic of a view to take. If the goal is to unite the most fans as possible, we can't leave out approximately 40% of the audience. Besides, there might be a large, middle of the road audience that this poll fails to capture but should have their needs met as well.
Instead, this poll went to the extremes for a reason. I think the designers and others wanted a gut check to see whether what they thought they should do when they had to choose one over the other. At least, that's what I use polls like this for in my day job. And if I saw a split this close over a question that should drive people one way or another, I'd be looking at new solutions that would work for both groups.
This post is long as it is so I'll write about my suggestions for race soon. I'm also interested in what you think of this look at the tensions in the community and the results of the poll.
Each edition seems to have its own way of dealing with skills. While I haven't had time to study each edition, I think I've had enough experience with each of the systems I discuss here to give general impressions about the system and some observations on how I react to each.
Before I talk about expressions of skills in each of these editions, I'd like to lay out two ways skills are often used in a D&D game.
Skills as Resources
For some, skills constitute a resource that players invest in or not. When used this way, the DM generally presents a more generic challenge to the PCs, such as traveling a long distance through the wilderness. If no one in the party chose skills to help with such a challenge, the hope is that the characters spent other resources, such as silver and gold, to obtain resources to help them through, such as a map, rations, camp equipment, hiring skilled allies, and the like. If they didn't, then they often suffer the consequences of their choices by getting sick, starving, not resting well, and the like.
Skills as Adventure/World Building
For others, the skill choices serve as a menu, allowing the player to tell the DM what sort of world they expect. In this play style, if no characters took wilderness survival skills, it's possible that the DM won't ask the players to play through a survival scenario unless the scenario was very important. Why would a group of people untrained in the arts of the wilderness enter it when they could do x, y, or z instead. Likewise, if a player takes a skill such as blacksmithing, that's a clear message that the player is interested in having that trade be part of the game. Additionally, this way of handling skill choices can make it easier to game with a smaller group without adding the complication of henchmen and other skilled NPC allies.
Not all games will be one or the other. Some skills lend themselves more one style over the other, for instance, a skill such as balance might be something we want to view as a resource a player either invested in or didn't whereas sailing would be part of adventure or world building.
Expressions of Skills
In the Fellowship of the Tweet games I was in, we used OD&D (Rules Cyclopedia). In that game, the only defined skills I could remember were set by class, with the thief having the majority of them. For instance, when we wanted to climb, I believe just the player of the thief made the check for the entire group.
Observations:
• When limiting skills to a particular class or character build decision, they can become more memorable. I didn't read all of the rules and we only played a few sessions yet I remember this about our game.
• In a game where you combat should be a component but not the focus of the game, having characters that are poor in combat but useful outside of it helps spread the game's emphasis since the DM must run non-combat scenarios to ensure the spotlight spreads around to all players.
• If the skills are only available to certain classes or character builds, the game may become too limited for many players. Furthermore, it may force a player in the group to play a character class he or she doesn't want to because the group would be missing a crucial skill otherwise. The most frequently cited example is people feeling they had to play the healer.
• It may be difficult, if not impossible, to use skill choice as a world/adventure building engine in this system since other factors are much more likely to enter into the decision of which class to pick. The presence of particular skills has less bearing on whether or not the player is interested in playing out that skill.
• For new and casual players, the system may be easier for them to use. It's also might help players who are used to more clearly delineated races and classes.
Another skill system I have experience with is the skill ranks system from 3.x. In this system, the skills are, for the most part, codified in one place instead of being mixed in with the various classes and other character build options. Every character has access to every skill. Classes favor certain skills, giving the player a bonus for taking them. Players start out with a certain number of skill ranks when they start the game and gain additional ones each level. Some skills can only be used while trained.
Observations:
• This system supports both skills as a resource and skills as part of world/adventure building.
• The combinations are limitless. Players can go deep in a small set of skills or cast a wide net.
• World building skills are mixed in with necessary combat and other play skills, making it harder on both a DM and player since participating in world building might come at the expense of effectiveness within the party.
• Not all players want the depth of choices nor do they want to revisit skill selection at each level. Since the skill system touches so many different levels of the game, it serves as a barrier to entry for some players.
• The system needs to set limits on how much advancement in a particular skill a character can have compared to its level.
The system I'm most familiar with is the 4e system. In 4e, we have a stripped down skill list with many skills from earlier editions combined into one, such as Spot and Listen becoming Perception and many of the Knowledge checks becoming part of History, Arcana, Religion, and the like. During character creation, players decide which skills they want to train in and skill modifiers go up by ½ level throughout the character's career. Generally, class choice decides which skills are available to a character, although that may be modified through themes and feats among others.
Observations:
• The system is a simple yet flexible framework to help DMs adjudicate non-combat and even some combat actions.
• The training system and automatic leveling makes the game easier for new and casual players since a player makes the skills decision once instead of each time the character levels. The skill system is also tied into fewer other parts of the character so it's easier for a new or casual player to make an informed choice.
• The system lacks depth for invested players and training in new skills requires a player to expend resources that might be used to produce a more effective character for combat.
• The skills available are spread across the classes, akin to the OD&D model but a few character build options open up other skills to characters.
My Preferences for D&D Next
I've spent a lot of time over the past week or so thinking about these. They each seem to be on a continuum of complexity. For new players or those who don't want to invest a lot of time into skills, do something more akin to the OD&D model. For each class and race, provide some skills that they would be trained in. No decisions need to be made by the players. For other players, do the trained/untrained model with auto-advancement. Finally, for those players who really enjoy the complexity, let them move around the points as they wish, still keeping some limits on the highest some skills can get in relation to level.
I'd also love a discussion of the two ways to use skills and a vocabulary to help the DM and the players communicate the sort of game they want or expect. I suggest that some skills might only be made available on an adventure or setting basis. If an adventure or setting is likely to call for a sailing skill then it will be present, but if the game is in the middle of a desert, then it's not listed. In addition to class, I'd love skills to be tied to the character's background and culture.
Finally, I'd love to see tools for the DM to use to make skill use more important in the game. In a resource management scenario, such as a survival game, rolls regarding food finding might be pretty important since lack of food might trigger starvation or other effects. On the other hand, I've been in plenty of games where no one wanted to play that out, and instead wanted to concentrate on other areas of tension and story.
So that's where I'm at with skills. How about you?