Blogs
---
I borrow from older modules to add interest to my game. One of my favorites is L2 The Assassin's Knot. In addition to having a lot of great description and fluff for a small to medium sized city, it contains a few nice, highly-detailed items. These are concepts one could use in any campaign either as they are or modified to fit your world better.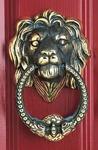 Top on my list is the "racist" doorknocker. The front door to the castle has a carved lion face holding a door knocker in its mouth. When certain races approach, namely dwarves, elves, or halflings, the magical spell activates and the door starts crying out, "What are you doing here? Guards! Guards!" When the door first did this, my players were pretty surprised. They had a good laugh when the lord of the castle apologized and explained that the door was made during a different time and place. They are trying to fix it, but just haven't had time yet. It set the tone of the campaign area as one where the characters have gotten past most of those sorts of superficial issues even though there was real strife over limited resources.
Another great item is the Statue of Kord. Inscribed into the base of the statue are the following words, "Bring not might of arms to the door of the fortress lest I strike you down." The statue means what it says. Passing by this statue with weapons drawn means chancing an encounter with a watcher. Characters get one warning to put away their arms or they risk getting hit by a bolt of fire. None of my characters caused the statue to arm, so I didn't get to use it in the current adventure.
Besides physical items, the detail of the town's social scene is quite intricate. One nice element is the existence of a "retired" adventuring party in town. This group gave me a lot of tools to use in helping my players accomplish their goals without taking the spotlight off of the PCs. The PCs didn't have to go and convince every member of the group to help them with their quest. Once they had one or two members on their side, getting the others to help was easy. Members of this group also could be sent off to perform more mundane tasks which would otherwise require splitting the party and might seem boring to the players.
These types of details make all the difference in giving players what they need to role play. Even a few minor items can provide a fair number of cues in social interactions.
Sometimes, you just need to have a little fun with your game. I posted this to my gaming group back when I started playing.
Tommy: We now go to street reporter Nancy Nochers. Nancy, how are
things in the streets of fair Winterhaven.

Nancy: Tommy, not well. A malaise has crept over the town. It feels
like the day after Carnival, only I didn't wake up wearing a ton of
beads. For more information, let's talk to some of the locals.
Sammy, what do you think is going on?

Sammy [surrounded by a cloud of smoke]: I don't know man...it's just
so...heavy...you know?

Nancy: Sadly Sam, I do know.

We are now in front of Ol' Saul's house, better known as that crazy
guy up the street who goes outside in his boxers and yells at the
kids. Saul, have you ever seen anything like this?

Saul: Get off my lawn!

Nancy: Um, ok. Wait there is Pete the Priest. Father Pete, what do
you make of what's going on?

Pete: The end times are upon us. Only by giving everything you own
to me, I mean my church, will you be saved.

Nancy: Well Tommy, there you have it, the word on the street.
With a year under my belt, I've been looking back at my blog post and game session notes from my very first D&D game. It's been interesting reading them, as both were the first things I had written for approximately 8 years. My blog post seems so strange to me because I remember that I had curtailed my writing for fear that I would just appear to be silly on the Internet and my session notes lacked the sort of flowery and descriptive style that I love. Both speak volumes about how nervous and unsure I was of myself at the time, as I tried to do something I had never done before in front of people I really like and respect.
Due in large part to my insecurities, my prep for that first game was intense. During work, I listened to first series of the PvP/PA podcasts again and again. I would highly recommend them to any new players since many of the basic rules are explained as they come up during the game, making it a great tutorial as well. Since I wanted to surprise my husband with my character, I spent lunches and breaks reading the Player's Handbook. Fortunately, I worked from home at the time, so hiding my activities wasn't that hard. Even with that preparation, I remember how intimidating the character sheet appeared. I'll be honest, I could not figure the darn thing out. I finally found a spreadsheet online that made things a ton easier as I tried to figure out AC and basic melee attacks and the like.
Beyond creating a character sheet, I knew I also had to create a character. This part was really easy for me. I decided that since the podcasts were the reason I would start playing, that my character would be a cousin of Jim Darkmagic. I also knew that our particular party needed a rogue as they had been begging me to play one for a good month or two. Ok, maybe not begging, but I think at least one member asked every week or two. And after thumbing through the Player's Handbook, I really liked the half-elf race. So now I had to draw together Jim Darkmagic, a half-elf, and a rogue. For me, this part was rather easy. I love creating stories, songs and even silly rhymes. If you're interested, I wrote a bit of Sarah's background here.
With the background story items done, I asked my GM for a few special mundane items for character flavor and created stories for the rest of the items Sarah had on her. The first special item was a Locket of Everlasting Warmth. Mechanically, it does nothing, but storywise, the locket was created by her father Stephen. Whenever she clasps it in her hand, Sarah fells surrounded by the warm love of her family. It seemed perfect for an insecure woman out on her own for the first time. Her second item was a never-ending journal so she could write and write without fear of running out of pages or having to get rid of older journals. Beyond that, she had a set of fine clothes, a going-away gift from her parents so that she would never encounter a situation where she lacked the proper dress, a henna kit so she could reapply her tattoo of Sehanine, and a long sword, from the wife of the missing Douvan Staul, in hopes Sarah could use it to help find him.
Finally, the big night came. I was so incredibly nervous. Two of the four people at the table knew of my plans and my husband was not one of them. I did my normal wife of the host chit-chat before the game and settled down on the couch to "read" while they started their game session. I impatiently waited for my cue, the time I was to come and introduce myself to the party.
Fortunately, they were in a position where such an introduction was easy to do. They were running through Keep of the Shadowfell and were currently waiting outside a waterfall. The elven ranger, Lucan, heard Sarah's approach first, and warned his party. Once the GM described the situation of a young half-elf woman appearing from the wood and announced that it was Sarah's turn, I approached the table. Many of the players were a bit confused by this announcement. Trying to project but failing terribly on the account of nerves, I said "Damn, looks like I missed all the action again." My husband turned to look at me with a bit of a blank expression, as if I was there to get a hug or to tell him I was going to head to the store. I let it hang in the air for a beat or two and then said, "Sorry, where are my manners, my name is Sarah." With him still a bit shocked, I pulled my chair up to the table with my character sheet and pencil in hand (I hadn't had the chance to get some dice in the mean time).
With hasty introductions accomplished, we turned our attention on the waterfall. I don't want to spoil the fight for anyone who has yet to play Keep on the Shadowfell but let's just say it's a pretty hard fight. I rolled initiative pretty well which was a blessing and a curse. As a rogue, going first gave me some bonuses, but it also meant I got myself into trouble pretty quickly. Soon Sarah was surrounded with no easy way out. At first, I panicked a bit, which is exactly what my character would have done. Eventually, I gathered my wits and begin using her powers that pushed enemies around. That enabled our paladin to get close enough to heal her and then switch places with her. From there, the tide began to turn and I'm pretty sure I was able to bring down some more of the enemies. Perhaps just as important, my crazy defender-like antics meant the ranged striker and wizard were able to get some great shots off without being harassed.
Although it may sound strange, my first game wouldn't have been as exciting to me if it wasn't for that encounter and my mistakes. Likewise, if the GM had pulled his punches and gave me a free pass instead of having the enemies surround me, there is a good chance I wouldn't have continued with the game. When that situation happened and no one rolled their eyes or made fun of me, I knew that I had found my group and that I would be back to play. And well, you guys know the rest.
One of my rewards for DMing some games at PAX East was a copy of the Hammerfast rules supplement. Since it was on my list of things to buy, this was a real win for me. Now that I have some time to relax and am feeling a lot better after my battle with PAX Plague, I've been flipping through it and, I have to admit, I really like it. There is a lot of detail with all sorts of buildings and shops, NPCS, and lots of flavor. To be honest, it feels a bit like the old adventures I've been reading, since the pages are in black and white with line drawings and there is a lot more intrigue and connections. And the included map is great, with the entire town laid out on one side. The scale on that side of the map is a bit smaller, so you might want to use something other than minis to mark your parties' progress through town.
Ways to use Hammerfast:
As the home base of a new campaign - There is a lot of detailed information packed into this slim volume, everything from history to buildings to holidays to NPCs. You can easily find an adventure hook to get the thing started and make it come alive with some of the background description. Personally, I would be tempted to start an adventure on the Seige Day holiday. There's just something stunning about the spectacle of a horde of orc ghosts running down the street, reenacting their attack.
As the basis of a city in a homebrew - Have a homebrew? Why not steal bits and pieces of the city for your world. Many of the villain groups could exist anywhere or maybe you just want the map. I'm probably going to use the city as a whole as the dwarven city in my campaign.
As a learning tool - I'll admit, this is the main reason I wanted to get this book. I really like the similar town treatments given in other books, including the Dungeon Master's Guide, but those were still fairly limited in scope. I'm going to be studying this book along with the DMG suggestions for world building to see what I can do better in the future.
Now I just need to sell my players on the wonders of the dwarven city of Hammerfast, I mean Andernach.
In addition to completing my personal challenge of writing an Underdark adventure, I participated in the DM's challenge during PAX East. Since I'm going to rework parts of that adventure, I don't want to post the story yet. However, I'm more than happy to post my map notes.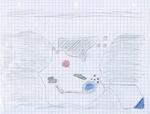 The first encounter occurs when either the party stumbles upon a Quaggoth hunting party or the hunting group stumbles upon them. The area is a pretty decent camp site, with fresh water and it's a bit easier to guard than an open area. The small circles on the right denote Sporecloud squares, which provide concealment once engaged. There is also a nice fire pit, probably created over time by wandering adventurers.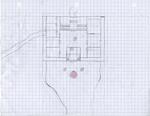 Next up is the old dwarven outpost which marks the entrance to the mine. Quaggoths have taken the thing over. Archers and a chanter guard the front door from above while two berzerkers watch from the campfire below. I had a skill challenge at the end of the earlier encounter, and groups that pass that challenge are given information about the secret passage. That gives them a slight advantage in the hardest fight of the adventure.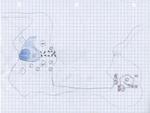 This map encompasses two adventure areas. The first is a small cave filled with myconids and geonids. Only fairly perceptive players will notice the latter, as they look a bit like the other boulders dotting the area. The second area is the home of a dark creeper necromancer and his zombies. The zombies have been taking the bodies of Quaggoth's victims and dragging them through the myconids' territory, so the two groups aren't exactly friends. Insightful adventurers might be able to use this fact to negotiate with the myconids for safe passage. The main terrain elements in the first area are the waterfall that leads into a pool and the slime between the two geonids. When I ran it, the slime became difficult terrain but if I ran it again, I would probably make it slippery and require an acrobatics check to avoid ending up prone. In the second area, there are blood soaked squares that award critical hits on a roll of 19 or 20.
I'd love to thank the people who give me some hints and advice in regards to this adventure: Phil, Randall, Jonathan and Jason. They are all great guys and I wouldn't have had the confidence to run it without their help.