Blogs
---
On Friday, I got the chance to do something really awesome. Chris Sims tweeted that he needed a break. I offered to amuse him. He took me up on it and what resulted was a bit of interactive fiction. I had a lot of fun with it and I loved the challenge of creating the story on the spot. With a little more development, it even might make a great solo adventure.
Me: You awake to the sound of water dripping into a shallow pool. As you shake the fog from your head, you hear footsteps approach. Looking around, you find yourself in a small room. The door looks sturdy and strong, with a small, barred window near the top. As the footsteps approach, you hear the jangle of keys. The steps lack a steady rhythm, in fact, you sense no rhythm at all.
(A brief aside)
Logan: Into view steps Crispin Glover, wearing a suit made of nothing but keys and Scotch tape.

Chris: Since I have crispinglovophobia, I have a heart attack.
Me: You notice that your arm is chained to the wall, but the chain is old and rusted. A good pull might free you from the stone.
Chris: Which arm?
Me: Your right arm.
Chris: So the pain in my left arm is possibly a heart attack, but possibly a buritto. pull the chain out of the wall. (Improvised weapon FTW!)
Me: With a hearty pull, you are able to free yourself from the wall. The steps get closer, close enough that you can hear the source stop every minute to gulp down more liquid.
Chris: Can I lift the burrito?
Me: Sure :-)
Me: From the way the hall echoes, you figure the source of the footsteps is about 15 feet from your door.
Chris: I hide.
Me: You quickly look around for somewhere, anywhere to hide. Seeing no obvious hiding spot, you press yourself against the wall on the hinged side of the door, steadying yourself as much as possible. As you get yourself set, you hear the breath of the guard and can smell the whiskey on his breath. He starts to try his keys, cursing under his breath, until he finds the right one and slowly opens the door, entering as he does so. He rests for a moment against the frame as he tries to spot you.
Chris: "Hey, drunkie, want this burrito?"
Me: "Huh? What?" In his druken stupor he moves further inward, and starts to lose his balance.
Chris: I hand him the burrito. "@countingku said this was for you."
Me: You take him by surprise and he takes the burrito from your hands. "Thank you, this is just what I needed." He sits down against the wall, and promptly falls asleep mid-bite.
Chris: I take the burrito and the whiskey, and the keys and his shoes. Then I scarper. But then I go back and take his wallet, too.
Me: Do you want his hooded cloak as well?
Chris: Hmmm. What does it smelll like? What color is it? Does it match his socks?
Me: Like his socks, it is a dark red. They comprise the uniform of the prison guard. It smells like lavender and used whiskey.
As you leave your cell, the hallway expands in both directions. You hear the sounds of someone quietly crying, from the direction the guard came. It's more of a whimper and a bit high pitched.
Chris: I yell, "Hey, keep it down!" as I put on the cloak.
Me: Your voice echoes down the hall. The crying stops, but a plaintive female voice answers back, "Who...who are you?"
Chris: "Don't you know me?"
Me: "You must be the newcomer, but you don't sound like you are in your cell. Have you escaped? Please, please help me."
Chris: "Newcomer, huh? Where are we?" I go toward the cell but look into any others I pass.
Me: From the quick glimpses you get, it appears the people in the other cells have their spirits broken. They actually turn away from the door as you pass. However, she is looking straight through the bars at you, her eyes full of hope. "We are in the prison of Ashkabar. I know not your offense, but mine was refusing to honor the king's son with my presence." One look at her even in her current state, gives you the full meaning of her words.
Chris: "That makes two of us, lady. Have you seen that guy? Sheesh! What say we get outta here?"
Me: "I would love nothing better. I know a way out. They don't like the lack of comforts here in the cells, so they...take me...."
Chris: "Wait, what? They what?" I unlock her cell door.
Me: "to another one, one with a window. We'll still need to make our way out from there, but it is easy to get to. The guards tend to leave it alone unless they are...visiting with a prisoner." You quickly find the key that unlocks her cell and the door opens. You notice that she is not chained.
She takes your right hand in hers, and closes her eyes. Lightly running her fingers over the wounds, you feel the pain recede.
Chris: "Hmmm. Thanks. Hungry? That's a burrito in my pocket."
Me: "I'm starving. But we must move quickly. This way, come quickly." She grabs your hand and leads you down the hall.
As you get closer to your destination, they decor changes. The stark stone walls now have decorations, tapestries and paintings. Alcoves dot the hallway, holding sculptures and other works of art. As you near a corner, you can hear two people approaching.
Chris: "Hey, take my cloak."
Me: She quickly takes the cloak, pulling the hood over her head. You can see the shadows of the approaching figures; their footsteps growing ever louder.
Chris: I pull down a large tapestry and hide us under it.
Me: The guards round the corner. You notice that the foot steps stop for a moment. Then a low chuckle replaces the silence. "Be sure the replace that before Prince Kagen sees and puts an end to our fun. The room is free, if you want it." The steps continue past you and slowly fade from hearing.
Chris: "We'd better hurry. They'll be back soon." I get up and go, then remember she has to lead.
Me: She takes you by the hand and you both run towards the room. She lightly knocks on the door, waits a moment, and then slips in. The room has a sturdy bed, with simple bedding. There is a window. You look out it and notice it's about 20 feet off the ground. A small ledge decorates the building and a thick tree limb is about five feet from the window.
Chris: What's lighting the room?
Me: Currently, it's moonlight streaming through the window. The moon is full, providing light yet still many shadows.
Chris: What's lighting the hall?
Me: Oil lamps line the hall. It appears that the oil was recently replenished for their wells are quite full.
Chris: I take one of the lamps.
Much of my session planning starts with a focus on a little tidbit, usually an event I would like the PCs to participate in. Then I work backwards to figure out why they might be there and also try to tie it in with the rest of the story. For instance, when I wanted to do a play on Rumpelstiltskin, one of the NPCs asked the party to deliver a baby blanket to her niece. When they delivered it, the niece was obviously upset and the PCs were able to figure out that she had promised her first born to a goblin. From there, they were able to explore further and learn about the oni, C. C. Clementine, and her business procuring hard to get items.
Recently, the Shadow Army introduced itself to the PCs via a raid on the Tower of Lilith. But, to be honest, I wasn't really sure where to take it from there. This morning I started playing with words and created a poem[1]. I'm finding it a great jumping point for filling in the info about the army and the motivations behind those creating it. For me, the nice thing about planning this way is that the end event isn't defined but its flavor is. This allows me to adjust things according to player wants and desires while still being able to give out hints and move the story forward.
Beneath the earth in rock so deep
lies a shadow bereft of sleep.

Yet he dreams of the day,
when he'll be free and minds will sway.

Shadow legions will hear his call.
The good will turn, and their cities fall.

Oh, how great the feast will be.
When the door opens and he is free.
Since I'm not sure how much information I'll give the players at the next session, I'll have to leave it there for now. But I can't wait to see what unfolds.
[1] Oh gosh, a footnote. There are some issues with the poem structure but it's for a game and doesn't need to be perfect.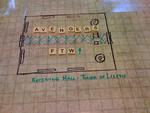 Since not everyone had read the teaser before the session, we started off by having one of the players read it at the table. We started the session with the PCs in the receiving hall of the Tower of Lilith. The party, particularly the bard, was in the midst of a discussion with the Handmaiden of Lilith, Elessandra. Pretty early in their conversation, they hear a blood-curdling scream that is cut short. The PCs turn to see a woman and child running towards them while 3 creatures attack the Mirror Keepers, felling them instantly.
Setup
Round 1
1 Dark Mastermind (Level 8 Elite Lurker) [DDI]
2 Dark Servant (Level 8 Skirmisher) [DDI]
Round 2
1 Kir-Lanan Voice (Level 6 Controller Leader) [DDI]
Round 3
1 Dark Mastermind (Level 8 Elite Lurker) [DDI]
2 Dark Servant (Level 8 Skirmisher) [DDI]
Note: I adjusted the levels of these creatures using the Monster Builder.
The creatures come out in stages to add to the drama of the situation (light being extinguished by the dark). The Kir-Lanan came out of the same mirror as the first group and used the top of the mirrors to perch (Reach of 2+ needed for melee attack from ground). The creatures in the third round came out of a mirror on the opposite side of the room, making it harder for the ranged PCs to stay out of melee range.
A bit of flavor was that the Dark Servants were reskinned to be normal looking humans with a black collar around their necks. Their shadow powers seem to come from those collars.
Outcome
With a lot of effort, the party was able to kill all of the dark servants and one of the masterminds. The other mastermind and the Kir-Lanan were able to escape back through the mirrors. Our session ended with the encounter, and the rest of the aftermath will take place next session.
Improvements
Add a skill challenge to turn off the mirrors during combat. They would have had to work quickly for it to work but might have been interesting.
Add a series of skill checks or a skill challenge to disable the collars during combat. Shouldn't totally disable these creatures, but could have removed the shadow keyword and maybe a power or two.
Notes
My players really worked through their resources on this one. Many dailies, encounters, action points, and healing surges were spent during the encounter. Had this been part of a series of encounters between extended rests, some of them might have been in trouble at the end of the series.
I was a little sad about running this encounter. My mind is always coming up with stories and I have to admit the Tower of Lilith is one of my favorites. I almost didn't run this part of the adventure because part of me wanted it to remain unscathed. But the truth is, it didn't really make sense for that to happen, and the encounter was just too nice to pass up.
I just sent this to my group's discussion list which means I finally can share it with you all. When time allows and particularly after missing a session or two, I like to send a teaser that helps set the tone of the next session. I really wanted this one to be special and I hope my players think it is too.
Our last session left off with them traveling through the mists at the center of the Lake of Lost Memories. Legend holds that the mists part for those who are in need, and, well, we left the last session with the mists parting. Tomorrow night, they'll get a chance to see the islands of the mists for themselves and maybe even meet Lilith.
As the boat approaches the islands of mist, their features become clear. One larger island is surrounded by three smaller ones, with arching bridges connecting them all together. On the hill of the center island stands a magnificent temple with a solitary tower rising from the center courtyard. Light appears to radiate from its walls. One thing that becomes instantly noticeable is the lack of any defensive measures. There are no city walls, no gates, nothing but open space, punctuated here and there with a home or shop.

As the boat lands, a small group of townsfolk comes up to the dock. One of them steps forward and shouts a hearty and heartfelt welcome, "Hello and welcome to the islands of the mists. Fear not, for you are safe." As you disembark, he organizes the town folk to help you with any of your things and offers to show you the way to the tower. He introduces himself as Tellador and you notice that he is missing his right hand.

While your eyes continue to watch the light dance off the tower, you take quick glances at your surroundings. The rest of the island is covered with modest homes and shops, backyard gardens and children playing. The people themselves walk around with a radiance that comes from true happiness, yet ancient lines of worry have not been completely erased from the faces of some of the older residents. No one carries any weapons, just tools of their trades. Many of them echo the same welcoming sentiment as Tellador, offering you food and their assistance.

As you approach the tower you notice that it looks to be from another time. Reliefs decorate its walls, depicting the stories many of you heard as children. The entrance is a set of wooden double doors, decorated with flowers and vines. Two stone lions guard the door, with necklaces of fresh flowers adorning their necks. A calming presence washes over you and you get the sense as though the tower just has always been.

You are led into a receiving hall, its walls decorated with huge floor to ceiling mirrors. Small groups stand beside a number of the mirrors, quietly discussing matters amongst themselves. On the opposite side of the room stand two chairs. A large one, ornately decorated with vines and flowers on its legs and arms and two doves forming a heart at the top of its back, sits empty. In a simpler one sits a woman dressed in a simple white dress tied neatly at the waist with a belt of red silk. Behind her are another set of wooden double doors, decorated with reliefs of doves perched on the branches of a young tree. As you approach, she rises and addresses you.

"Welcome," she says, "I am Elessandra, handmaiden of Lilith. We welcome all who are in need, particularly those who travel through the mists."
Recently, my emphasis has been on playing boldly. A lot of that is due to the play-by-post campaign I'm in where my swordmage is getting the reputation of being a bit of a loose cannon. However, I don't want to leave out another aspect of playing I really love, playing deeply.
When I say this, I don't mean amateur theater at the table. If that's what you and your table are into, great! But I'm a bit too shy for that and I'm not sure I would have the support of my table either, unless I was really funny. What's great about playing your character deeply is that most of it happens between your ears and no one else has to know about it for it to be fun and exciting.
Perhaps the easiest way to explain the phrase is to give an example. First, a spoilers warning because my example comes from my very first campaign where we played Keep on the Shadowfell. My poor little half-elf rogue/warlock was acting as the tank. Since it was my first character, I made this her first time away from home, so we could both be scared together. My group was in area 7, the Skeletal Legion right outside of Sir Keegan's Tomb. Soon we were surrounded by skeletons. The party wanted Sarah to check over in the chapel area to see if she might be able to disarm the sarcophagi. When she got there, she was confronted by two altars. Reliefs behind them depict soldiers in plate "on their knees in prayer." She frantically searched for a switch or anything that she thought might stop the skeletons but found nothing. Taking a moment to look around she noticed the reliefs.
"Guys, I think I need to kneel."
"Well do that."
Sarah kneels. "Ok, any ideas of what to do now?"
Around this time, one of the party members who could read Draconic finally made his way down and read the inscription. Sarah quickly offered some words of praise to the Platinum Dragon and the skeletons stopped attacking. I then proceeded to "collapse" at the table, resting my head on my forearms. "I think I need to kneel," I giggled and the rest of the table laughed with me.
To this day, my husband and I will randomly say something from that game that to each other whenever we need a little laugh. However, if I had never bothered to get into my character's head, it never would have happened. Doing this might not be everyone's favorite thing, heck, my favorite part of D&D is battlefield tactics. But I find getting into my character's head brings the tactics to life and increases my fun. Do you have a favorite "play deeply" story?