Blogs
---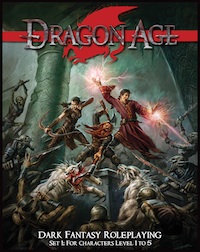 One piece of advice I've received from multiple people I trust is that I should learn about games beyond D&D. Not only will they help me learn how to become a better GM but this knowledge is essential if I ever want to become a game designer/developer. That advice along with my general love of learning pushes me to expand my RPG knowledge. With that in mind the other night, I picked up the Game Master Guide that came in my Dragon Age RPG boxed set. This book is full of great GM advice, useful in other games as well. I'll discuss many of them in a later blog post but for now I want to discuss the Dragon Die mechanic in the game.
Unlike D&D, where skill checks are made using a d20, Dragon Age uses 3d6 for the roll. This change has some mathematical arguments in favor of it, many of which Chris Sims discussed in his article, Dice Heresy, on Loremaster.org [1]. This change to multiple dice does more than change the mathematics of the roll. For example it opens the possibility of adding a rich dice mechanic [2]. Dragon Age RPG does this through the introduction of the dragon die. I may be oversimplifying this, but skill checks are called tests in Dragon Age. Some tests are binary in nature, all that matters is whether the character succeeds or fails. For a success, the overall roll has to cross a particular threshold. Other times, however, we care about a degree of success. For instance, when convincing a merchant to lower his price, we care not only about whether or not he lowers the price, but the degree to which he does so.
In the Dragon Age RPG, one of the 3 dice will be a different color and is called the dragon die. This die determines the degree of success for non-binary tests. So, in the bargaining example, the character attempts to negotiate the price, either against a fixed threshold or against an opposed roll. If he succeeds in his test, the GM would determine the degree of success by looking at the result on the dragon die. Perhaps the discount is a multiple of the value on the die or the merchant's feelings about the character change. The GM only has to worry about 6 possible values and can group these values as she sees fit.
Now some examples of degrees of success exist in D&D 4e but they are often tied to the overall result. Monster knowledge checks result in different amounts of information depending on the result of the die roll. The horizontal distance jumped is calculated by dividing the die roll by 10 (5 with a running start). Many areas where we have degrees are used to tell us how badly we fail rather than how well we succeed. For instance, failing a swim check means you stop movement. If you fail by 4 or less means you are able to tread water whereas a failure by 5 or more means you sink a square.
Introducing degrees of success to D&D 4e also brings with it a number of complexities. For some checks, we might not have the granularity we want for a particular die roll. For more difficult challenges, we have fewer likely outcomes above the threshold, at least for some players. Yet these tests are the ones where we are most likely to want to provide different degrees of success.
We also have the difficulty of determining what intervals to tie these results to. The range of outcomes for a particular skill varies greatly between players. If we tie a particular degree of success to a higher threshold, it's possible for that success to just not be possible for some of the players at the table. Now, for some narrative elements this makes sense. Perhaps a player shouldn't be able to jump across a chasm without falling prone unless they can beat a hard DC + 5.
Finally, a nice part of the dragon die is that they allow us to randomize what a success means, allowing us to add interesting complications. Instead of dealing solely with degrees of success, we can use the result of the dragon die to pick randomly between 6 outcomes of equal value. Each of them could add a different complication to the result with none of them being harder or easier than the others. In the heat of the game, I'm often terrible at this, not wanting to screw my players even though I know at the end of the day the game will be better if they have interesting choices to make.
Of course, this points to a potential downside of this mechanic. If I roll 6s on my other two dice and have decent bonuses to the roll, I may be a bit perturbed when I find out I still only barely clear the chasm and am left hanging off the edge because my dragon die has a 1. Especially when the same result with a 6 on the dragon die instead would have left me sitting pretty. Howeer, I think this "unfairness" would have bothered me more as a newer player and as someone who has never GMed than it does now.
Besides helping in a basic test such as the one we've been discussing, the dragon die helps in Dragon Age's version of skill challenges. Called "advanced tests," these are a succession of basic tests. The dragon dice are tallied for each basic test and the test is completed when the sum surpasses the threshold for the test. Contrast this with the often arbitrary nature of 4e skill challenges which tend to fit the formula of x success before y failures.
During skill challenges, players often get upset when multiple exceptionally high rolls don't get them any closer to overall success than the rolls that barely succeed. They may have rolled high enough 3 times in a roll to convince the king to give over his first born son, but they still have some number of successes to rack up before he'll give them the support they need. Now the conventional wisdom is that the DM should consider ending the skill challenge early since it doesn't make sense in the narrative to continue the negotiation. However, this decision is rather arbitrary and/or subjective and may make some players uneasy. By using the dragon die result instead, players are better rewarded for high die rolls in a way they understand and predict.
So what are your thoughts of the dragon die mechanic, degrees of success or anything else I discussed here?
1. While the original article currently is unavailable due to some changes on the site, you can find a cached version through Google.
2. Now I am by no means the first person to talk about this, it's just that I'm only now at the point of learning about these other mechanics. For instance, Rob Donoghue has at least two great articles about this, Rich Dice: Force, Finesse and Fortune and Rich Dice Extravaganza.
The dreams start in many ways. Sometimes they begin in my old college fraternity. Other times, I'm a hired sword of some sort and we are clearly in a castle or keep. Occasionally I am in the basement of some library and find a hidden passage. Regardless of how it starts, my mind tells me that I'm heading into some familiar territory for tonight I will be fighting a dragon.
But first, I must wind my way down a series of chilly, narrow corridors. Inevitably I face a ghost or three, a witch and anything else my brain decides to throw my way (Damn, she's a mean DM). Finally I arrive at my destination, a rather large, mostly destroyed cavern. Without seeing or hearing it, I know that a dragon lives here.
Sizing up the situation, it being me, my sword and, well, a f*ing dragon, I decide stealth might be my best option. Inevitably the dragon sniffs me out and we engage in a series of short battles which consist of me hitting the dragon with my sword and then scrambling to find cover. You see, my sword isn't your garden variety model. It is magical and quite powerful. When used properly, it will shoot forth a blinding and quite lethal white light, but then it needs to recharge. Until I can weaken the dragon enough to where I can go in for the final kill, that power is my lifeline and I need to give it time to reactivate. I need to keep moving.
Inevitably, I end up in some niche waiting from the sword to recharge and unsure where the dragon waits. Slowly his head comes into view and I know I'm dead. While I remembered my trusty sword, I have no shield. I wake up, usually shaken by the experience.
So what does this have to do with D&D? Well, I was reminded of these dreams by Chris Sims's article on magic items. This dream illustrates a weapon I would love to have in the game but one that is ill-suited for 4e's magic weapon philosophy. Is it a bit overpowered, especially for my level of expertise? Hell yeah. But it's also fun and it's the only magic item I have. No suit of armor that resists fire, heck, not even a shield to protect me from the dragon's breath.
4e D&D needs to get back some of that wonder. Everyone needs a magic item that fills them with awe, that they wish they could steal from the game and bring to real life. Something they care about and would hate to lose. It should call to them in their dreams just like my unnamed sword. I'm not sure yet what the solution is, but I guarantee it will involve story and plot and, well, pure concentrated awesome.
In yesterday's post about rituals, I hinted that another set of reasons exist which reduce their use in 4e games. While the cost of rituals is a significant barrier to use, I think the problem goes much deeper. The way many groups play 4th edition, whether by preference or as a subconscious reaction to the rules set, de-emphasizes story. Since rituals exist primarily in the realm of story, their importance and use gets reduced as well.
To counter this, groups can do a number of things. I think lowering the cost of rituals helps, especially if it's reduced through an alternative currency such as healing surges. However, I see three more steps groups should take.
The DM needs to set up situations for ritual use
Rituals take time to prepare and perform. If the PCs are constantly running from one encounter to the next with little downtime between them, rituals use is a hard sell. If PCs are always being reactive instead of proactive, rituals are near impossible to use. If nothing is hunting the PCs in the woods, they don't need to use any of the protection rituals on their campsite. The DM needs to set up situations where the PCs could use rituals and where ritual use might benefit them. Otherwise, what's the point?
In my game, we ran a Rumpelstiltskin story line where the wife of a local nobleman had promised her firstborn in return for an ability that would allow her to impress her future in-laws. I wanted to give the group a few ways to solve this problem. To encourage ritual use, I created a secrets tree where locals would go when they needed to share a secret they shouldn't tell anyone else. I then put clues elsewhere that pointed to the tree as one solution to the problem. When the players uncovered this, the speak with nature ritual became an obvious solution to their problem and away they went.
Players need to know which rituals exist
Once the DM gets into the habit of providing opportunities for rituals and, hopefully, hints at those opportunities in advance, players need to do some research. If you know you'll be traveling a long distance through enemy territory, create a list of useful rituals before the game and see if you can buy some of them. Keep a list with all the rituals you know and how to perform them right with your character sheet and look for situations where you can use them. A DM has a lot to do at the table and he might not be able to keep track of these things for you. If you have a campaign wiki on a site like Obsidian Portal, keep a page with lists of known and potentially useful rituals for easy reference.
Make them awesome
When players decide to use a ritual in game, make it shine. If the group is into it, play it out a bit. For instance, if they cast create campsite, have them describe the little nature spirits and what they do. Also, even if the ritual completely devastates your plans, DMs please don't punish creative use. Add a complication, but if they set a ward to trap goblins and your notes said they had to be surprised by a goblin attack, don't suddenly give your goblins some power that lets them slip through the ward. They may ask themselves at the end of the encounter if rituals are even worth it then.
Those are my three tips for encouraging ritual use in games. I'd love to hear yours.
On Twitter yesterday a few of us had a discussion about rituals prompted by Stephen Radney-MacFarland's post on NeoGrognard. If you haven't read the post, I suggest you do, especially the first part of it where he discusses the importance of the D&D story to some players and how the game fosters its own culture around it. If you don't believe me when I say these things, perhaps you'll believe him.
But I digress. One issue with rituals in their current form is that they often require some form of gold, either one takes the gold rewarded from treasure and buys component costs or the dungeon master kindly does that for you by just giving you components for the ritual in a treasure bundle. Since they are then part of the overall treasure system, I think they become even more costly. Given that much of the time they are used for story reasons, this cost is too high for many players to justify. Why would I spend 50 GP to obtain create campsite and then spend another 15 GP of components each time I wanted to cast it? Compare that with ward campsite, which requires a 50 GP initial purchase and then a healing surge each time it is cast.
The latter ritual is more in line with what Stephen recommends in his post. He thinks ritual casters should be able to convert healing surges into component cost. Storywise, they would give part of their life energy to the ritual they perform and it's something they can't get back until they have an extended rest. On Twitter, @KatoKatonian argued that we would see a return to the 5 minute work day with this, but to be honest, I don't see that happening because of this. I think it's much more likely that a 5 minute work day results from loss of daily powers. Besides, a DM should make these decisions count, even if it means a random encounter to drive the PCs forward.
Another argument @KatoKatonian made was that this violates the original intent of healing surges which is healing. However, I don't think that narrow intent was really there. For instance, the blood mage utility power soul burn allows a character to trade their ability to heal for the chance of doing more arcane damage by allowing the reuse of a encounter power. And even if the original intent was there, it's clear from the some of the newer rituals that they don't intend to keep it. Martial Power 2 has a number of martial practices (rituals) which use healing surges as their form of currency.
A few people also expressed the fear that using an unbounded resource such as healing surges would unbalance the game. I don't think this will be the case. I think PCs still need to purchase the ritual which is a significant investment. If we wanted to limit it further with cost, we could require a focus for particularly strong rituals, which itself could be the subject of a side quest or awarded in a treasure parcel. Some rituals already have this built in.
Of course, this wasn't the first time this subject has come up and I doubt it will be the last. If you are interested in the subject of rituals, @ThadeousC discusses them a lot on his site and he has a great post about getting players to use them.
While I think this change could result in more ritual use, I don't think it's the main problem. But that's a topic for another day.
Yesterday Twitter was aflutter with discussions of roles and classes. At least two broader discussions developed from the initial topic. One was how a character's role often leads to social pressure to play a character a certain way, especially in combat. Another was how players often get tripped up on the terminology of 4e, often because the game redefines some pretty broad terms in a narrow way. Both illustrate issues with discussing D&D in general.
The first topic is a really thorny one. With the wide variety of play styles and motivations, it's difficult to give general advice on the subject. However, we can at least discuss the role system and the underlying problems it causes. If you haven't played much 4th edition, the character builds are separated into 4 categories called roles, controller, defender, leader and striker. Each of these roles have something they are really good at, largely that the defender soaks up damage and locks down opponents, the controller generally deal with multiple targets at once, leaders give bonuses to their allies and help them endure a long fight, and strikers deal massive quantities of damage.
This simplified way of looking at characters has a few things going for it. First, if I have a newer player, I can ask him to describe to me what he would like to do in combat. From that description, I can pick the role that is most likely to appeal to him and use that to narrow down the class builds he's most likely to enjoy. If the player enjoys doing lots of damage to a single target, meaning he wants to give me a big damage tally, I know to steer him towards the striker. If he envisions taking out large swaths of minions in battle, well then I have a controller.
It's also easier to know if the party has enough diversity to tackle most challenges. If they have one of each role, the DM has a much wider toolbox available to him. Throwing monsters of the soldier role at a party without a defender gets a bit tricky as does throwing lots of minions without there being a controller in the group.
However, these positives come at a cost. One of the biggest I've seen is that some players will always think that the grass is greener on the other side. I can't tell you how many times I've seen the defender frustrated that he wasn't doing anywhere near the amount of damage as the strikers of the party. And sometimes people playing leaders with a name like warlord expect to be a little buffer in battle, at least in either defense or offense but preferably both.
When this happens, I get to hear the stories about how it was so much better in the old days, when you could take levels in the different classes and customize your character... They aren't entirely wrong but at the same time, that system isn't right for everyone either and is rife with its own problems.
Another cost is that it becomes even clearer what your role is supposed to be in battle and other players may expect or even demand that you hold up your end of the bargain. This issue comes up repeatedly at my table. Some players approach D&D as a game and while they will accept, often grudgingly, that you can't win at D&D, they usually have the opinion that there are ways to lose. One of the ways they lose is by not getting the most out of the character they put a lot of time and energy into creating. I'm not even talking about highly optimized characters with some crazy combination of feats and powers that allow them to hit pretty much anything on a 2 or higher.
This pressure is increased when players realize that 4E was designed to foster and reward cooperative play. The rogue needs combat advantage for sneak attack. Before Essentials came out, the easiest way to get that at low levels was by pairing up with a defender. However, when the defender is a swordmage who was developed to keep moving around the battlefield, things can get depressing for the rogue pretty quickly and sometimes tempers flair.
On a similar note, people tend to look down on members of their group who they perceive aren't pulling their weight. If this lowered effectiveness is a conscious choice, feelings can get hurt pretty quickly as accusations of not being a team player are bandied about. This doesn't mean that a player shouldn't play the type of character they want, but I think it's important to have a group discussion about it and to set up some ground rules about what is and isn't acceptable behavior. No one player should be able to always force something on to the group that isn't fun to the rest of them and the whole group shouldn't force a player to always do something that is not fun for them.
Add on top of this the confusion caused by redefining common terms, and the issues become even more dramatic. When discussing Dark Sun and the emergence of themes, the people from R&D love to tell the story of how the term gladiator made them rethink class design for 4E. At first, they tried to make the gladiator into a class but the problem is that so many different gladiator styles exist with no clear winner when it comes to pigeonholing them into a particular role. After thinking about it a bit, they came up with the solution of creating themes, an additional layer to class building which gives the character access to themed powers that are tied to their highest stat rather than one tied to a particular class.
However, this same argument can be made about a number of D&D classes, particularly the fighter. When I think of a fighter, defender is not the first thing that comes to mind, yet until Heroes of the Fallen Lands, that was the way we were intended to see them. The truth is 4E has a number of fighter classes but since one of them is labeled fighter, people will choose it without understanding that the role doesn't match their intended play style. Pain and suffering often results along with accusations that the game is at fault because the player's expectations of the class were not met.
So if I may suggest anything, it's that we keep in mind how important roles can be in finding the right class fit for a player and his character and that when we discuss 4th edition, it's important to remember that some of the game terms are narrowly defined compared to the general definitions. Also, while it's impossible to play D&D wrong, it is possible for a play style to be incompatible within a group, especially if the group is unwilling to discuss their issues and come up with some group rules.