Blogs
---
Jared and I watch a lot of video game play throughs together. There are more video games out there than we have the time (or money) to play but knowing about them is a great idea given what we love to do. Additionally, some of the commentators are just awesome. Recently we watched one that just blew us both away, Jesse Cox playing the first act of Broken Age by Double Fine Productions.
Two years ago, Tim Schafer and his company Double Fine Productions asked fans to fund his idea for an point-and-click adventure game through Kickstarter. Originally asking $400,000 to create both the game and a movie about creating the game, they raised $3.3 million. Promising to put the extra money into the game, the result is just beautiful. Not only does the game use great voice actors such as Masasa Moyo, Wil Wheaton, Jennifer Hale, Jack Black, Ginny Westcott, and Nicki Rapp, the art is amazing under the lead of Nathan Stapley and the music ties the whole game together.
Vella - © Double Fine Productions
Over the course of the game, you play two different characters, both question authority and tradition in their attempt to be heroes. Vella, a maiden from the village of Sugar Bunting is expected to dress up in a fancy costume and sacrifice herself for the greater good. In this case, it's to appease Mog Chothra, an ancient creature from far away who visits the villages every 14 years. Out of fear of having their villages destroyed, they hold maidens feasts where the girls are on the menu. Vella, encouraged by her grandfather, thinks there has to be a better way and sets off to find a way to kill Mog Chothra.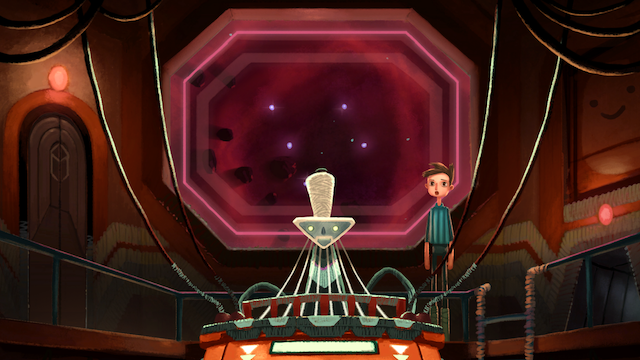 Shay - © Double Fine Productions
The second character is Shay, a boy in spaaaccceee...er, sorry about that...a boy in space. He is watched over by the ship, largely through a computer interface that represents his mother. After a hearty breakfast of cereal (I particularly liked the one named Soylent Dreams), he's given a choice of missions to undertake such as saving people from an ice cream avalanche. We quickly learn that he is in a protective bubble in the form of a ship. He feels like there has to be something more out there.
I can't quite give a proper review of the game as I had watched the entire play through by Jesse Cox before playing it myself. I grew up playing point-and-click adventure games like Kings Quest and I love the genre even if I didn't always love the finickiness of some of the older games. For instance, Jared and I have been watching "I have no mouth, and I must scream" and I don't think I'd ever play that one. The people playing it are often frustrated with the difficulty in clicking just the right pixel and figuring which of the commands are the right one to use.
Broken Age is different. Gone are the multiple commands and limited vocabulary. With very few exceptions, the pixel areas are rather forgiving. You interact with the environment by clicking and/or dragging items from your inventory to the environment element you want to interact with. While watching the play through, I never felt stuck although there were times when the commentator wasn't quite sure what to do although I imagine it's hard to give commentary while playing. The simplicity of the game play isn't for everyone, but I thoroughly enjoyed the game.
The humor throughout was refreshing and often made me laugh. While I think gender definitely influences the adventure each is on and what is expected of them, no element of the game feels gendered. I also love that Vella is definitely a self-rescuing heroine while Shay is someone who likes to rescue others and that the creatures he rescues don't have a gender. Overall, I found the game delightfully subversive.
The main difficulty I see with the game is the price. On Steam it is currently $24.99 for the base game and $29.99 for the game with soundtrack. I played it in about 3 hours but I had already seen a play through. In one of the reviews I read, the writer said he played it in about 5 hours of casual play. I was worth it for me and I'm glad to support the game but I could see it an issue for wider adoption. The other difficulty I see is that the second act isn't out yet and there doesn't seem to be a firm release date for act 2. Act 1 leaves on a cliff hanger, so I could see some fans wanting to wait so that they can play the whole thing through at once.
All that said, please check this game out. Not only does it have a female protagonist, but she is a person of color. Both main characters question the world around them in important ways. The story, art, and music are all superb. It's a great example of innovation in gaming. Now I must find some way to be patient until Act 2 comes out.
This afternoon we found ourselves in a local game store, The Games People Play. Fred took the opportunity to buy one of the games he's loved for years, Diplomacy, and I splurged on a few items: Once Upon A Time (a card story telling game by Atlas Games), Story Cubes - Voyages, and two knowledge card sets, Forgotten English III: Long Lost Insults and African American Art.
Forgotten English III: Long Lost Insults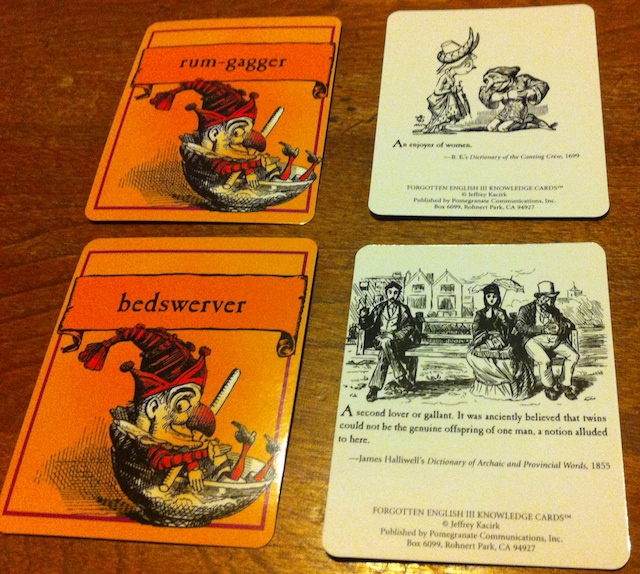 The set of insults should be good fun for gaming, allowing me to throw out random insults at player characters. Each card has the word on one side. The other side often has the word's definition, source for the definition, and an illustration that shows or evokes the behavior referenced by the insult.
Examples of Use:
My rather straight-laced character always worries that the new people she meets are sinful. I select a card at random and say that she hopes that the new person she just met isn't one of those people. "Did you see how he just interrupted their conversation like that, asking such foolish questions and not letting them get on with it? I hope he's not a nargyle!"
During character generation, whether for an NPC or PC, I want to add a unique character aspect. I select a card from random and apply that insult to the character. For instance, if I pick rum-gagger, I should make a bard who loves to tell her stories of woe wherever she goes, trying gain the pity of the poor folks who hear her tale.
The PCs decide to go in a direction you hadn't anticipated and you need to create a scene for them and quickly. Let's say that they go to see the local magistrate. You could pull a card and have two or more parties there trying to figure out what to do about the insult. If pre-planned, it could give background information on the NPCs.
Some of the images could easily inspire NPCs, scenes, adventures, and more. For instance, the back the Hogs-Norton card contains two well-dressed humanoid pigs.
Party game: Everyone gets an package with the list of insults, definitions, and one of the cards. They then have to act like a person referenced by the insult. Other guests have to figure out which you are. Using rules similar to Dixit, you get points based on how many people guess which insult you personify so long as at least one person got it but not everyone.
---
African American Art


The second set of cards will find a variety of uses in my life and games. I've wanted to become more knowledgeable of art and artists for a while and African American artists and their art are one of the areas where I'm least knowledgeable. By becoming more familiar with African American art, I'll be more likely to include and suggest pieces that would work in my games. Additionally, for games that are meant to fit into our history, I will enrich the characters I add to the game world. For instance, a number of these artists would work well in a game set anytime from the mid-1800s to the mid-1900s. Finally, picking a piece of art can bring all sorts of inspiration to my games since the art runs the gamut from landscapes to cityscapes to portraits to abstract works.
Each card has a piece of art on one side and information about the piece and the artist on the other. These cards appear to be made in collaboration with The Smithsonian National Museum of Modern Art, so it also includes details about the art such as call numbers, media used, and size. Just as a note, one of the limitations of this set is that it leaves out many contemporary artists.
Examples of Use:
A scene takes place in an art gallery or museum. The cards could be laid at random to provide ambience or chosen beforehand to support the story being told.
A game scenario, such as a Spirit of the Century game, takes place during a time period with multiple artists. The artists could be used to inspire characters in the scenario.
Playing in a game set now or in the future? Pick a piece from the deck that would interest your character. Research more of the artist's work and use that art at the table as a way for her to speak.
Tell a story using the cards. Each person takes a turn as storyteller, taking one card from their hand and using an element of the piece of art to add to the story.
Additional Sets
The company that makes these sets, Pomegranate Communications, Inc, has a number of other sets that might also provide inspiration such as these.
I enjoy props at a table and I find that toys can often make for wonderful props. For example, at a variety store a few years ago, I bought a miniature Stonehenge set.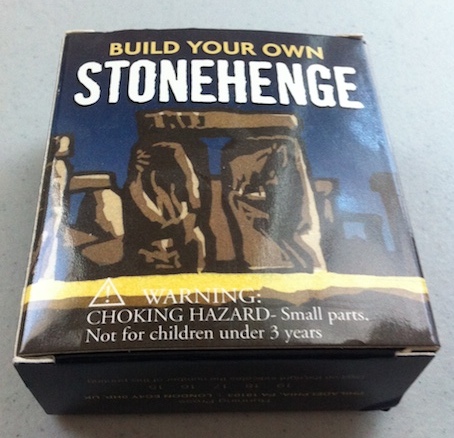 Box - Build Your Own Stonehenge
Inside the box there are three groups of things: puzzle pieces for creating the base of Stonehenge complete with numbered areas to help you with placement of the pieces, the "stone" pieces, and a booklet of information about the site.
Even without the stone pieces on top, the base could be used to help describe an area in a game. Anything could be in those numbered squares. For instance, they could be statues (or living things turned to stone). You also could hand out the puzzle pieces over time as pieces of a map or an ancient scroll that showed how certain artifacts had to be placed in order to complete an intricate and ancient ritual.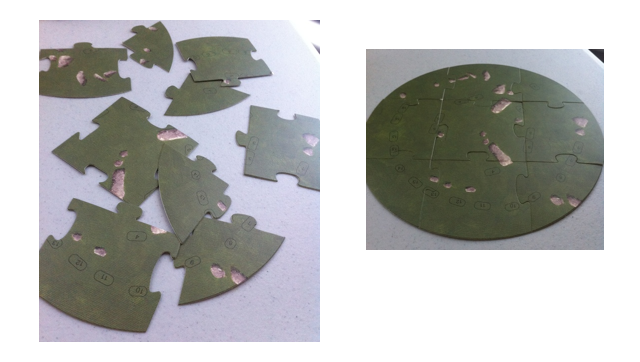 Pieces of the Stonehenge base
In addition to the base, the construction of Stonehenge could be used in multiple ways. For instance, it could be off to the side as a form of clock to show how much progress an adversary has made towards obtaining their goal. Or the PCs could be tasked with finding some or all of the pieces of Stonehenge and put it back together. Or maybe the dragon they fought had knocked the pieces down and it is up to them to set everything up right again. Additionally, the fully finished model could be used as part of a puzzle that involves how light would shine on the location at a certain date and time.

Stonehenge "stone" pieces
The Stonehenge set was made by a company called Running Press. Amazon has a number of their kits.
Similar to this set is another toy I found (although I didn't buy it quite yet). At a local store, I saw a toy penguin that is made up of seven stackable wooden pieces.
Stackable Wooden Penguin
As with the Stonehenge set, this could be used as a clock for either the PCs or their adversary and help illustrate their progress towards a goal. Similarly, one could take the image of an important NPC or location in the game and create a puzzle out of it using card stock or cardboard. The nice thing about the puzzle is that it's possible that the players can guess it before the final piece but it helps keeping you from giving too many clues at once. However, if they still can't get it after they have all the pieces, it may be time to allow them access an expert or take 20.
What sorts of toys inspire your games?
When we talk about women fighters in medieval-inspired fantasy games, people will often go on about how we're really trying to reinvent history. In some ways, they are right. Few women fought in organized armies at the time and most of history was written about those armies. However, in many ways they are missing the point.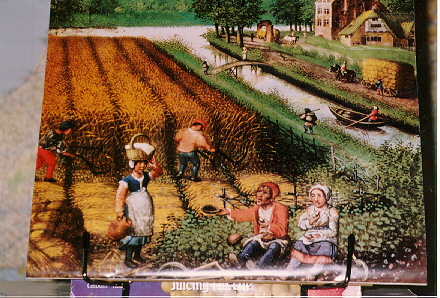 The Medieval Woman: An Illuminated Calendar for 1993. New York: Workman Publishing: From Working Women in the Middle Ages
Most Men Didn't Fight
A combination of ancient and modern warfare clouds our understanding of much of Medieval Western European combat and armies. We're used to large standing armies and large drafts to create larger and larger armies, especially in the two World Wars. We're used to large percentages of young men and smaller percentages of young women shipping off to war.
This view of war would have lost many Medieval wars. The simple reason: food. We have much higher crop yields today, coupled with machines to make harvesting easier, and this frees up more hands for the war effort. I read on one site that we're talking about something like 1 in 30 seeds would mature to feed us in Medieval Europe versus 1 in 2 to 1 in 7 today.
Lower crop yields required much more land and labor than today. To send significant numbers of men, especially young men, off to war would have put the fields and harvest in jeopardy. The exception to this would be the sons of nobility. Since one of the defining characteristics of the nobility is that they didn't work with their hands, they often didn't work the fields. And since titles couldn't be shared or split and a titled family often needed as many resources as possible, spares didn't always have much of a future to look forward to.
Since the overwhelming percentage of men were commoners tied to land and were needed to farm it, the vast majority of men simply wouldn't have been involved in the formal military campaigns of the period, the very same campaigns we often rely on for our information about medieval warfare. We ignore this for games like D&D because it's just not exciting. If it's not exciting for male characters to keep to historical realism, I might suggest it's not exciting for female characters either.
Overlooked Combat Opportunities
With the focus on formal military campaigns, other sources of combat experience often are overlooked. For instance, we know of a number of peasant uprisings during the period. Rebellions have long recruited whomever they could get and have been a source of opportunity for women who yearned for something more. Likewise, when under attack, women could be employed in a variety of defensive positions. They could pour boiling water from above.
In addition, women have long provided combat support roles throughout history. Wives, daughters, and other women might accompany a military campaign. Some would have been noble women, often attempting to get pregnant since that was their and their husband's duty.
Why Do I Find This Important?
There isn't as much documentations on women in these positions in part because it just wasn't that important to the people at the time. Portraying women as independent and strong went against the typical narrative of the day. But when we look at the vast amount of data from the past 300 years, we see plenty of evidence that the formal narratives of the time often differed from women's lived experiences. We should keep that in mind as well as remind ourselves of the limits of history:
Someone had to find the information important enough to record.
Future generations had to find the information important enough to save.
Our generation has to find the information important enough to seek out.
With all of that said, I'm not arguing for historical realism in the majority of games, such as D&D. Instead, I'm suggesting that we cease using inaccurate "historical realism" as an excuse to perpetuate the gender bias and stereotypes we have today.
To celebrate my birthday, Fred and I decided to try out a new boardgame cafe in Brookline, MA called Knight Moves. We met a coworker and his wife there and played a game of Shadows over Camelot. I had a lot of fun and it's a wonderful space.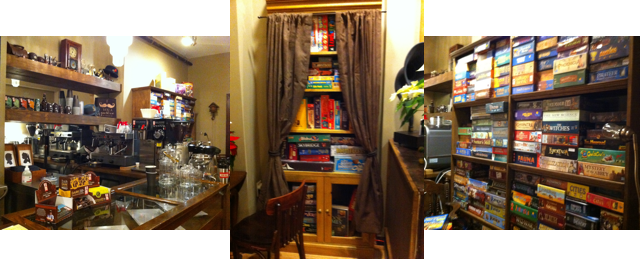 The cafe has three rooms. The front room has the cafe area including Equal Exchange coffee, pastries, tea, hot cocoa, and chocolates. There are also at least 4 game tables, the game library, and a chess table in the window. Most of the tables easily sit four, although we had to put two of them together to play the Shadows over Camelot game.


The middle room has a bunch of science decorations including a microscope. It also has a nice looking fireplace with mantle. I didn't take a picture of the table because it was in use but there was one decent sized table in there and room for more. Devon, the owner, said that there were additional tables for the room that he could bring out when needed. There's also a curtain between the front room and middle room so that area of the store can be reserved for special events and the like (more on that later).


The back room has one large table as well as the facility's restroom. One thing to note about this place, they put in a fair bit of time and energy to make it look nice. Since it doesn't serve double-duty as a retail establishment, there's lots of room and the emphasis is on you and you being able to try out a bunch of games. Since they don't have a retail portion, though, that means that there is a cover charge. The price for a single entrance is $10, but for that price they don't mind if you pop out for a bite. As far as I can tell, there's no limit on how long you can stay so compare that to say a movie ticket. If you want to save some money, you can buy a pack of 6 of entrances at once for $50. If you're likely to frequent Knight Moves often, they also have memberships. The casual membership is $15 a month and it lowers the price to $6 per entrance or gets you 3 additional entrances if you buy the multipack. You also get a free coffee per visit. A premium membership is $120 per month but gets you unlimited visits. Additionally, you get a free coffee plus a free snack per visit. At least the casual membership also gives you a 5% discount at Eureka! up the street.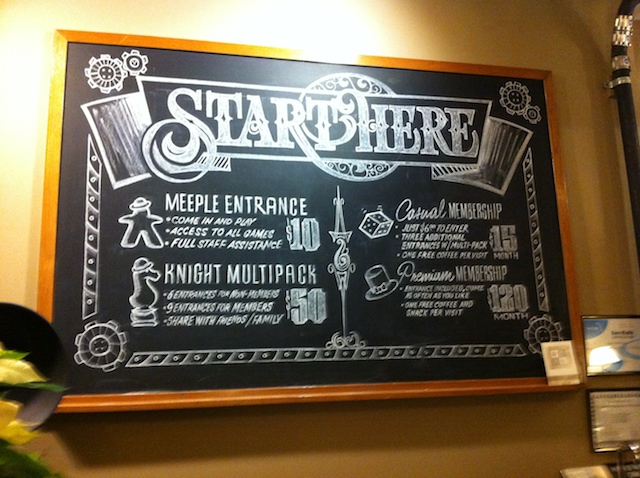 Overall the cafe was inviting and Devon has a love for games and, from what I could tell, was good at explaining them. The selection seemed pretty good although I'm half tempted to get copies of some of the games they don't have. I know the price may seem steep to some, but when I thought about what I spend on other venues, I think it's pretty reasonable and may help keep overcrowding to a minimum while keeping them open. He also mentioned that if I wanted to throw a special event that we could work out a deal, so keep that in mind if you have a monthly get together or if you want to do a launch party for a game you designed. I'm looking forward to visiting again in the future. Next time I'm going to bring Race to Adventure so he can try it out.