Blogs
---
It's not often that I talk about a Twitter hashtag that isn't directly connected to gaming, but this is an important one. The hashtag is #solidarityisforwhitewomen and it was started by Mikki Kendall aka @Karnythia on Twitter.
The backstory appears to be this. There was a man who for years identified as a male feminist and who, even though he did a number of things that didn't seem very feminist, apparently being involved with a planned murder-suicide, allegations of sleeping with students, and allegedly standing in the way of some women's careers, women in power in feminist circles supported and even promoted him. Race comes into this because he and those who sided with him were predominantly white whereas those he harmed were women of color.
It gets even more difficult because this particular case isn't the only example of the women in the positions of power not understanding intersectionality, that is, not understanding how they were using racism and racist imagery to their benefits. For instance, in 2008, Amanda Marcotte released a book that used artwork of "natives" to talk about represent battling against the forces of "fundamentalists and antichoicers."
So what we have is a feeling that the experiences of one group of women, in this case those of upper-class white women, are universalized to those of all women. You are either with that program or you are not. If you are, it's easier to rise through the ranks and perhaps even earn a coveted paying gig in all of this. If you're not, you are told that not only are you not good enough, but that you are "hurting the cause." To add further insult to injury, it appears easier for a man to climb those ranks than for a woman who doesn't fit the predominant narrative, this in a movement that claims it's for equality.
And yes, I know that means it's been, for the most part easier for me. I know this because once I could compartmentalize some of my lower class outlooks and ways of thinking, I was able to go pretty far before hitting the next big road bump. This is not the case for everyone as a number of my fellow classmates from Dartmouth remind me every day.
And so, Kendall created the awesome hashtag #solidarityisforwhitewomen because regardless of how I or other (mostly) white women might feel about it, that's the feeling that's out there. And it's way important to know it's there and to see how we can make ourselves better. But to do that, we need to listen.
HuffPost Live did a great interview with Tara Conley ( @taralconley ) and Mikki Kendall ( @Karnythia ).
Other resources:
What can people like me do?
Often during times like this, people want to know what they can do. Here are some suggestions:
Over the next few days or weeks, look at those who used the hash tag and see if any of them share interests with you. If they do, why not follow them? I've been doing this for about a year or so now and I've found all sorts of awesome stuff and new perspectives as a result.
As much as possible, if you are part of the group that finds it easy to get an outlet for your voice, use your voice to magnify those who have a harder time. Do your best to not use your voice as an attempt to silence them.
Read up on primary sources of history. Seriously, you might find out that what you think of as "historical fact" is actually someone's "historical fiction" or perhaps even "historical fantasy."
Over the past few days I've played, oh, 16 hours of Trine 2 with the forever awesome Jared von Hindman. We both fell in love with the game's art and story (at least the original story line that constitutes the first half of the game or so, but more on that later) and it's an awesome co-op game, something that's been difficult for us to find. Before I get much further, here's a trailer of Trine 2:
At it's core, it's a side-scrolling game that combines action, puzzles, and platforming to tell a story. It's one of the best co-op games I've come across in a long time and we had a ton of fun working out the puzzles while talking to each other on Skype. I think it could be a great game for anyone close who has to spend time apart including couples.
Great Mix of Characters
You get to play one of three heroes:
Amadeus the Wizard - An older, reluctant hero who is married with kids. He doesn't have any direct combat abilities but his core abilities include levitating objects (which expands to monsters) and making boxes (which later expands to creating planks and monster cages).
Pontius the Knight - A rather large fellow who loves to smash things, with his sword or hammer. Besides bashing things, he has a shield that he can use to glide or redirect water or fireballs.
Zoya the Thief - Or as she likes to refer to herself, an entrepreneur. She has a bow and as she gains in levels, different types of arrows unlock such as anti-gravity, fire, and ice. She also has a super awesome grappling hook that lets her get up and over many of the challenges.
Each of these characters have unique talents, that when combined together and often with the environment, let you do some pretty awesome stuff. For instance, we found that Amadeus can't levitate a block while one of the other characters is standing on it. However, if Zoya creates an anti-gravity area with one of her arrows, he can place a block there. She can then jump on it and while she's in the air, he can push it upward. When she lands on it again, she can jump off and also gains the benefit from the upward momentum. Additionally, wooden blocks found in the environment aren't restricted in this manner when she's hanging from them with her grappling hook, so Amadeus can levitate her across obstacles in that case.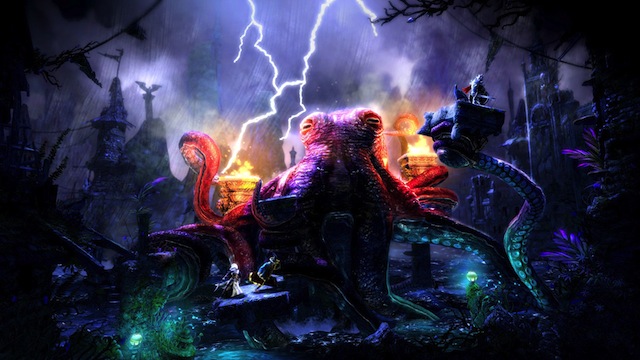 Beautiful Scenery
Much of the game is just beautiful. Some of it is creepy beautiful for sure, but a lot of work went into making it all work and it shows. The first half of the game plays through the adventure the Trine, an ancient artifact, summoned the characters for. I don't want to spoil the story, so that's all I'll say, but it has a wondrous, fairy tale vibe and there's a real story there. Throughout the adventure there's a bunch of notes, diary entries, paintings, poems, and the like to collect. Many of these reveal more about the land and the story. There are also lots of puzzles. Some of them are pipe puzzles involving redirecting air, fire, or water to either redirect the flow to make it possible to get through or to help magic plants grow and reveal new areas. Some areas are underground and others are even underwater.
Co-op
This game has awesome amounts of co-op. A fair number of the puzzles involved working together to solve them, using our special abilities to create some really cool stuff. While it wasn't impossible for us to get in each other's way at times, it also didn't happen all the time. We had so much fun with this game, we're going through again trying to find all the areas we missed and trying to unlock more of the achievements.
More Than One Way to Do It
Also, I have to confess I'm not the world's best platformer (that is, I'm not great at video games where the difficulty is in precision jumping). This games helps with this in a few ways:
There's often multiple ways around a problem. If you're great at platforming, then jump your way around. Not so great? Find a way to build what you need.
Working together often is better than working alone.
If one person gets to the next checkpoint, you'll be there if you die, so why not try. If the other person gets too far ahead, you'll be whisked there too.
A Note
One thing to note, we played the complete story. We weren't as thrilled with the second half. It felt much more like a generic video game and, at least on my end as the wizard, I felt constantly frustrated because I didn't have any combat powers. It also felt like there was a sudden difficulty shift and the art wasn't quite what we expected given the rest of the game. Of course, your mileage may vary.
So there you go. I highly recommend the game if you can get it. We lucked out and got it as part of the Steam Summer Sale. It's available for PC, Mac, Linux, XBox, PS 3, and Wii. That page also has a link for a free Mac demo and there is supposed to be one on Steam as well.
There's been a lot of talk about anti-harassment policies at conventions lately. This isn't a scientific survey by any means but I'd love to gather your thoughts through it as well. All answers are anonymous and in about a week, I'll publish the responses thus far.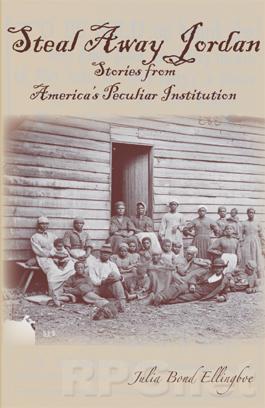 Steal Away Jordan by Julia EllingboeIndie+ recently ran a day of events that focused on taboos in gaming. One of the events was a live play of Steal Away Jordan: Stories from America's Peculiar Institution by Julia B. Ellingboe. In this game, players play the roles of slaves in the US during the 1800s. Since I haven't read the actual game yet, this will be about my reactions to watching the game play. Hopefully the game itself will be available soon so I can read the text.
Humanizing the Dehumanized
I don't know how the evils of slavery was presented to any of you growing up, but I remember that my school textbooks treated enslaved human beings as property or things even as we were taught how evil this was. They were full of pictures of white humans looking into the mouths of black humans to see how healthy they were with this act compared to the inspection one would give a horse. We saw pictures of them bound and chained standing on the auction block, sold off as individuals. Stories and images of whippings, beatings, and the scars of the same showed up over and over again. Then came the pictures of those who fought slavery, generally the white and upper class people of America who righted this wrong.
While I think those are all important things to learn, notice we haven't learned much, if anything, about how the enslaved people lived. We rarely heard their voices. I couldn't tell you what games they played as children. How did their parents comfort them during a thunderstorm? After a hurricane?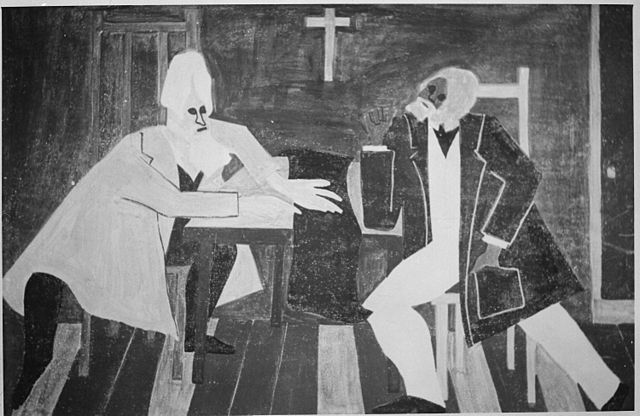 Douglass and Brown Argue: Douglass argued against John Brown's plan to attack the arsenal at Harpers Ferry by Jacob Lawrence
In this game, we started with people. Each player described their character. How old he/she was. Whether or not they had attempted to run away before and, if so, what scars they had on their body that told that story. Were they literate? Did they have skills? Why were they there? Where were they born? What was their name? In the process, they created people and the possibilities of rich, detailed stories should not be glossed over.
After the creation of the people comes the assignment of worth and the slave name from the game master. If you watch, there's a interesting bit where one of the players gives a current name to his character. Julia steps in and says he doesn't get to choose that. It's the first time, in my opinion, that we start to see how these characters have two selves, their human side and then the part where they are another person's property. Whereas the earlier section reinforced the former, this drives home the latter. The game master decides what the details about your character are worth and assigns the players their dice based on it. Young adult typically is worth more than older adults, although being skilled mitigates that. Previous escape attempts as well as disobeying result in dice being taken away.
Community as a Resource
After the worth of each player character is assigned, Julia gives the worth of the NPCs, including the slave owner, Robert Ford. Robert has a lot of dice and Julia even suggests that the characters might want to combine forces if they want to have a conflict with him.
Understanding Motivations
I discuss issues of social justice a lot. One of the concepts I find hardest to talk about is why 1) people don't just rebel and 2) why some of the people in the oppressed group do things that reinforce the oppressive system. Between Julia's descriptions and the play in the game, I hope people get a better idea.
Because slavery is often taught as a means to an end, in this case understanding why relations in the US broke down to the point where we fought a destructive and costly Civil War, we often don't think of slaves as three-dimensional human beings. We don't think of them having a culture. We emphasize the property element to the point we don't understand that they might often travel within a limited sphere and have all sorts of relationships with all sorts of people. We also might not consider that, like all human beings, they have basic needs and wants and that one of the big differences between free and slave comes down to how you get those things. I'm going to simplify things for a moment. For me, as a free person in the US, my ability to meet my needs is largely self-driven. If I want more, I should either work more or find a job that pays me more money. I have the freedom of choice to attempt to do that (whether or not I'm successful is another matter).
If you are owned by another person, by and large your ability to meet those needs and desires is tied to the person who owns you. If he or she does well, there's a good chance you will benefit from that. If you sabotage that person, you may be harming yourself as well. The way I tend to view it is their status sets your base. Since material goods may be harder to come by and keep, as an enslaved person, your relationships with others are important whether they be the comfort of friends and family or the access to information and resources that others might provide. So, if you were to get caught attempting to escape or planning a slave revolt, you could easily lose most if not all of your resources through the punishment and the possible sale to someone else.
Re-examining the Hero Story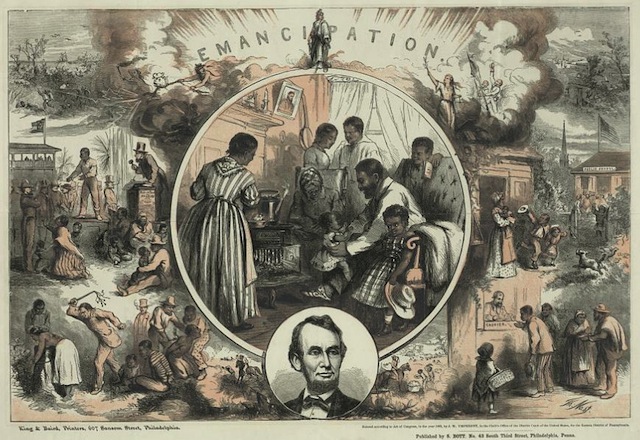 Emancipation: Credit Library of Congress / Thomas Nast
As I mentioned earlier, in my experience, the slave narrative is often not a tale of the slaves at all but of this epic battle between whites over the topic of the slaves. We champion Abraham Lincoln, knowing all sorts of details about his life, but rarely do people like Frederick Douglass get the same treatment. We have lists of those who died in the Civil War, but I have yet to see a book that lists the name of those who died attempting to escape slavery.
Detail from Freedom to the Slave: ca. 1863, lithograph - New York Public Library Digital Gallery, Schomburg Center for Research in Black Culture
Instead of playing a white abolitionist or a slave owner who sees the light and frees his or her slaves, the players played slaves. They were attempting to free themselves, using their own wits. When we compare this to other games that attempt to explore these issues, such as say, Bioshock Infinite, this change of perspective is huge.
Summary
There's a bunch more that I could go into here, but I'd prefer to wait until I can read the game itself. While my knowledge of the specific subject matter the game covers may be limited, I saw a lot come out during the game play that made me excited, especially as someone who grew up in a lower class household and had to later deal with how people from the upper classes viewed people like me and our lives and choices. While the game is not currently available, I asked Julia about it and she hopes to have a PDF version available again soon. Also, I asked Indie+ if they would consider releasing it in audio only form for those who dig podcasts. It sounds like there's a possibility of that happening next week.
If you are interested in learning more, the Library of Congress has a collection of narratives from former slaves on their website.
(Also, notice how much of the art presented focuses on white people and their roles in the anti-slavery movement, often presenting them as the heroes. Understanding how common that presentation is is important to understanding some of the race issues that continue in the US.)
In school, most discussions of the Great Depression talked about the Dust Bowl. I knew things were bad during that time period, but I didn't quite understand how bad it was until I watched Ken Burns' The Dust Bowl. The way it was always described to me focused on the drought and the lack of food, both horrible on their own for sure, but not necessarily awe-inspiring.
Watch The Dust Bowl Preview on PBS. See more from The Dust Bowl.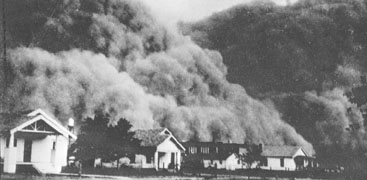 Dust BowlThe Dust Bowl was the result of a decade-long drought combined with farming practices not only ill-suited to the area but destructive. The two amplified each other until we had an ecological disaster that is almost unfathomable. Here are some of the things that happened:
Gathered by the winds, dust storms covered hundreds of miles and would sweep through much of the US in a single day. In some areas, they would cause dust drifts that reached the rooftops and deposit inches if not feet of dirt in a new location.
These storms could destroy most if not all of a crop across several states during one storm.
The dust clouds could black out the sun. The static electricity they caused would make it impossible to use the phone.
The clouds would drift into cities like Chicago and New York, thousands of miles away from where the dust originated, causing damage and blocking out the sun.
The dust was small enough to get into the lungs. Man and beast alike could suffocate if caught out in the storm without protection. For some it lead to dust pneumonia.
The drought caused plagues of grasshoppers and rabbits. The rabbits in particular would get so bad at times that towns would hold special events to kill them, asking townspeople to bring the whole family for the chore.
If you are looking for a cataclysmic event for your game, this should qualify. Depending on what type of story you are going for, it could be based on the same reasons as the real world dust bowl, human ingenuity gone awry in the struggle between man and nature. However, I could see other things working as well. Nature spirits upset at the defilement of a sacred location create massive winds. Fire elementals summoned by a an evil wizard (or a spell gone awry) parch the land and burn away the top layer of soil and sod.
For me, I see ecological disasters as a good way to provide tensions in a game without relying on stereotypes or things like racism, sexism, etc. I feel story-wise it also provides both an impetus for groups to have tensions against each other as they compete for limited resources as well as providing a way for players to solve those tensions without genocide if they choose to do so. Does it work for everyone? No, but it's what I happen to like.
Anyway, I definitely suggest checking out the documentary and learning more about this chapter of US history. If you have US Netflix, it's available for instant play.